Dear FPN Friends,
I read and heard a lot about this pen and decided to order one.
It's the 'Monterverde Ink Ball Colour Fusion' pen which is unusual in that it uses an ink ball tip to deliver the ink on paper - but it still uses a traditional fountain pen ink converter. This means you can use any ink you like.
I ordered mine for a bargain 35 pounds sterling ( about $54 Dollars ) for a brand new in the box Monteverde Ink Ball pen including postage from another member on the FPN ( kavanagh )
The pen arrived well packaged and protected in a medium size box.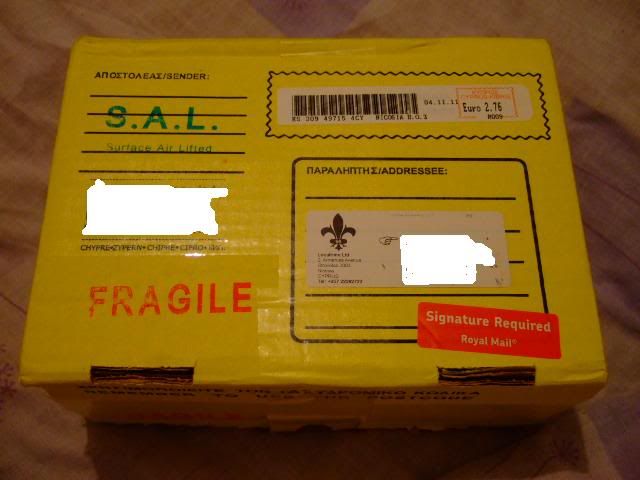 The pen comes with an outside green 'monteverde' insignia box, and an attractive green gift box, complete with three ink cartridges and instructions. I ordered the 'Avenger Yellow' model with a 'medium' tip.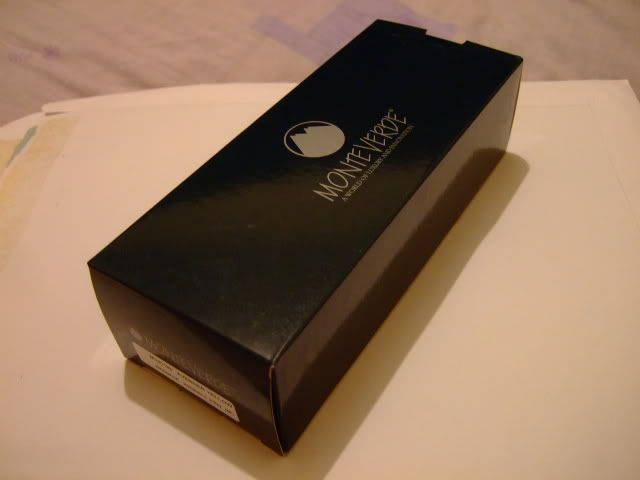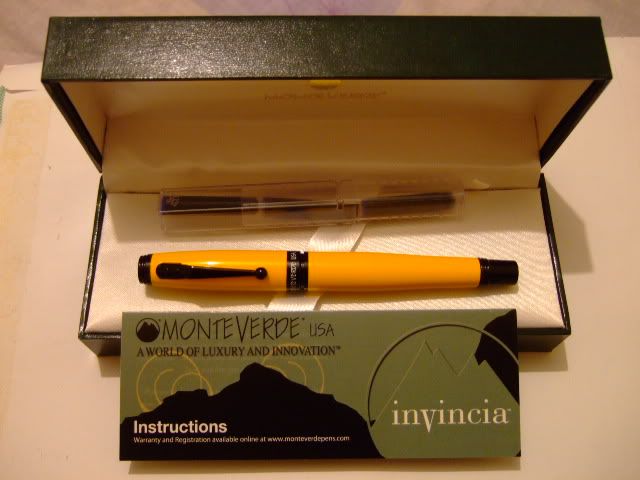 The pen measures 5 1/2 inches capped and 5 inches uncapped. It feels quite well made and has a slight heft to it.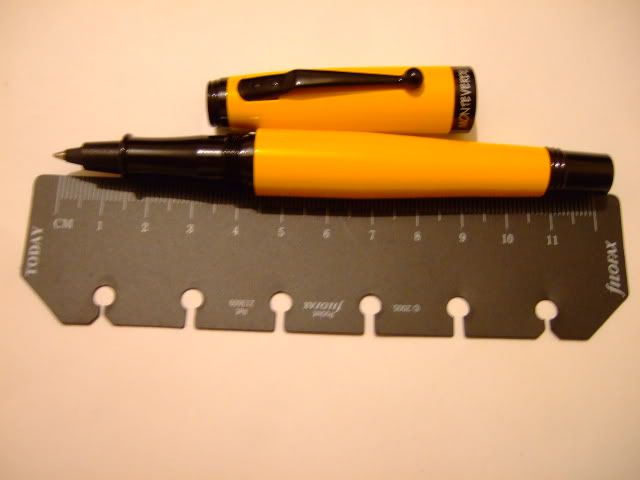 My personal preference is to use the pen 'uncapped' - just out of habit.
I inked up the pen by unscrewing the barrel of the body and using the already fitted ink converter - sucked up some Parker Black Quink Ink.
The pen writes with a wet line ( about 7/8 out of 10 for wetness - more than my fountain pens ), and lays down about a 0.8 mm width depending upon the type of ink and paper you use.
It's quite smooth also, and after about 5 minutes of experimentation, I started to smile. It's quick and responsive, and still manages to write 'wetter' on 'waxed' paper.
It surprised me how often I would pick this pen up just to write with it - and it has managed to jump the queue in regards to rotation!.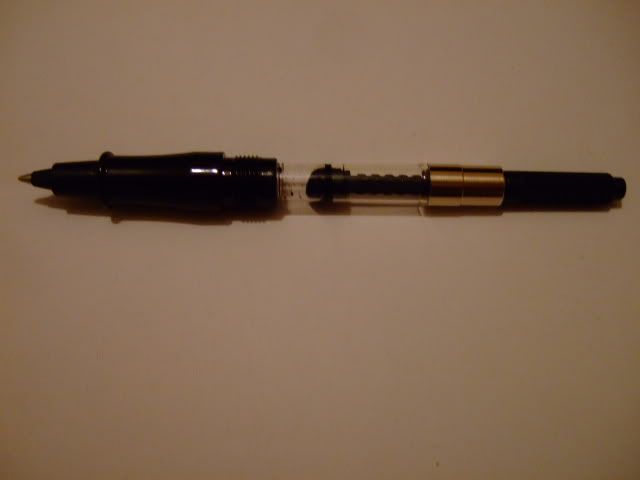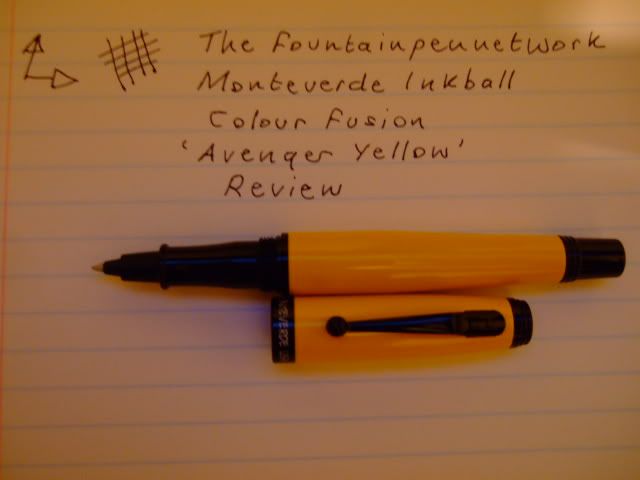 I've even left the cap off for about half an hour and it still started immediately.
Sometimes I even forget that this is an ink ball and not a fountain pen.
It's a strange feeling that the ink ball writes in a way that I wish my fountain pens would write. Quite a few times, I've forgotten that the cap needs to be unscrewed to take it off - and have found myself trying to uncap it - it's well made, so there's no risk in damaging the threads. I just dabbed a little 'petroleum jelly' on to the threads to protect them.
Overall, I'm certainly happy I made the purchase, the pen has an eye catching colour, is well made, and writes with a degree of wetness and smoothness that will keep you coming back for more.
If I wanted to 'nit-pick', Monteverde could have made the pen body and cap just that little bit lighter in weight ( using the lighter polycarbonate type plastic found in Pelikan M200's ) - but that's not a criticism - Monteverde have made the pen far more durable than an M200. If the Monteverde ever fell off the table, it would survive relatively unscathed.
The pen weighs 35g with the cap on, and 25g with the cap off - so it's a 'comfortable' heft.
I carry this pen around with me for note-taking, doodling and crosswords.
So the overall marks out of 'Ten' for me would be:
Build Quality: 9 out of 10 ( very well made ).
Writing Quality: 9 out of 10 ( only because it's an ink ball and not a fountain pen ! )
I would recommend it - it regularly puts a smile on my face when I uncap it.
I cannot wait to load this beauty up with the variety of ink available ( just what the Doctor ordered
)
Edited by manuscript, 12 November 2011 - 00:11.