Hi! This is my first review. I've been using this pen for over a week now I think? I'm not sure. I've been using it a lot in class. I do quite like it. Partly because I don't know if everyone can read my handwriting and partly because links to photos sometimes eventually die, I'm going to type up my review as well as linking to the handwritten one. They should have the same info, with maybe a bit added to the typed?
First Impressions:
The packaging was fairly plain, but the pen looked nice enough. I don't really remember it well...
Appearance & Design:
I like the way it looks. It is very clearly an imitation of a 51. It is a very discrete pen, which is nice when I'm just trying to take notes in class (if I use a non-hooded nib, I get asked why I'm using a calligraphy pen).
Construction & Quality:
On one hand, this is clearly a durable pen designed to take some abuse. On the other hand, not everything was aligned properly when it was being built. The cap in particular looks a bit off. Also, for those who care, the clip is not nice to use. The cap also never clicks, it just kind of slides until it cannot anymore. On the other hand, it posts well and I've not had trouble with the nib drying out.
Weight & Dimensions:
I don't know the exact numbers, but the size and shape are perfect for me, in terms of comfort. It is comfortable both posted and not.
Nib & Performance:
I really like the way this writes. It gives me a nice fine line, and it isn't scratchy. It doesn't flex (duh), but it is less of a nail than some of my other pens. It starts consistently and just doesn't give me any trouble.
Filling System & Maintenance:
This uses a squeeze converter. I hadn't liked the other squeeze converters I've used, but this one actually easily fills with a lot of ink.
Cost & Value:
This pen was $5 from isellpens. After hearing about fakes, I wanted to make sure I would get a real one. This pen can easily be found for more or less. Regardless, it is an amazing pen for the price.
Conclusion:
I bought this pen because I wanted a good note taking pen. This is exactly what I got. This pen is not gorgeous or dreamy, but it is solid, writes well, and is pleasant to use. It's perfect for note taking, and can be replaced cheaply and easily. This all makes it ideal as a school pen. Out of my small, cheap collection of pens, if I could keep only one, this would be it.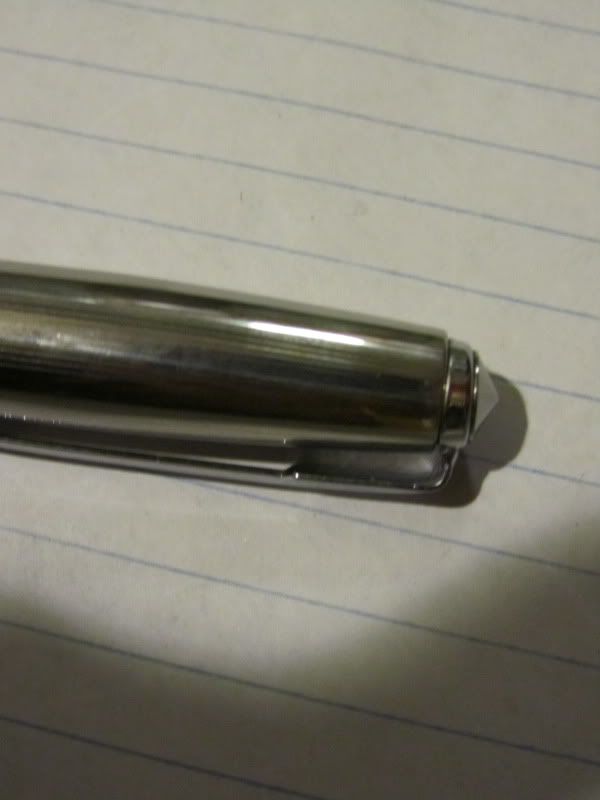 The cap jewel is a bit off.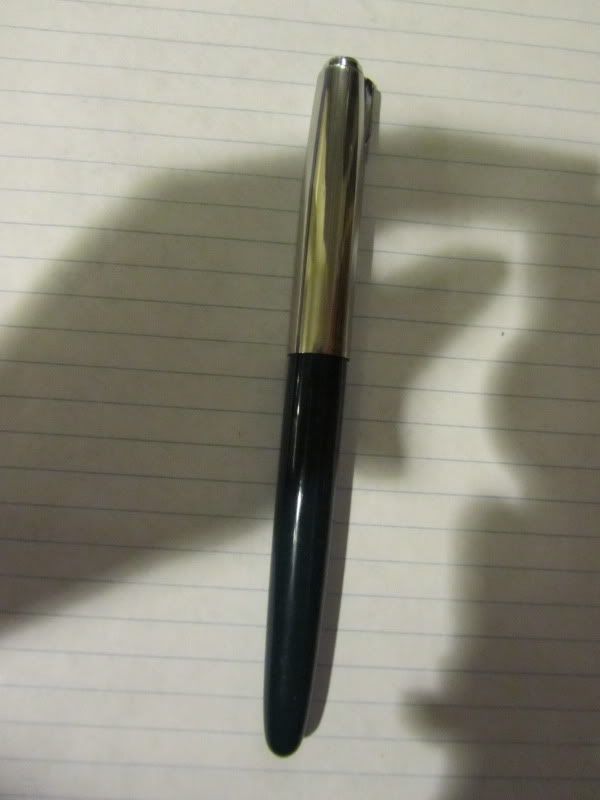 Also, I apologize for the shadows of my hands in my photos. I may try to replace them with better photos at a later date.
Edit: I used Noodlers Black in this pen, on random cheap lined paper. The review fits rather perfectly on the paper largely because I'm running low, and didn't want to use any more.
Edited by celesul, 23 October 2011 - 06:20.