Registration on the Fountain Pen Network
Dearest Visitor of the little Fountain Pen Nut house on the digital prairie,
Due to the enormous influx of spammers, it is no longer possible to handle valditions in the traditional way. For registrations we therefore kindly and respectfully request you to send an email with your request to our especially created email address. This email address is
register at fountainpennetwork dot com
. Please include your desired
user name
, and after validation we will send you a return email containing the validation key, normally wiithin a week.
Thank you very much in advance!
The FPN Admin Team
Aikin Lambert Vs Aiken Lambert Capitole
Started by olivier78860 , Oct 14 2011 14:02
13 replies to this topic
Posted 14 October 2011 - 14:02
---
Posted 14 October 2011 - 15:00
Any chance of a closeup image of the markings? Maybe rub some chalk or white wax over them so they show up well?

---
Posted 14 October 2011 - 15:15
The grey one's marking, in close-up:
The green one's marking, in close-up:
Edit : I'm not really gifted for taking pics; the barrels' dimensions are identical.
The only differences are "E" instead of "I", and the marking being slightly more pronounced ("font size"?) on the green one.
Edited by olivier78860, 14 October 2011 - 15:18.
---
Posted 14 October 2011 - 15:21
That's interesting and quite a mystery to me. I often see "Aiken" written but always considered it a typo. I have an Aikin Lambert "Mercantile".

Yes, yes I do owe you a letter.
---
Posted 14 October 2011 - 17:23
Wow, that's wierd. Their nice pens though. Hard to imagine a fake with a good nib but stranger things have happened. What's marked on the nibs?

---
Posted 14 October 2011 - 17:56
Both are engraved :
18KT
CAPITOLE
U.S.
AMERICA
The nibs' holes are heart-shaped.
---
Posted 15 October 2011 - 23:15
Thanks, it's interesting. I have trouble imagining that they made a typo on one of their pens but it looks like they did.

---
Posted 16 October 2011 - 00:28
Thanks, it's interesting. I have trouble imagining that they made a typo on one of their pens but it looks like they did.

I doubt that it is a case of a misprint or typo.
The period is interesting, companies bought each other and people started new companies with very similar names and competition was interesting at least.
---
Posted 01 November 2011 - 22:02
pretty nice pens
thanks for the review
Pens are like watches , once you start a collection, you can hardly go back. And pens like all fine luxury items do improve with time
---
Posted 28 December 2011 - 20:28
Nice review !

LYTH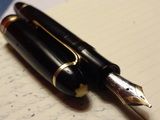 ---
Posted 22 June 2012 - 20:54
This is very interesting for me - I do have a simple eyedropper pen ( no name) with a 18KT Capitole U.S. America branded nib, a simple but wonderful pen to wirte and draw with. And I make some search concerning this pen. On a french Forum, someone suggested to search in the direction of Aikin/Aiken - Lambert. I do not know about my pen itself, but considering the name Aiken - that can be understood as Aikin by some typographer - means "Oak" in Dutch and flamish. Now I do not know a lot about the two company founders, but Aiken and Lambert might be people that imigrated from Belgium to the U.S.A.( them or their ancestors). I have this idea as both are common names in Belgium.
If anyone has some information about this pen, I would be grateful for.
Here is a picture of the nib:
and here is another one of the pen and what I use it for:
---
Posted 22 June 2012 - 21:20
Here is one of my favorite adverts of all time in the pen world:
The nib in the top left of the advert says "Aikin Lambert", with an "i". I've read this review a couple of times and have also done some searching but so far have not come up with a historical explanation for the difference between the use of Aikin and Aiken. I have an Aikin Lambert Capitole Cabinet and it definitely has an "i" in Aikin.
How small of all that human hearts endure,
That part which laws or kings can cause or cure.
— Samuel Johnson
---
Posted 22 June 2012 - 21:40
I think that probably there was a changing in the control of the production when Waterman bought A-L. And if the quality for sure remained good, it might be that Mr.Aikin did not have the will to supervise things the same way he most certainly did before. This would explain the Aikin/Aiken FPs of this topic ?
Also, i have seen Aikin-Lambert fountain pens with Capitole nibs - but there are Aikin-Lambert pens with the company name on them. So I do not know whether these were produced by A-L or another ( Capitole ?) company. This is a knowledge only absolute specialists probably have, I suppose.

---
Posted 27 September 2017 - 20:12
This thread has the only information I've found about the "Aiken" Lambert Capitole, so I'll contribute my observation and conjecture on the subject.
I recently bought the same model of pen, in brown. I bought it from an FPN member who is based in France, like the original poster in this thread. 
  So I'm wondering whether a French company made pens with the name, "Aiken Lambert."
The very close similarity between Olivier's pens makes me doubt that the "Aikin Lambert" pen and the "Aiken Lambert" pen were made by unrelated companies. According to online sources, the New York firm of Aikin & Lambert merged into its New York neighbor, L.E. Waterman, around 1915, but Waterman kept using the Aikin Lambert brand name into the 1930s. By 1926, Jules Fagard was making Waterman pens in France. Perhaps Fagard made Aikin Lambert pens as well, and misspelled the brand name?
Photos are below. Unlike Olivier's nibs, mine is not marked with the pen's model name, so it may not be original.
  Richard
---
---