I got this pen almost on a whim for $30. The Hero 200A is a near-copy of the classic Parker 75, right down to the arrow clip. It comes with a 14K gold nib, which is crazy at this price point.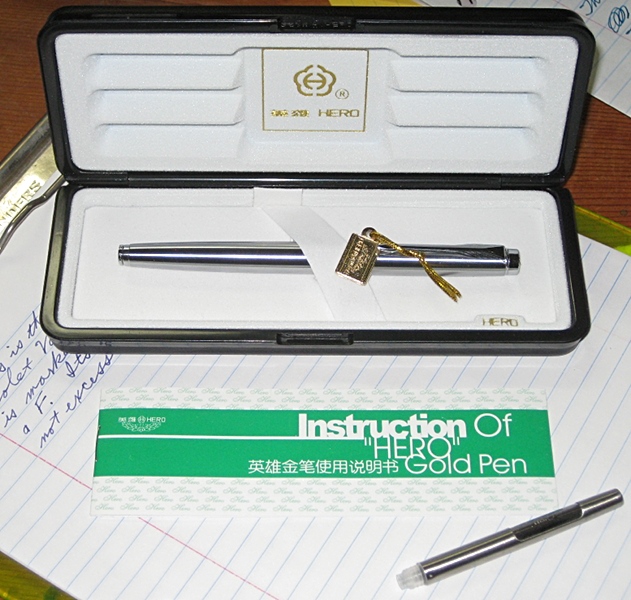 For a while now I've been looking for an inexpensive (let's say under $50), decent quality pen that accepts international cartridges and converters. This I felt would be a great recommendation for beginners as their first fountain pen. This is one of the few pens I've found that measured up.
So, down to specifics. . . .
Even though the nib is gold, I have to wonder about the alloy used -- it looks sort of dull and almost bronze-like. It's also a nail! I think this is a true "manifold" nib that can handle carbon forms. It should be perfectly OK to loan this to ballpoint users; I doubt they'll manage to harm it. As a bonus, it writes just as well with the back side (though slightly finer), so anybody who doesn't know how to orient the nib to the paper has two chances to get it right.
Flow is what I'd call medium or perhaps slightly dry-ish. The nib is marked M, but to me it writes more like a western F nib -- which I like, and I think also is a good choice for beginners. It's not scratchy (and my example had its tines well aligned), but it does have some feedback. This is the sort of nib that can be very smooth when used on premium paper (such as Rhodia), but becomes draggy when applied to cheaper and rougher paper. Just like with a good sports car, you'll feel whatever surface it's running on.
The pen comes in a presentation box which is actually nice. I've complained before about the modern fashion for huge, elaborate, clumsy presentation boxes. This one hearkens back to the 1960s when boxes were more practically sized. The shell is plastic, but is textured rather convincingly and doesn't exude cheapness.
The 200A is slim and elegant by comparison with a lot of modern pens, but its metal body gives it a subtle heft. The cap goes on with a firm, positive snap, and it's not vented. I believe it should prove resistant to drying when capped. The cap also posts well.
I do have a couple of nitpicks. The barrel threads have a slightly gritty feel. Also, the "ball" of the arrow clip has a seam where the metal edges are folded together, which is a bit rough. It doesn't go onto and off a pocket a smoothly as some.
My 200A came with a converter installed. At a glance it looks like the filler in an aerometric Parker 51. However, there is no breather tube, and it works just like the common Sheaffer squeeze converters. The sac is opaque, so you have no way to check your ink level. Although I'm sure this converter is perfectly usable, I was also pleased to find I could swap in a Schmidt K5 converter with no problem.
In summary: This is an amazing bargain, should be a great pen to recommend for beginners, and is a practical and efficient design that could easily serve as a daily user.