☞ For convenient viewing of the images, you may wish to scroll to the menu at the very bottom of this window, then change the FPN Theme from 'IP.Board' to 'IP.Board Mobile'.

Please take a moment to adjust your gear to accurately depict the Grey Scale below.
As the patches are neutral grey, that is what you should see.

Mac http://www.wikihow.c...te-Your-Monitor
Wintel PC http://www.calibrize.com/


Grey Scale:


~|~I~|~


Figure 1.
Swabs & Swatch
Paper: HPJ1124 24 lb.


Figure 2.
NIB-ism ✑
Paper: HPJ1124.
Depicts nibs' line-width and pens' relative wetness.
LINK: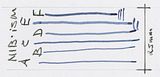 Pens: L → R: Somiko, 440+XF, Estie, PPP, Slimfold & Carene.

Figure 3.
Paper base tints:



L → R: HPJ1124, Rhodia, G Lalo white, Royal, Staples 20 lb.

WRITTEN SAMPLES - Moby Dick
Relative Humidity: 87%
Ruling: 8mm.

Figure 4.
Paper: HPJ1124.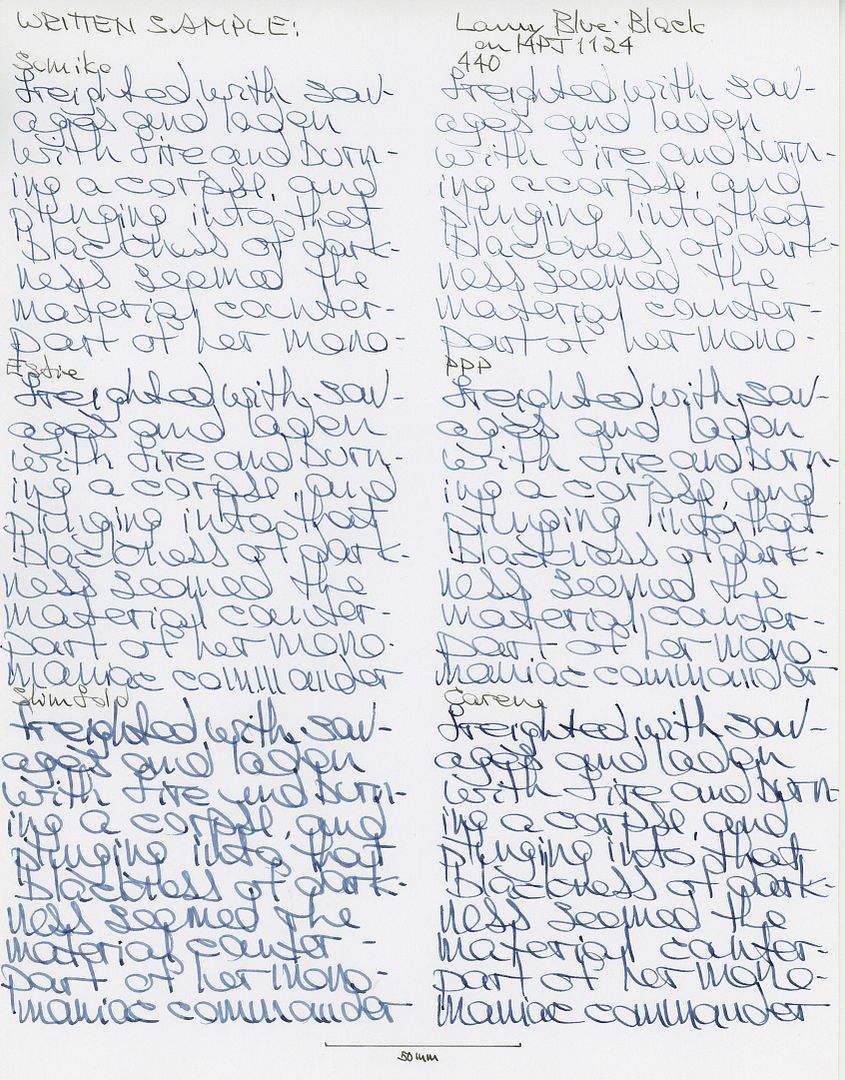 Figure 5.
Paper: Rhodia.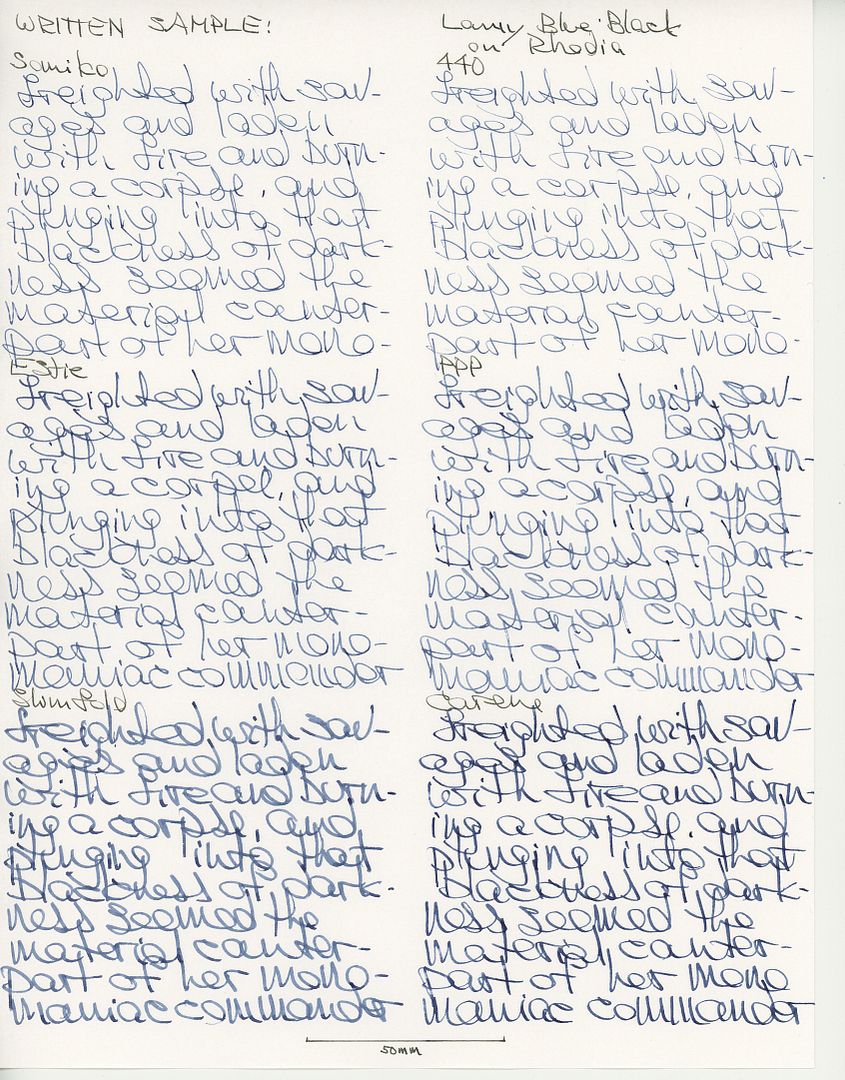 Figure 6.
Paper: G Lalo, Verge de France, white.



Figure 7.
Paper: Royal - 25% rag.



Figure 8.
Paper: Staples 20 lb. multi use.


Figure 9.
Grocery List
Paper: Pulp. One-a-Day calendar page.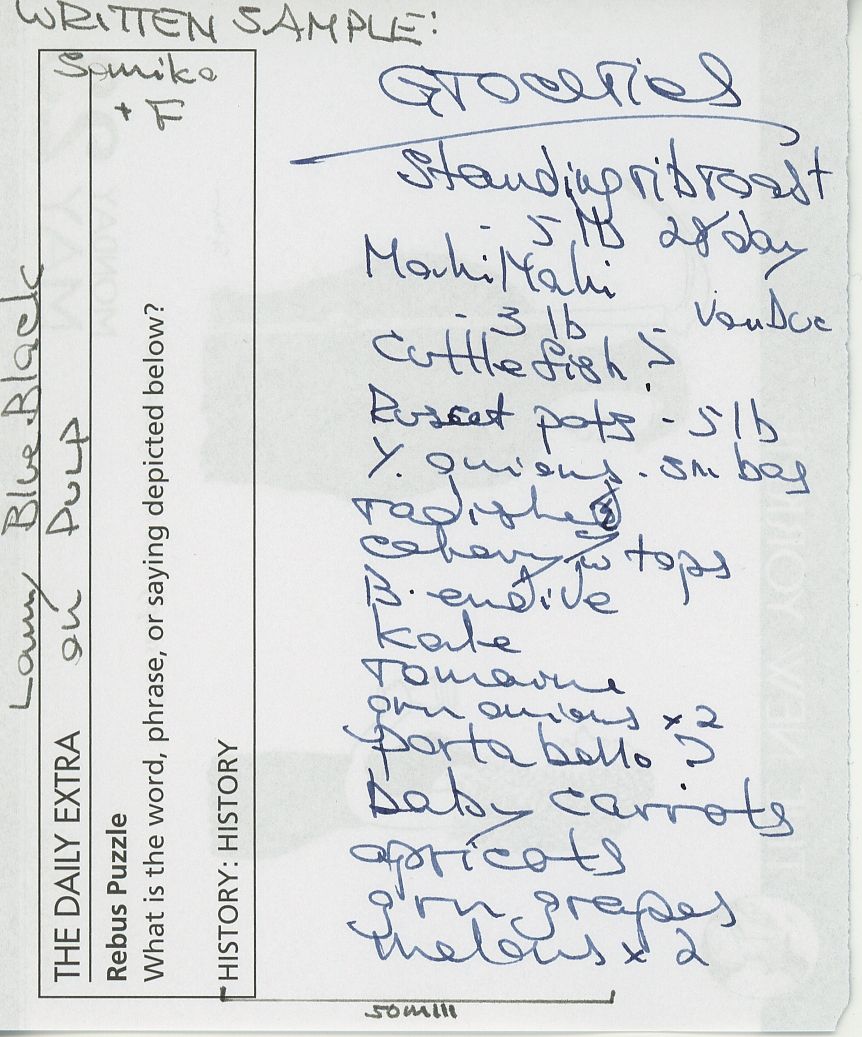 OTHER STUFF

Figure 10.
Smear/Dry Times.
Wet Tests. ☂


GENERAL DESCRIPTION

Type:

FP ink containing iron-gall.†
Presentation:

Eco-Green:

Daft - to separate materials for recycling, the glass bottle needs smashing.
Availability:

Daily writer?

A go-to ink?

Yes - when a simplesimple high-performance true Blue-Black ink is desired.

† I was aghast when informed by Lamy Germany that iron-gall is planned to be eliminated from the bottled ink's formula.
It is a plan, not a rumour as was mention in Post № 11 LINK
When/if that occurs is open to speculation LINK.
I like think that polite but vociferous protest by consumers may have caused Lamy to reconsider that plan.
So that a broader readership may be aware of this development, a separate Topic in the Inky Thoughts Forum was created. If you wish to comment on the planned formula change, please contribute to that thread and/or write to Lamy. LINK

USE

Business:
(From the office of Ms Blue-Black.)

In the medium to darker densities, I could see LBlBk being used for all communication.
It may be a nice idea to have bright-eyed Blue ink when/if a more convivial ink seems appropriate.
For personal work product, I could see using LBlBk without hesitation. (I am sooo dull.)
The excellent line quality and unobtrusive appearance make this ink a viable option for marginalia, especially from a very narrow nib.
Not enough zip for editing / mark-up.
Not enough zap for error correction or grading of assignments.
Illustrations / Graphics:

Even at maximum density shown, the ink is not prone to become so dark as to be perceived as Black, (unlike Sailor BlBk), hence it is a good intermediate between Black and medium Blue, or dark and medium Blue should a greater non-Blue increment be desired.
Line quality is excellent, so an easy pick when tight narrow lines are required. e.g. diagrams, charts, labels, crosshatching.
Students:

Easily.
LBlBk has a very readable appearance, so is well suited for general notes.
Water resistance is impressive, with little dye coming adrift when wet.
Performance on 20 lb. bond was outstanding, so two-sided use of 20 lb. 'lowest bidder' papers seems a very realistic expectation.
Wonderful for hand-written assignments. However, if/when a paper worthy of a high grade is anticipated, a more animated ink should be considered. e.g. PR American Blue
Personal:

I have not used LBlBk since my first bottle ran dry, so that says something not everyone wants to read. However, a friend gave me a generous sample from a fresh bottle for my re-edification, and to generate this Review. (As a token of appreciation, I slipped him some Waterman Havana. )
Easily a pro forma ink - nothing out of the ordinary, other than it is definitely an FP ink. Suits straight-forward writing - this one is unlikely to distract the reader.
I was hoping that for personal writing, the 'it' factor of i-g inks could generate the charisma to overcome its simplesimple appearance, but I was wrong.
In the higher densities, it does acquire more substance.
Billets doux?


PHYSICAL PERFORMANCE & CHARACTERISTICS

Flow Rate:

Nib Dry-out:

Tips became dry sooner than expected, but not the ink in the feed.
Start-up:

Very good.
No significant virga was seen.
Due to nib tip dry-out, there was some lack of confidence at the first stroke, and a temptation to 'nudge' the nib prior to writing.
I suggest capping the pen when not in active use.
Lubrication:

Lower than average.
Likely related to low flow rate.
Nib Creep:

Staining:

Clogging:

Bleed- Show-Through:

Feathering / Woolly Line:

Smell:

Hand oil sensitivity:

Not seen.
Given the dryness of the ink, I would guard against contamination of the writing surface.
Clean Up:

Thorough and rapid with plain water.
This being an iron gall ink, it requires higher maintenance than simple dye-based inks, so one should bring their 'A' game to the clean up regimen, including internals of caps & barrels.
Mixing:

No stated prohibition.
I would place this and other i-g inks on the list of 'increased diligence' for mixing.
Do not mix with Sailor nano inks! ☣
Archival:

Lamy claims "... very permanent and can be read even after decades when stored in a dry and shady place."
Smear/Dry Times & Water Resistance:

As depicted in Figure 9 above.

Now that, dear reader, is another impressive performance profile.


THE LOOK

Presence:

Rather low level: nap of the earth, but without stealth capability.
Not the least bit distracting.

Saturation:

Shading:

Evident from narrow nibs used, but it seems a bit hit or miss otherwise.
Likely needs to be cultivated, or could be suppressed.
Variability:

Pen+nib combos used:
Papers used:

A bit more than expected.
Malleability:

High.
The wily practitioner would definitely need to choose their writer first, then make a rather deliberate choice of paper to generate the desired Look.
LBlBk may be frustrating to those without a range of pens and papers to generate the desired Look. However, as LBlBk is unlikely to misbehave, the results should be acceptable.

Hi-Res Scans:
Originals are 60x30mm

As I do not wish to be dubbed 'Queen of The Bandwidth Bandits', these are links only.

Somiko on HPJ1124


Estie on Rhodia


PPP on G Lalo


Carene on Royal


FIDELITY

Is the name appropriate?

Yes.
Definitely a Blue-Black, without a hint of green/teal/blaqua.

Are swatches accurate?


SIMILAR COLOURS

COMPARISONS

For the recent Blue-Black inks that I have reviewed, an effort was made to use several of the same papers, one or more of the same pen/s, and Written Sample format to support side-by-side comparison through manipulation of your web browser windows. I hope this is sufficient to meet most ad hoc comparison requirements; if not, I welcome your request via PM.

I plan to generate three comparisons as separate Topics in the Ink Comparisons, Scans & Tests SubForum next door: the cartridge version without iron-gall, the bottled Montblanc Midnight Blue, and Pelikan's 4001 Blue-Black.

PAPERS

Lovely papers:

Ran well on all papers used.
Trip-wire Papers: ☠

Tinted Papers:

Pre-Printed Papers:

Forms, etc.
For charts & graphs:
Is high-end paper 'worth it'?

Quite possible.
Once again, paper is very much a matter of preference over performance.

*Being an i-g ink, this is often named as an effective counter-measure to highly absorbent FP-hostile paper.

ETC.

Majik:

I'm afraid not - lacking the complexity, jump and juice to be conjured.
Personal Pen & Paper Pick:
Carene on the HPH1124.
While I do have a penchant for pale inks, in this case the greater density and stub nib of the Carene give the LBlBk a character I can appreciate.
Yickity Yackity:

My crystal ball indicates that once the sample is done, it will not be replaced by a bottle.
Ah kushbaby, will six bottles be sufficient to sustain you beyond The Zombie Apocalypse? Post №44 LINK


======

NUTS & BOLTS

Pens:

Sailor Somiko + TIGP F nib.
Sheaffer 440 + XF steel nib.
Estie + steel nib.
Platinum President Purist + 22K B nib.
Parker UK Slimfold + 14K Bodacious nib.
Waterman Carene + 18K stub nib.
______

Papers:

HPJ1124 24 lb. Laser Copy.
Rhodia.
G Lalo, Verge de France, white.
Royal, 25% cotton rag.
Staples 20lb. multi use.
Pulp. One-a-Day Calendar page.
______

Images:

Scans were made on an Epson V600 scanner; factory defaults were accepted.
Figures shown were scanned at 200 dpi & 24 bit colour.
HiRes Images linked were scanned at 300 dpi & 24 bit colour.
Scans were not adjusted post-production, other than dumb-down by Photobucket and IP.Board s/w.
______

Densitometer Readings (FWIW)

Red 132
Grn 151
Blu 185
Lum 153
______

Fine Print
The accuracy and relevance of this Review depends in great part upon consistency and reliability of matériel used.
Ink does not require labelling/notice to indicate (changes in) formulation, non-hazardous ingredients, batch ID, date of manufacture, etc.
As always, YMMV, not only from materials, methods, environment, etc., but also due to differences between the stuff I used, and that you may have.
Also, I entrust readers to separate opinion from fact; to evaluate inferences and conclusions as to their merit; and to be amused by whatever tickles your fancy.
_________________________


-30-

See - I didn't mention Lamy Green once!
Tags: Fountain Pen Ink Review Lamy Blue Black Blue-Black iron-gall Sandy1
Edited by Sandy1, 16 August 2011 - 17:51.