I've really been waiting eagerly for this one, and it showed up in this morning's mail!!
I got the Summer Sunset color, which is basically that familiar red-orange we all know from great 1920s Parker "Big Red" Duofold -- and the pens from other makers that shamelessly copied it. The look is very classical: cylindrical body and cap with black "flat top" style ends, gold cap bands. I'm glad they decided to offer this color; it really is a good match for the styling.
We'd been told the piston mechanism is very smooth, and I found that to be true. It also adds a bit of heft to the pen, which I instantly noticed upon first picking it up. My other Bexleys have been very lightweight, but this is more of a middleweight. It must be the brass parts inside that I feel. It feels solid.
One of the first things I did before inking it was measure the ink capacity. I do this by filling and expelling water, then measuring the output with a syringe, which means that I make no attempt to account for the capacity of the feed. I measured consistently 1.1cc. To put in perspective, that's a little more than my TWSBI 530 and almost identical to my Pelikan M200 as measured using the same method. It's also about 60% more ink than a Schmidt K5 converter, which has been the standard for Bexley pens until now. So. . . This is what I consider to be perfectly decent and practical ink capacity, but if you were expecting something to hold three or four times as much as a converter, this isn't it. (Maybe you'd better go for a New Postal pen?)
I was worried about whether this pen's cap would post well. Not a problem! It posts in a nice and secure manner. The only quibble is that it does post onto the blind cap (like a TWSBI) so you don't want to go twisting the cap while it's posted!
I'm picky about clips. Although it's slightly peculiar looking on the end, I'm happy to say this clip is snag-free and has the right amount of tension. It is positioned pretty high on the cap, so it drops the pen deep into your pocket.
The nib and feed are housed in a removable unit, or module, that screws out easily. However, it's not identical to the ones used in Bexley C/C pens, and it doesn't have the nipple that a cartridge or converter would fit onto. That means you can't trivially swap nibs with other Bexleys, although you can disassemble the nib units and swap the actual nibs between them. It's a somewhat trickier operation.
The cap disassembles just like many other Bexley caps, without tools. The pen body and section don't come apart, and there's no immediately obvious way to get into the piston mechanism. So. . . A TWSBI it ain't. On the other hand, removing the nib-and-feed module gives you easy access to clean or lubricate inside the ink reservoir as needed.
The ink window I'm still not sure about. It's small. Compared with something like a TWSBI or a New Postal or a Belmont or a Stipula Vedo, the visibility of the Corona's ink supply is very constrained. It's about half the size of the window on a Taccia Merit, even. Only time will tell how well this works for monitoring the ink level. It might depend on the opacity of your chosen ink too.
I got mine from Richard Binder with the nib adjusted (i.e. "Binderized"). I inked it up with my benchmark Noodler's Black, and it's smooth with just the right flow. It's a F that's on the flabby side of fine, more like a fine-medium, as I had expected since German-made nibs often are.
A small quirk: The section is nicely shaped and I think will be comfortable, and is made of black plastic -- sort of black, anyhow. With the nib removed and light shining on it, I could tell it was actually a clear plastic with a heavy, but not complete, spattering of black color. It's only noticeable when the pen is disassembled, not in normal handling. The odd thing is, I've seen this before. The black cap of my New Postal Jr is the same way, sort of mottled translucent when light shines through it.
So, how's that for a first impression? I had high expectations for this pen, and right out of the box it's meeting those expectations very well. Congratulations to Bexley for getting this onto the market! This is the real thing, no gimmick.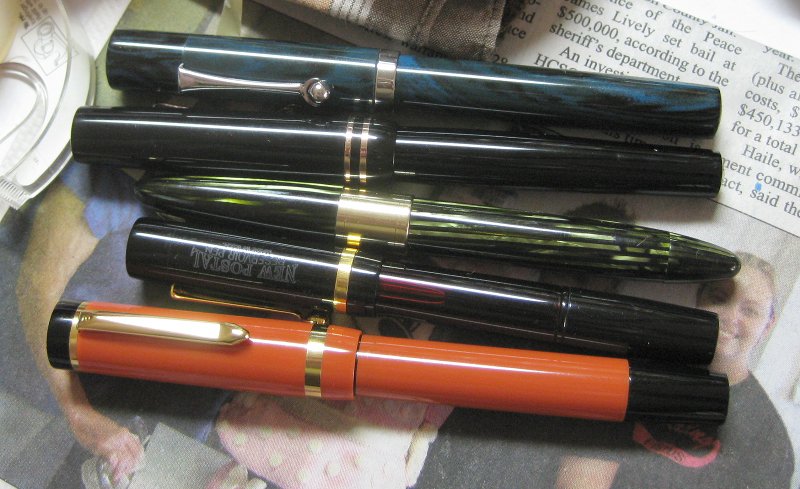 Bexley 56
Bexley America the Beautiful
Sheaffer Triumph Valiant
Gate City New Postal Jr
Bexley Corona
Could we get some uncapped comparison pics? Next to some other well known pens? Maybe? Please?

How's this?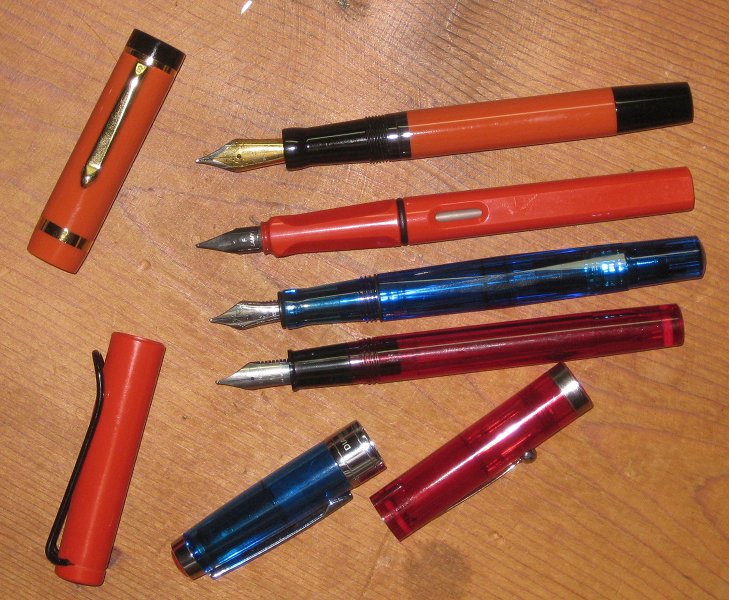 Edited by watch_art, 08 August 2011 - 22:52.