I thought I'd join in with the fountain pen reviews. If there's anything you think I need to add then please just let me know and I'll add them to my next reviews.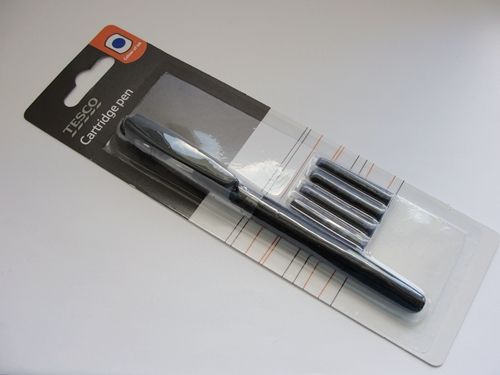 Price:
£1.00 ($1.50).
Packaging:
Blister pack which includes the pen and 4 blue cartridges.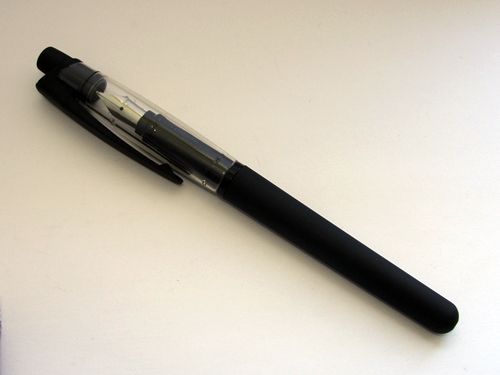 Appearance:
It looks like a £1.00 pen! The barrel of the pen is finished to a matte black plastic with a slightly rubberised finish. This shows fingerprints and scratches and I suspect the finish will wear off before too long. The barrel has a large hole in the end so it's not suitable for conversion to an eye dropper. The lid snaps tightly onto the pen and has a clip made of the same plastic as the barrel. I'm worried about snapping it. The clear plastic of the cap is very cheap looking (hey, it's a £1 pen!) and doesn't quite fit at the top where it joins the black plastic at the top of the cap. I suspect the clear plastic will begin the fracture around where it snaps onto the pen. I feel the cap is slightly too bulky for the pen but I think this is due to the over-large clip.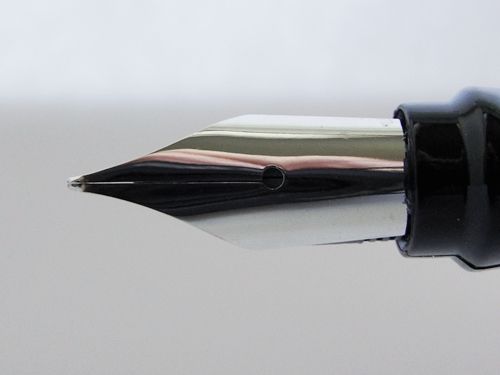 Nib:
The nib is plain and I suspect made of stainless steel (or something similar). Probably a medium nib, it writes with a similar width to my other medium nibs. It's pretty smooth if you catch the nib just right as the tines aren't quite aligned so it can scratch if you're writing at the wrong angle.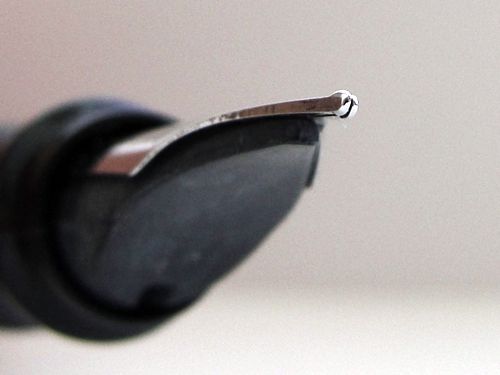 It's a wet writer and I got quite nice shading from even the cheap ink cartridges supplied with the pen. I suspect this will cause inks to feather on more absorbant paper. The nib, while it can be smooth, is dull to write with. It's not a nail (like my Lamy) but it doesn't have the delicious softness and smoothness of a TWSBI. It's no more exciting than writing with a gel-pen.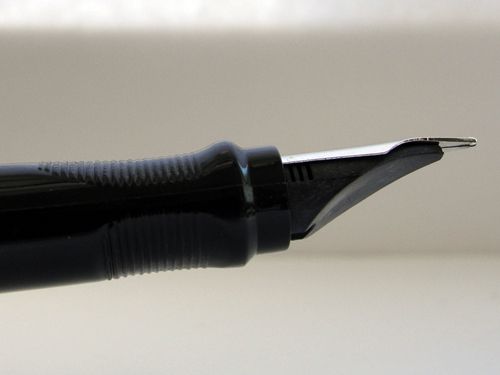 Writing:
There are grooves cut into the grip section to guide the placement of your fingers, quite a surprising addition to a £1 pen. They're not as pronounced as a Lamy and you could ignore them if you wish. They do fall pretty much where I hold a pen anyway. Due to the grooves, it can get a little uncomfortable after an extended writing session. The pen is very lightweight to write with, even lighter than a Pilot 78G! The cap is too heavy to post for me. It feels like it unbalances the pen when it's posted.
Filling:
Standard international cartridges. You can tuck a spare into the barrel which adds a little useful weight to the pen. My Baoer converters fit this.
Overall:
If you can get past the cheap design and finish on the pen, it does have a fairly nice nib. It could be useful for those who are starting to tweak nibs, you've got something here you can adjust for only £1. It might also be good for school-age children who are starting to show intrest in a fountain pen but you can find nicer pens for not a lot more money. For example, the Pilot 78G works out to just over £6 including shipping and is a much nicer pen than this. It's not as bad as I expected it to be for £1, but there's nothing that makes this pen worth going out of your way to find.