Another Topic led to questions about what is and is not a Wahl Signature Pen. The following was excerpted from that topic and started anew here for more to see. scan down for the dialog and the pictures.
Syd
Collectors Item
Group:Moderators
Posts:876
Joined:13-October 04
Local Time:Jul 01 2011 04:17 PM
Flag:
Posted Today, 01:14 AM
rhr2010, on 30 June 2011 - 08:50 AM, said:
Syd, I am confused about what is an actual "signature pen". For instance in your web site you have "Equi-Poised Pens" and "Gold Seal Flat Tops". Where do they stand the proper "signature pens" As you describe, I have seen "signature nibs" on various pens but I am not sure which pen is a proper "signature pen".
Thank you and sorry, as I am sure that this topic has been covered already.
I am not at all surprised. The Signature nib and the Signature Pen are different things and yet they come together in the true Signature Pen (unless otherwise ordered)
By Wahl's own definition the signature nib was:
"Designed for those who like a heavy durable nib,but one not so hard and stiff as to make writing tiresome. Has a large full ball point - very smooth and easy writing. Good for use by either a heavy or light hand on any kind of paper. Will stand lots of hard work. Made in fine and medium point sizes 2,4,and 6 only."'
As such, the Signature nib was a part of the Wahl Pen line up from at least 1924 as one of 12 nib choices in the #6 nib (large nib). In 1925 the Signature nib became one of the nib choices in the #2, #4 and still in the #6 nib sizes. BECAUSE THE SIGNATURE NIB WAS MIDDLE OF THE ROAD, FOR AVERAGE USERS AND ABLE TO ACCOMMODATE A VARIETY OF HANDS AND WRITING STYLES IT WAS A REGULAR OR STANDARD STARTING NIB CHOICE FOR PUTTING INTO PENS AS THEY CAME FROM THE FACTORY. The writing characteristics were by our standards today a Semi-Flex.
From all that I can determine, by 1926-7 Wahl was trying to make a pen that was the everyperson's pen. The middle of the road average user pen that would appeal to the masses. To that end the $5 pen was introduced (what we erroneously may call the Non-Gold Seal Flat-top or the Signature Pen.) The fact that these middle of the road pens had the standard middle of the road nibs that were labeled "Signature", was not surprising, but it has led many people concluding any pen with a Signature nib must be a Signature Pen.- NOT! . It was the standard nib installed in the 1927 $5 Pen line (which included some of the first Wahl/Wahl-Eversharp plastic pens.
Now, in 1925 there actually was a SIGNATURE Pen! It came in hard rubber only and in only 8 designs ranging from the The large #7 size pen with the #6 size nib (3 designs - Plain Polished Red Rubber, Plain Polished Mottled Rubber and the Machine Turned Dart design in black hard rubber., the #6 sized pen with the either #2 or #4 size nib (the smaller nib in one of 2 ring-tops) . THESE WERE THE ONLY "TRUE" SIGNATURE PENS. These true Signature pens, were made that way to become the most easy to middle of the road ready to go pens. That made it easy for dealers to build their orders around. All the others were "signature" in nib only.
As I always seem to end up doing, I will mention that the pens as catalogued were not always given a model name. For example the 1927-8 catalog lists pens by color. If you want a Jade Green pyroxalin pen you can have a big fat flat top, a ring-top, and everything in between. So how did they communicate between dealer and factory about what pen was ordered> MODEL NUMBERS or Telegraph code words but not model names (usually) except maybe the in this context, the true Signature Pen).
More later.
Syd Saperstein
The Wahlnut
Pensbury Manor
Vintage Wahl Eversharp Writing Instruments
Pensbury Manor
Report
MultiQuote
Reply
Edit
Delete
Unapprove
#7 rhr2010 (IP: 131.239.49.21 )
Extremely Rare
Group:Gold Member
Posts:336
Joined:04-July 10
Local Time:Jul 01 2011 07:17 PM
Location:Boston
Warn Status
Posted Today, 07:39 AM
Thank you very much for the detailed explanation. If you get a chance, could you post a photo of a 1925 SIGNATURE pen side by side with a Gold Seal Flat Top?
I recently acquired a red mottled hard rubber pen that could fit the description of SIGNATURE pen, but it sports a large Wahl #6 nib and I guess it could be described as a hard rubber flat top pen (large gold band but not deco-band, however same size of Gold Seal Flat Top pens).
Here they are from the 1925 catalog: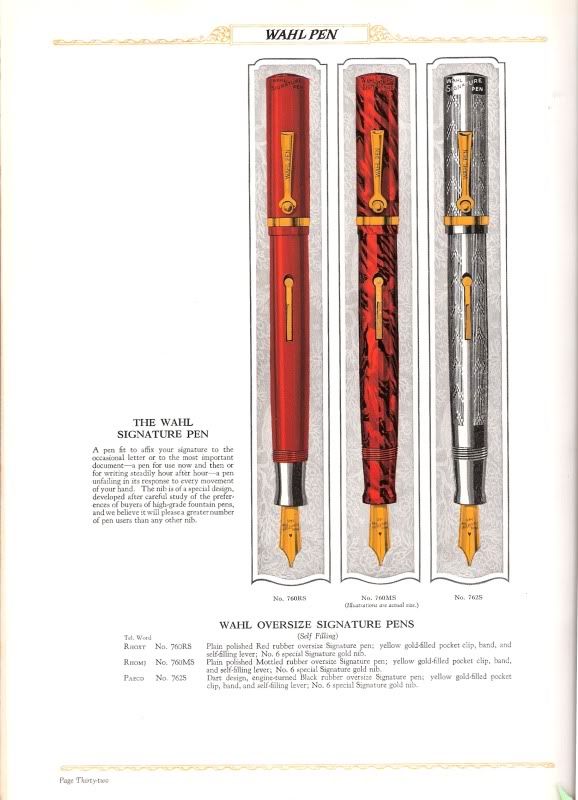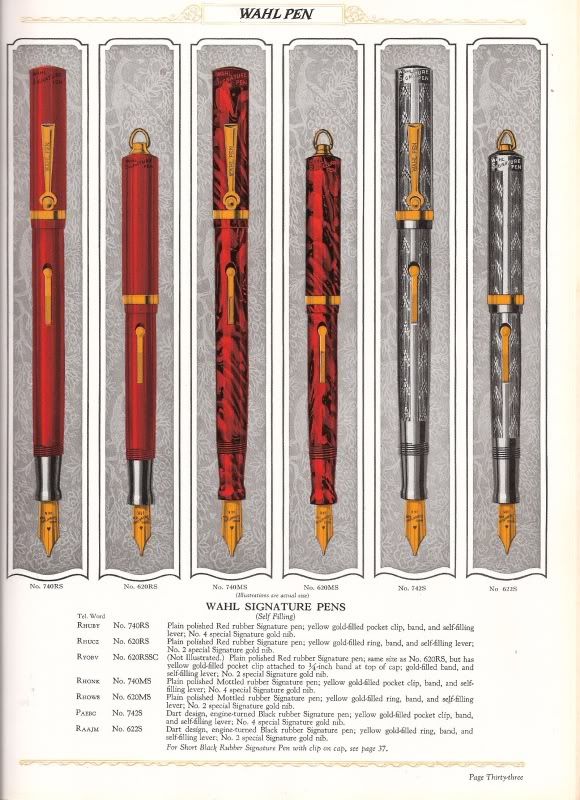 Notice that the pens are marked "Wahl Signature Pen" at the top end of the cap. Other Wahl hard rubber pens of the same size, material, and shape available in the same catalog (1925) were not so labeled...they were labeled Wahl Pen. many people have tried to apply the "Signature" moniker to all pre-gold seal wahl pens including the early 1927 plastic pens, but they were not Signature Pens even if they and others sported Signature nibs which were one of 14 or more nib choices in the Wahl nib line-up.
I expect this will trigger more questions. So rather than try to anticipate them here, lets all go to the Socratic method and let the dialogue that is sure to follow take us along the path that will help to explain the subtleties involved.
Oh, and here is a shot of the 1929 catalog picture of the Gold Seal pens
And The Gold Seal Deco Bands (the oversized Deco Band pens were about the same overall size as the large Signature and #8 size non Signature Hard Rubber pens of 1925-6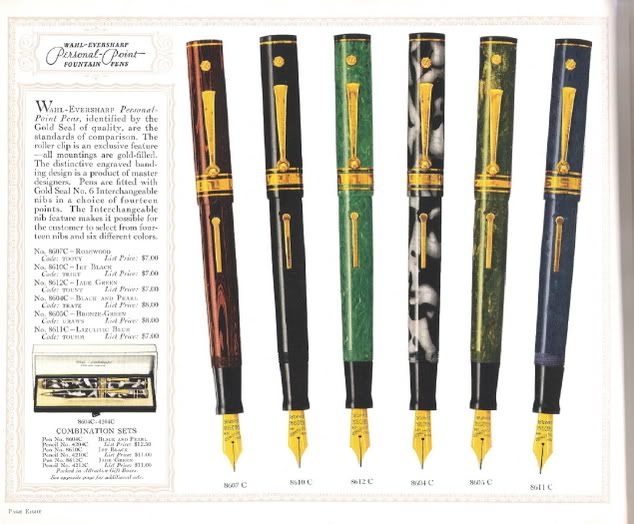 Syd
Edited by Wahlnut, 02 July 2011 - 05:31.