☞ For convenient viewing of the images, you may wish to scroll to the menu at the very bottom of this window, then change the FPN Theme from 'IP.Board' to 'IP.Board Mobile'.

Please take a moment to adjust your gear to accurately depict the Gray Scale below.
As the patches are neutral gray, that is what you should see.

Mac http://www.wikihow.c...te-Your-Monitor
Wintel PC http://www.calibrize.com/

Gray Scale.


- = + = -


Figure 1.
Swabs & Swatch
Paper: HPJ1124 24 lb. Laser Copy.


Figure 2.
NIB-ism ✑
Paper: HPJ1124.
Depicts nibs' line-width and pens' relative wetness.

Link:

Pens: L → R: Somiko, P99, C74, 45, Phileas & Prelude.


WRITTEN SAMPLES - Moby Dick

Row width is 8mm.

Figure 3.
Paper: HPJ1124.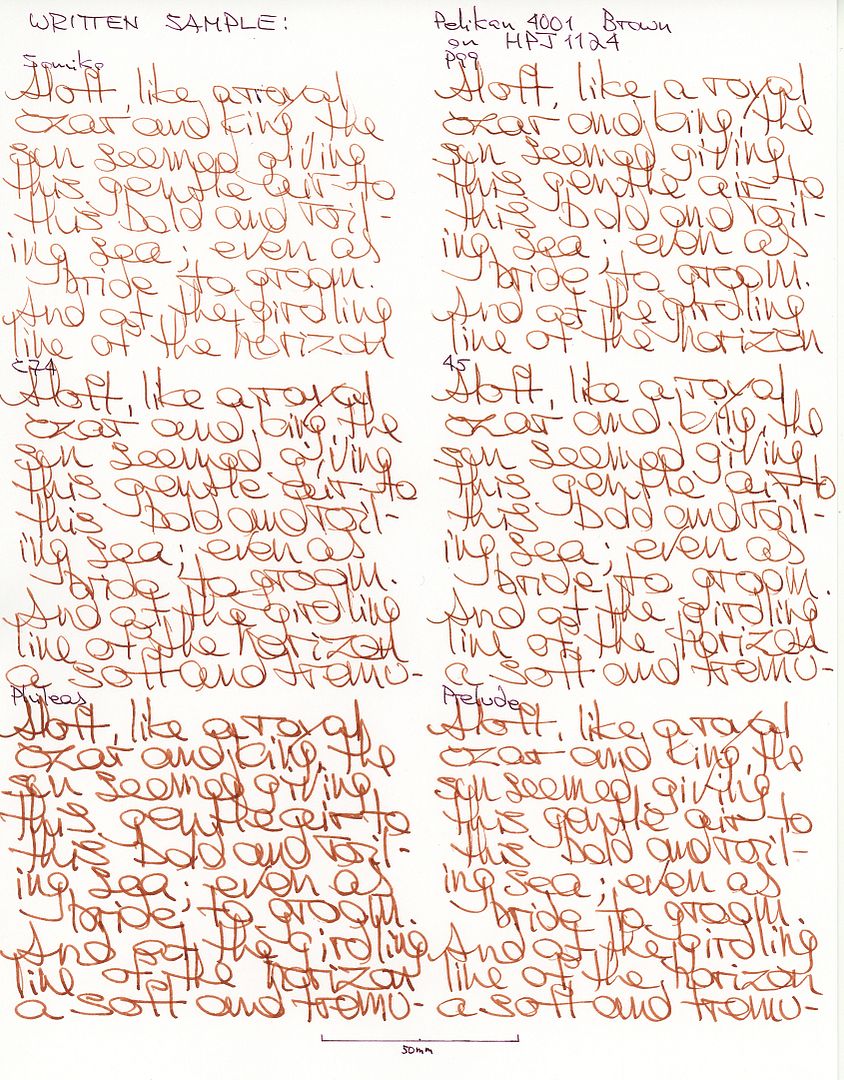 Figure 4.
Paper: Rhodia.

Figure 5.
Paper: G Lalo, Verge de France, white.



Figure 6.
Paper: Royal - 25% rag.



Figure 7.
Paper: Staples Pastels, creme, 20 lb.


Figure 8.
Paper: Staples 20 lb. multi use.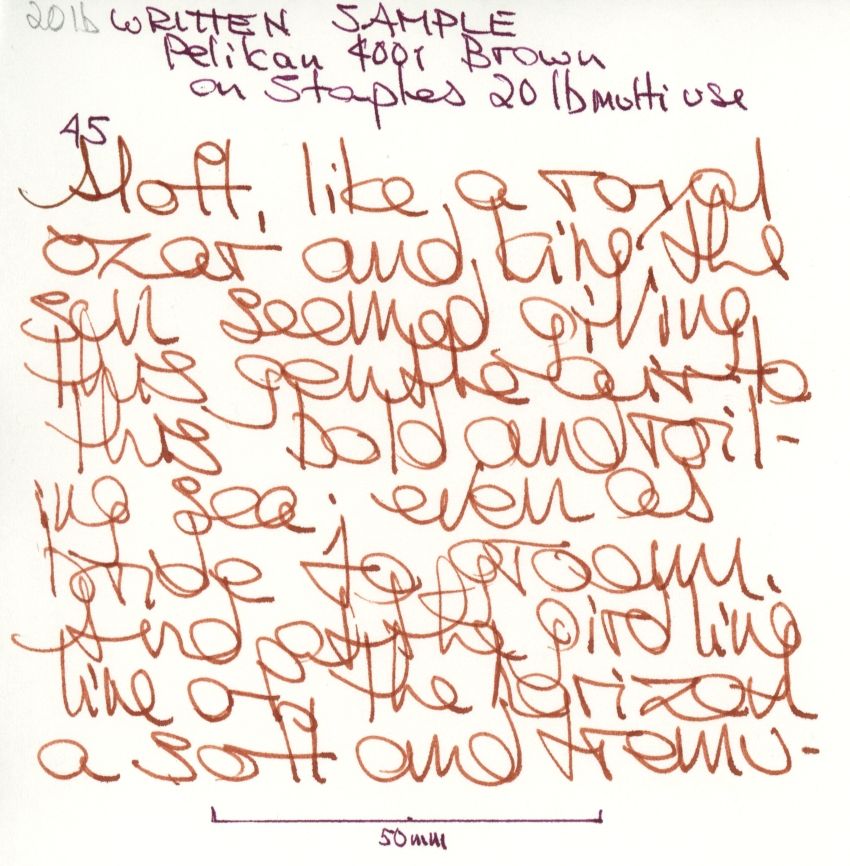 Figure 9.
Grocery List
Paper: Pulp. One-a-Day calendar page.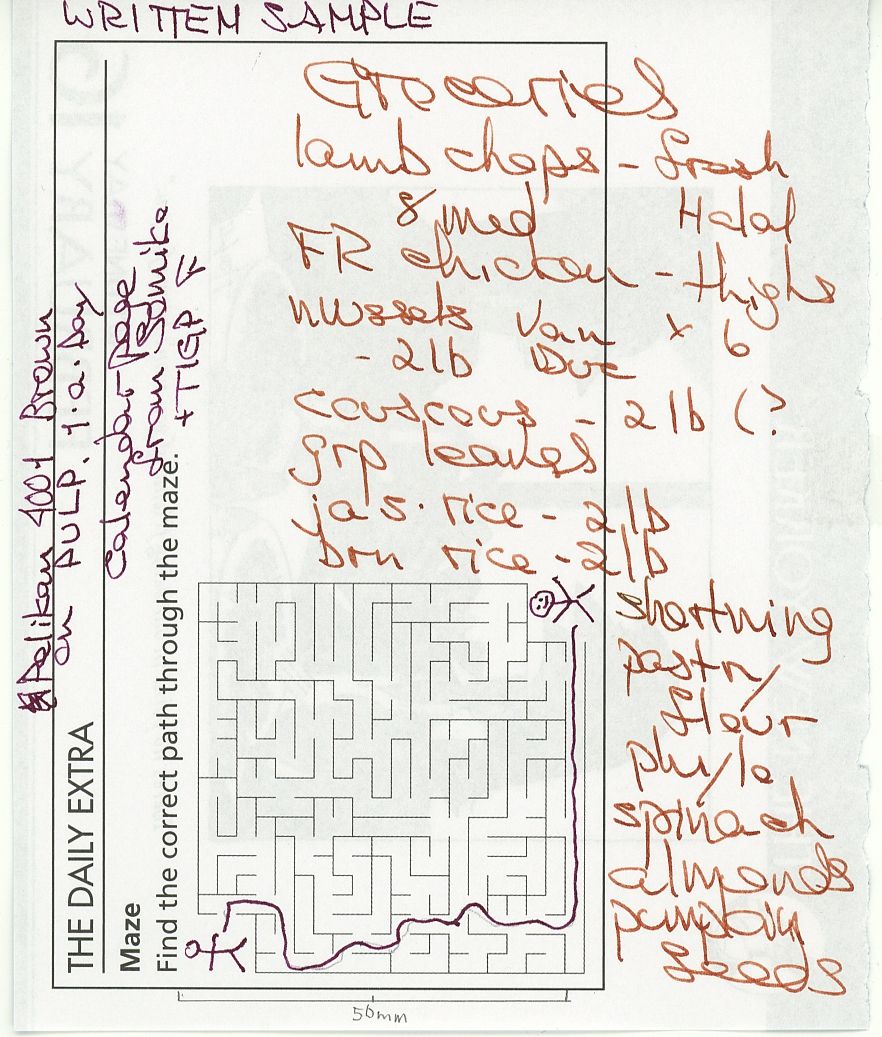 OTHER STUFF

Figure 10.
Smear/Dry Times.
Wet Tests.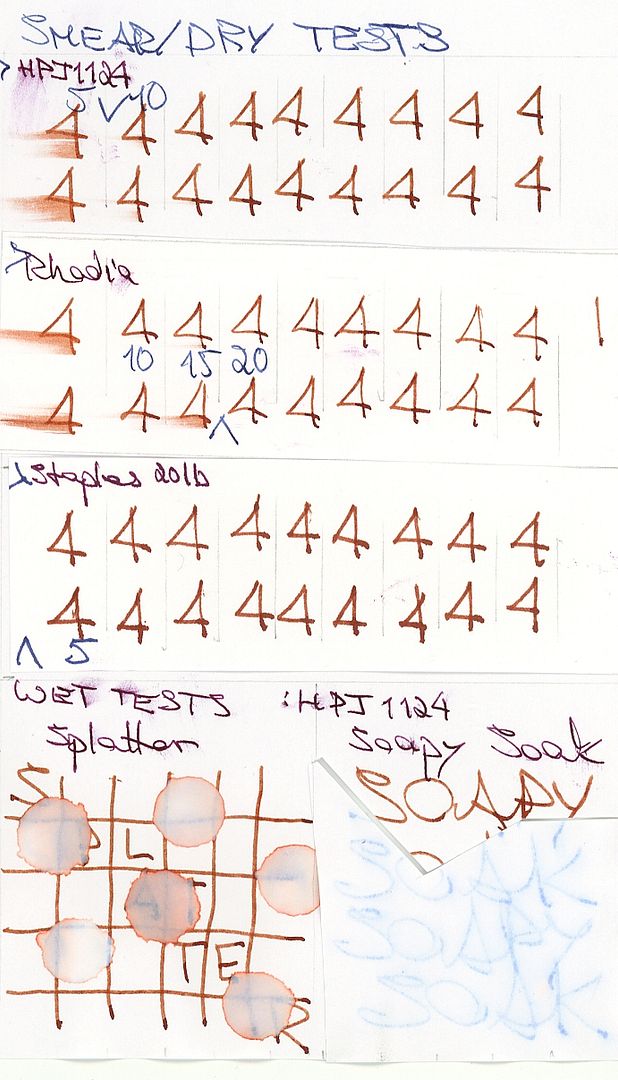 GENERAL DESCRIPTION

Type:

Dye-based fountain pen ink.
Daily writer?

A go-to ink?

Perhaps more for you than I.

USE

Business:
(From the office of Ms Blue-Black.)

I cannot envisage PBrn in a business setting. However ...
Some may choose to use this ink for personal work product, especially those working on quite absorbent paper.
It might be used for mark-up and editing.
Not enough zap for error correction / grading assignments.
Illustrations / Graphics:

PBrn may do well as a ground, but not as a figure.
A reasonable transition from a dark/burnt orange/rust to the more 'solid' Browns.
Line quality is very high, so tight lines, labels, crosshatching, etc. are easily within its grasp - but do watch for uneven density from shading.
Students:

Doubtful.
PBrn has no water resistance.
The unsettled colour makes this ink strangely awkward to read - especially under non-daylight (unbalanced) illumination.
Not in the running for hand-written assignments.
Personal:
PBrn seems so transitional that it is not its own colour. (?)
The indecisive feel of this ink really does not have a place in my array.
I'll just leave it at that.
Billets doux?

PHYSICAL PERFORMANCE & CHARACTERISTICS

Flow Rate:

Dry.
Bone dry.
Dusty.
In comparison, i-g inks seem like The Flood.
Nib Dry-out:

Start-up:

Lubrication:

Nib Creepers:

Staining:

Not seen after three days.
Clogging:

Not seen.
Seems very unlikely.
Bleed- Show-Through:

Some show-through on the Staples 20 lb.
Both sides of all papers could be used.
Feathering / Woolly Line:

Smear/Dry Time:

HPJ1124: 5 - 10 seconds.
Rhodia: 10 - 20 seconds.
20lb.: < 5 seconds
Water Resistance: ☂

⓵ΔC on the 4S Scale:

Some inky artifacts remain as evidence of activity, but no words legible.
Significant change of colour.
Recycle.
Aroma:

Faint, but definitely ink.
Hand oil sensitivity:

Not evident.
As PBrn can run so lean, I would guard against contamination of the writing surface.
Clean Up:

Very prompt and thorough with plain water.
Mixing:

No stated prohibitions.
Addition of a surfactant may improve the flow.
As I consider PBrn to be a transitional colour, it can 'nudge' other colours, or be the 'nudgee'. i.e. In and of itself, it is not sufficiently 'pure' to mix as one might with primary/secondary colours.
Archival:


THE LOOK

Presence:

Over-stretched.
Lacking poise.
Reminiscent of driving a car riding on one limited-use tire.

Saturation:

Shading:

Very nice, thank-you!

Seems to require a wet writer on a smooth paper.
Variability:

Pen+nib combos used:
Papers used:

Far more than expected.
Highly sensitive to hardness / absorbency.

Malleability:

ErHmm. I reckon the wily practitioner will choose their paper to establish The Look, then fine tune by choice of writer.

Hi-Res Scans:



FIDELITY

Is the name appropriate?

Dial 110! Summon GSG 9!!
Perhaps:

Rusty Tin Can?
Burnt Kumquat??
Tandoori Sienna?!?

N.B. The FPN Ink Review Index entry is for 'Pelikan 4001Brilliant Brown'. The packaging of the ink depicted here does not include the word 'Brilliant'.

Are swatches accurate?

No - the swatch density is much darker.

SIMILAR COLOURS:

Please chime in - I have nothing remotely similar in my array.

PAPERS

Lovely papers:

I prefer the warm tinted papers, yet an absorbent pure white is grand.
Trip-wire Papers: ☠

Those which are too hard-surfaced, and/or are not very absorbent.
Dirty whites.
Tinted Papers:

Very pale warm tints.
A pale gray-ish tint, such as G Lalo Velin de France, may dim the yellow of this ink.

Pre-Printed Papers:

Forms, etc.
For charts & graphs:

Not really.
Being a transitional colour, it does not extend the range; it only adds 'to the right of the decimal point' to give more precision.
Is high-end paper 'worth it'?

Possible.
Searching for a high performance absorbent paper that does not suppress the shading may be 'worth it'.

OTHER THAN INK

Presentation :

30ml bottle in a box.*
No HazMat warnings.
Country of origin:

Container:

A clear glass broad-shouldered bottle; with a maximum width of 57mm, capped height of 55mm, and 33mm deep. When ink level is low, the shape of the bottle allows it to be tipped to draw more of the remaining ink.
The centred round opening is a roomy 24mm ∅.
Single tank, no sediment collector. Tsk
The bottle label does not include the word 'ink'.
The hard plastic screw cap has adequate grippy bits, and is a good height for an easy grip.
The cap seal seems to be plastic foam.
The cap is not child-proof.
Box:

57x60x36mm
Lightly coated card stock.
The box has five swatch-like dots on all but the bottom side.
Ink name is written on those five sides in German and English languages; and once in eight languages.
Eco-Green:

OK.
All should be recyclable or benign.
Availability:

I had to ask a local B&M retailer to add this bottle to an order. They brought in two bottles: one for yours truly, the other for Justin Case.
* Also available in the 62.5 ml size, which is scaled-up to 70x65x37mm with the same 24mm∅ opening.

ETC.

Majik:

Personal Pen & Paper Pick:

Yickity Yackity:

Oh dear. Another ink without appeal.
My inky voyage of discovery into the Brown zone has run aground.
Ah kushbaby, did you take power nap after the swabs?

======

NUTS & BOLTS
______

Pens:

Link

Written Samples:

Sailor Somiko + TIGP F nib.
Pelikan P99 + steel F nib.
Pilot Custom 74 + 14K SFM nib.
Parker 45 + g-p steel M nib.
Waterman Phileas + steel B nib.
Sheaffer Prelude + factory stock steel B stub nib.
For lines & labels: Noodler's Burgundy from a Pilot 'Lady' + H882 g-p steel F nib.
______

Papers:

HPJ1124 24 lb. Laser Copy.
Rhodia.
G Lalo, Verge de France, white.
Royal, 25% cotton rag.
Staples Pastel, creme. 20 lb.
Pulp.
Staples 20lb. general purpose.
______

Images:

Scans were made on an Epson V600 scanner; factory defaults were accepted.
Figures shown were scanned at 200 dpi & 24 bit colour.
HiRes Images linked were scanned at 300 dpi & 24 bit colour.
Scans were not adjusted, so went straight to the file sharing thingy.
______

Densitometer Readings (FWIW)
HPJ1124:

Red 199
Grn 122
Blu 94
Lum 134
______

Fine Print
The accuracy and relevance of this Review depends in great part upon consistency and reliability of materiel used.
Ink does not require labelling/notice to indicate (changes in) formulation, non-hazardous ingredients, batch ID, date of manufacture, etc.
As always, YMMV, not only from materials, methods, environment, etc., but also due to differences between the stuff in the bottle I used, and that in bottle/s you may have.
Also, I entrust readers to separate opinion from fact; to evaluate inferences and conclusions as to their merit; and to be amused by whatever tickles your fancy.


-30-

Tags: FPN Fountain Pen Ink Review Pelikan Brown Sandy1

Edited by Sandy1, 19 May 2011 - 13:19.