Today I want to review my Edison Morgan bulb-filler. I've had this pen ever since early January, but there have been a number of hold-ups along the way to reviewing it.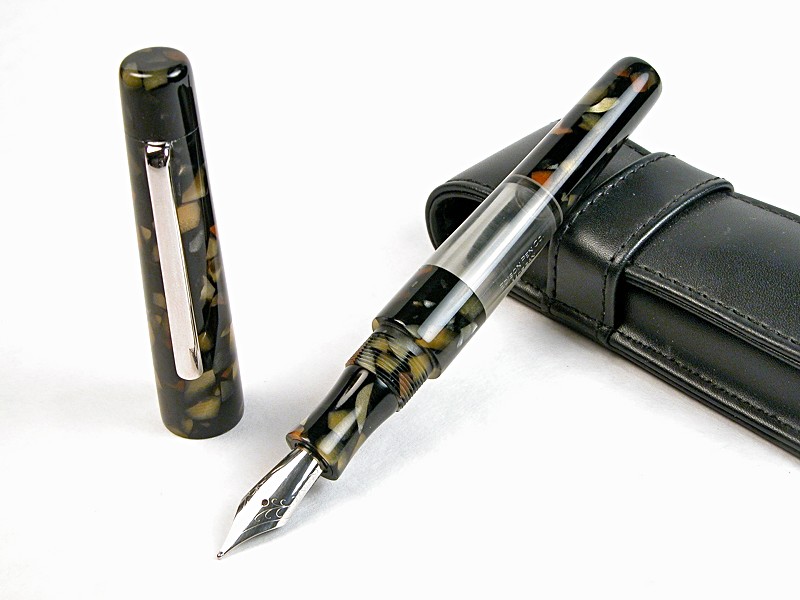 This pen is my second Edison -- the first being my Glenmont bulb-filler. So, by this time I had a pretty good idea what to expect from Edison and from the bulb-filling mechanism. Unlike the Glenmont, this Morgan was not a bespoke pen made to order. I spotted this already-made pen on the Edison inventory page and loved the look. Little did I realize how much more lustrous the "bedrock flake" acrylic is in sunlight, which photos can't capture. (The Glenmont had fooled me that way too.)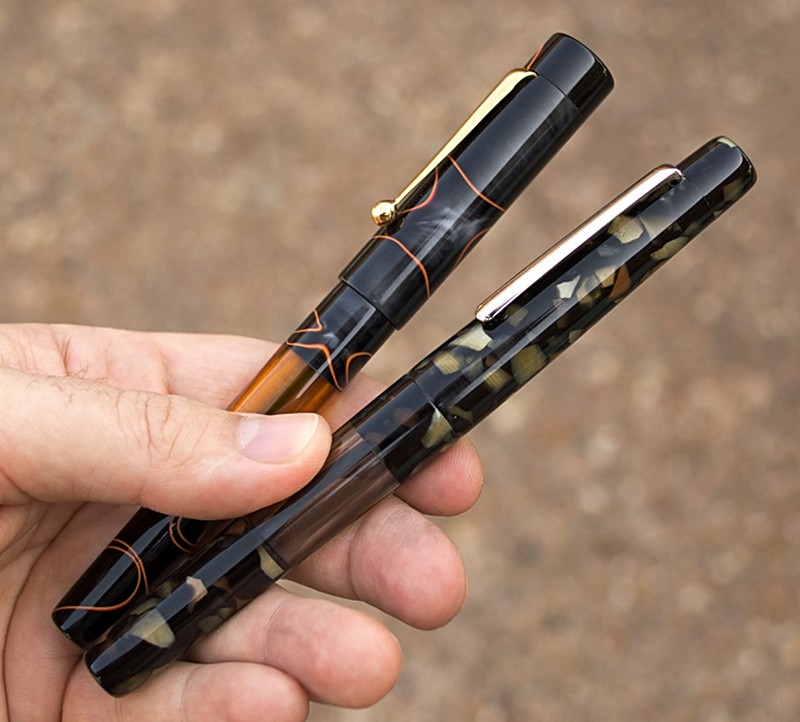 These pens have an attraction, a kind of charisma, that's hard to pin down. They're big and beautiful, but lightweight, and the lack of trim parts (cap bands, etc.) gives them a smooth profile. They beg to be examined, handled and used.
The nib is steel IPG and has a bit of history. I originally bought a Taccia Merit with the broad nib, planning to have it stubbed. I sent it to Pendemonium where they did a great job in a short time, and it didn't cost much. To me the result is a perfect fine stub: I guess about 0.8mm, which is fine enough and smooth enough for everyday writing, yet wide enough to give my handwriting that bit of extra flair I was looking for. It's fairly wet and has just enough friction on the page to give a sense of precision control. However, with a lubricated ink, such as PR Invincible Black, it becomes very smooth! It's an IPG nib which also happens to be the same size and make as the ones on most Edison pens. So. . . Not that there was anything wrong with the Taccia (they are surprisingly well made pens for the money), but I thought this especially nice customized nib deserved an even better home. I sent the Merit to Brian and he swapped the nib into the Morgan, and he supplied a new medium IPG nib to the Taccia.
I should mention that Brian Gray can grind nibs too! It just happened that I already had this customized nib that I knew I liked, but I would have no qualms about having a nib customized in-house at Edison Pens. I did that before with my Glenmont and was happy with how it came out.
The bulb-filling system, as I've noted before, is very cool. I measured the Glenmont's capacity at 2.5ml, and the Morgan's should be pretty close to the same. That's more ink than any piston-filler I'm aware of, and is second only to large eyedropper-filled pens. Filling is a bit slow. You have to repeatedly squeeze the bulb, then release it and give it a few seconds to expand and draw in ink before squeezing again. It's an easy motion to perform while holding the pen in an ink bottle, and it's fun to watch the ink level rise in the ink window with each pump. One advantage over an eyedropper is that the bulb-filler can top off the tank any time without having to open up the pen.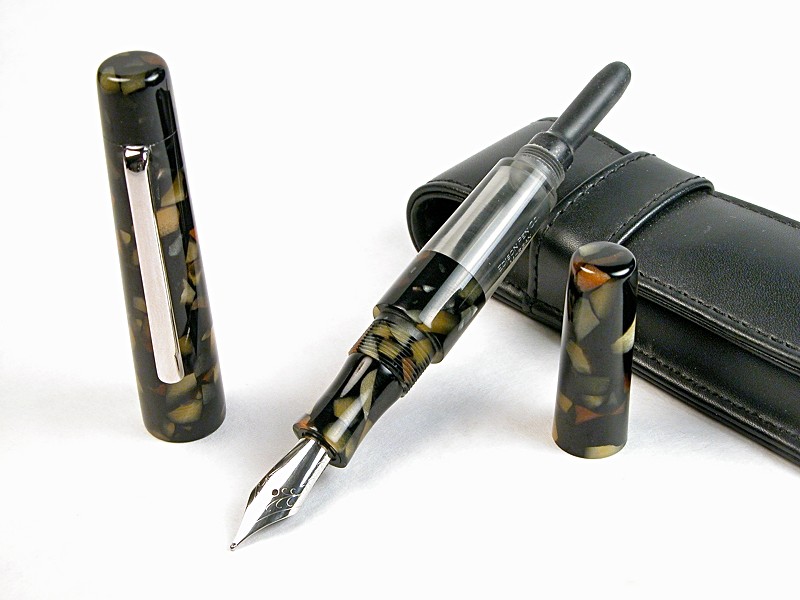 Flushing the pen and changing inks isn't quite so convenient. The best way is to bypass the bulb-filler. You can unscrew the section from the barrel -- just like opening up a C/C or eyedropper pen -- and pour out any remaining ink, then flush the insides of the pen with water. It's also easy to reach inside with a cotton swab and scrub any residual film from the inside surface of the ink window.
One small difference between the Glenmont and the Morgan is the clip. Although the round ball clip on the Glenmont is traditional-looking, I found it stiff and rough, and it doesn't always go onto a pocket easily. The Morgan's clip has a smoother hemisphere on the end, which makes it easy for me to clip into my vest pocket with one hand.
I'm not usually in the habit of posting my caps, although it seems I've been doing it more often lately. The Morgan does post nicely. It looked awkward to me at first because the long cap makes it seem huge when posted -- but it's so lightweight that it doesn't actually imbalance the pen at all.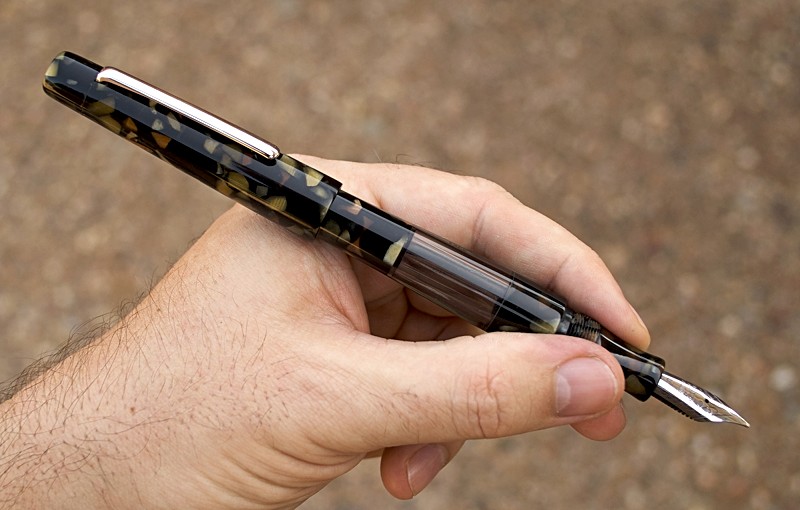 Another notable difference is the grip. The Morgan has a step up from the section and cap threads to the larger diameter of the main body. Some might find that uncomfortable. It didn't bother me, since I tend to grip my pens lower down, closer to the nib. However. . . I found the sharp edges of the section and the threads sometimes became iritating to my fingers. I asked Brian Gray if he could smooth those areas just a bit. He said sure, and I sent the Morgan back to him for a bit of tweaking.
When I got it back I found the rough spots were polished down, but now there was another problem. The section was cracked! It was a very fine crack, hard to see; the colored flakes in the acrylic were almost like camouflage, and there was no telling how long it had escaped our notice. Even though it was nearly invisible, the section is a structural component, and I didn't want a crack in it. So, the pen went back to Brian Gray again, this time to get a new section made.
He didn't waste any time completing that repair and turning the pen around to me. Since then, with the issues sorted out, the Morgan has been a super-pen. It's got everything:
it's big but not impractically so
it's lightweight and comfortable to hold
it's beautiful but not garish
the cap posts nicely
it's convenient to fill and holds a lot of ink
it has a large ink window
the nib writes well and adds flair to my handwriting
the cap seals well and the pen doesn't tend to dry out
the whole thing easily comes apart for cleaning
I'm trying to think of what else I'd want in a pen, and I'm not coming up with much. What else could I ask for? Oh yeah. . . It's made by hand in the USA too, in Milan Ohio, the birthplace of Thomas Edison.
What do you do after you've found your ultimate fountain pen? Where do I go from here?
I guess I just have to decide whether my next Edison is going to be ebonite or celluloid!