Please take a moment to adjust your gear to accurately depict the Gray Scale linked below.
As the patches are neutral gray, their colour on your monitor should also be neutral gray.

Gray Scale.




Note: For convenient viewing of the images, you may wish to scroll to the menu at the very bottom of this window, then change the FPN Theme from 'IP.Board' to 'IP.Board Mobile'.


- = ❖ = -


Figure 1.
Swabs & Swatch
Paper: HPJ1124.


Figure 2.
NIB-ism ✑
Paper: HPJ1124.
Depicts nibs' line-width and pens' relative wetness.
Link: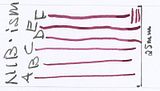 Pens:
L → R: 78G, P99, Estie, Carene, NPS & Sonnet.

Figure 3.
Paper Base Tints:



L → R: HPJ1124, Rhodia, G Lalo white, Royal, Staples 20lb multi use.

WRITTEN SAMPLES - Moby Dick

Row height is 8mm.

Figure 4.
Paper: HPJ1124.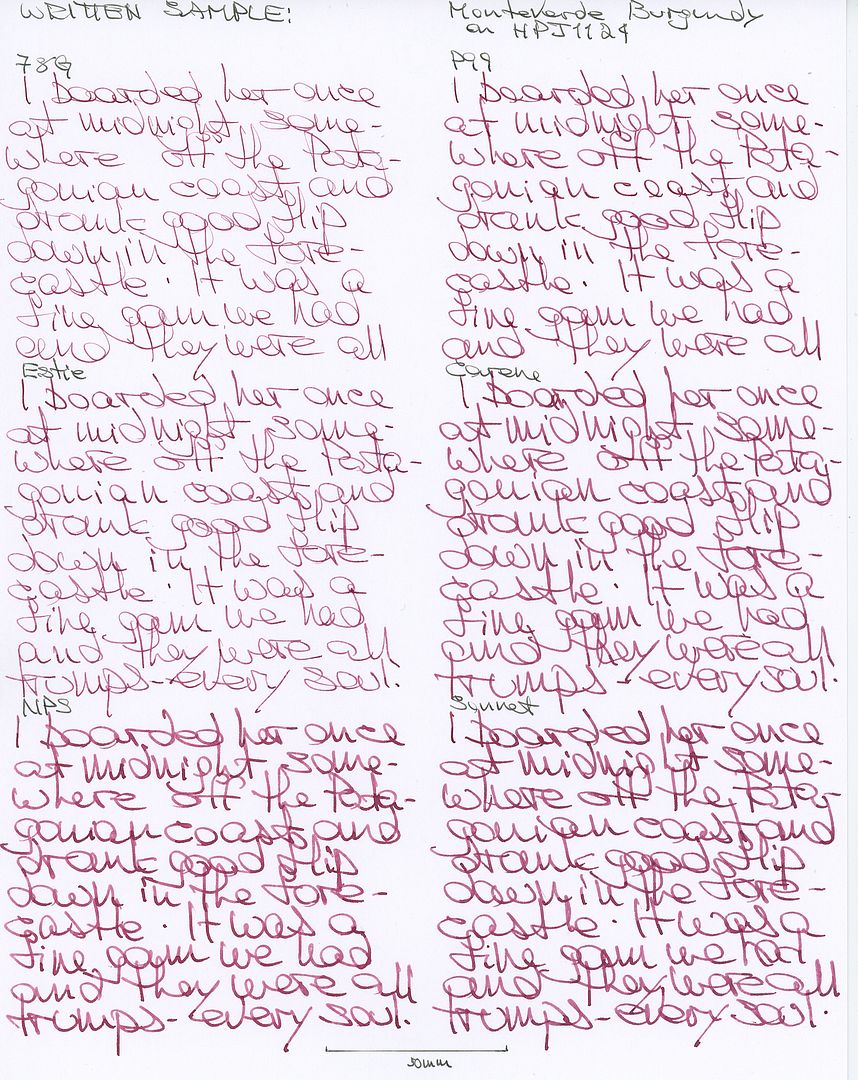 Figure 5.
Paper: Rhodia.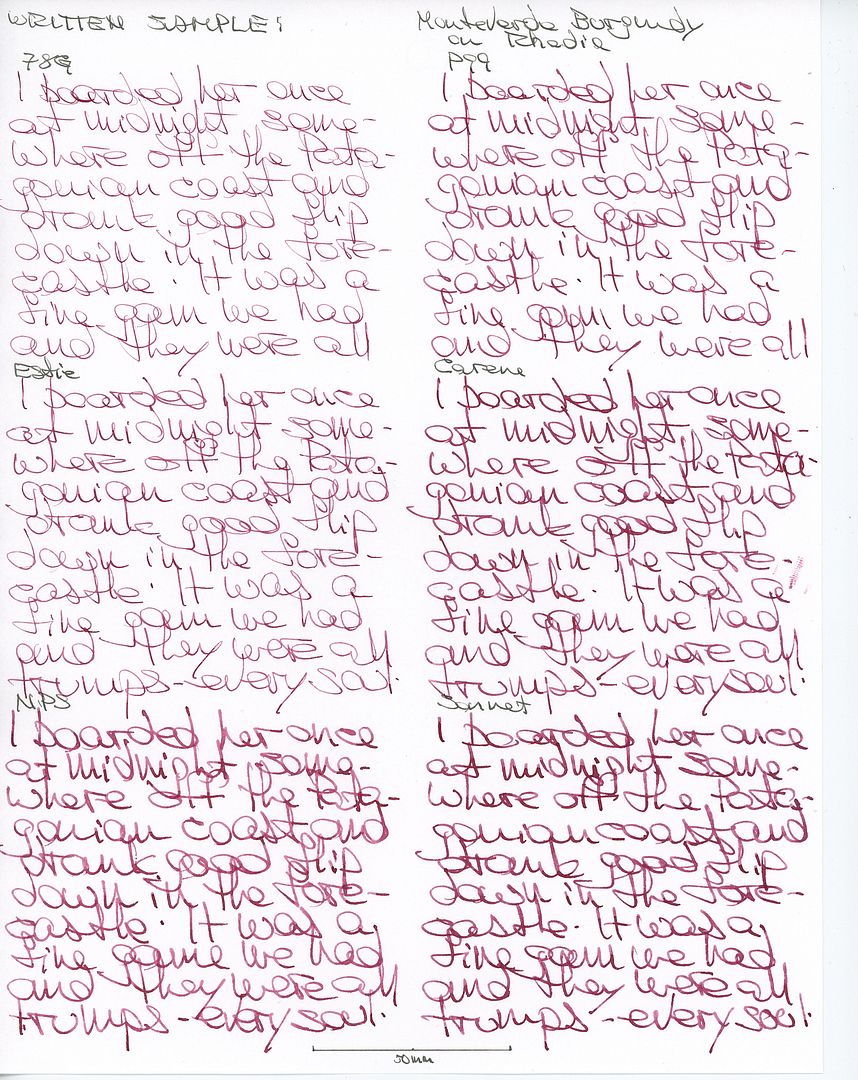 Figure 6.
Paper: G Lalo, Verge de France, white.



Figure 7.
Paper: Royal - 25% rag.



Figure 8.
Paper: Staples 20 lb. multi use.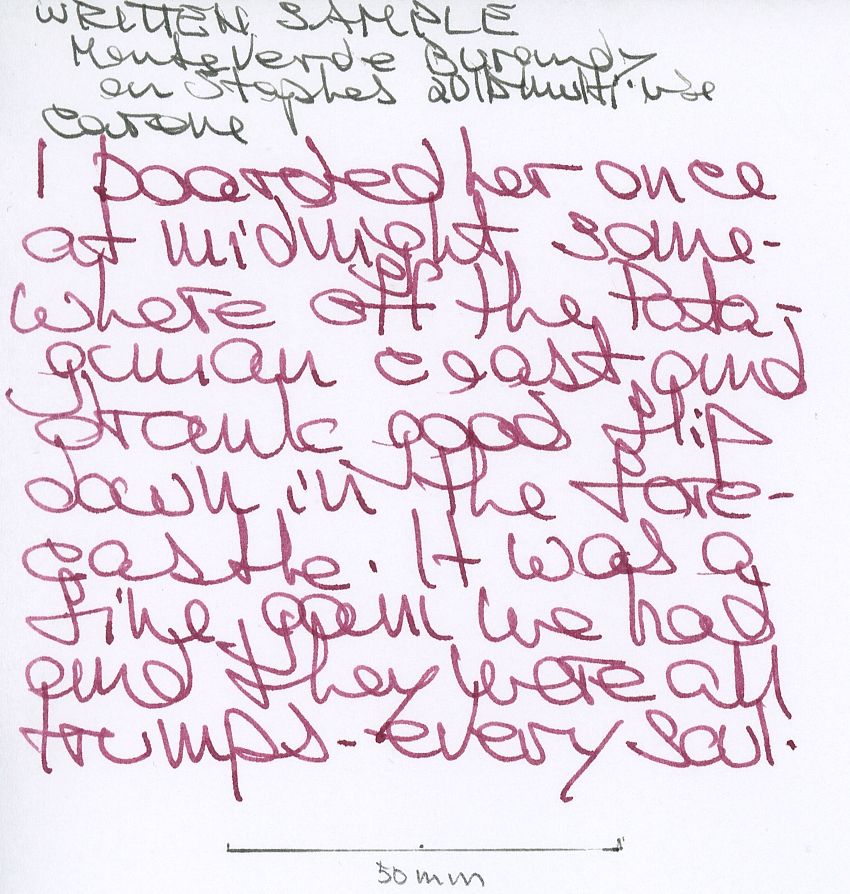 Figure 9.
Grocery List
Paper: Pulp. One-a-Day calendar page.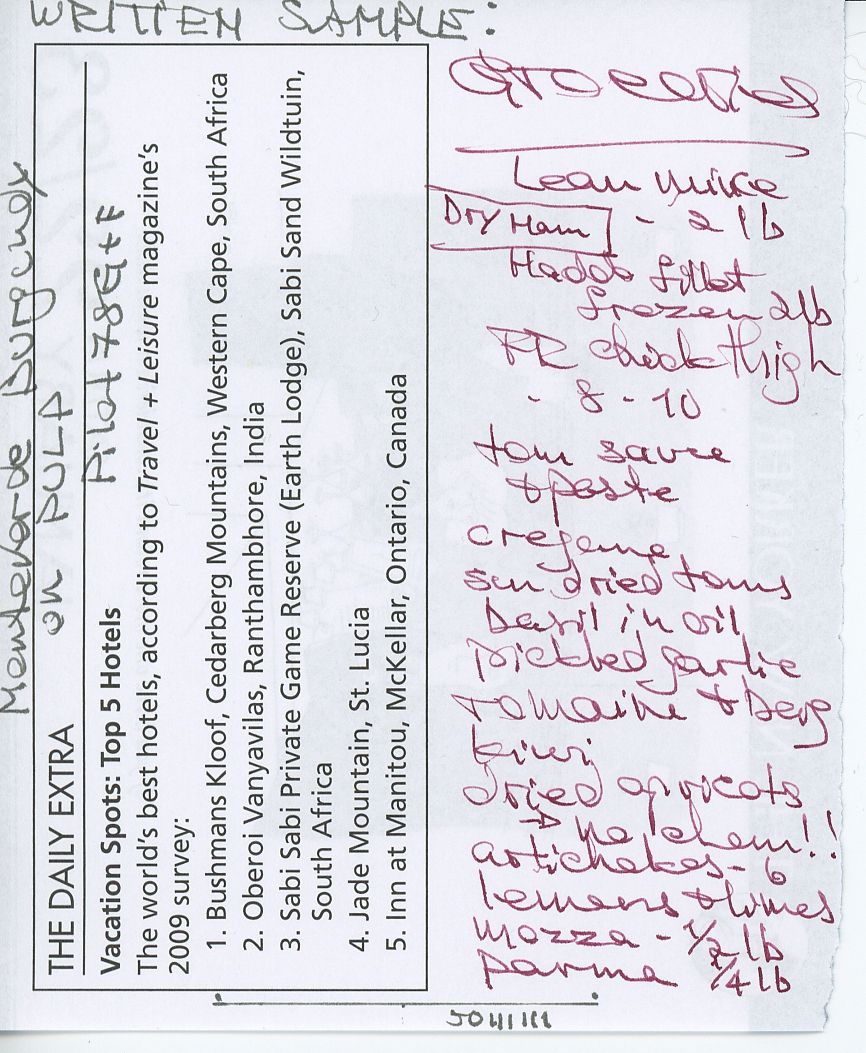 OTHER STUFF

Figure 10.
Smear/Dry Time.
Wet Tests.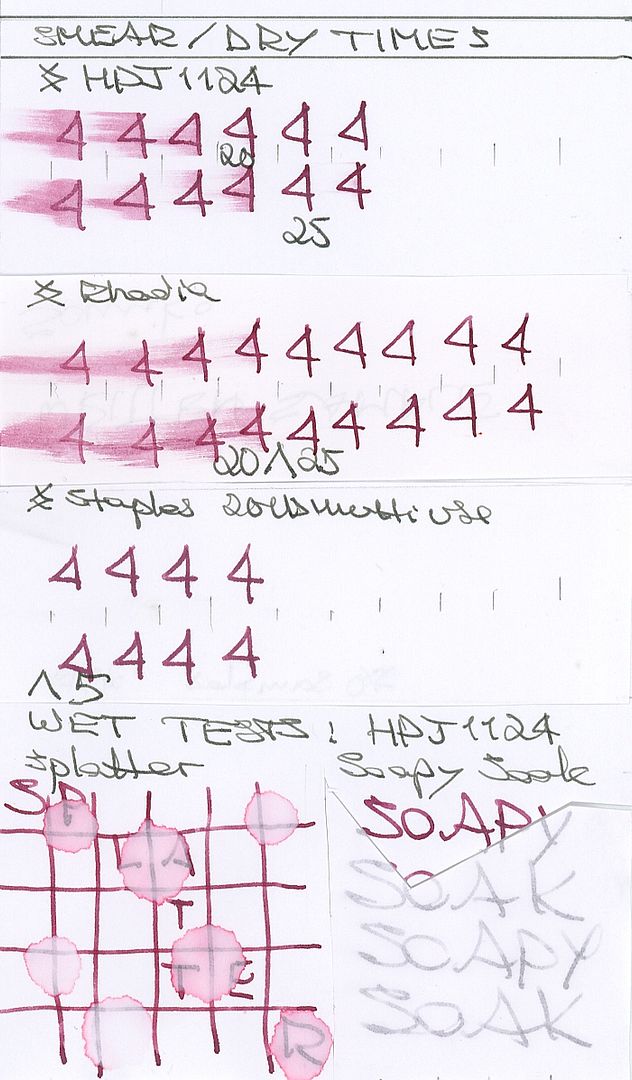 GENERAL DESCRIPTION

Type:

Dye-based fountain pen ink.
Daily writer?

A go-to ink?

When a variant of Red is desired.

USE

Business:
(From the desk of Ms Blue-Black.)

Not exclusive to MvBur, the warm Red-centric colours as a group have potential to be considered as 'shouting' or inappropriately personal. Please consider the task at hand, and be cognisant of corporate culture and its protocols.
It may be advisable to run a test to ensure that high quality B&W photocopies and scans can be made with office equipment currently in place.
For personal work product, go for it: MvBur is nicely readable and performs quite well.
Sufficiently eye-catching for mark-up & editing; and is readable, so is suitable for addition of text - common enough in early drafts.
At medium density it has just enough zap for error correction or grading of assignments without shredding tender psyches. (Give the Lamy Green a rest.)
Illustrations / Graphics:

The colour and tone of MvBur keeps the ink dancing, so best suited to key information, and gentle animation of otherwise static figures.
There seems a bit too much energy to be used as a ground.
Line quality is high enough, but uneven density (shading) makes use for uniform tight lines a non-starter.
Students:

As for Business use above; I suggest using MvBur for personal work product and mark-up.
Water resistance is low, so written material should be safeguarded.
Use of 'lowest bidder' copy paper for notes may need a dry-ish writer, so ensure that MvBur can generate sufficient density for easy reading.
Likely unacceptable for hand written assignments.
Personal:

Please, go ahead ...
For me, colours this close to Red, (not just this ink), are problematic.
I seem to fuss endlessly trying to get the appropriate nib width, shape & wetness, paper absorbency, ruling width, spacing, etc. That said, I have decided that I can use a narrow nib with a ruling of about 6 - 7mm, with 1.5 line spacing; with either wide margins on A4 or use of smaller sheets: A5 to 8x10".
My small selection of vintage ring-top and petite pens, with their ever-so-wonderful narrow nibs, have been my Go To writers with this ink. A tip of the hat to those who restore pens.
Billets doux are well within range, so to avoid mixed messages, please use MvBur with care.

PHYSICAL PERFORMANCE & CHARACTERISTICS

Flow Rate:

Nib Dry-out:

Start-up:

Lubrication:

More than adequate.
A bit unusual: the ink feels 'thin', yet the lubrication is effective.
Nib Creep:

Staining:

Not seen after three days' contact.
Clogging:

Bleed- Show-Through:

Royal: Spotty from the Carene and Sonnet.
Staples 20lb.: Spotty from the Carene.
Feathering / Woolly Line:

Intermittent.
Inconsequential. (I'm lowering my standards.)
Smear/Dry Times:

HPJ1124: 20 - 25 seconds.
Rhodia: 20 - 25 seconds.
20lb: < 5 seconds.
Water Resistance: ☂

③ on the 4S Scale:
All legible, but either very faint and/or has heavy staining from re-deposit of soluble dye.
Needs recovery/restoration for anything beyond personal use.
Smell:

Hand oil sensitivity:

Clean Up:

Thorough and prompt with plain water.
Mixing:

I see no reason to mix into this ink.
Archival:


THE LOOK

Presence:

Warm, yet somehow austere.
Reminiscent of having sorbet instead of ice cream.

Saturation:

Shading:

Ah me.
There is some variation in density, but overall I do not find it so very attractive from nibs wider than Fine. (Apologies to Member zhabgvict.)
Passing strange that the narrow nibs produce much nicer shading than the wider nibs.
Please chime-in with your experience with MvBur shading.
Variability:

Pen+nib combos used:
Papers used:

Higher than expected.
Very sensitive to harder less absorbent papers, such as the G Lalo.

Malleability:

Not so much as I'd like. (Ms Fussy again.)
I think the performance envelope is rather small, and that pushing this ink can easily result in less than acceptable results.

Hi-Res Scans:
As I do not wish to earn the sobriquet 'Regina dei Banditi di Larghezza di Banda', these are links only.


FIDELITY

Is the name appropriate?

Are swatches accurate?

Colour is quite close, but swatch density is much darker.

OTHER COLOURS

We have swabs of MvBur interlaced with Noodler's Burgundy on the left, and Montblanc Burgundy Red on the right, in densities from three, two and one passes.
Link:




Note: A more detailed Comparison with MB B-R is on my To Do list; cross your fingers, but don't hold your breath.

PAPERS

Lovely papers:

Crisp pure white.
Slightly cool white, that serves to add a very subtle firming effect to the page. (See Figure 3: Compare base tints of HPJ1124 to Rhodia.)
Trip-wire Papers: ☠

Too warm or dirty whites.
Papers that are too textured and/or of low absorbency. (I reckon the results on G Lalo are disastrous. )
Tinted Papers:

Not at all.
This ink is just too transparent for me to consider use with tinted papers.
(Certainly tinted papers can be used, but it seems the ink will not be itself. Worth experimentation I suppose.)
Pre-Printed Papers:

Forms, etc.

Far from the best pick.
If high-lighter cannot be used, use MvBur to make an emphasised entry.

For charts & graphs:

Provides a comfortable contrast to Blues, without being too jarring.
Is high-end paper 'worth it'?

Should be considered for personal writing.

OTHER THAN INK

Presentation:

90ml. bottle in a box.
No HazMat warnings.
Country of origin:

Container:

A squat narrow-shouldered cylindrical bottle with a base diameter of 60mm rising to a capped height of 70mm. The centred round opening is a comfy 26mm ∅.
Ink level can be easily determined.
Single tank, no sediment collector, no filling aid. 3x Bah!
The flexible plastic screw cap has adequate grip, supplemented by knurling of the vertical side of the bottle to ensure a firm grasp.
The cap seal seems to be some sort of plastic.
Given the volume of ink, I would be tempted to decant this into a smaller bottle for routine use; topping-up along the way. (Ink pots soonest please Speedy!)
The cap is not child-proof.
Box:

60x75x60mm
Well coated light card stock.
Quite accurate swatch is achieved by box cut-outs revealing colour-coded micro brochure.

Ink name is not written on box! Tsk Tsk Tsk
Eco-Green:

OK.
All should be recyclable / benign.
Availability:

A growing number of online and B&M retailers.

ETC.

Majik:

No.
MvBur is just not sufficiently well-rounded nor robust to be conjured.
Personal Pen & Paper Pick:

The Pelikan P99 Technix + steel F nib on the HPJ1124.
The slightly cool paper boosts the ink away from the plane of the page.
The nib+paper generates such nice shading.
I would take this as a starting point: reducing the ruling to 6 or 7mm, and increasing the line spacing to around 1.5 times (1mm).
Yickity Yackity:

This ink is fussy, but if one has the time & inclination to get it sorted, MvBur can deliver some good-looking results.
Ah kushbaby, a little too quiet and austere for you perhaps?

==============

NUTS & BOLTS

Materiel Used

To be relevant to most Members, I make an effort to use papers, pens & nibs that are readily available. Pens are factory stock - not customised.

From these pens:
(No group shot, so sorry.)

Pilot 78G + g-p steel F
Pelikan P99 + steel F
Estie + 9668 steel M.
Waterman Carene + 18K M.
NPS Safari + steel B.
Sonnet + 18K factory stub.
On these papers:

HPJ1124 24 lb. Laser Copy.
Rhodia.
G Lalo, Verge de France, white.
Royal, 25% cotton rag.
Pulp. One-a-Day Calendar page.
Staples 20lb. multi use.
_________________________

Images

Scans were made on an Epson V600 scanner; factory defaults were accepted.
Figures shown were scanned at 150 dpi & 24 bit colour.
HiRes Images linked were scanned at 300 dpi & 24 bit colour.
Scans were not adjusted, so went straight to Photobouquet.
_________________________

Densitometer Readings
_________________________

FINE PRINT
The accuracy and relevance of this Review depends in great part upon consistency and reliability of materiél used. Ink does not require labelling/notice to indicate (changes in) formulation, non-hazardous ingredients, batch ID, date of manufacture, etc. As always, YMMV, not only from materials, methods, environment, etc., but also due to differences between the stuff in the bottle I used, and that in bottle/s you may have.
Also, I entrust readers to separate opinion from fact; to evaluate inferences and conclusions as to their merit; and to be amused by whatever tickles your fancy.

-30-

Tags: FPN Fountain Pen Ink Review Monteverde Burgundy Sandy1
Edited by Sandy1, 26 April 2011 - 09:16.