Since I am going through a dip nib/Copperplate phase, I was curious about a full flex nib. This is more a nib review on a Pelikan M200 Body. I'm a noob and a weekend hack with Copperplate, so indugle a beginner. I already own 4 Pelikan M200 with a F,M,0.9IC, 0.7IC. So, needless to say, I absolutely love these pens. All purchased from Richard Binder.
1. First impressions/size/weight. The Blue Demonstrator is a beauty of a blue translucent plastic pen. It is a standard size and a lighter weight pen. I have a medium ladie's hand; the pen fits perfectly and easily. As with the Pelikans, this is a reliable piston filler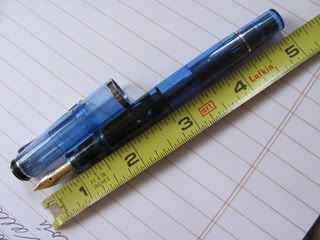 2. Nib and performance.
This is a stock Pelikan 205 EF that Binder reground to an XF/XXF. 14K. It is a pretty nib with chevron engravings and a delightful Pelikan in the middle. It is very wet with Noodler's Blue, almost too wet. 10/10 flow when flexed. 8/10 not flexed. The nib was ground to be used upside down to an XF. It's a smooth ride both up and down. I can press the tines to 1mm apart. Compared to the Gillott 303, it does not attain the delicacy nor the line variation. I have to write quite a bit bigger to get to show off the line variation...being a bigger nib than the Gillott. The nib writes AS WELL AS the Pelikan 200 fine. So, credits to the Pelikan steel nibs.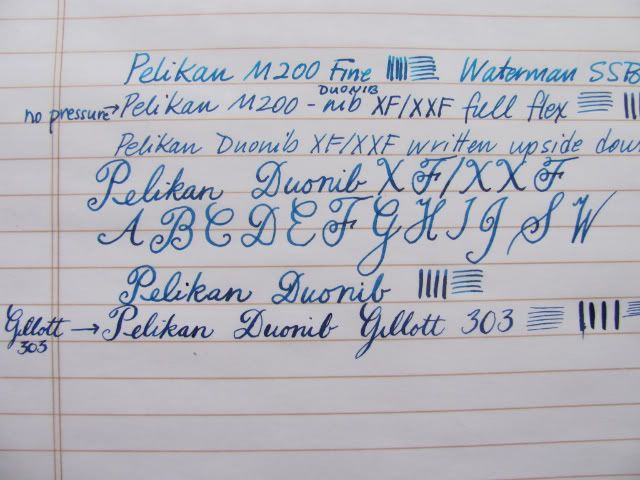 I used Noodler's Blue for the demo.
I debated a long time whether to buy a vintage full flex pen and a lever to boot (I can't stand lever fill pens) or buy a nib from a quality nibmeister I know already and not deal with dipping nor levering. More practice with the nib and time......It cost $150 (S/H $162). The XXF/XXXF cost $208 now (price ust went up). But, I have a nib with two usable sides, an XF and full flex on the other. I also wanted to have a modern 14K nib in the collection.
Edited by PacificCoastPen, 23 April 2011 - 18:15.