Please take a moment to adjust your gear to accurately depict the Gray Scale below.
As the patches are neutral gray, that is what you should see.

Mac http://www.wikihow.c...te-Your-Monitor
Wintel PC http://www.calibrize.com/

Gray Scale.


Notes

This Ink Review is for Pilot Blue-Black. The word 'Namiki' does not appear on the packaging.
For convenient viewing of the images, you may wish to scroll to the menu at the very bottom of this window, then change the FPN Theme to 'IP.Board Mobile'.
~|~I~|~


Figure 1.
Swabs
Paper: HPJ1124 24 lb. Laser Copy.


Figure 2.
NIB-ism ✑
Paper: HPJ1124.

Depicts nibs' line-width and pens' relative wetness.
Link:


Pens: L → R: 78G, M200, Slimfold, ATX, Targa, Sailer.


WRITTEN SAMPLES - Moby Dick

Row height is 8mm.

Figure 3.
Paper: HPJ1124.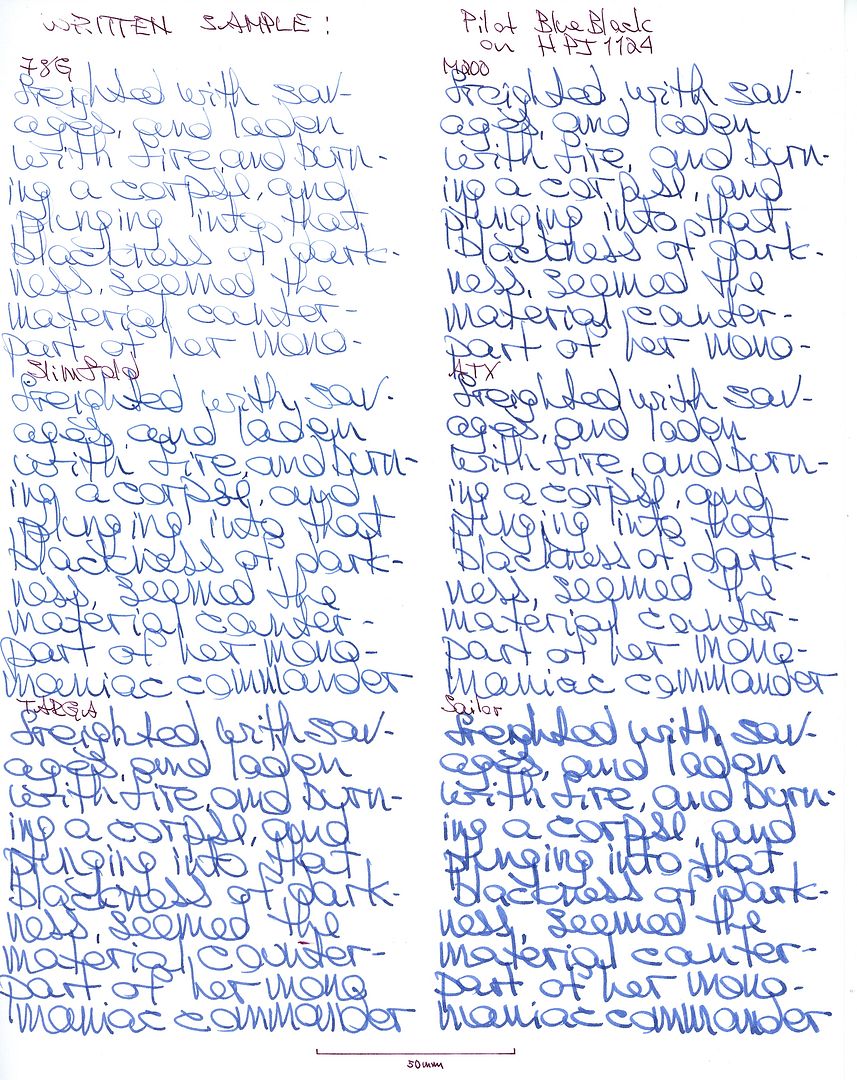 Figure 4.
Paper: Rhodia.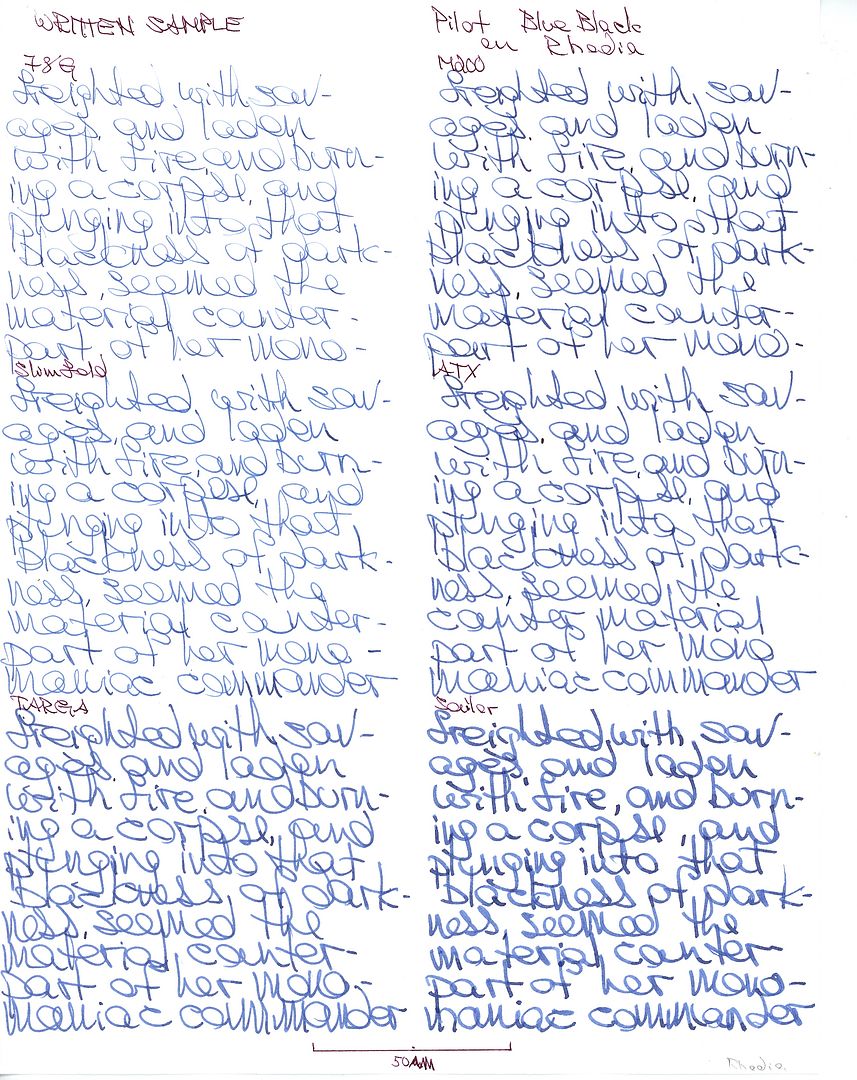 Figure 5.
Paper: G Lalo, Verge de France, white.



Figure 6.
Paper: Royal - 25% rag.



Figure 7.
Staples 20lb multi use.


Figure 8.
Grocery List
Paper: Pulp.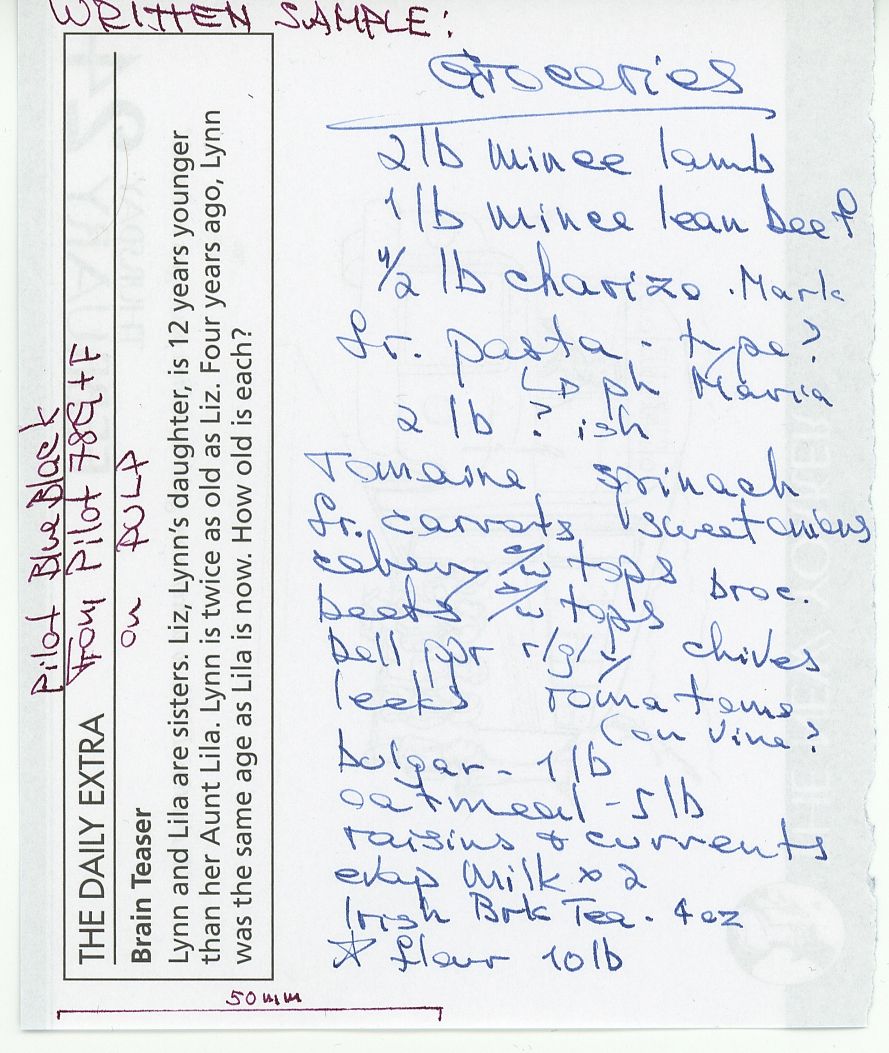 OTHER STUFF

Figure 9.
Smear/Dry Times.
Wet Tests.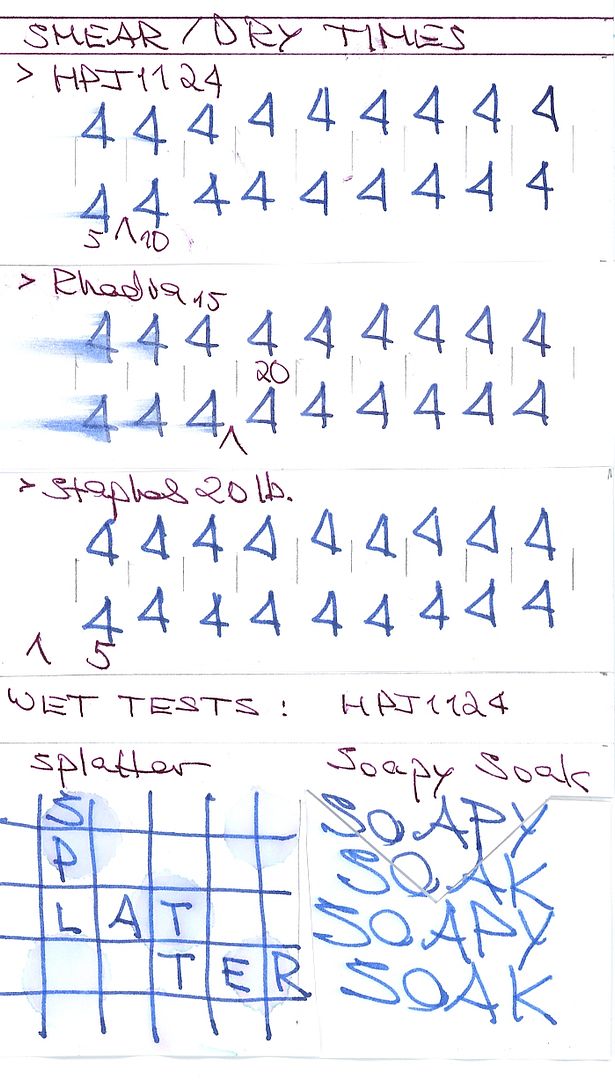 GENERAL DESCRIPTION

Type:

Dye-based fountain pen ink.
Daily writer?

A go-to ink?

Yes - when a high performance pale Blue-Black ink is desired.

USE

Business:
(From the office of Ms Blue-Black.)

A solid robust work horse ink.
Suitable for all types of correspondence, notes, personal work product, etc.
Of the Blue-Black inks that I have seen, this is likely the most pale, so is a bit more convivial than other BlBk inks.
Not likely to distract the reader, but they are likely to notice it is an FP ink.
Not enough zip for editing / mark-up.
Not enough zap for error correction or grading of assignments.
Illustrations / Graphics:

The neutral character seems to relegate PBlBk to acting as a ground, not a figure.
Has the stability to hold space, but not the energy to command that space.
The relatively short dry times enable rapid reworking.
Line quality is very crisp and tonality is most often quite even, so narrow tight lines and labels can be generated.
Students:

Will handle tasks requiring a robust Blue to Blue-Black with aplomb.
It is a bit calm for hand-written assignments deserving a high mark, so perhaps something a bit more animated and eye-catching for such events when/if they occur.
Personal:

This is rather too close to my daily writer ink, (Quink BlBk with SOLV-X), for me to use for 'personal' personal writing.
Really fits the bill as an off-duty utility / pro forma ink.
When a robust ink is required, this is a nice side-step away from Pelikan BlBk, and the higher maintenance i-g, np & bp inks.

PHYSICAL PERFORMANCE & CHARACTERISTICS

Flow Rate:

A bit higher than average.
Nib Dry-out:

Start-up:

Lubrication:

Very nice feel in all pens used.

Narrow nibs ran smoothly even on the coarse & textured papers; wide nibs were sure-footed - very welcome with the 'slippery when wet' MS nib.
Nib Creepers:

Staining:

Not seen after three days.
Clogging:

Not seen.
Seems unlikely.
Bleed- Show-Through:

Staples 20lb : barely enough to remark upon.
Feathering / Woolly Line:

Smear/Dry Time:

HPJ1124: 5 - 10 seconds
Rhodia: 15 - 20
Staples 20lb: <5
Water Resistance: ☂

④ on the 4S Scale:
"All legible, can be easily read and/or have light staining from re-deposit of soluble ink.
Use as-is for work papers & internal use.
Adjustments to a scanner may drop-out the stain."

Smell:

Hand oil sensitivity:

Clean Up:

Prompt and thorough with plain water.
Mixing:

No stated prohibitions.
I see no reason to mix into PBB.
Archival:


☞ Now that, dear friends, is a very impressive performance profile.


THE LOOK

Presence:

Almost too subtle; veiled.
A bit too stable to be an action figure.

Saturation:

Shading:

Elusive.
Pleasant when it appears.

Seems to favour narrow nibs. (!?!)
Variability:

Pen+nib combos used:

Given the extreme range of writers used, I must say far less than expected: it looks very much itself throughout.

Papers used:
Malleability:

Not so much.
That characteristic makes PBB an excellent choice as a daily writer ink, especially when combined with its good manners and excellent water resistance.

Hi-Res Scans:

As I do not wish to be dubbed 'Queen of The Bandwidth Bandits', these are links.

78G on HPJ1124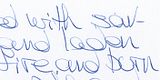 Slimfold on Rhodia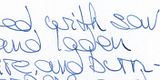 ATX on G Lalo


Sailor on Royal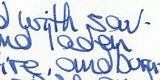 FIDELITY

Is the name appropriate?

Tricky one, this.
The way I see the colour is just inside Blue-Black, on the imaginary boundary with Blue and Royal Blue.
I would not bother to debate the point: You say 'to-mah-toe'; I say 'po-tay-toe'.
Are swatches accurate?

Colour, yes; density, no.

SIMILAR COLOURS

Ad hoc Comparisons:

These may be made by having two concurrent FPN browser windows open with the desired images displayed, then reorganising the desktop to support side-by-side viewing at the same reproduction ratio.

The image below is included to support side-by-side comparison to the M200+EF Written Samples in the One Of The Ten Ink Reviews.
The image below is included to support side-by-side comparison to the Platinum Presidential Purist Written Samples in my Reviews of Blue-Black inks.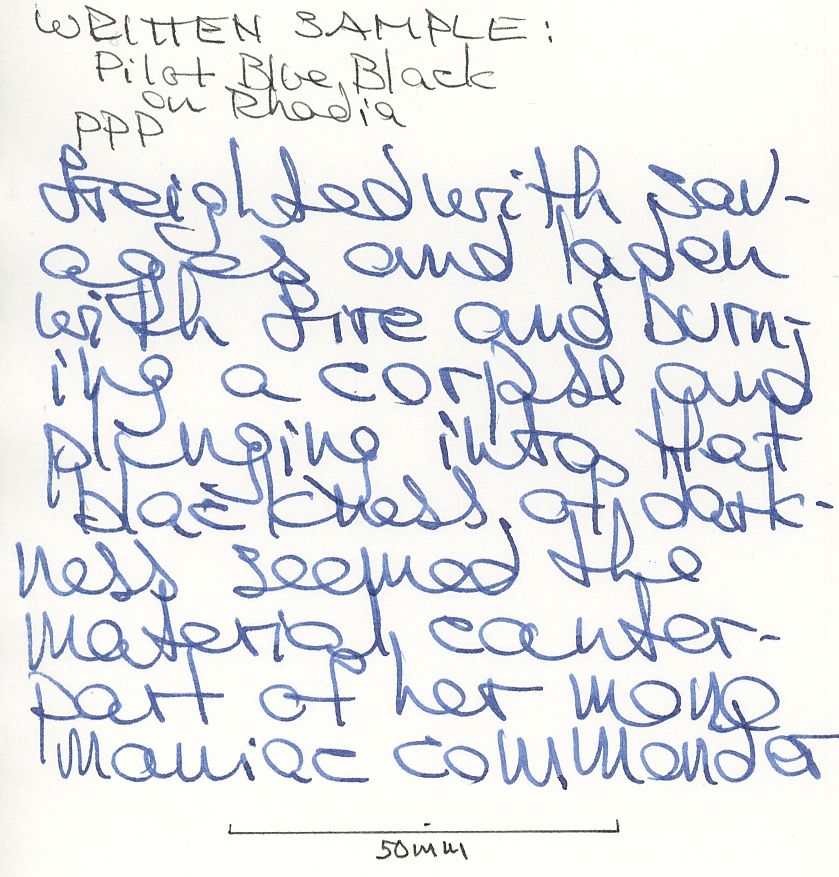 High Resolution Link:


PAPERS

Lovely papers:

White.
Crisp bright white.
Ran well on all papers used.
Trip-wire Papers: ☠

None encountered.
I would try to stay clear of dirty white papers, and warm tints.
Tinted Papers:

Only when at middle to high density; on pale blue / grey tints.
Pre-Printed Papers:

Forms, etc.

Of course.
Brings a bit of weighty authority.
The dark tone goes well with forms printed in Black - close to the same visual plane, so are easily read.

For charts & graphs:
Is high-end paper 'worth it'?

Not for daily use.
If one tries to find a pen+paper combo that consistently generates shading, then high-end paper may be in the mix.

OTHER THAN INK
Presentation:

70ml glass bottle in a box.
No HazMat warnings.
Origin:
Container:

An attractive oval-esque clear glass bottle with a wee pedestal, 80mm tall when capped.
The centred round opening seems narrow at 18mm ∅.
Includes a 'widget' filling aid, similar to those found in Penman and Jentle inks, which can be removed.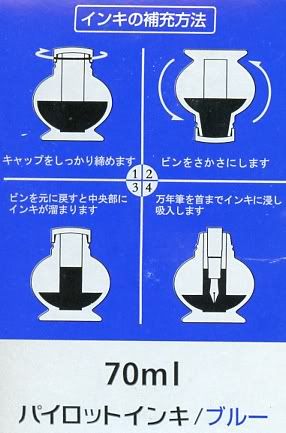 While I like this type of filling aid, there is risk of rousing any sediment - akin to shaking/stirring/whisking.
The hard blue plastic screw cap has OK grippy bits.
The cap seal is plastic. Should be sufficiently secure for inversion, but do not do so over animal companions or other loved ones. (Trust me on this OK?)
The cap is not child-proof.
Box:

80x70x55mm
Nicely coated.
Labelled on front, back & top of box.
*
*
*
Now how hard was that? Other Co.s take note!

Availability:

Not too wide.
Well stocked pen shops, some online retailers.

ETC.

Majik:

Not possible - too busy working.
Personal Pen & Paper Pick:

Yickity Yackity:

Another Journeyman ink that runs on rails.
A fair look with an impressive performance profile - Bob's your uncle!
Ah kushbaby, another one for only when on-the-job?

==============

NUTS & BOLTS

Materiel:


To be relevant to most members, I make an effort to use papers, pens & nibs that are readily available. Pens are factory stock - not customised.
Pens:
Written Samples:

Pilot 78G + g-p steel F
Pelikan M200 + g-p steel EF
Parker Slimfold + hint of flex 14K
Cross ATX + steel M
Sheaffer Targa + steel M-B (Sticker=M)
Sailor 1911 + 14K MS

For lines & labels: Pilot 'Lady' + F with Noodler's Burgundy.

On these papers:

HPJ1124 24 lb. Laser Copy.
Rhodia.
G Lalo, Verge de France, white.
Royal, 25% cotton rag.
Staples 20lb. multi use.
Pulp. One-a-Day Calendar page.
_________________________

Images:

Scans were made on an Epson V600 scanner; factory defaults were accepted.
Figures shown were scanned at 200 dpi & 24 bit colour.
HiRes Images linked were scanned at 300 dpi & 24 bit colour.
Scans were not adjusted, so went straight to Photobouquet.
_________________________

Densitometer Readings (FWIW):

Red 103
Grn 127
Blu 194
Lum 135
__________________________

Fine Print:
The accuracy and relevance of this Review depends in great part upon consistency and reliability of materiel used. Ink does not require labelling/notice to indicate (changes in) formulation, non-hazardous ingredients, batch ID, date of manufacture, etc. As always, YMMV, not only from materials, methods, environment, etc., but also due to differences between the stuff in the bottle I used, and that in bottle/s you may have.
Also, I entrust readers to separate opinion from fact; to evaluate inferences and conclusions as to their merit; and to be amused by whatever tickles your fancy.


-30-

Tags: FPN Fountain Pen Ink Review Pilot Blue Black Blue-Black BlBk Sandy1
Edited by Sandy1, 19 April 2011 - 16:31.