Some people ask if it's worth getting XF and Fine points ground to cursive italics. My answer:
Yes!
.
Although the variation is not as obvious as on Medium and Broad nibs, the result is quite pleasing and can really make a difference in the pleasure of your writing experience.
Here is a sample hot off the bench last night.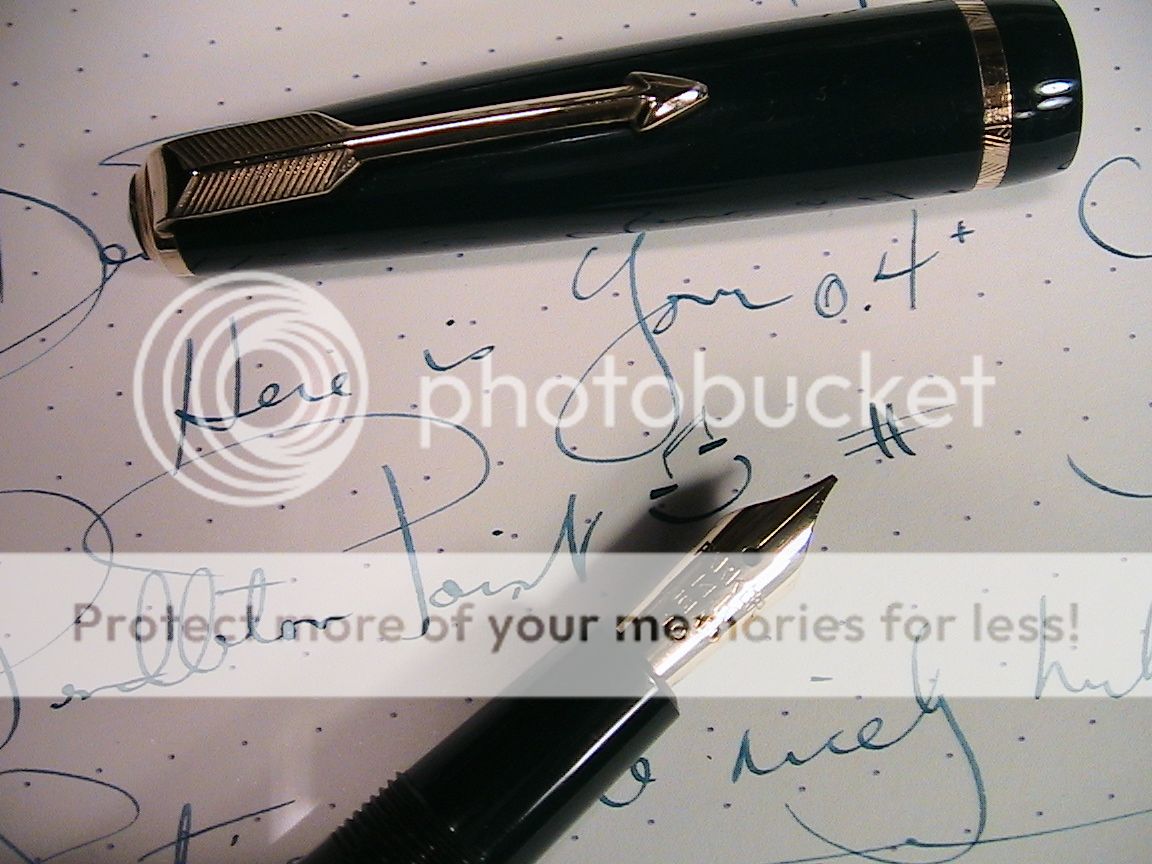 Some recent feedback from Pendleton Point clients:
Got it. Love it! Wow! ~ A.H
HiPendleton, I got your package today, with three pens nicely wrapped and waitingfor ink. So I inked them up … , and now I probably won't get any workdone for the rest of the day! Super job, really smooth and nice, just theway I asked you but even better than I imagined. Thanks so much, and have a blessed day, ~ DAVID
OUTSTANDING!
...WOW am I impressed. Thank you very much!
I hope you plan to attend the DC pen show in August, … I want to shake you hand.
~ Anthony
HiPendleton,
TheM90 just arrived. You can mark me down as another very satisfied
customer. It's smooth and wet, with the perfect amount of variation
formy hand. Exactly what I was hoping for. This pen will be getting
plentyof use.
Thanks so much,
-Mike
Just another satisfied customer. Today I got back my mb 144, which Pendleton turned into a very impressive cursive italic. The work far exceeded my expectations,especially after finding out that the nib had been somewhat"butchered" by a previous owner. The communication with Pendleton was great. He really made me believe he cared about my property, and wanted the pen to turn out perfect. I'd recommend him to anyone, and would trust him with even my most expensive pens.
Thanks again Pendleton. ~ Plyerpens
Ireceived the Parker 51 and MB 144 in the mail today. Thanks so much for the careful packaging and thoughtful note. You have made a believer out of me, and I am sure I will be sending other pens your way in the future. I couldn't be happier with the results.
~ Daniel
Mypens arrived on Monday and they are writing perfectly. I can't decide which oneI like more. I really appreciate all of your help. ...Thanks for everything. ~Paul
Pendleton,the pens came today and I'm thrilled with each one! I don't know how you do such perfect, minute work...but all of them write like silk with great flow. M
any thanks ~Lesley
HeyPendleton,
I love buying from you. Got my treasure in yesterday's mail. GREATwork on the nib. I love the size of that pen.
All the best, Steve
Thanks for the Parker 45 nib. It arrived in the mail today and I am grinning from ear to ear with the way this pen writes. Thanks for your good work!
God's Blessings! ~ Tom
Hi P, this P.Pt. Parker 51 is too awesome. It is rockin!! ~ Rich
HiPendleton,
I received the pen in the mail! The nib writes beautifully. I'venever used a CI nib before, but you have certainly convinced me to get a fewmore in the future
Aggie
Edited by pb2, 14 April 2011 - 20:27.