[Pilot 75th Anniversary Pen Limited Edition ]

[Brief introduction] This is my 9th pen review in English.

  Pilot launched Limited Edition Pilot75 in 1993 to commemorate the 75th anniversary of its foundation (1918).
7500 pieces were produced. In the booklet attached to the Pilot75, there was a catchphrase: "75years. Our
determined passion devoted to this matchless pen". It may be gathered from the phrase that Pilot had
concentrated their energy on making this Pilot75 considerably *1. It is traditional design of flat ends type
(the ends of the barrel and the cap are both flat.), with the combination of black body and golden parts.
The most characteristic point is that the body is cut out from ebonite one by one, finished with recoated
layers of urushi lacquer.
I originally did not have special interest in past anniversary fountain pens. Technology has been innovated
everyday. Now that fountain pens are a kind of industrial goods, I thought present staple goods were best
choice from the point of function as writing instruments and maintenance. But I somehow found myself so
deeply attracted to Pilot 85th anniversary fountain pen and I managed to obtain the pen fortunately. After
that I happened to get Pilot65 and Pilot70 in succession. While I was using these pens every day, I grasped
the passion that Pilot devoted to these pens and felt another pleasantness that I could hardly have from
present staple pens. Pilot65 is the substantially first anniversary fountain pen in Japan. So I have had interest
in what anniversary pens were planned and sold after Pilot65. Regarding Pilot75, I did not easily have chance
to see the actual goods. But I knew the fact that Pilot75 was the prototype of Custom845. I had wanted to
get Custom845 someday reading the reviews by 3 gentlemen, that is,J -san、MYU and hari317. Furthermore
I found an opinion of a fountain pen lover that he wanted no other fountain pens just as long as he had Pilot75.
Therefore I have had strong interest in Pilot75. But today it is rather rare pen and of course we cannot get it
from ordinary fountain pen shops. I found it for sale in a net shop, but its price was very expensive unreally. At
such time I found used Pilot75 put up for Yahoo auction and I won the pen after doing my rivals down.*2
Custom845 was produced modeling after Pilot75 as regular staple items 9years after the birth of the75th.
At that time there were no pens suitable for the list price of 50,000yen among Pilot fountain pens and opinions
that the customers wanted this high end class fountain pens as their gifts came from some customers. So Pilot tried to
make their flagship pen. At first comparatively a small amount of pens were produced modeling Pilot75 and put
on the market. As a result of good sales, the pens were listed in the catalog as Custom845 formally*3. Accordingly
Pilot75 and modern Custom845 resembles considerably, but differs in various points. I would like to introduce you
this Pilot75 including the differences. I will be happy if Custom845 lovers are pleased to read this review.
*1 Mr. Seiichiro Ishii, the president of Pilot Inc. at that time stated proudly in the booklet as follows: Success
of technique to make sphere of Iridosmine and to weld it to nib was the origin of Pilot. The burning passion of the
founders that they would make fountain pens that passed internationally has established the new technology and
the present firm base of Pilot under the faith of "As for mountains, Mt. Fuji!, as for fountain pens, Pilot pens!".
Finishing of body made of ebonite by urushi has attracted the attention of the various countries all over the world,
and Pilot has been raised to a higher position as "Pilot Fountain pens that enjoy worldwide fame". We planned
Pilot75 as a compilation of the 75 years'passion and thought of the founders who committed their lives to making
fountain pens. It possesses the unique artistic style and taste of writing making the best use of the then technique,
materials and design that was epoch-making by modern technology. We are confident that it has reached the top of
fountain pens.
*2 The seller was a collector of Pilot anniversary fountain pens. But as he became old, he decided to dispose of
his fountain pens. When I become old, will I turn over my fountain pens to younger people too?
*3 An information from a certain blog. According to the blog, 200 "Custom845"were produced in the end of
2002 and appeared on the show windows of some department stores from the beginning of 2003 at the list price
of 50,000yen. At that time they were said to be made specially and were not listed in the catalog, but there was
rumor that they might be listed as regular staple items if they were in great demand. After that they were listed
in the catalog and Pilot have continued to make them as regular staple items. The writer of the blog gives an
opinion that as the list price of 50,000yen was comparatively high in price compared with other Custom pens and
we could buy other attractive imported fountain pens at that price range, Custom845 were not so popular at the
beginning of the sales.
1 First Impressions (9/10) –The box is, not uncommon, square, made of artificial leather and relatively compact.
The quality of it is so-so and such size as this box is a tolerable range for me (I think a big and gaudy box costs much
money and is absurd). But it is slightly disappointing that it has no such story or distinction as the wooden boxes of
Pilot70 or Pilot85 have. The back of the lid is covered by smooth and glossy creamy satin where relatively big "75" is
printed. Pilot75, an ink bottle made specially and a plastic plate are put on the red plastic plate that has a feeling of
a cloth touch. Of course, a booklet is attached. This combination of red and black is fairly impressive visually. As I had
never touched Pilot75 till then, the moment when I opened the box and took the pen in hand was exactly the time of
first impression. The matter that I was surprised at firstly was the lightness beyond my expectations. I felt that I would
not get tired so easily from writing for a long time. The thing that I was most concerned about was the texture of the
urushi. I did not have had a pen made of ebonite with urushi lacquer, so it was pleasure to observe the pen. Taking the
pen in hand, I did not feel so strong emotion, but I was filled with a kind of joy in case of understanding the goodness
gradually. I was highly satisfied that the gold color of the clip and rings had sober taste and profundity, not glittering like
the gilt of cheap articles. It was a refreshing surprise that the shape of the clip was not the ball type that was in general
use for Pilot pens. The design that both ends were flat and the barrel swelled in the center suited my taste at once. I
was filled with joy and no regret on the whole.
2 Appearance & Design (9/10) - The shape of the pen is a kind of so-called vest type, the top and the bottom is
both flat and the body is cylindrical. But the center of the barrel swells delicately like an entasis by the Doric order of
ancient Greece(the colonnade of the Parthenon is famous), and it is not only beautiful but pleasant to hold with. This
shape is made by cutting stick of ebonite out and I think that considerably excellent technique must have been needed.
Material of the barrel and cap is ebonite on the surface of which was spread by many layers of urushi lacquer to prevent
fading and to protect the material. This finishing creates an original presence.
There are 2 golden rings at the upper end of the cap and 3 golden rings at the lower end of the cap. The middle ring of
the 3 is wide and the center of the ring is swollen, where Pilot75 and serial numbers*1 are engraved black and that black
letters stands out clearly against the golden ground. There are 1 golden ring between the grip section and the barrel and
2golden rings in the rear end of the barrel.What many rings!
It is also characteristic that the design of the clip is Kikuza style*2. This is reproduced design that was adopted for a lot
of Pilot products in the second half of 1930's. The clip is plated by 22kt gold.
The nib is silver -gold two-tone colored, the outside is rhodium coated silver and the inside is golden. This is after image
of snow-capped Mt. Fuji. The nib is Pilot No.15 nib made specially with "75" engraved. The hole is heart- shaped.
I did not like the heart-shaped hole before I had this pen because I thought the shape was somehow girlish taste. But it
was pretty good when I took the pen in hand. I felt that my (our?) view of things was irresponsible.
In brief, this is a pen that has a refined and quiet elegance of Japanese taste, following the universal and traditional style
of fountain pens.
*1 Pilot stated in the booklet of Pilot75 that the marking of serial numbers was a proof that guaranteed the best quality
after going through numerous checks.
*2 Kikuza means the design after a flower of chrysanthemum. It had come into wide use for ornaments of armors and
helmets from old times in Japan.
upper: Custom845 lower: 75th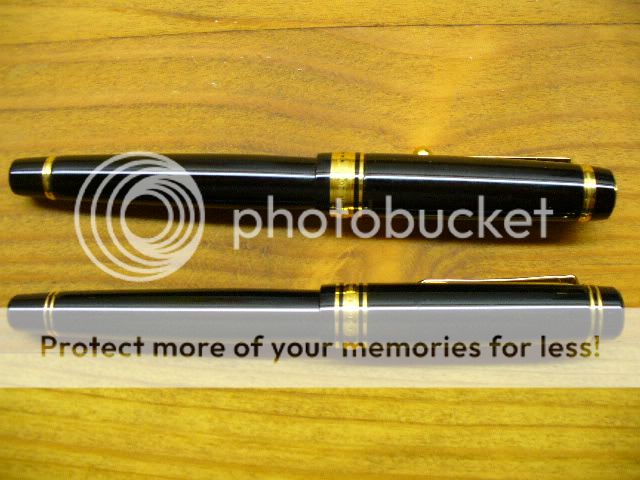 left: Custom845 right: 75th
3 Weight & Dimensions (9/10) – The length of this pen is similar to that of Custom845 . This pen belongs, if anything,
in the category of Montblanc149, not 146 measuring 148mm long capped, 132mm uncapped and 165mm posted. The
maximum diameter of the barrel is 13.2mm and that of the cap is 15.3mm. It weighs about 28 g with full ink, suitable weight
for long writing but I feel a bit light for my taste.
4 Nib & Performance (9/10) – This pen comes with a 18k two-tone (silver-gold)M nib (standard nib was M, but F or
B nib was available.). The size of the nib is No.15 of Pilot that is the largest among ordinary Pilot lineup. The feeder is
translucent. Regarding the nib design, as stated above, the outside is silver and the inside is gold, opposite to the nib of
Custom845. "1918-1993 75" is engraved on the nib, which makes clear that the nib is made specially for 75th
anniversary. But "15" that shows the size of the nib is not engraved. Regarding the taste of writing, as Pilot stated
in the booklet that they ground the nib of Pilot75 carefully piece by piece in order to become rich taste suitable for
writing Japanese characters, the nib has original soft feel of stepping on a shaggy carpet, quite different from ordinary
Custom 845 No. 15 nib. I think the most different points between Pilot75 and Custom845 is the taste of the nib. The
performance and the taste of the nib is exquisite for me because it has practicality to enable shorthand writing though
it enables to write characters expressively by its flexibility.
75th Mnib
Custom845 Bnib. The pen of my fountain pen comrade.
5 Filling System (9/10) – It is c/c filler. It comes with a high grade version of Pilot Con-70 ( painted in black with
gold character "PUSH" ) that is a Push Button type and holds the most ink(1.1ml) among Pilot converters (other
Con-20,Con-50). It is very easy to fill it up with ink.
6 Cost & Value (9/10) - The list price was 50,000 yen 15 years ago in Japan, about $600 at current rate. This
list price is just the same as that of present Custom845.
When I asked the clerk in a vintage pen store in Shinjuku, Tokyo about the market price of Pilot75 2or 3 years
ago, he said that it was not surprising that a mint Pilot 75 was wroth 100,000yen because the pen had become
very popular recently. But market prices of fountain pens are still tending downwards in Japan because of a lingering
economic slump after Lehman Shock. I think the price of Pilot75 is not exceptional. I have got used Pilot 75 with good
condition and together with original box and papers at about the list price at Yahoo auction. But now the market price
may be falling furthermore.
Is Pilot75 worth more than 50,000yen or not? I think that some are for, while others are against when we can have
Custom845 at 50,000 yen or less. The consequence was satisfactory for me from several points, that is, 1 limited
edition pen for 75th Anniversary, 2 special design, 3 special nib and 4 perfect replacement of Custom845 that I had
wished to have in the near future.
7 Conclusion (Final score[54]: 9)- I have and will have fountain pens as utility goods for daily writing instruments.
So it is desirable that I can use them without special care and with a light heart. Regarding vintage pens, it is a big
problem if we can repair the pen when the parts are damaged. Pilot fountain pens are said to be durable considerably
and last for a long time in general. Much even more I think anniversary pens were strongly made as a partner for life.
But I have heard when the barrels or caps of Pilot65 or Pilot70 happen to be damaged, there are no parts for repair
any longer. So I am inclined to feel stressed when I use them. It seems that there are no original parts to repair the
barrels of Pilot75, but the parts for present Custom845 can be diverted. In case of emergency, we can make use of
the parts as the second best policy. So I put my Pilot75 to everyday use rather easily. However, I will not make the
pen capped because I think that it is dangerous to put too much trust in durability of urushi. Under the above-
mentioned situation, I will choose Pilot75 if I am asked which pen of the two I will choose. If you are a fountain pen
lover who is interested in Custom845, I recommend you to think of getting Pilot75 provided that the price is reasonable.


Edited by rokurinpapa, 09 April 2011 - 05:42.