Since one of you forum-dwellers had the good taste to ask me to show some of my tools, I saw my chance to dazzle you. Nuthin' a collector likes more than showing off his stuff. A lot of these tools came in a box from Parker that I bought a few years back, and I've shown some of them tools in this forum before, but I don't care, now that I have my chance to do it again. Some additions in here too.
Not to spoil the good stuff I'm starting out with some modern "ordinary" tools that I use when repairing my pens. The Bionic wrench is an excellent tool that I use all the time, and the rubber covered poly-grip is also very useful. I mostly use the bulb to clean out Parker "61" capillary fillers. It's the kind photographers used to blow dirt from negatives in the good old analogue days.
Here are some medical tools, I use the dentists clamps when gluing (don't know what they're called but they are used around teeth). And dental picks is of course essential when working on a pen, at least sac-pens. The strange looking at the top thing is an otoscope, used by physicians to check ear-canals. It has an internal led-light and a loupe and is excellent when checking the insides of pens.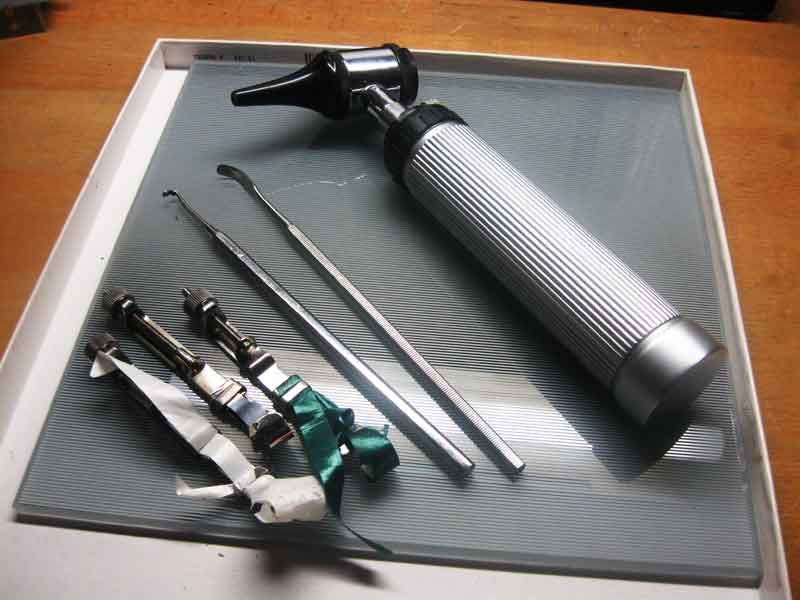 These are really tools for watch-repair. The screwdriver has six different (and very small) bits inside. The clamp-thingy is an excellent extra hand and the tweezers are extra-extra fine and of very good quality.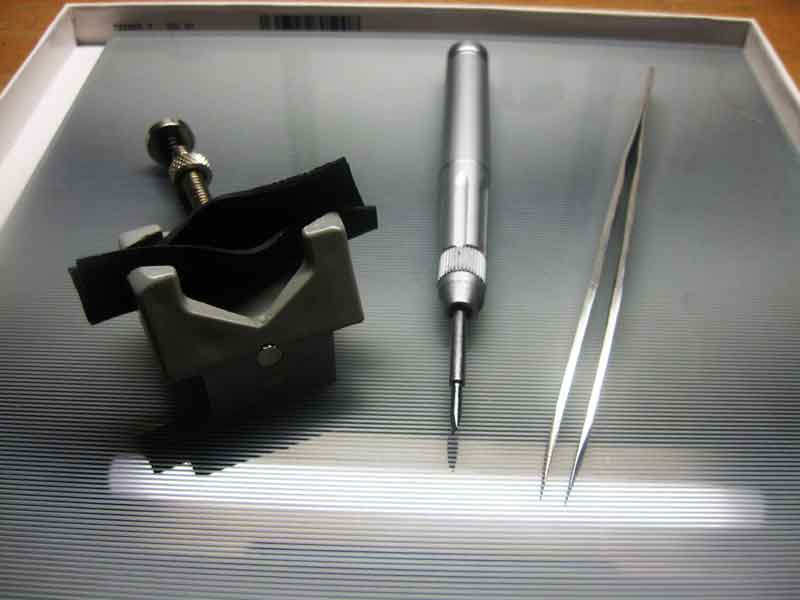 This is a
straight shank collet chuck that I use to fasten loose cap bands, I know what the process is called but I don't remember the word right now. The even pressure makes it virtually impossible to crack the cap, but the cap band can wobble if one's not careful.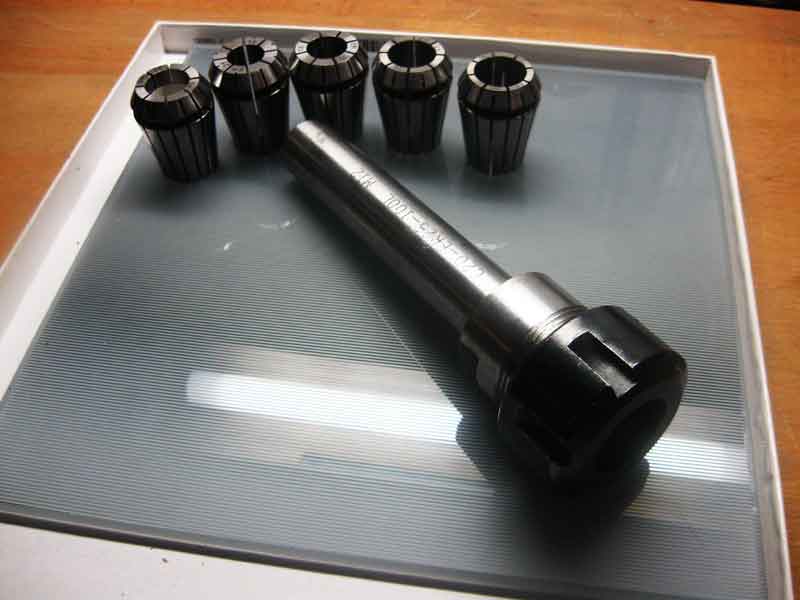 Ok, here are some recent tools custom made for pen repair. This one's a copy of a Parker sac tool, works very well. Made it myself.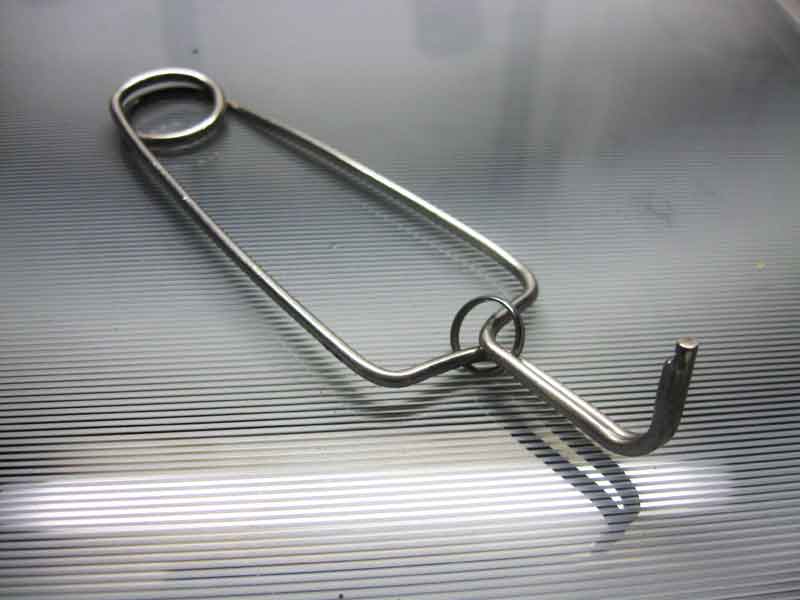 Not very exciting, you say? Well how about a Vacumatic pellet insertion tool from Woodbin?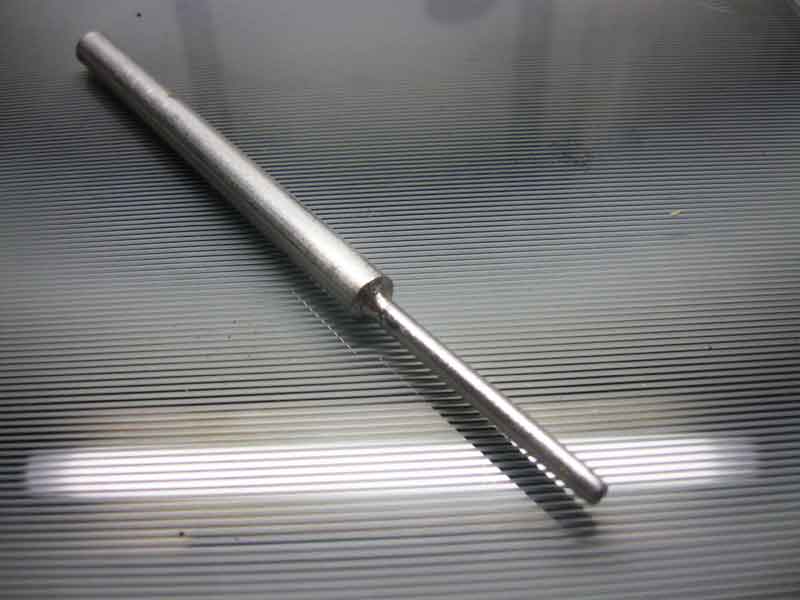 Oh, you've seen those before? How about these fantastic tools, made by David Armstrong. Vacumatic thread chasers and a clip screw tool? Cool, huh? The poorly made metal thing I made myself, though, it is used to unscrew the insides of a Parker "65".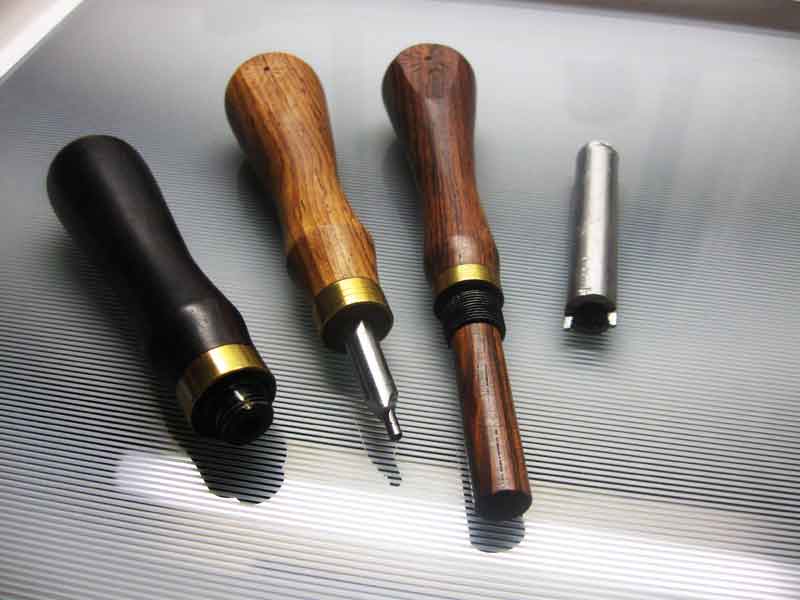 Another guy who makes cool tools is Ariel Kullock, he made this ball point arbor.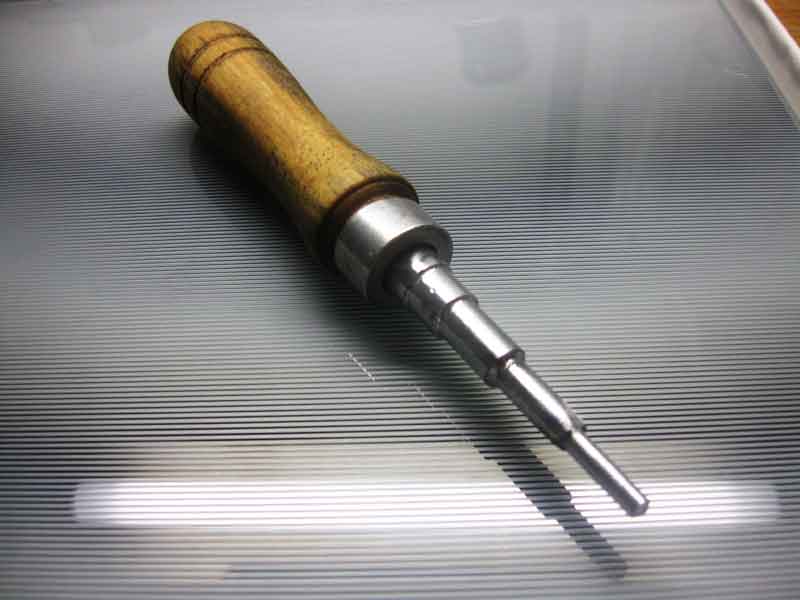 He also made the Parker "61" cap arbor on the left. And now we're getting closer to the goodies. The one to the right is a genuine Parker "51" arbor, note the difference in size. They are used to hold the caps steady while unscrewing the clips. Should have cleaned them first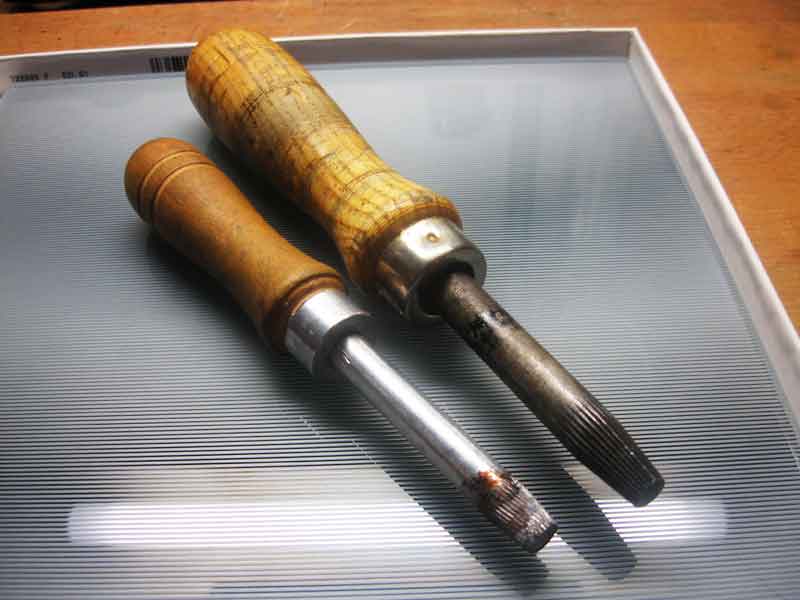 The rest of the tools shown below were are all made by Parker. Here's a small hand drill, made to get the lead out of pencils and to open clogged breather holes.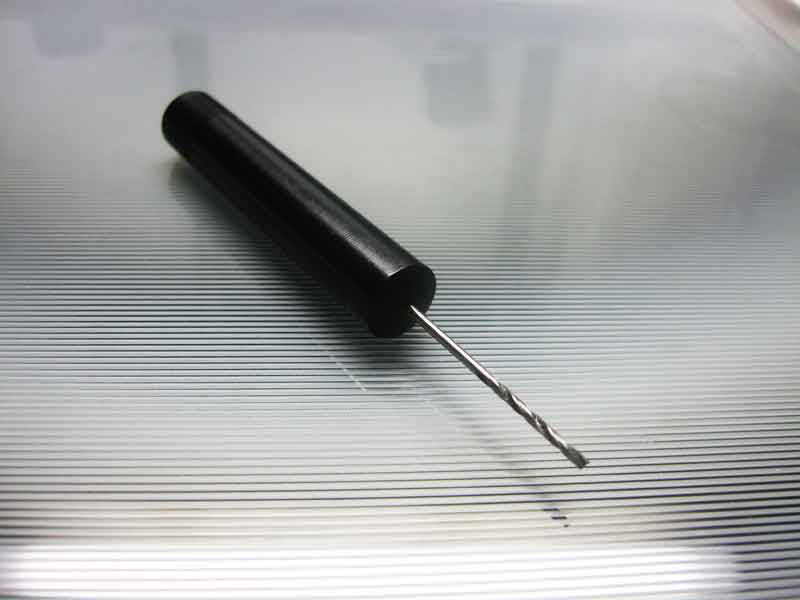 Here's a special brush that has a leather polishing strip at the back to be used with Hubert Rouge polishing stone (Herbert?)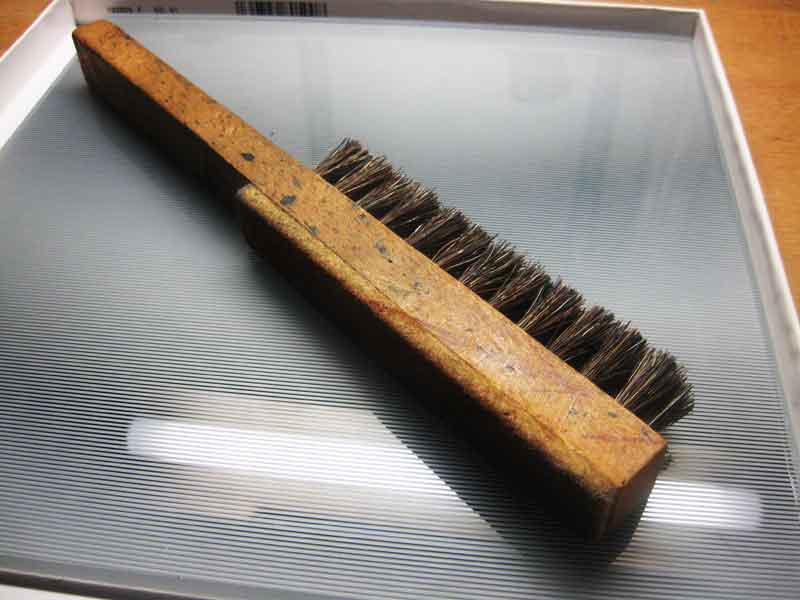 This ugly thing is used to clean between the tines of the gold nibs and also the ink channels.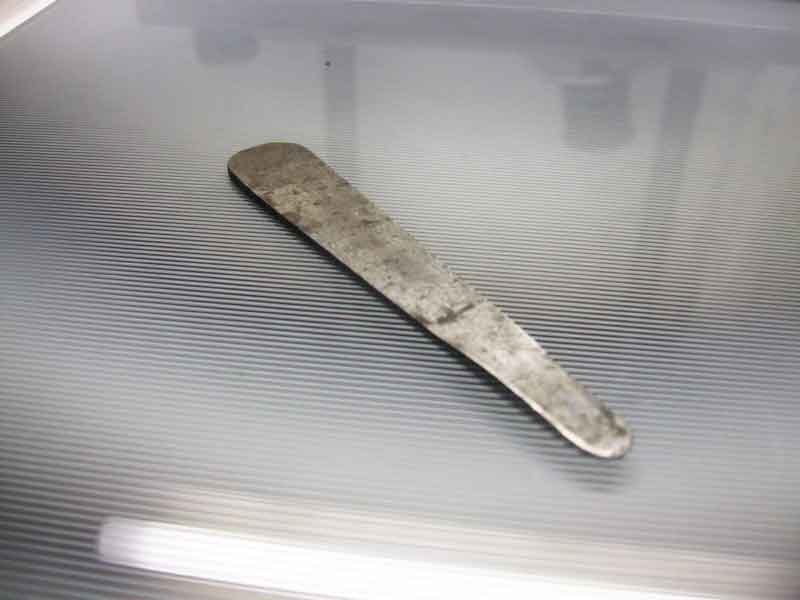 A pick. I mostly use it to clean threads and to apply glue.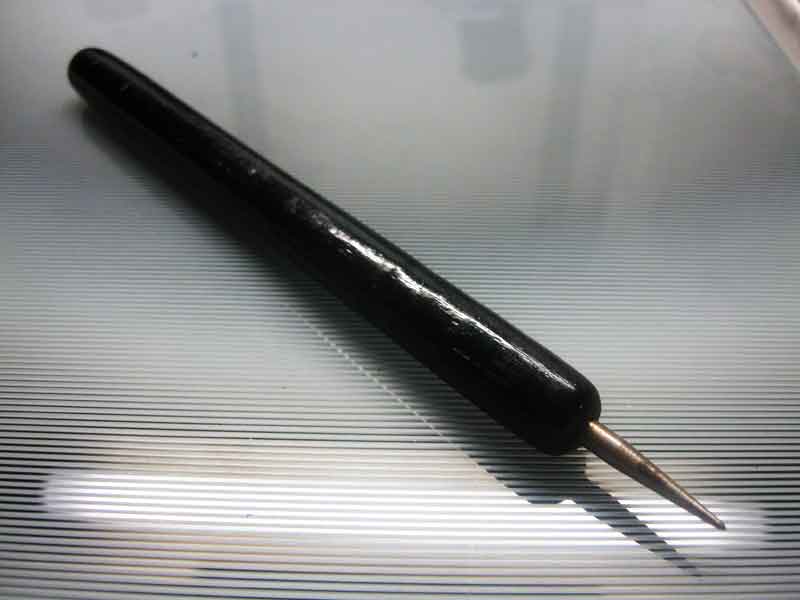 Small and long-nosed pliers used to set nibs.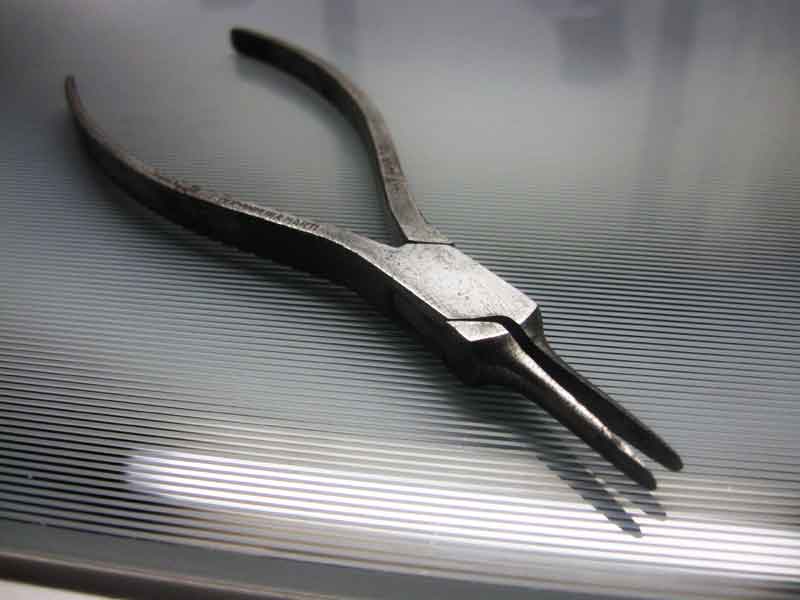 I bought this one last week. It's a pair of parallel pliers that was sold to me by Dale Beebe at pentooling.com, who bought it from an old Parker employee. It's used to set the nib/feed into the section.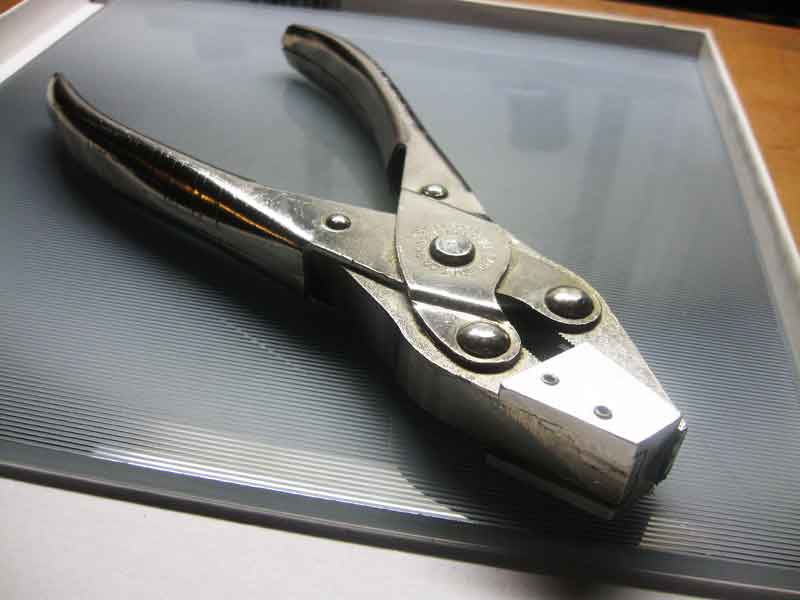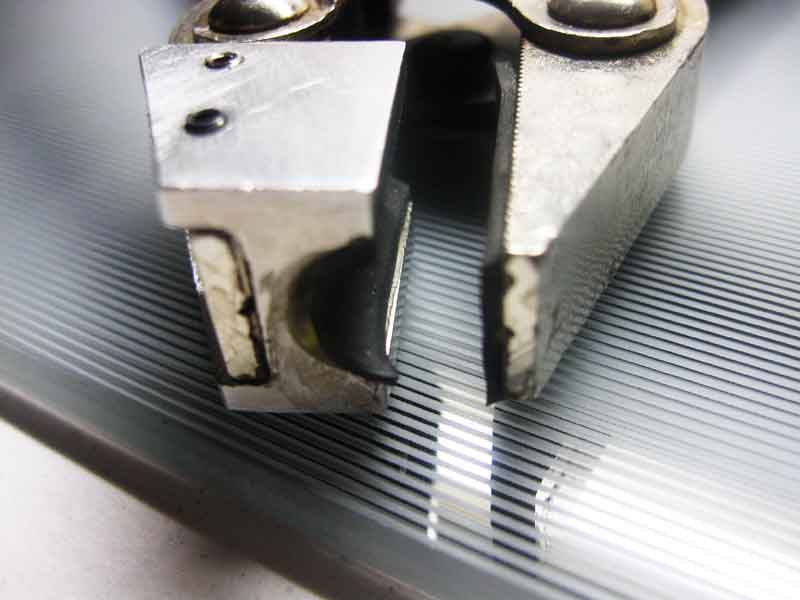 This is a tool made to rotate the feed inside a Parker "51" section, to get it aligned with the section "lip".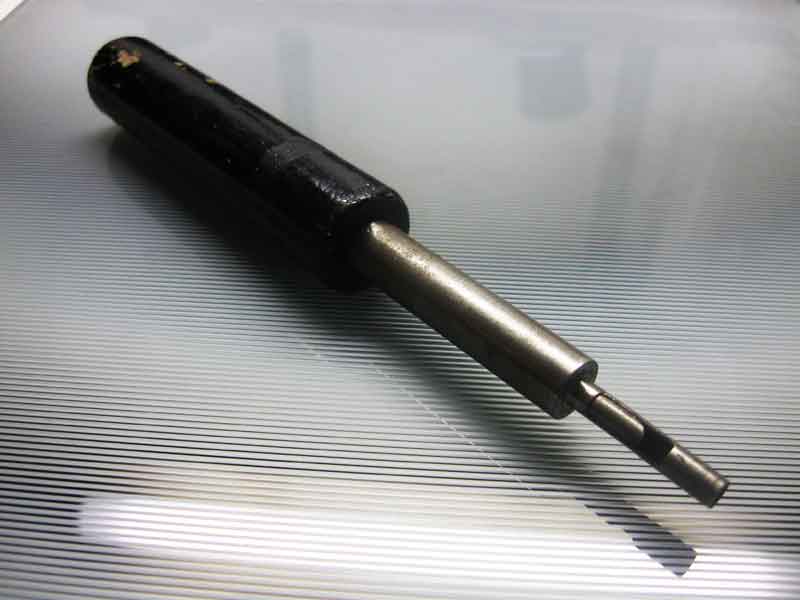 This is a fantastic tool. It was first made to remove Vacumatic fillers. This one has several collets that fits everything from the vac filler to aerometrics to 1960's Parker "61s" and the UK Duofolds. Great tool. Only downside is that the lever is too thin and hurts my hand, hence the added rubber.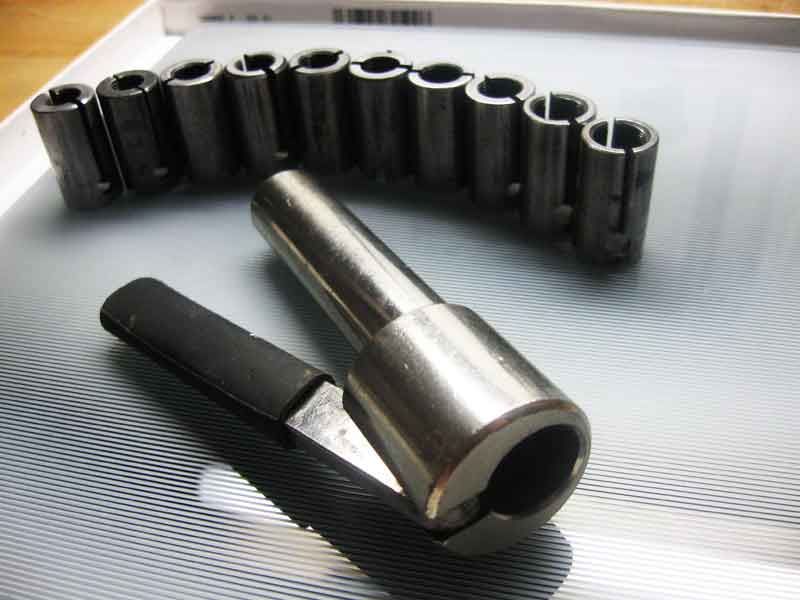 Here's another new addition from Dale Beebe, a 1947-48 knock-out block, complete with the steel pin. Awesome. Left hole is for JR and SR Vacumatics and Duofolds, Middle one for a Parker VS and the right one for a Lady sized pens. It's made from a thick steel plate on a drilled piece of hardwood.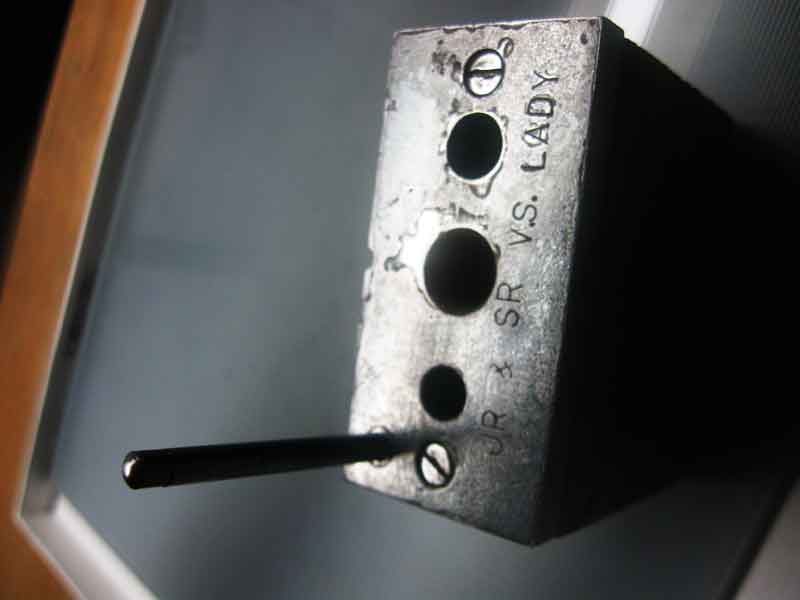 There should be a piece of rubber in this hole, which is used to unscrew jewels. The little notch is for removing the button on the button fillers.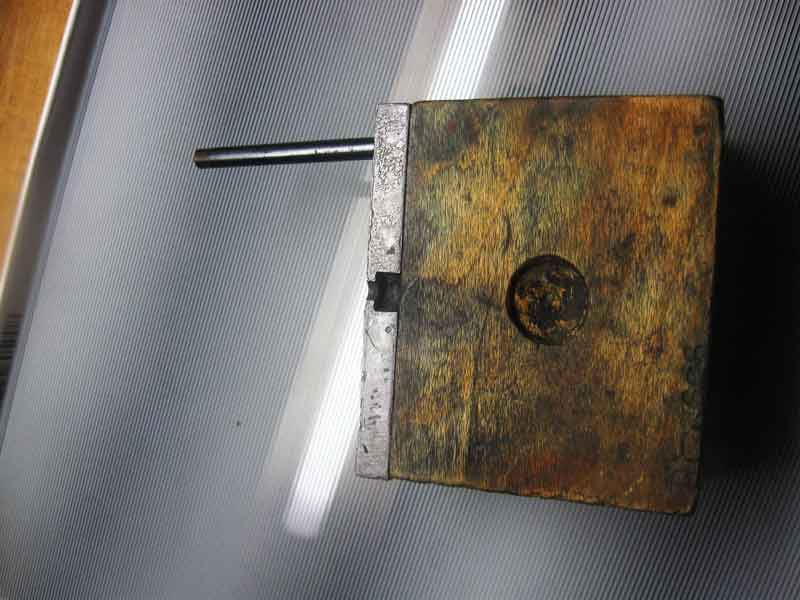 Here's a newer version. The middle hole with a ridge was made for inserting the section of a Parker "21" into the filler. This one doesn't have the notch nor the jewel remover.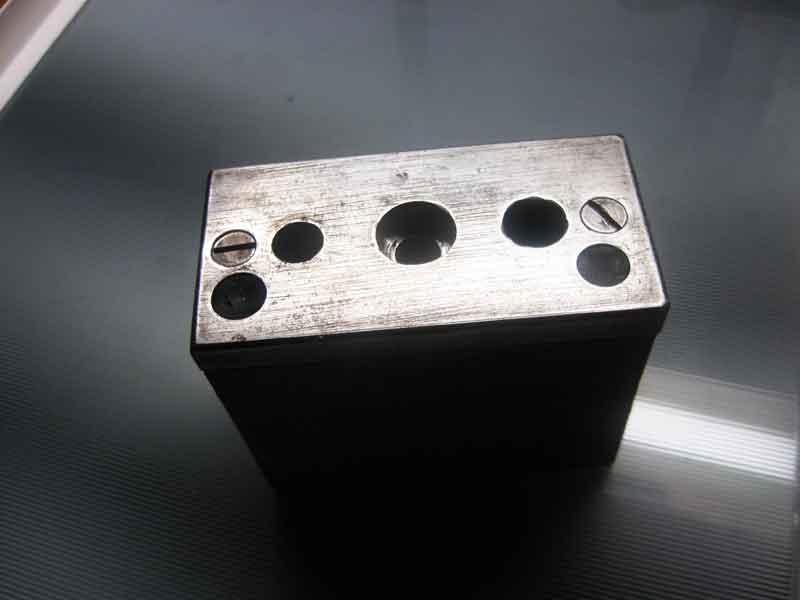 The rubber jewel remover was first found of this beauty from the 1930's, the famed vacumatic fitting block. I got this from Woodbin too. Some copies have been made, they don't have the jewel remover though.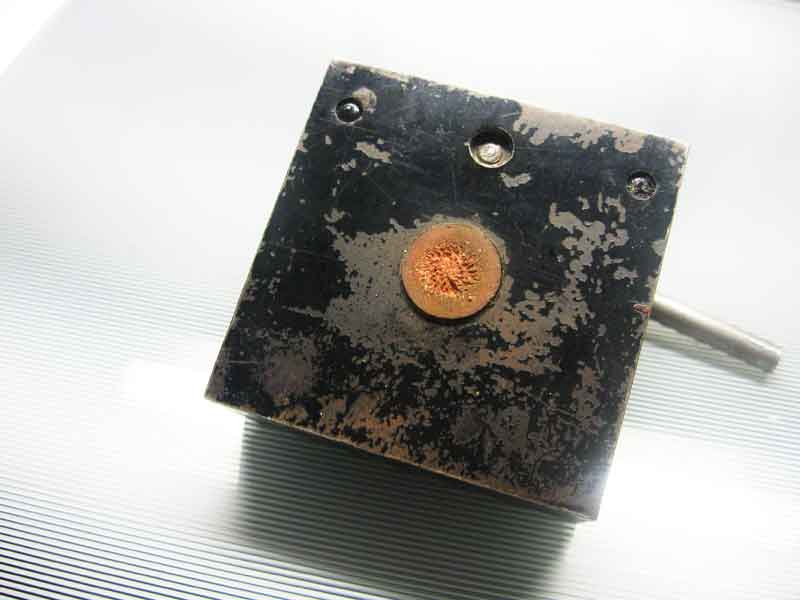 It's a true multi-tool that I use all the time. There are two threaded holes for removal of both standard and oversize style Vacumatic fillers. The knock-out pin also has a hole in it because the earliest Vacumatics had a one-piece section/body. So the pin could be put over the breather tube and the feed/nib knocked out all the way from the back of the pen.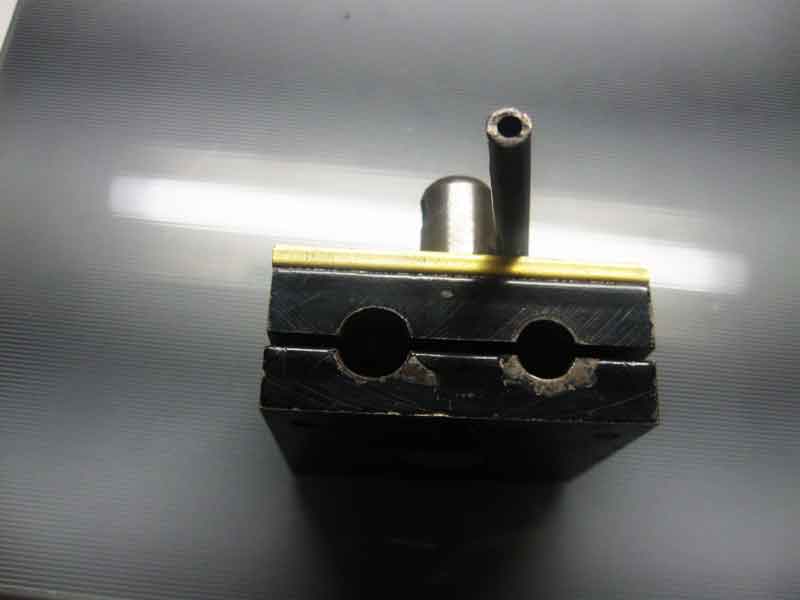 Hence it was also a knock-out block. It also had the button filler notch.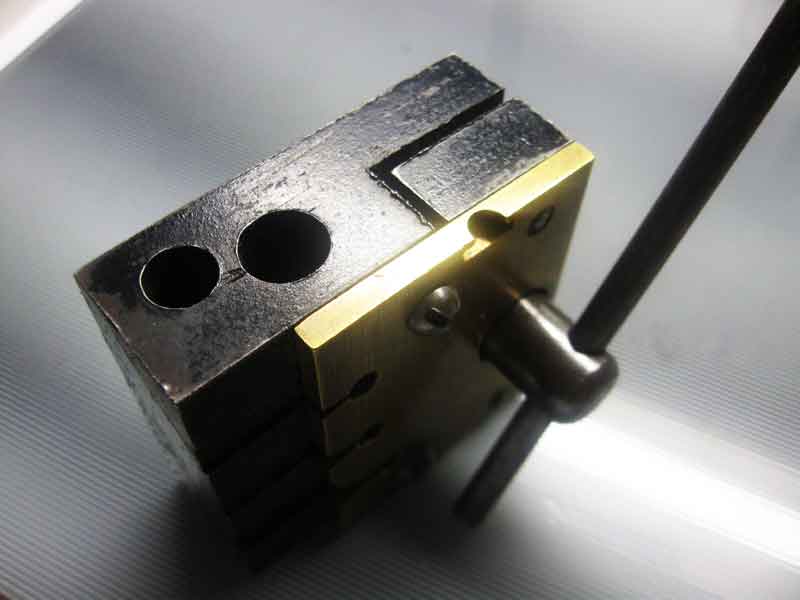 But the coolest thing is the Vacumatic nib-fitter, for Slender, Standard and Oversized pens. You hold the nib/feed down and with one push you get the nib set just right into the section. Works very well, I use it all the time.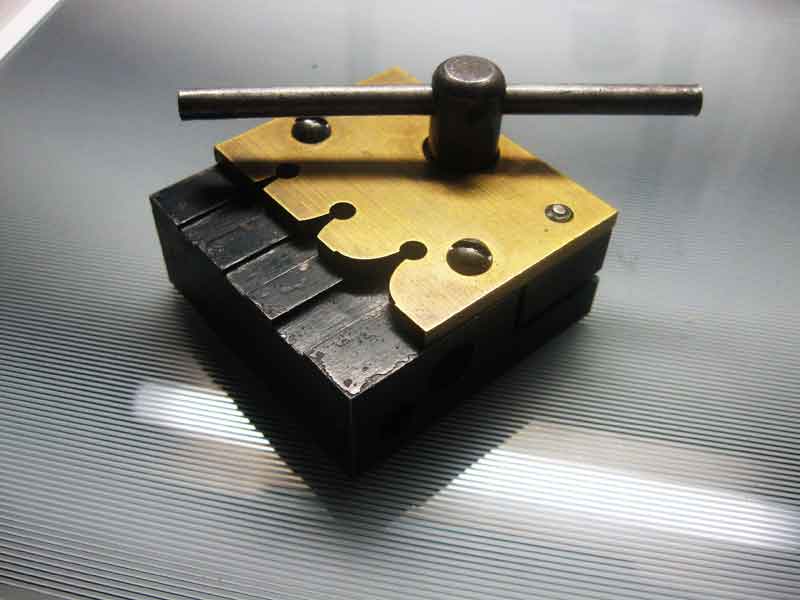 Here's another original tool to die for, a nib tool with tapered grooves used to flatten and set gold nibs. Not only does it work very well, it's also very beautiful in my opinion. And being of solid steel its also heavy. I like heavy.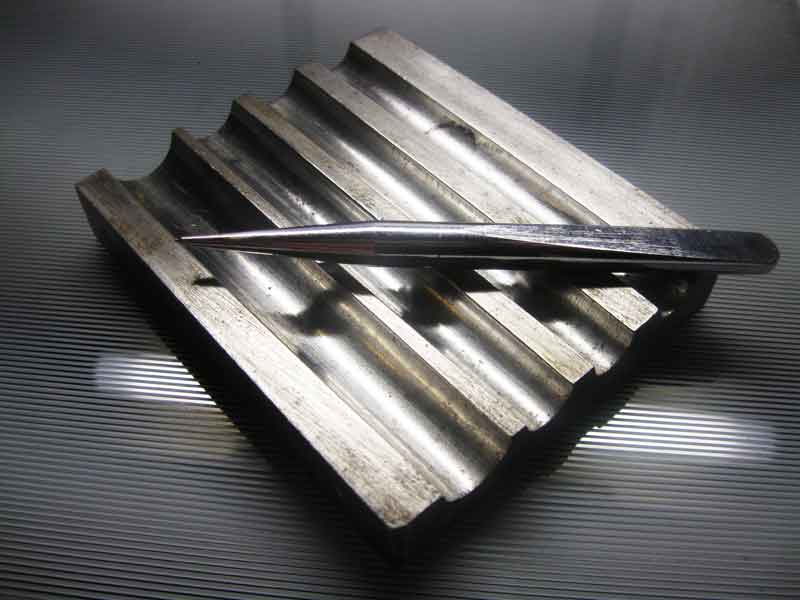 And, lastly, my latest aquisition from the 'Bay, a brass nib-gauge, used to determine how far from the section the nibs should protrude for optimal function. I have an old manual that describes which pens go where. Golden, isn't it?
Thanks for looking, I hope you found something of interest. And... if you have some old Parker tools for sale, give me a holler!
Comments and virtual whistles are welcome.
/Tony
Edited by algabatz, 05 April 2011 - 22:21.