These two pens could not be more different. One is muted, understated, and is almost never noticed. The other is bright, elegant, and frequently gets commented on. Meet my Stealth Vanishing Point and my Pelikan M400 White Tortoise.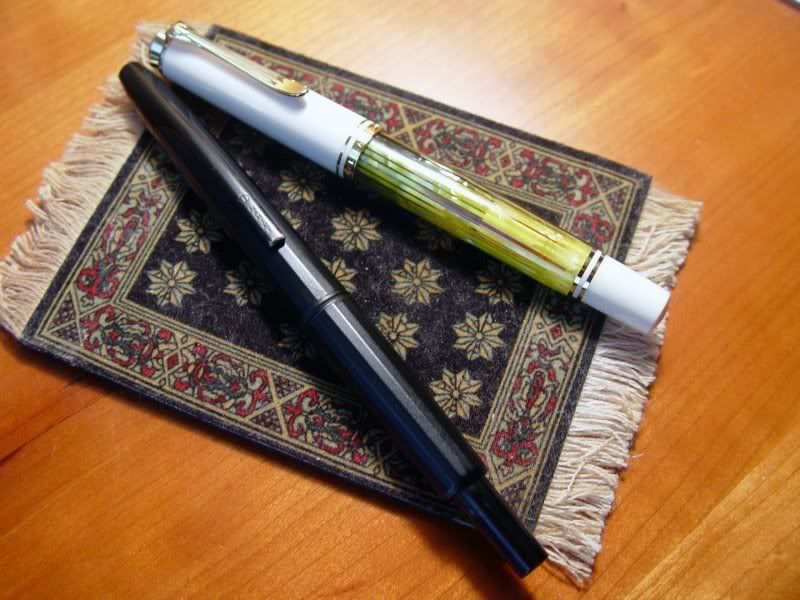 One looks like a weapon; the other looks delicate and fragile. In reality they're both extremely durable.
The Vanishing Point, being made of plastic and brass, is heavier than the all-plastic Pelikan, and is more user-friendly, too. A simple click brings the nib out and you're ready to write in under a second. Whereas with the Pelikan, you have to unscrew the cap and post it before you can write with it. Not a hassle, but it takes a few seconds and draws more attention to the pen.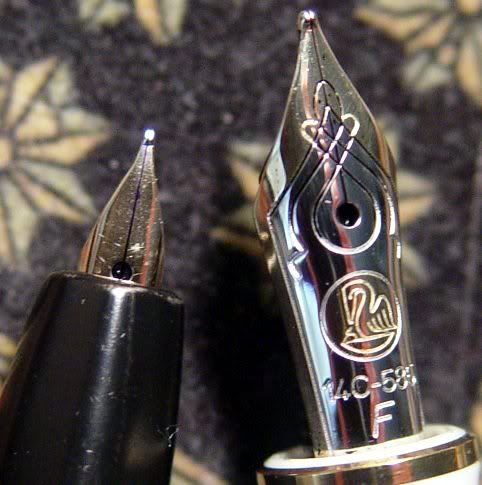 Even the nibs are completely different!
Once you start writing, there are differences, too. The Vanishing Point's F nib is ever so slightly on the dry side. As a result, there's little to no shading. On the plus side, the converter is so small that a dry writer makes the ink last longer! The nib is smooth and springy, and is entirely pleasant to use. The Pelikan's F nib, on the other hand, is more to the wet side than the Vanishing Point's is to the dry side. This causes fantastic shading, and the pen glides over paper like no other. Sure, it goes through more ink this way, but it's easy to refill and holds a lot of ink, so it's the perfect trade-off.
Note the difference in line thickenss. That's the difference between a Japanese F and a more traditional F nib.
If I had to choose only one, I'd choose the Pelikan. It's less practical (only in the sense that the Vanishing Point is extra-practical), but I enjoy writing with it more. That being said, I could be very happy with only the Vanishing Point. The pens are both that good.
So, do opposites attract? They certainly attracted me!