I have purchased this through a flagship boutique that seems to have a good inventory of past WE. The advantage of purchasing through them is that not only do I get to have a sealed box but the price is somewhat reasonable and in some cases cheaper than most online dealers. This was not a planned purchase, at least not immediate but being such a fast moving product, I know I could not wait. So, I walked home with a new and sealed box of Dostoevsky, one of the most unique and I must say tastefully done WE.
FIRST IMPRESSION
I'm impressed with the packaging for this pen. This is my first WE from the 90s. This is the letter set, where a copy of the author's letter is included in the packaging that resemble a book, and within it, the standard book-like box which contains the pen. It seems like the letter was written during one of his most important works to a friend.
DESIGN 8/10
The straight barrel and simple ornamentation etched on the resin, clips and inlays gives it a uniform pattern throughout the pen. I just love the simplicity of it, and I feel it is perhaps one of the most elegantly done WE, not too much and just the right amount of details without trying too hard to make it special. A simple execution in design and yet it delivers exceptional results. The pattern repeats itself along the barrel and along the golden inlays giving it a consistent look throughout. The nib has a modified pattern, different from the rest but yet derives from the same geometrical basis. The golden clip tapers towards the end and ends with a sapphire stone color inlay, which blends well with the rest of the dark resin. The design of WE Dostoevsky is a subtle beauty and it somewhat grows into you. Very elegant indeed.
CONSTRUCTION AND QUALITY 7.5/10
This is an all resin pen, similar to most MB resin pens but one can feel it is a notch better than the standard range. Though light, it fees solid and firm in its construction, perhaps it has thicker resins. There are no loose ends, and all the joints or inlays are smooth. The golden pattern on the inlays are crisp and sharp. This pen was designed and built with love.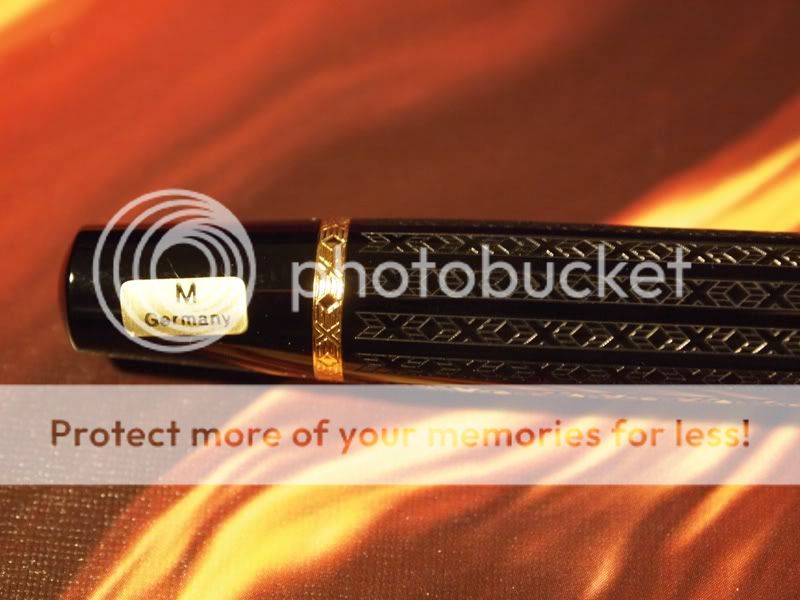 WEIGHT AND DIMENSION 8/10
Very similar and feel in terms of size as the 146, but without the cap on, writing block and the barrel is slightly longer, making this writing without being posted more comfortable. The light construction makes this a comfortable pen use for a long period of time. Overall a very comfortable pen to grip, and can easily be used as an everyday pen.
REFILL SYSTEM 8/10
The standard MB piston pen. The mechanism is smooth and work as well as expected. This is one of the WE that actually has an ink window (yeay!). It is almost a clear window with a bit of blue tint, complementing the sapphire stone color on the clip. At the moment, I've filled it up with Burgundy Red and it's a joy to see the red ink through the window. 
NIB AND PERFORMANCE 7/10
The ink flow is very good and wet with decent feedback that gives you a feel of the grain of the paper. There is some skipping every now and then but that is reducing after a few rounds of flushing and constant uses. Optimal angle is somewhat narrow but once you get into that sweet spot, it just flows. It is rather stiff for an 18k. Here are some writing samples….
VALUE 8/10
As mentioned earlier, I have purchased this through one of the flagship store which offers a great selection of new and past WE. For something that is new, unopened, a special letter set and about 13 years old, I think I paid a rather good deal for about USD 900, considering some of the prices eBay.
SUMMARY 7.75
This has started me on the hunt of older WE. Dostoevsky was never on my list, until I laid eyes on it, and started to appreciate the simpler and more elegant designs of WEs. In my opinion, the Dostoevsky is a good value and interesting WE, a testament that good taste comes in simple statement and elegance.