I just received my Edison Nouveau Premiere in the mail and I'm afraid I can't wait to write a preliminary review. For those who don't know, the Edison Nouveau Premiere is a collaborative effort between Brian Gray of the Edison Pen Company and Brian Goulet of the Goulet Pen Company. The design of the pens was also influenced by the participants in Brian and Rachel Goulet's weekly "Write Time @ 9" webcast. This process was fun! And hysterically funny. Or at least we all seemed to think so at the time. It was late.

First Impressions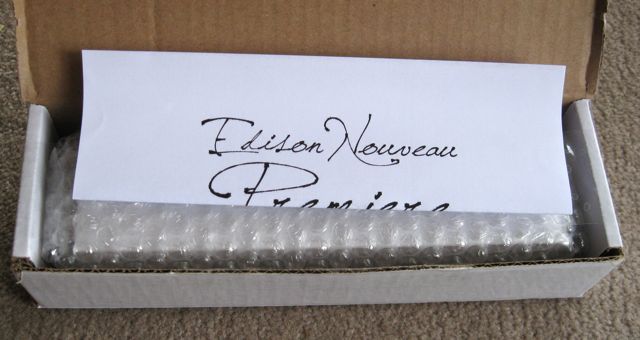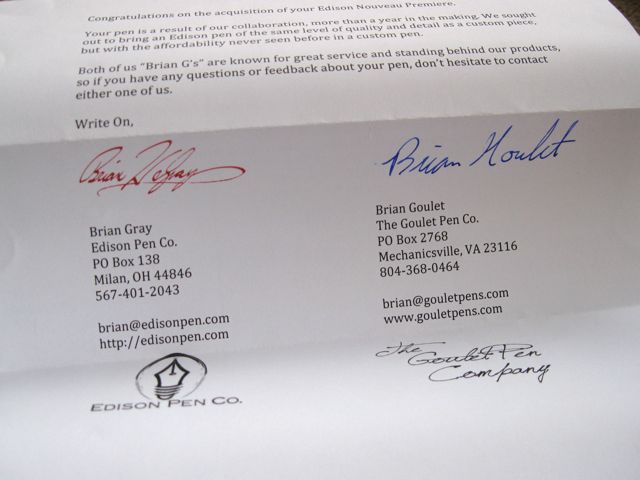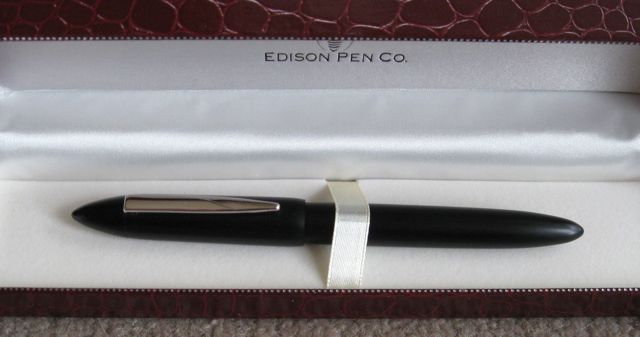 The pen arrived very well packaged and reclining comfortably in a box finished in a sort of red-brown faux (I hope) alligator. Finishes that resemble dead animals aren't my thing, but I didn't buy this for the box.
The pen comes with a letter signed by its two creators. Nice touch! You also get one of the recently re-designed Goulet Pens bookmarks.
Appearance & Design
The design is sleek, modern, and understated. The combination of black and silver is a favorite of mine. It speaks of elegance without bling. The clip (which, incidentally, was the focus of much of the hilarity on the above-mentioned online discussion) is tapered to mirror the taper of the pen's ends. It is adorned with a sort of "swish" mark (see picture below) that carries the design theme of tapering even further. This small detail also adds a bit of zest to a design that could be seen as cold. The satin finish also provides a note of softness.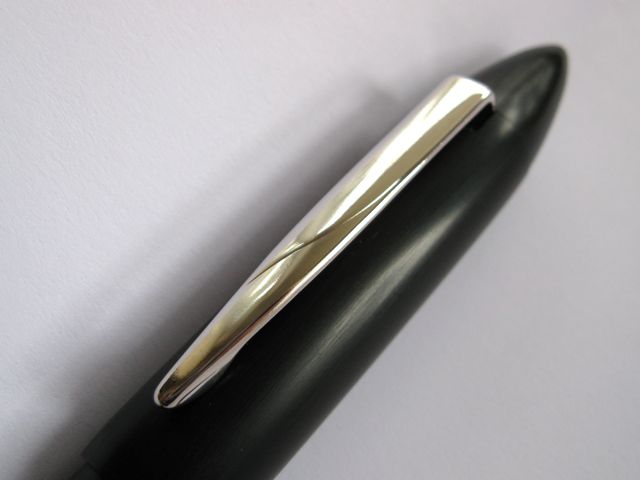 The pen is neatly marked on the barrel with the make and model of the pen. I played with this photo a bit to make the imprint show up. It's more subtle in real life. Incidentally, "Edison Nouveau" is the name for what the Brians hope will be a line of pens, while "Premiere" refers to this specific model.

Construction & Quality
This is a very solid, well-made pen. Brian Gray is known for his craftsmanship and this pen is no exception.
Weight & Dimensions
This a really long pen. I've photographed it 'twixt a TWSBI and a Pelikan 400 to give a general idea of size.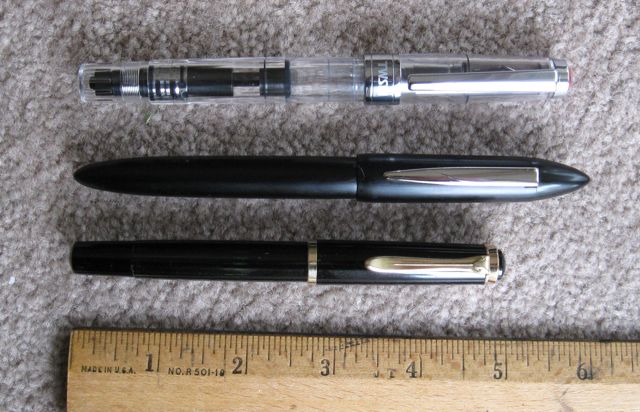 Capped, it's 6-7/8" long. Uncapped, 5-1/16". The cap does post, but it posts very high, giving a posted length of 6-3/4". With a pen this size, which is big by my standards (I'm a Pelikan 400 kinda guy), I wouldn't want to post. Also, I'd be a little afraid of what frequent posting might do to the satin finish.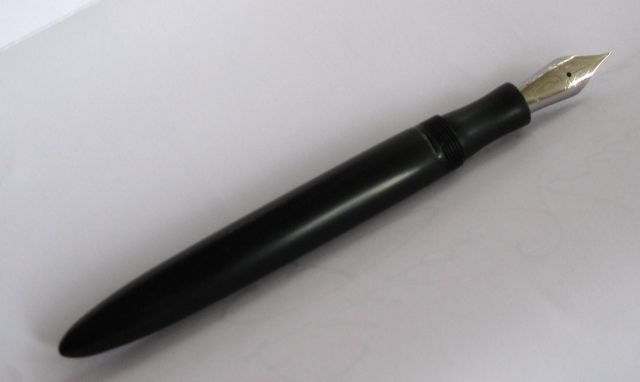 The pen is made out of acrylic, but the satin finish gives it a feeling of warmth and softness that resembles ebonite. I believe this was Brian Gray's intent, since producing an actual ebonite pen at the desired price point would have been difficult.
While large by my standards, it's small by those of Brian Gray, who mostly makes rather substantial pens. But since he makes them out of light materials, I still find Edison pens to be very "hand-friendly." As with most of his pens, the Premiere has a slightly convex section, which I find very ergonomic. I haven't had time yet to do a long writing session with this pen, but the similar section on my Edison Pearl makes it one of my favorites for extended writing.
Nib & Performance
I ordered my Premiere with a fine, steel nib. Other options are available in steel and in gold. Due to the high price of gold right now, the gold nibs are a lot more expensive. I kind of prefer steel anyway (weird, I know). The steel nibs are Iridium Point Germany (IPG) nibs, but unlike previously available nibs from Brian Gray, they are marked with the Edison light-bulb logo. The logo seems like a small thing, but I think it's a very nice touch. The nib is silver-colored to match the clip.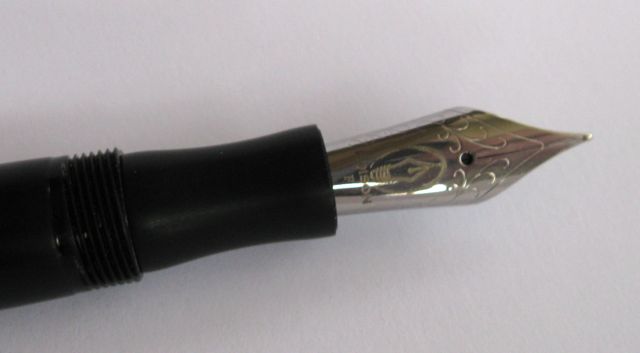 I've inked the pen with J. Herbin Pearle Noir and find that it writes a very smooth, wet line that is a little on the broader side of fine. The line width is almost identical to that of a modern Pelikan F steel nib. There's a
tiny
bit of feedback, just enough to remind you that you're not playing air hockey. (Note: I'm writing this review having tried only one ink in this pen. Pearle Noir is a free-flowing and lubricating ink, so you might take that into account as you read.) It will also write upside down if you want an extra-fine line.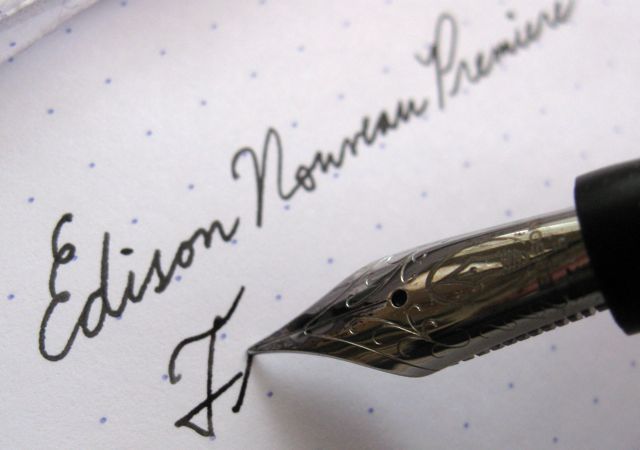 You don't have to spend much time on FPN to learn that Brian Gray is known for making gorgeous pens and for providing extraordinary customer service. What isn't mentioned as much is that he knows his nibs. I'm not at all surprised that this one is very good. His nib units are easily interchangeable, like Pelikans and Esterbrooks, so if I decide want to get a cursive italic from him later, I can do that.
Filling System
c/c filler with converter included. You could probably make it into an eyedropper if you wanted.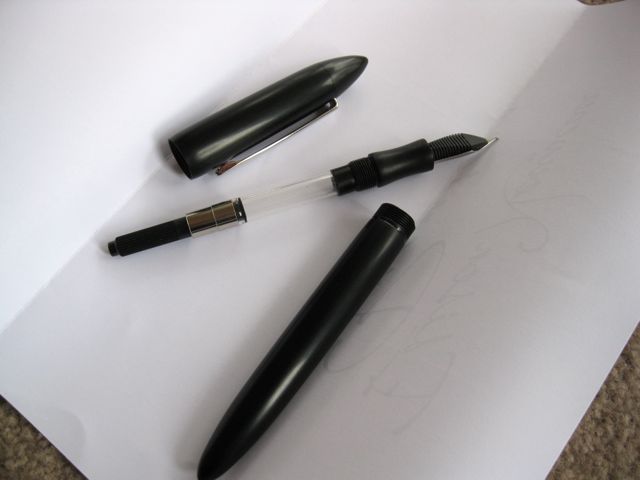 Cost & Value
The Edison Nouveau Premiere with steel nib is available at
Goulet Pens
for $150. That's
at least
$100 less than getting a custom pen from Brian Gray. This is Edison goodness for a very fair price. As I understand it, this is Brian Gray's first foray into the realm of non-custom pens, so here we have economies of scale doing their thing. To my mind, this is a fantastic value. So for all of you who have drooled over Edison pens, but have never taken the plunge because of the prcie, here's your chance.
Conclusions
Overall, I'm very happy with my purchase. The pen is beautiful and has a great hand-feel, and the nib is excellent. I'd definitely recommend this to my friends.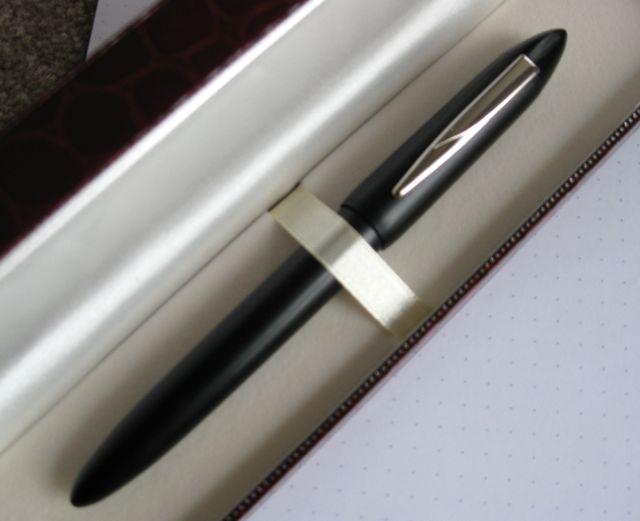 Edited by anaximander, 14 March 2011 - 23:55.