Stipula Etruria Amber, Alter Ego, Fiesole, and 991
No, I can't deny with a straight face that I did not have any element of showing off these beauties while writing this comparative summary. Ever since I acquired my first old Etruria Amber in silver trim, I kind of got hooked to Etruria series. Regrettably, I had to sell that pen but I knew I would soon be on hunt for more. This post summarizes my comparative impressions of the four Etruria models that are dear to me.
From the size point of view, all these four models are full sized pens that hold a lot of ink. They all are very ergonomic to hold (with or without taper on the grip section) and delight to write with as daily work horses. They weigh differently though due to different piston mechanisms they come with. Here are few of pictures with Montblanc 149 and 146 models to give some idea of comparative lengths and girths.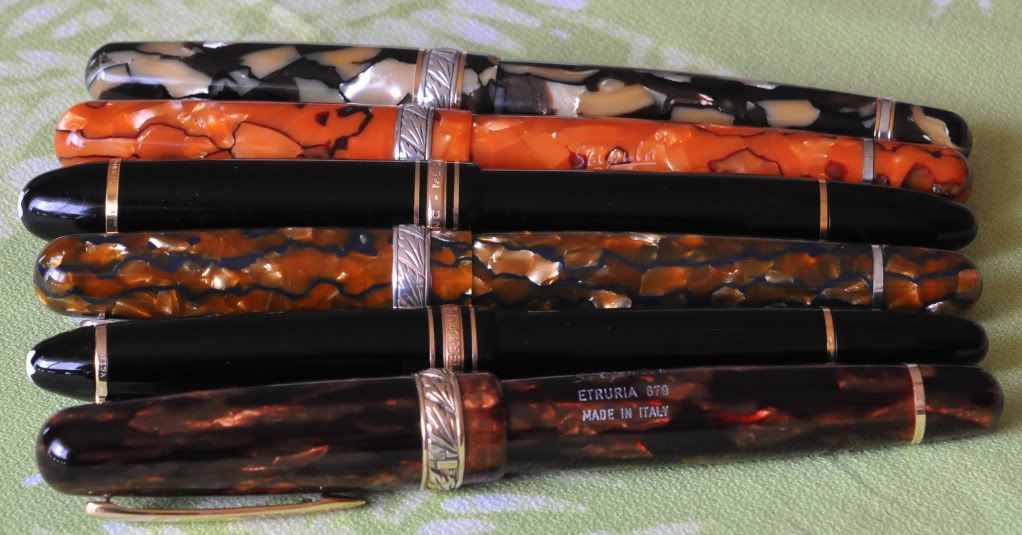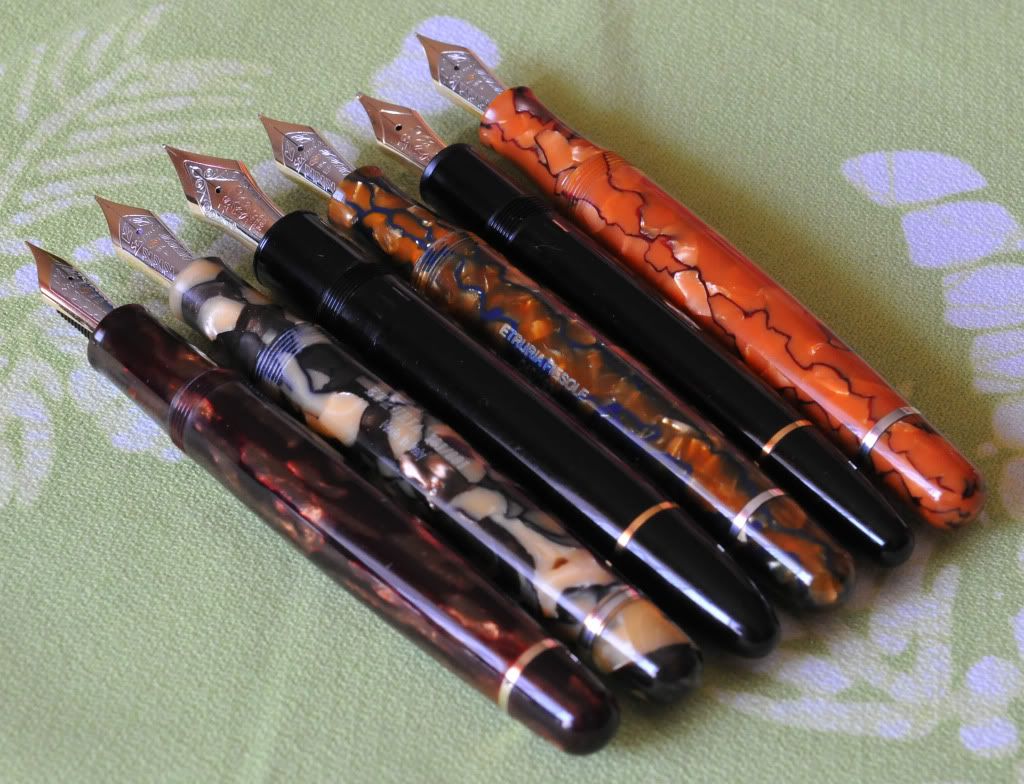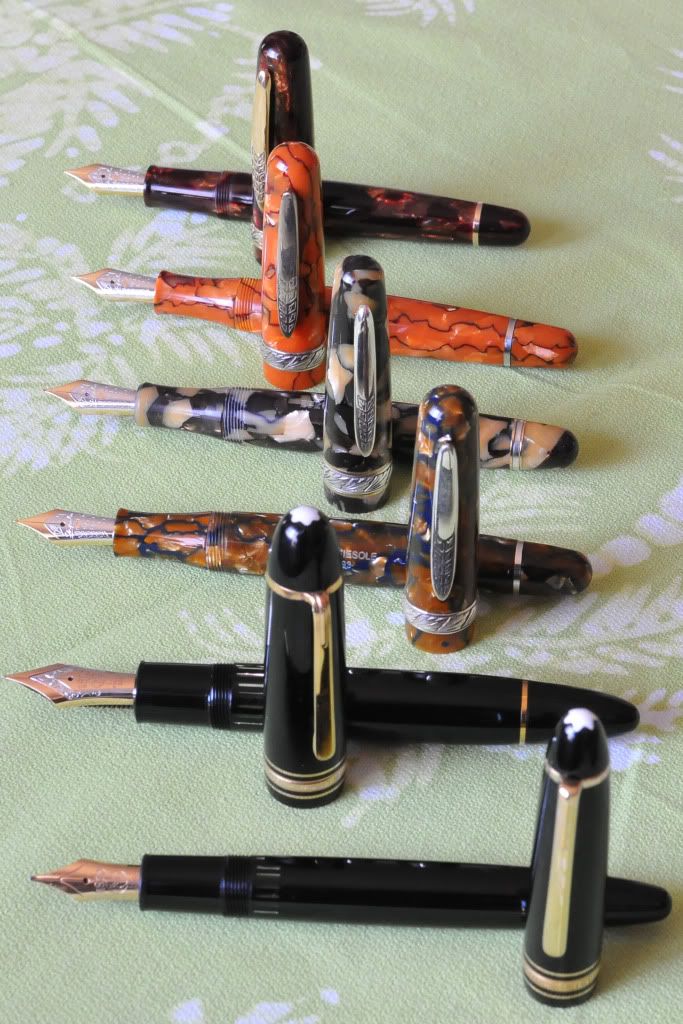 Pictures of only these four models of Etrurias side-by-side that I have (thus far):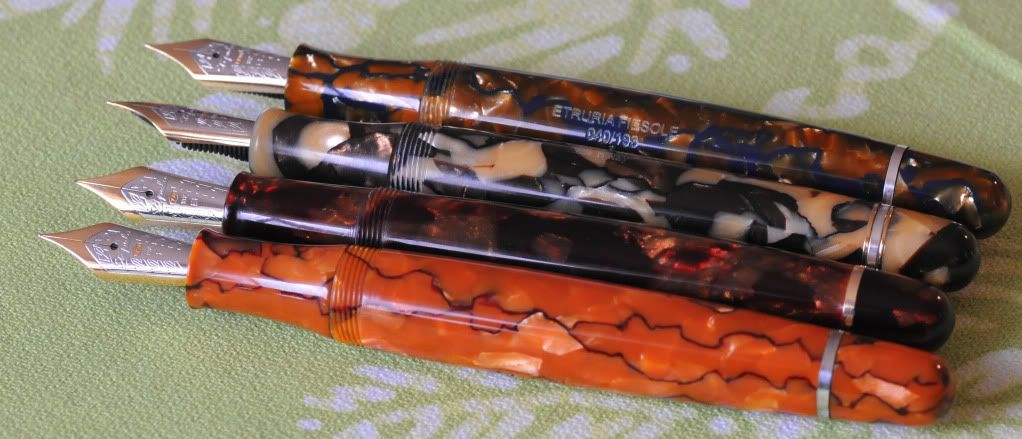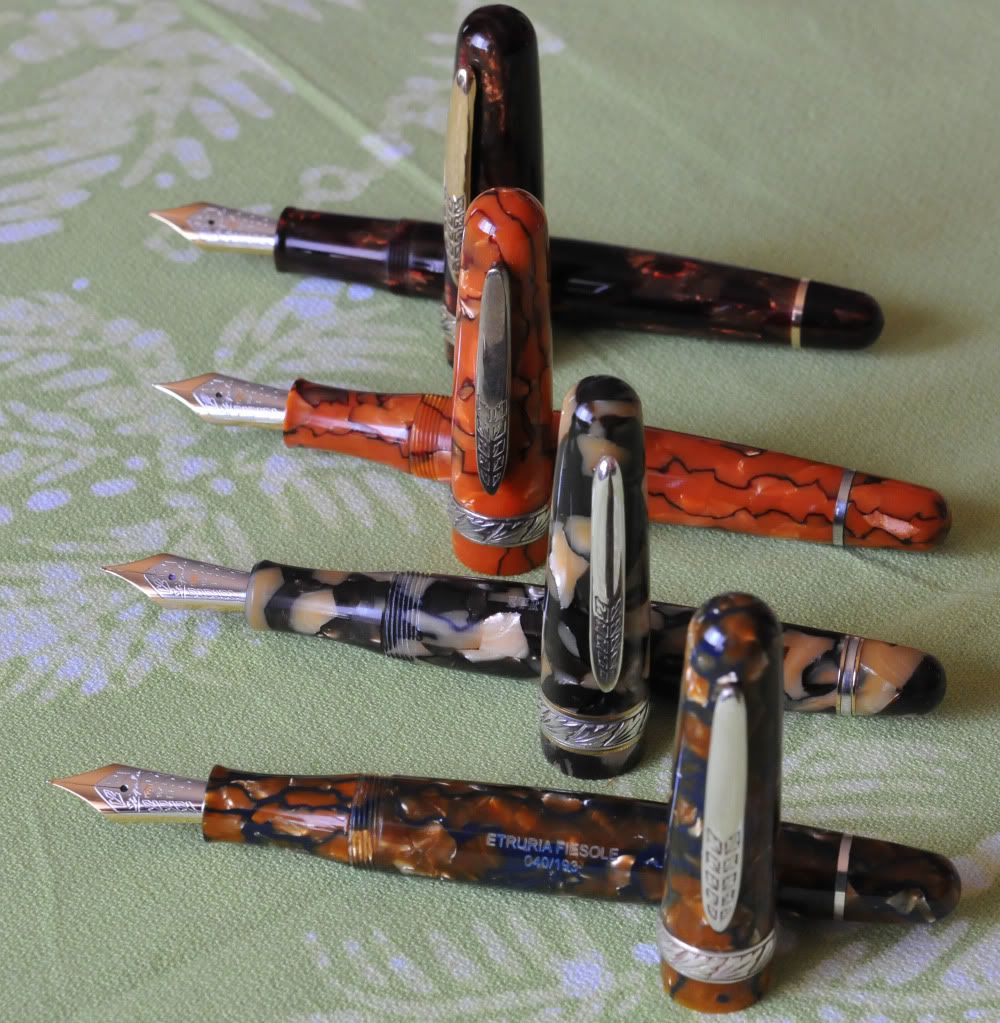 As far as size comparison between these four models is concerned, they mostly differ in their weights. Lengths and girths are more or less close enough. Below are four tables with physical dimensions measured to the best of my abilities (remember, these are handmade, so there will be some variations):
All Etruria piston fillers come with two-tone 18 K solid gold nib with nice springiness and great feel. Like with every pen, the nibs have worked well right out of the box for most here on the FPN, while some needed minor adjustments based on what I gather from various posts here. As for me, I got few nibs modified to suit my liking as described in respective sections below. Nib housings are either screwed in, friction fit or glued with piston assembly. The method that works common to all Etruria models for nib removal (if needed), as mentioned by
Wimg
in the Italian Pens section of this forum, is to pull in straight horizontal direction with care using rubberized gloves or using thin sheet of rubber wrapped around the nib/feeder before pulling.
Now, brief comments about individual models….
[A] 991 (Etruria's Tenth Anniversary, 1991, Limited to 991 pens)
Some find it the least showy out of all Etrurias because of earthly tones of pale/off white, grey and mother of pearl shine. The material is beautiful celluloid with distinct camphor smell. I think this material is more prone to ink stains (easy to wash out though) compared to other Etrurias if the exterior stays in contact with ink for prolonged time. Either it has to do with lighter color of the material or with the curing of this celluloid.
The piston mechanism is interesting. Mine has, what looks like, a brass tube-based convertible piston. It can be replaced with a cartridge or converter though I use it just as a piston filler. Don't fully know yet how to remove the piston, but it's unlikely that I will ever use it with a converter any way.
Here's what
Stipula has to say about this model
:
Ten years after the launch of Etruria, the fountain pen that most reflects our tradition through the years, we are proud to present a special Tenth Anniversary edition: Etruria 991. The pen is turned from a nut-colored celluloid rippled with infinite tones of brown with mother-of-pearl highlights. The gentle, sinuous lines of the pen trace the perfect sphericity of the Etruscan amphorae, which also inspired the decorative elements adorning the body if the pen: three-lobed leaves in silver, cast by the lost-wax method, then chiseled, and lastly highlighted with gold rings.

Models: Fountain pen
Series: Limited to 991 pieces
Material: Celluloid and gold plated sterling silver
Colors: Mottled
Filling system: Stipula convertible piston (it can be replaced with a cartridge or a standard converter)
Nib: Two-tone 18K gold rhodium plated
Nib sizes: EF, F, M, B, OB, OBB, 0.9 Italic, 1.1 Italic, 1.3 Italic, and Special 52 degrees
This pen is lighter compared to, say, Fiesole. As for the looks, you be the judge:

Close up of the cap ring (and the sterling silver karat marking):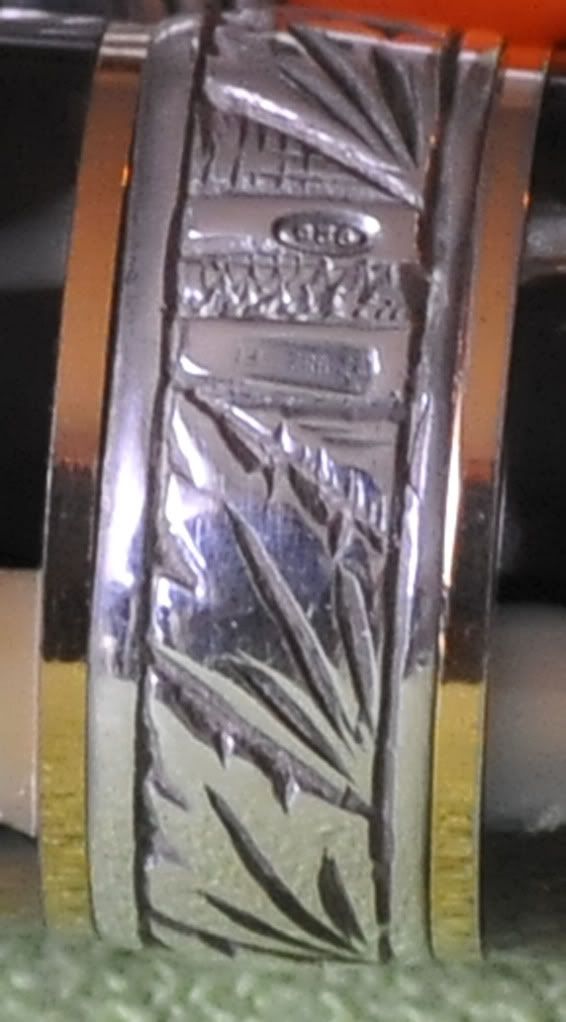 Close up of the grip section:

Beauty of the material as seen on the barrel close up (serial number is not as distinctly visible due to lighter/whitish imprint unlike in other Etruria models):

Close up of the piston ring:
Under direct day light:

The nib I have is Fine. Writing sample for a Stipula Etruria 18K Two-Tone Fine nib is under the "Alter Ego" model's impressions later in this post.
[B] Fiesole (Limited to 193 pens)
This is the heaviest Etruria that I have. Not overly heavy and well balanced. Mine has Extra Fine nib though I think broader nibs would work better with heavier pens – just a personal opinion. To me, it has the most appealing aesthetics with intriguing feel of depth. The material is celluloid though not as much Camphor smell as in 991 model. I bought it from
Marco at the Novelli Pens
.
From the
Pen Emporium Website
:
Following the success of the limited edition Etruria "Volterra", Stipula introduces the limited edition Etruria "Fiesole".

Like the "Volterra", the new limited edition "Fiesole" takes its name from an ancient Etruscan city, this particular one situated on the hills to the north-east of Florence. In 63 B.C., Catiline, the protector of Fiesole, plotted to overthrow the Roman Empire, a feat recounted by Sallust in his work Bellum Catilinae. Fiesole therefore served as host to one of the Roman Empire's historical battles to establish one of the strongest political entities of ancient times.

Entirely lathe-turned from beautiful golden brown celluloid veined with blue enriched by elegant silver details, this fountain pen embodies simplicity and style, hallmarks of classic Florentine elegance

Series: Limited to 193 pieces
Material: celluloid
Trim: sterling silver
Filling system: inbuilt piston
Here are pictures:
Under direct day light: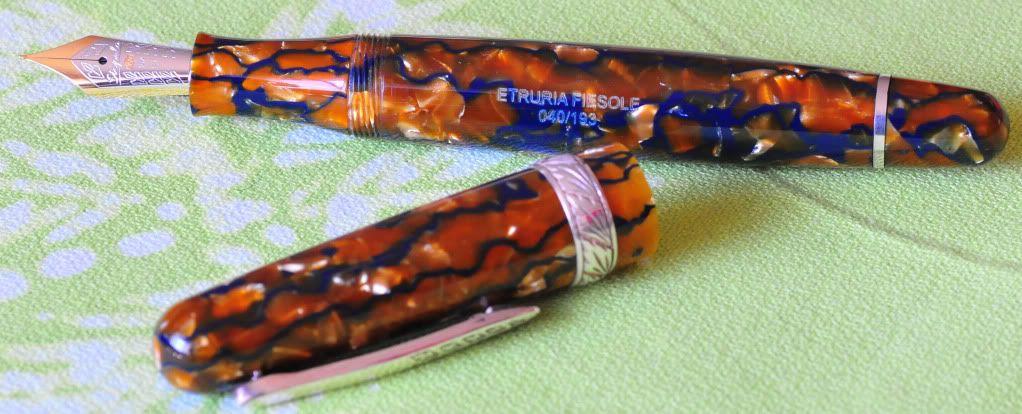 Under normal, indoor light:
The beauty of the material (barrel):
Close up of the nib and grip section:

Close up of the serial number on the barrel: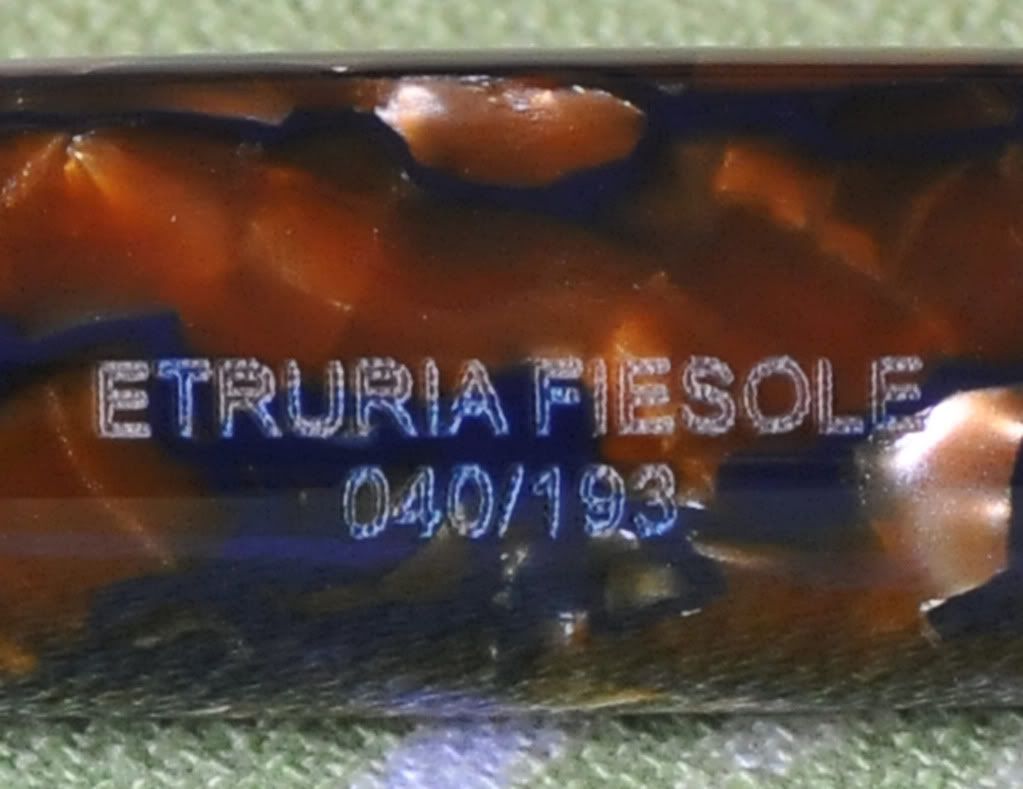 The nib-width is Extra Fine. Stipula Extra Fine has its own charm: smooth, nice variations and springiness. Here's the writing sample: