Please take a moment to adjust your gear to accurately depict the Gray Scale below.
As the patches are neutral gray, that is what you should see.

Gray Scale.



- = + = -


Figure 1.
Swabs & Swatch
Paper: HPJ1124 24 lb. Laser Copy.


Figure 2.
NIB-ism ✑

Paper: HPJ1124.
Depicts nibs' line-width and pens' relative wetness.
Pens: L → R: Somiko, P99, C74, 45, Phileas & Prelude.


Figure 3.
Paper base tints:



L → R: HPJ1124, Rhodia, G Lalo white, Royal, Staples 20lb multi use.

WRITTEN SAMPLES - Moby Dick

Row width is 8mm.

Figure 4.
Paper: HPJ1124.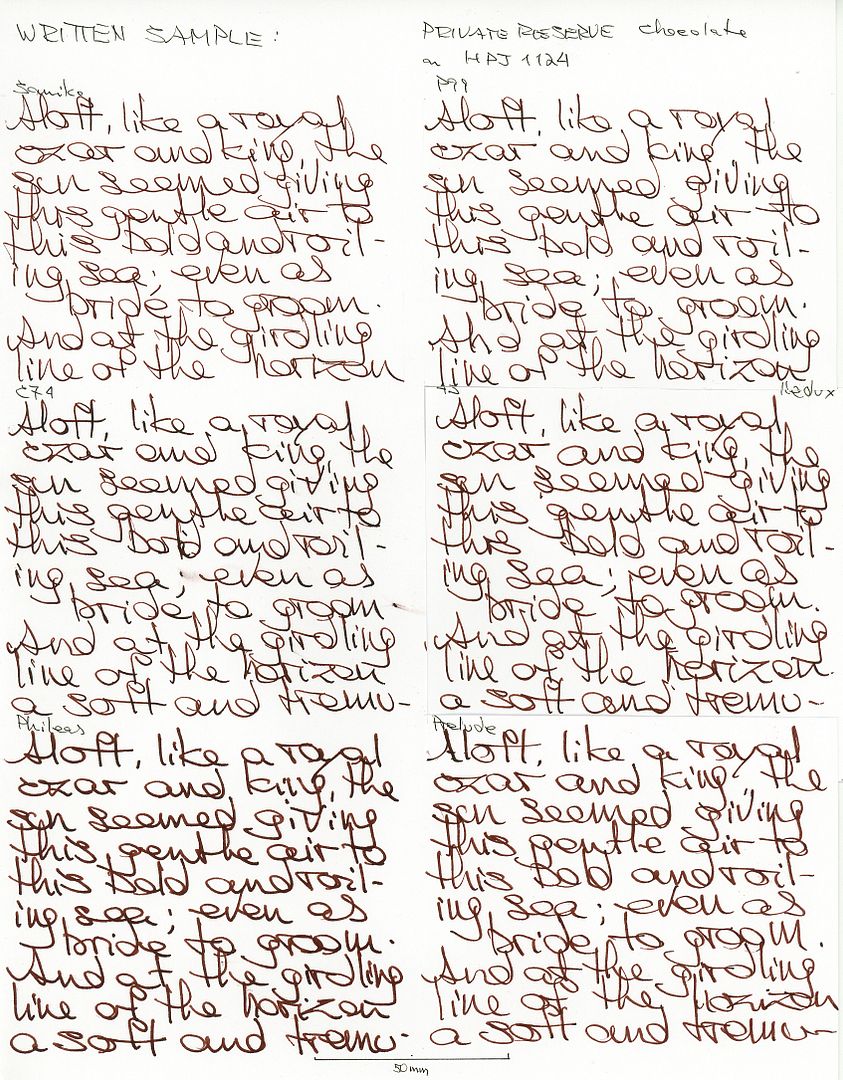 Figure 5.
Paper: Rhodia.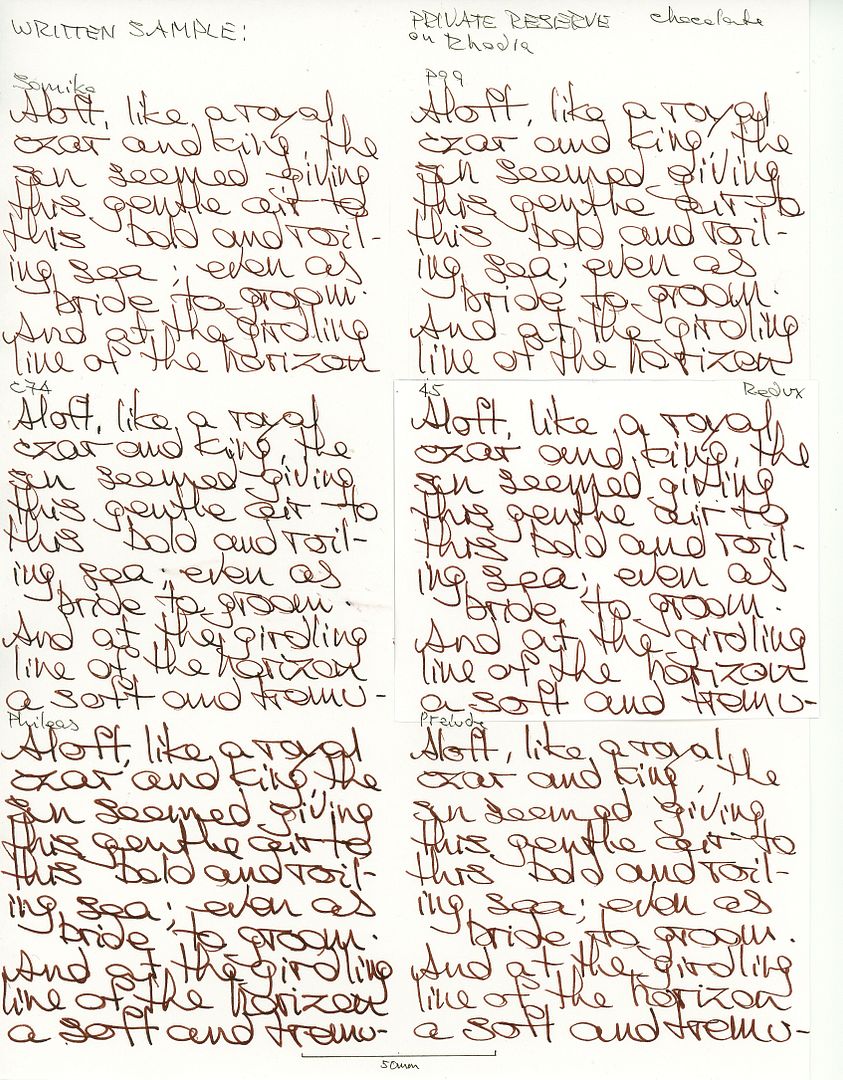 Figure 6.
Paper: G Lalo, Verge de France, white.


Figure 7.
Paper: Royal - 25% rag.



Figure 8.
Paper: Staples 20 lb. multi use.


Figure 9.
Grocery List
Paper: Pulp. One-a-Day calendar page.



OTHER SAMPLES:

Figure 8.
'HAPPY!' on Glossy Card.
Smear/Dry Time on Glossy Paper.
Smear/Dry Time on HPJ1124.
Wet Tests on HPJ1124.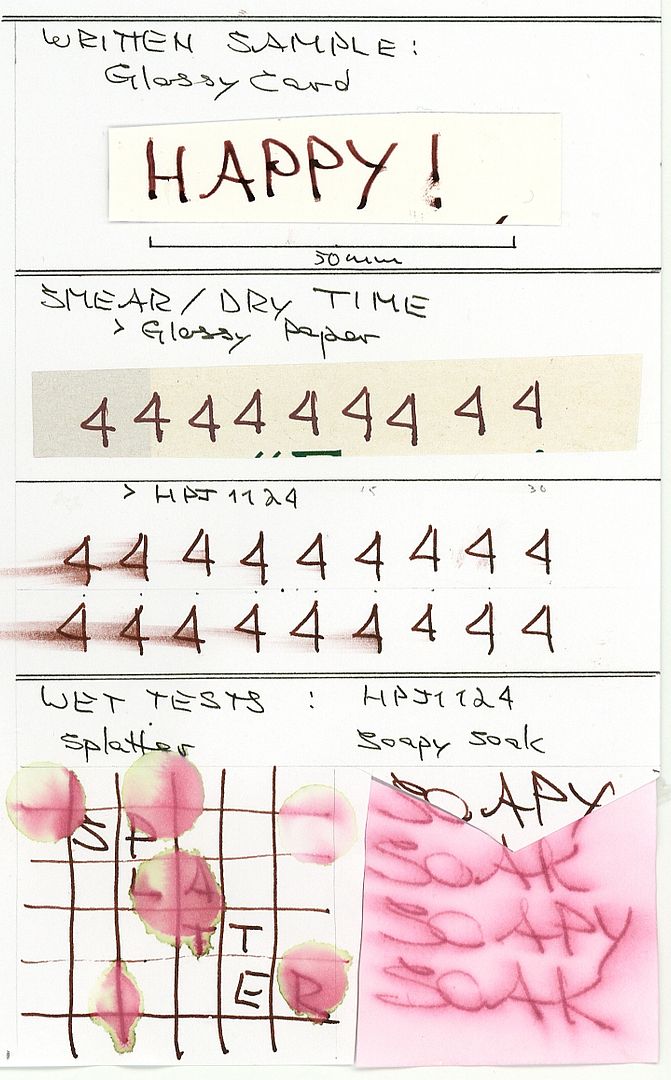 GENERAL DESCRIPTION

Type:

Dye-based fountain pen ink.
Daily writer?

A go-to ink?

Yes - when a consistent Dark Brown ink is desired.

USE

Business:

(From the office of Ms Blue-Black.)
In the medium to darker densities, I could see PRC being used for lateral and downward communication.
For upward communication, it may be do-able in densities such as those achieved by the Phileas. At that density it may well be considered an alternate to the oh-so-boring business Blues.
Useful in a team / egalitarian organisation.
PRC should be fine for routine notes, general use.
Mark-up and editing could be done in a pinch, but for the modest effort required, kindly switch to an ink that is more eye-catching.
Not enough zap for error correction or grading of assignments.
Illustrations / Graphics:
PRC might make it as a transitional colour. Perhaps between dark Blue and a dark Green. (?!?)
Line quality is generally high, but is a bit ragged on the textured G Lalo, and lines became plump on the quite absorbent Royal. Within those common limitations, PRC can manage when narrow tight lines are required. e.g. Labels, crosshatching.
Students:

Quite possible.
PRC seems perfectly wonderful for most general work.
What's written is likely to survive accidental encounters with water, etc.
Performance on 20 lb. bond was fine, but there was enough show-through to question if using both sides of the sheet is the best idea.
At higher densities, it may be suitable for hand-written assignments.
Personal:

Well now.
I've used this for personal correspondence, yet somehow PRC didn't strike me as the warmer more personal alternative to my usual Blue inks. Yet it is obvious that the colour is warmer than Blue!!
There just seems to be a certain something that keeps me from using this for 'personal' personal writing, and I have no idea why that is the case. I certainly like to think that others have not experienced an awkward feeling about this ink when used for personal writing. Perhaps I need to find the handle.
Billets Doux

As this ink is well saturated, use of shaped nibs is welcome. A 0.6 - 0.8 stub or CI seems sufficient; larger nibs seem to make PRC seem 'crowded' on the page. As I have yet to enjoy PRC from the wider nibs, perhaps I should try a 9mm row height with such nibs.

PHYSICAL PERFORMANCE & CHARACTERISTICS

Flow Rate:

A bit higher than average.
Nib Dry-out:

Start-up:

Lubrication:

Very nice.
Very much the PR house style.
Nib Creepsters:

Staining:

Clogging:

Bleed- Show-Through:

Yes: Some show-through on the Staples 20lb. multi use.
Feathering / Woolly Line:

Not seen.
Lines were a bit plump on the Royal.
Smear/Dry Time:

Glossy: < 5 seconds
HPJ1124: 20 - 30 seconds.
Water Resistance: ☂

4ΔC on the 4S Scale:

"All legible, can be easily read and/or have light staining from re-deposit of soluble ink.
Use as-is for work papers & internal use.
Adjustments to a scanner may drop-out the stain.
Significant colour change"
Smell:

Hand oil sensitivity:

Clean Up:

Thorough but slow with plain water.
A bit of a soak may be welcome.
If skin becomes stained, please suppress the compulsion to lick the stain: it is ink, not chocolate.
Mixing:

I see no reason to mix into this ink.
(As with some PR inks, this may be a candidate for dilution.)
Archival:


THE LOOK

Presence:

Somewhat interesting: The dark tone wants to keep the ink behind the plane of the page, yet the colour is warm, so that aspect works to bring the ink forward. I am not so sure if a balance/equilibrium is achieved.
Inviting as chocolate itself, but without the therobromine, fats or sugars.

Saturation:

Shading:

Variability:

Pen+nib combos used:
Papers used:
Malleability:
As a result, PRC should make an excellent daily writer ink. Even when writers or papers change, The Look remains remarkably consistent. That may be desirable trait if PRC used in a business setting, as an alternative to (dark) Blue.

Hi-Res Scans:


As I do not wish to earn the sobriquet 'Queen of The Bandwidth Bandits', these are linked images.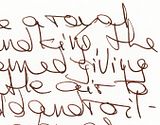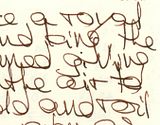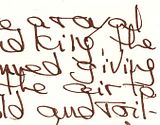 FIDELITY

Is the name appropriate?

I suppose so - but the real thing comes in soooo many varieties ...
Are swatches accurate?


SIMILAR COLOURS:

PAPERS

Lovely papers:

White - lots & lots of white.
If paper came in French Vanilla, I'd use that one!

Ran well on all papers used.
Trip-wire Papers:

Tinted Papers:

I see no problem running PRC on most tints; and it may do well on Ivory and quite yellow-ish tints.
The dark colour and opacity clear the way for experimentation with little risk of penalty, other than bad taste.
I have no doubt that some Fans Of NBsBl prefer PRC on lime green DayGlo paper. (But just leave me out of it, OK?)
Pre-Printed Papers:

Forms, etc.

Quite possible.
If the forms are printed in Black, PRC will get the job done.
Watch for plump lines on 'lowest bidder' paper: depending on forms' design and paper FP friendliness, a narrow nib may be required.

For charts & graphs:

Easily, but to make the colour more evident, consider running PRC at a medium density.
Is high-end paper 'worth it'?

OTHER THAN INK

Presentation :

50ml. bottle in a box.
No HazMat warnings.

Country of origin:

Container:

A squat oval-esque glass bottle, 53mm tall.
The centred round opening is a gecko-swallowing 33mm in diameter.
The text on the label & box is in English language only.
Single tank, no filling aids, no sediment collector. Tsk.
The hard black plastic screw cap has OK grip, mostly due to the large diameter, but is only 10mm high.
The cap is not child-proof.
The cap seal is the dreadful coated card stock. (>_<)
Box:

Nicely coated.
Labeled on front of box c/w swatch.
Eco-Green:

All bits readily recyclable.
Availability:

Pen shops, online retailers.

ETC.

Majik:

Never happen.
The simple dark colour is without much complexity, and almost no malleability.
Personal Pen & Paper Pick:

Pelikan P99 on the Royal. I like the extra-white textured paper that is warm to the touch, combined with the narrow warm lines resting upon the paper. I also enjoy the rather low % coverage, which allows the PRC to breathe easy.
Yickity Yackity:

I'm not at all sure about this one. Certainly lots of good stuff, but it doesn't jangle my bangles.
Ah kushbaby, even though chocolate is a breakfast food, there are better ways to start the day than with PRC.

<=-+-v-+-=>:<=+-.-+=>|<-:->|<=+-.-+=>:<=-+-v-+-=>

MATERIEL USED:

To be relevant to most members, I make an effort to use papers, pens & nibs that are readily available. Pens are those for which I paid $100 or less, and are factory stock - not customised.

Pens: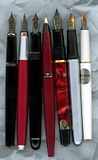 Written Samples:

Sailor Somiko + TIGP F nib.
Pelikan P99 + steel F nib.
Pilot Custom 74 + 14K SFM nib.
Parker 45 + g-p steel M nib.
Waterman Phileas + steel B nib.
Sheaffer Prelude + factory stock steel B stub nib.

For lines & labels:

Pilot kiri-same from Pilot 'Lady' + H882 g-p steel F nib.

On these papers:

HPJ1124 24 lb. Laser Copy.
Rhodia.
G Lalo, Verge de France, white.
Royal, 25% cotton rag.
Staples 20lb. multi use.
Pulp.
_________________________

IMAGES:

Scans were made on an Epson V600 scanner; factory defaults were accepted.
Figures shown were scanned at 150 dpi & 24 bit colour.
HiRes Images linked were scanned at 300 dpi & 24 bit colour.
Scans were not adjusted, so went straight to Photobouquet.
_________________________

Densitometer Readings (FWIW):


HPJ1124:
Red 108
Grn 80
Blu 70
Lum 82
__________________________

Fine Print:
The accuracy and relevance of this Review depends in great part upon consistency and reliability of materiél used. Ink does not require labelling/notice to indicate (changes in) formulation, non-hazardous ingredients, batch ID, date of manufacture, etc. As always, YMMV, not only from materials, methods, environment, etc., but also due to differences between the stuff in the bottle I used, and that in bottle you may have.
Also, I entrust readers to separate opinion from fact; to evaluate inferences and conclusions as to their merit; and to be amused by whatever tickles your fancy.


-30-

Edited by Sandy1, 01 March 2011 - 20:38.