First Impressions
(3.5/5)
I purchased this pen used from an eBay seller in Japan. The pen came securely packed. I knew from the seller's description there was some brassing to the barrel trim ring. The pen has definitely been in heavy use. While it isn't mint, I'm sure it has many stories to tell. I gave it a 3.5/5 because its condition was worse than other pens of similar age.
All of that being said, the description was accurate, I wasn't surprised, the pen just didn't have 'pop' when I opened the package.
Appearance
(4/5)
This is a big black pen with matching cap and barrel rings. When capped, there are 3 ridges on the cap, 14 ridges between the cap and barrel ring and 6 ridges between the barrel ring and the end of the pen (3,7+7,6 -- which I think is pretty cool- the name of the pen model). My pen has some brassing on both the cap and barrel trim rings, but it is a used pen. As mentioned above, I'm sure this pen has some stories to tell, I can only imagine its previous owner in Japan and his or her daily use of the pen.
I like the design, it is pleasing to my eye. Simple black plastic jewel on the cap, rounded tail end of the pen. I would have given this 5/5 if not for the brassing.
Design/Size/Weight
(5/5)
An interesting take on the simple design of a black pen with gold trim. Using my kitchen scale the pen weighs 26g (with a little ink in the converter). In my hand it is well balanced unposted. I don't normally post my pens, but it is comfortable to use posted, just a little top heavy. The posted length is 6.4375". Capped the pen is 5.6875" and uncapped the pen is 5.0625".
This pen is comfortable for extended writing sessions and the snap cap allows for quick notes. Typically I prefer a screw on cap, but the snap cap functions well, and allows for quick notes.
Nib
(5/5)
Apologies for the Legal Lapis creep on this nib...
14k gold, Japanese fine, although I'm not 100% sure, as the nib grade is in kanji. Originally 2/5 for dry flow and skipping, after a good flush and some ham fisted, yet conservative adjustment for tine alignment and flow, a fantastic writer. This is the first time I decided that I would either make the nib perform the way I wanted or break it trying, and I couldn't be happier with the results. I'm far from being confident in "frenchizing" nibs (my apologies to Mr. Binder for corrupting his adjustment term "Binderizing"), but I am also very proud that I was able to use what I've learned on FPN and turn something that was worthless to me as a pen into a pen that I enjoy using.
An interesting feature on this pen is the feed is smooth (no ridges). In my collection, the smooth feed is the exception, and I enjoy the clean lines it gives the nib & feed. I believe the feed is ebonite.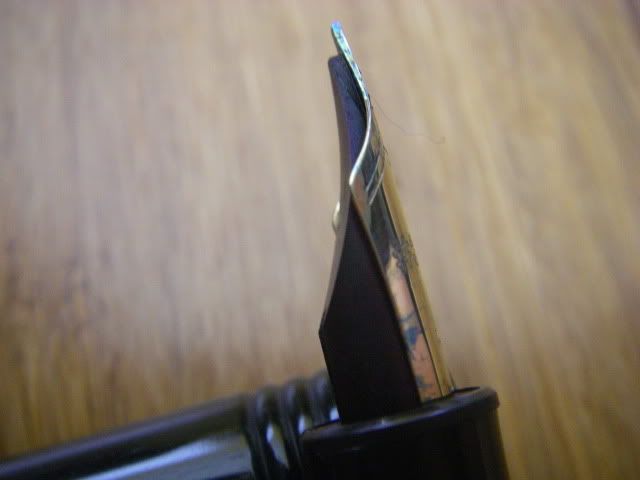 The added bonus is this 14k nib has some flex to it. Perhaps soft is a better description, but, I can go from its Japanese fine line to a definite western medium line with very little effort. Since I'm no expert in Spencerian calligraphy, and I know I can't fix a sprung nib, I"m very conservative with putting any pressure on the nib.
Filling System
(3/5)
Cartridge/converter. Platinum cartridges are pretty cool with the steel ball bearing inside to break ink surface tension. However, I am using the proprietary Platinum converter. It works as it should.
Cost and Value
(4.5/5)
Overall, I'm happy with the value of this pen. I didn't pay anywhere near what these pens are going for new, but I did get a pen with some cosmetic blemishes. The added value was the experience and pride I got from tweaking the nib myself and turning it into a good writer. I've mentioned the brassing on the trim rings, these led to the discounted price, and I'm comfortable with a vintage pen that shows it has been used (especially if the price reflects this).
Conclusion
(25/30)
A score of 83%, a solid "B", at least at my college. The pen isn' t cosmetically perfect, but it delivers where it counts -- the writing experience. I have not yet been disappointed with any Platinum pen, or any Japanese pen for that matter. Some I haven't 'bonded' with, but they have all written well, which is why my collection is mainly Japanese pens. If you like the appearance of the ribbed pen I recommend getting one.
<br class="Apple-interchange-newline">