I saw this pen on isellpens.com, and really liked the look of it, so I decided to give it a try. When I opened the box, I was fairly impressed. For the price I paid, it is a pretty nice looking pen.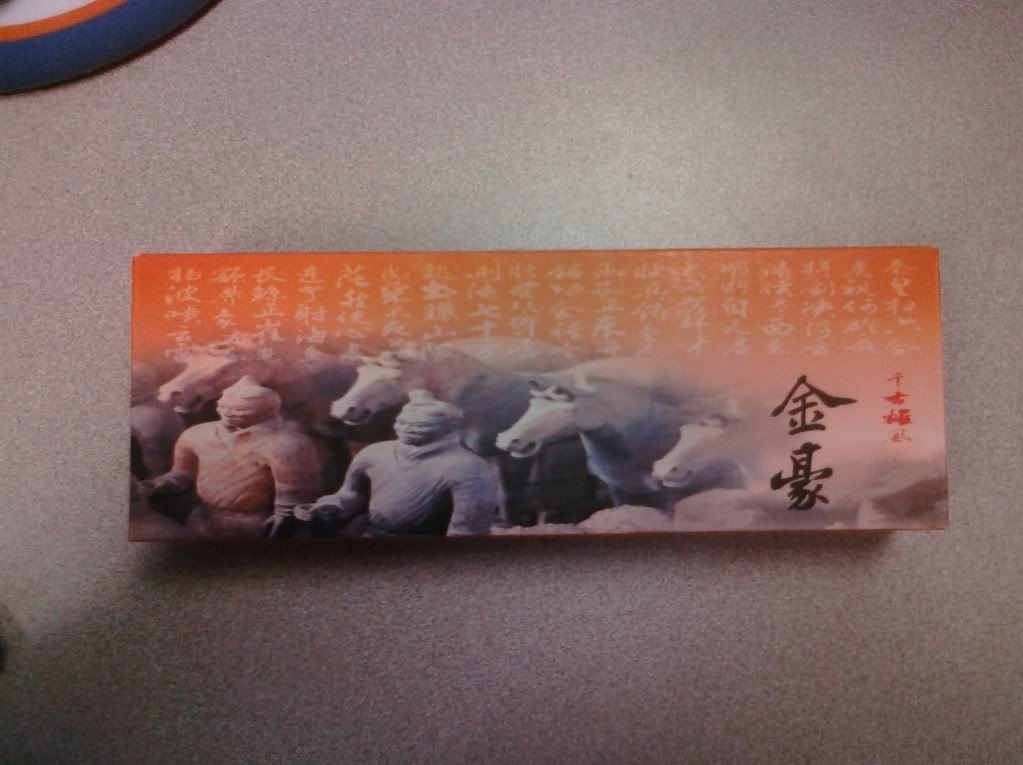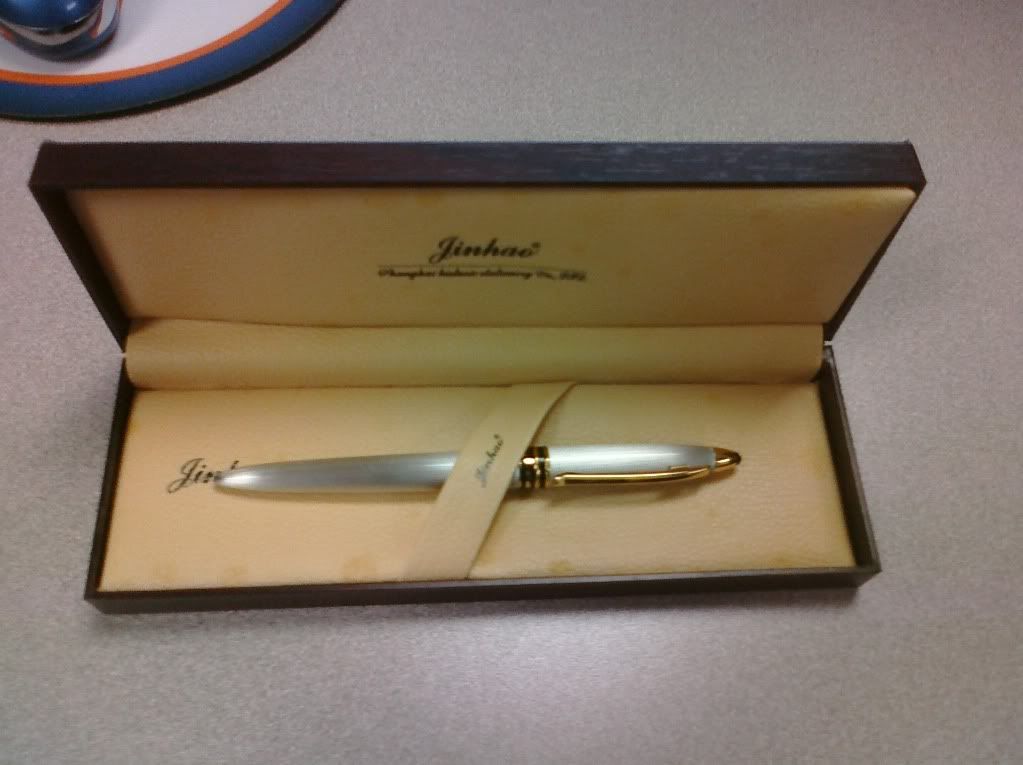 ______________________________________________________________________
1. Appearance & Design (8) – Very smooth, classy looking pen.
The pen comes in three finishes: bronze, copper and pewter. I went with pewter, because I liked the simple, brushed, silvery finish. I also like the gold accents. I thought they played well against the pewter color. I'm not a big fan of the jewel on the cap though. It looks a little tacky, and cheap. I think it would have been better to have just a smooth gold tip to the cap, but it's not a big deal.
http://i1135.photobu...me/CIMG0029.jpg
2. Construction & Quality (7) – Good quality for the price.
This being my first foray into Chinese FPs, I was skeptical about the quality. That was actually the main reason I wanted to try it out. The Heros and Jinhaos have pretty good reviews, but I wanted to try one for myself. I was fairly impressed with this pen. It obviously is no Mont Blanc or anything, but it felt solid. The cap seats with a solid click, and posts well.
…
3. Weight & Dimensions (8) – Slender, and comfortable.
I tend to like slender pens. Just to give you reference, my favorite pen I own is a Sailor Recruit. This pen is a bit thicker than my recruit, but it isn't thick by any means. It was comfortable for me. The Accountant falls in the bid range on weight. It's got a little heft to it, making it feel solid in the hand. It feels comfortable for long writing sessions, with that little bit of weight helping it keep momentum across the page. Unposted, it feels a little unbalanced to me, I preferred to post the cap. It gave the pen a nice even weight.
…
4. Nib & Performance (7) - Wet and smooth, but a little thick for an EF.
I think the most impressive characteristic of this pen is its glass smooth nib. The pen just glides across the page with no skipping or scratchiness. However, being an Asian EF, I expected a finer line. It does write fairly wet, which probably contributes to its smoothness, but also to the thicker line width. I personally like a drier nib, but it is still good enough that it will see some regular rotation.
…
5. Filling System & Maintenance (10) - Classic reliable piston filler
This pen came with a standard piston converter. It filled completely full, right out of the box, and, so far, hasn't had any leaking issues or anything. It cleaned as easily as you'd expect, and holds plenty of ink.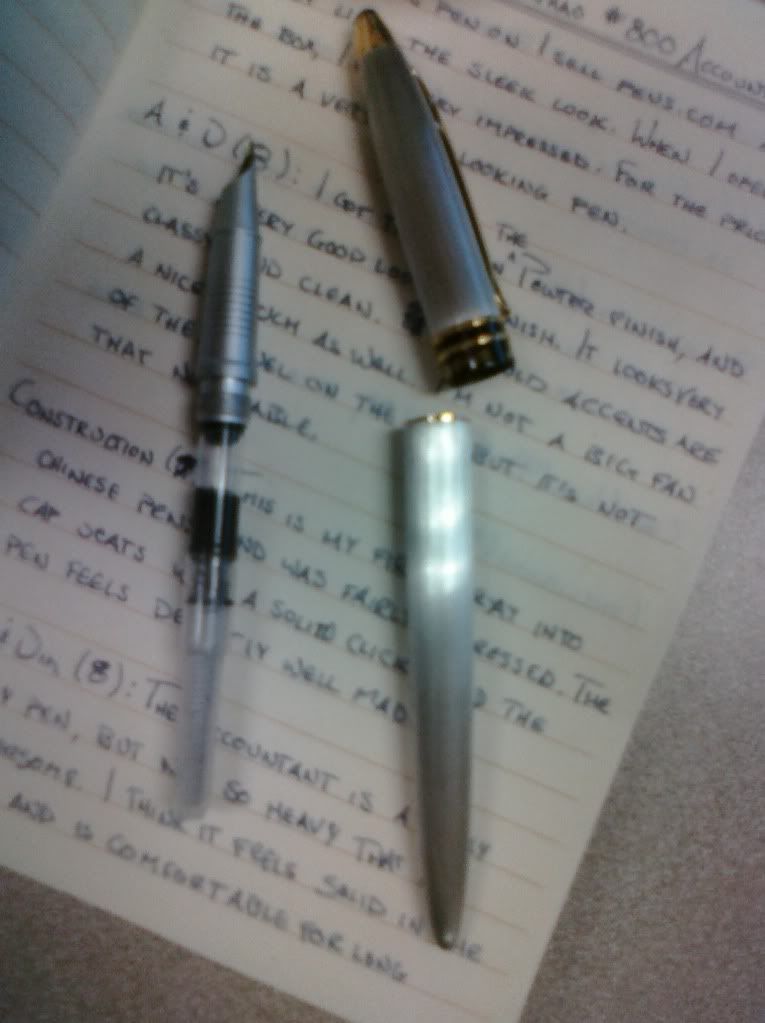 6. Cost & Value (9) – Nice reliable pen for the price.
I paid only $12.88 for this pen, from Tom at isellpens.com, and am pretty happy with my purchase. It is a good, reliable performer, and that's hard to do at that price.
…
7. Conclusion (8) – Definitely worth the money.
If you are looking for an affordable pen that puts down a fairly fine line, you can't go wrong with the Jinhao Accountant. I felt like I got much more than my money's worth, and will probably be buying more Chinese pens in the future, as a result.