First impressions:


This is the latest addition to my fountain pen 'collection' and was purchased as a daily work pen, with rhodium trim which I believe gives it a smart, casual look. I already have a professional gear (H-F) in gold trim and 1911 full size (H-EF), the latter currently away at MikeItWork for flow adjustment. I suppose I am not new to fountain pens, having used them for over a decade. Pens I currently have in rotation are in my signature at the bottom. As the 1911 is currently overseas, the pen on the top is an MB 146 (c2010)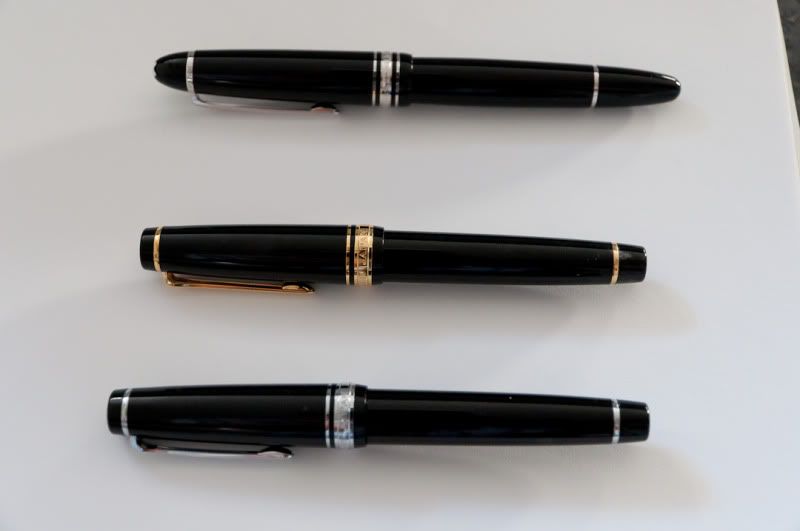 Purchase experience:


Sailor pens are not pretentious. Not their standard ones anyway. Some of their maki-e are divine but I digress. A simple blue 'Parker styled' rectangle box. Included are a convertor and two cartridges. I purchased this pen from Engeika on eBay who I have no affiliation with but have bought from previously. I won the pen on eBay
new
for $220. A very good price compared to Australian retail which is approx $500 for a naginata nibbed pen. Shipping via EMS was fast and I received it within a week.
Construction and Dimensions:


The pen is made from PMMA Poly(methyl methacrylate) - a thermoplastic. It is durable, polishes to a nice gloss. The pen is lighter (perhaps thinner construction) than a MontBlanc but relatively durable. Like all resins, keep away from strong heat and solvents as alcohol/acetone can potentially dissolve your pen. Very well made. No defects in polishing or construction to be seen. As you would expect from the Japanese pen maker. It is your standard stubbed cap/tail design.
Length Capped - 143mm, Posted - 168mm.

A relatively light pen, it is designed to be posted and is well balanced.

Cartridge/convertor fill. Convertors are well made, easily replaceable and can be unscrewed and taken completely apart should you wish to clean it. Sailor cartridges are proprietary meaning international sized carts don't fit.

Here are some size comparisons: Visconti Homo Sapiens, MontBlanc Dumas, MontBlanc 146, Sailor Professional Gear (H-F), Sailor Professional Gear (NMF). Just what I had inked!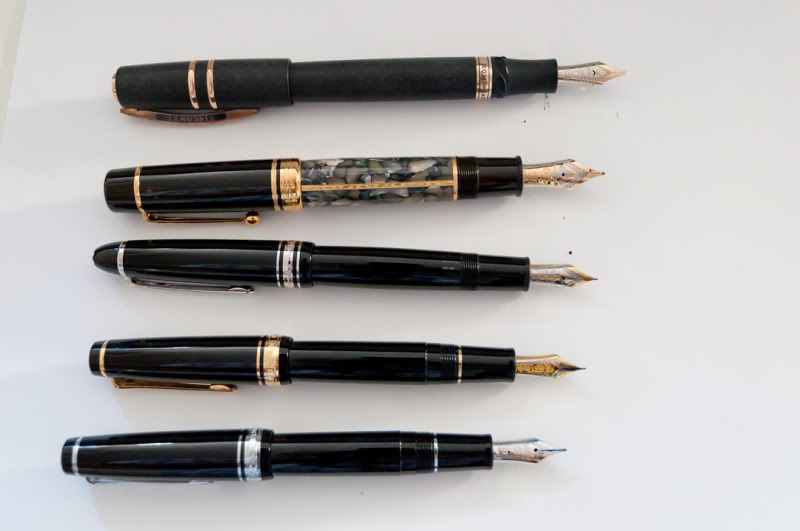 The nib... Naginata Togi

The naginata togi is a specialised Sailor nib. The standard nibs are quite stiff, finer than their Western equivalents (my H-F 21k Sailor nib writes finer than my MontBlanc EF). They're still butter smooth. The naginata nibs have a long, swordlike elongated tipping that is ground and finished by hand. And that is what seperates it from their usual nib.Those familiar with how a modern MontBlanc 146 or 149 nib writes will find the nib experience quite similar. There is a hint of feedback as the nib gently whispers and glides across the page. Flow is deliciously controlled, laying a nice line across the page. Writing samples are below: but the naginata M-F writes more like a Western Fine. It is quite a stiff nib. No appreciable flex although I didn't push the point...

Those who have full sized professional gear or 1911 with c/c fillers (not the Realo) know that you can swap the sections with nibs between your pens.

Compared with the standard Sailor nib (gold) & the naginata (foreground)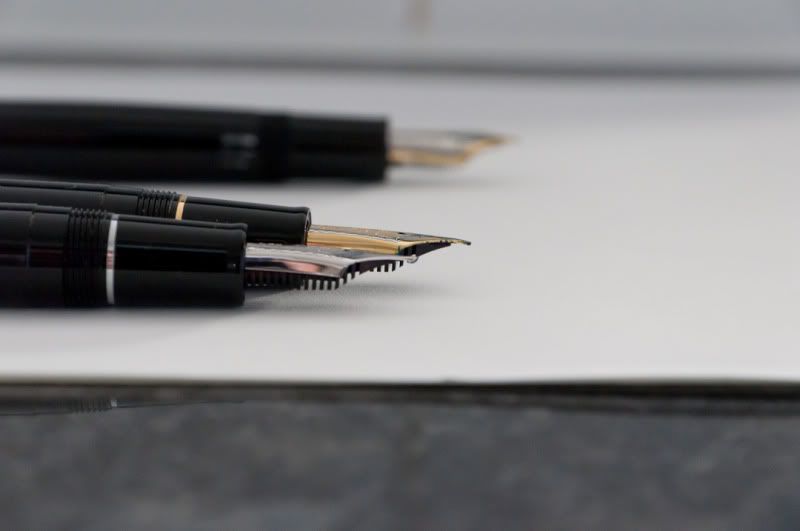 Overall Impressions:

A beautifully, well constructed pen that writes as deliciously well as my MontBlanc 146 or 149. Controlled, generous flow. Smooth but enough feedback to make writing a delight. An in-house, hand finished nib. And no pretense whatsoever ... and all for $220. I like this pen!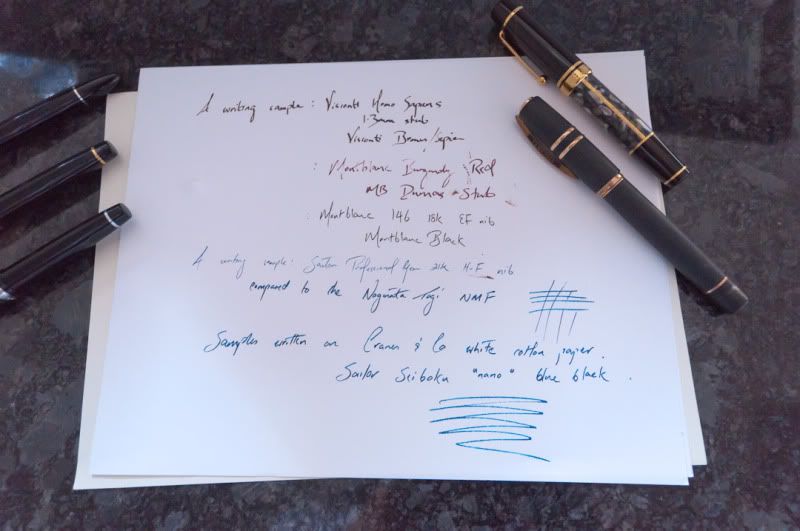 Edited by tanalasta, 18 February 2011 - 13:15.