Delta Dolce Vita Oversized
The sweet life of Italy!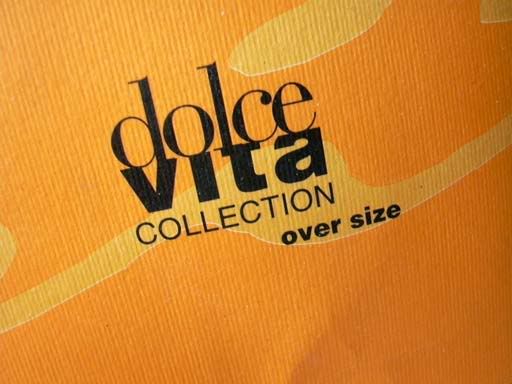 Introduction
Delta is a strange duck in the pond of fountain pen manufacturers. It was founded in 1982 and that makes it one of the youngest fountain pen manufacturers on today's market. Such a young age results often in quite a lot of prejudice. How good can a fountain pen be from a company that was founded when the ballpoint was conquering the world? What kind of a pen do you get when a company lacks what seems to be one of the key-elements of fountain pen making; decades of experience and tradition? Well, one thing we should appreciate from the start is that Delta isn't making a secret of it's past and that it didn't bought a history by taking on a long forgotten name from an old fountain pen maker. But does honesty also results in a good fountain pen? Let's find that out with perhaps Delta's most ambitious fountain pen; the Dolce Vita Oversized.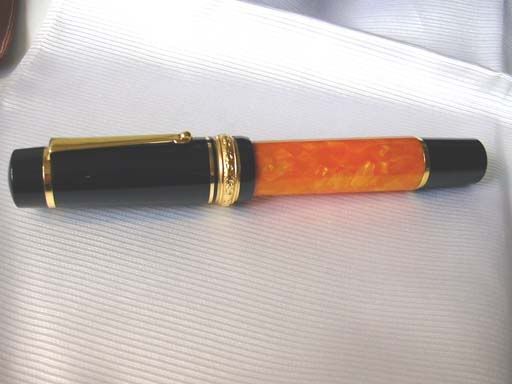 Barrel
The barrel is for sure one of Dolce Vita's main attractions. The combination of the sober, black resin with the deep marbled orange resin is quite stunning. This combination may sound a bit "experimental" at first but is in the flesh nothing more then a perfect combination. The black resin has a satin polish which gives the pen a very distinct look, while the marbled orange resin seems to originate straight from the Vesuvius! Delta did a really good job capturing the enchanting power of lava in orange part of the barrel.
One also might be a bit afraid that over time this colour combination will loose it's attraction, and that it is more a fling of fashion instead of a piece of tradition. Well, I can't explain how but the design is so balanced that I can hardly imagine that this pen will ever be out of fashion, or be old fashioned. It has the charisma that Italian designers can also put in shoes, suits, cars and yes even coffee machines. So we can only conclude that this pen was a classic by birth.
Cap and clip
Also the cap of this pen is a true work of art! The clip and rings are made out of Sterling silver that is coated with a layer of gold, vermeil to use the specific term for this technique. The main ring is hand engraved with a pattern found in the Roman villas at the city of Pompeii, yet again a link with volcanos. These engravings give something elegant to the pen, something refined.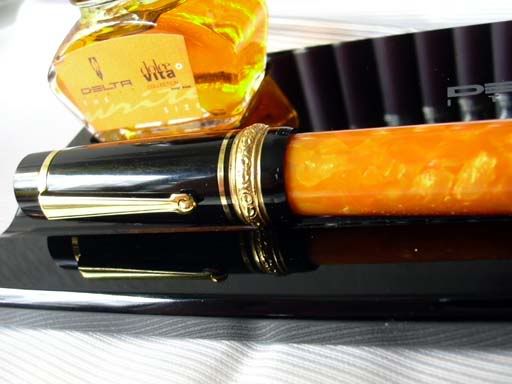 The clip is beautifully sober, so that it doesn't snatch too much attraction from the engraved ring. It future's a small wheel at the end so that it slides down very easily in the pocket of your Brioni suit without damaging the cloth. Do ask your tailor by the way to make some extra room in the line of your suit when you are carrying this pen in your pocket, otherwise you might ruin his carefully shaped masterpiece.
The less attractive side of the cap is the white printing of Delta with below the Dolce Vita name. It is done really nice but seems a bit off, and fortunately does the vermeil Delta-logo on top of the cap make up for quite a lot. Also interesting to note is the fact that although this model isn't limited, it is numbered! Always a pleasure to see that you are one of the privileged few that may carry such a nice piece of writing art around.
Filling
The filling of the Dolce Vita is at first a bit of a disappointment. One would expect at least a nice piston filler on a fountain pen like this, but no it takes either a cartridge or a converter. But here it is that Delta comes with a pleased surprise because the Dolce Vita can also be used as an eyedropper! When you unscrew the barrel you see true evidence that this pen was designed to be an eyedropper in the first place; metal core with threads to screw the barrel on the front section and an effective rubber ring to keep the ink in the barrel. The screwing and unscrewing of the barrel goes so smooth that it does remind you of German "gründlichkeit" instead of Italian passion. A warning should be in place when you use this fountain pen as an eyedropper; it holds ton's of ink so you better call you ink retailer to be sure that he has enough supply of your favourite ink!
Nib
The Delta Millennium nib is just like the rest of the pen oversized so it is in perfect harmony. It is made out of 18K gold, beautifully engraved and in two-tone. One other interesting thing to mention is the feed. Not that it is very special but it is huge! Overall a good thing because it also contributes to the fact this pen has a balanced design, and that is not always the case with oversized pens.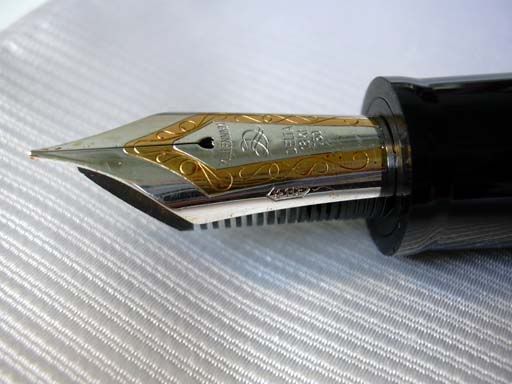 Sizes
Nib: 27mm
Barrel + nib: 131mm
Cap: 65mm
Nib + barrel with posted cap: 176mm
Closed: 142mm
Writing
Writing with this pen is quite a surprise! The first 5 minutes you write with this Delta you probably want to start up your computer to post it on the trade forum. Your fingers are really far apart, giving you a strange, unknown writing experience. But after those 5 minutes you really are wondering how you could ever have written with those small pens in the past.
The nib is very responsive and despite the fact that this pen features a 0.50mm fine nib one can include many personal details in the handwriting with hardly any trouble. This ranks for sure with one of the best fine nibs I've ever tried!
Balance barrel only
Despite the fact that you are writing with an oversized writing piece it doesn't feel like you are holding a brick. The Dolce Vita is surprisingly light and the balance is superb! It fits your hand quite nicely and even when you have small hands you don't have to be afraid that this pen will overpower you.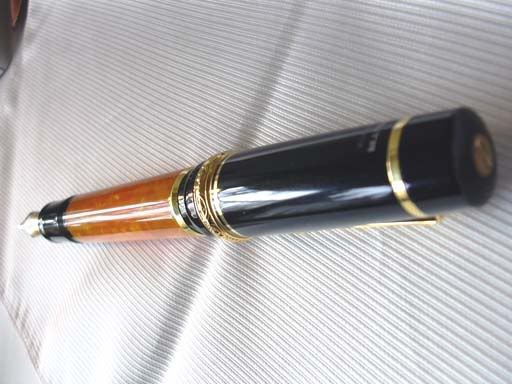 Balance with cap
Here it is where this pen becomes scary! One would expect that the writing experience with the cap on the barrel would be terrible for such a large pen but Delta proves that it can also be otherwise. The pen gets heavier by adding the barrel but it is also longer. This all results in a balance that is very close to perfection. Also adding the cap to the pen when writing creates a great looking pen in the hand, and for sure an eye catcher.
Packaging
What can you expect from an oversized pen? Yes indeed, an oversized box! The Delta Dolce Vita Oversize comes in a very large, orange with black box. It houses the pen's goodies and an extra box for the pen itself. A true pleasure to bring this box home, you almost get the feeling that it is Christmas when you are opening it!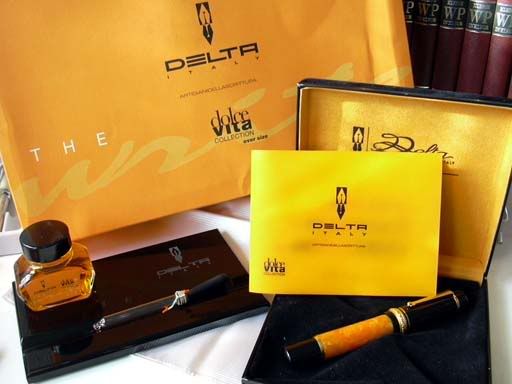 Papers
The papers are completely in style with the Dolce Vita theme, but not very elaborated. Of course you buy a pen and not a book but a little bit more information about this pen may be included. However it deals with the necessary topics like filling and maintenance to ensure a good writing experience.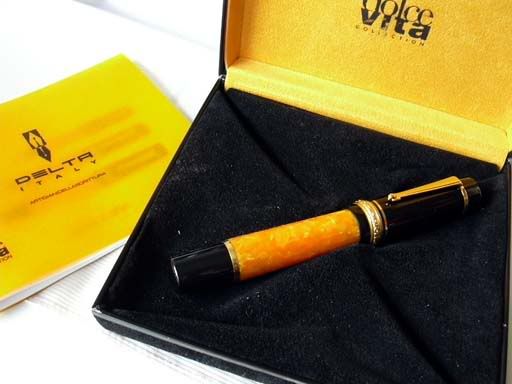 Goodies
Pen's from this caliber come with goodies! And the goodies with this Dolce Vita are truly nice! First of all you get a really nice pen stand made out of the same black resin as your Dolce Vita. It features an engraved Delta logo and offers place for your Dolce Vita and the included bottle of orange Delta ink. Nice about the design of the pen stand is that it is quite sober and draws attention to the thing that matters; your Delta.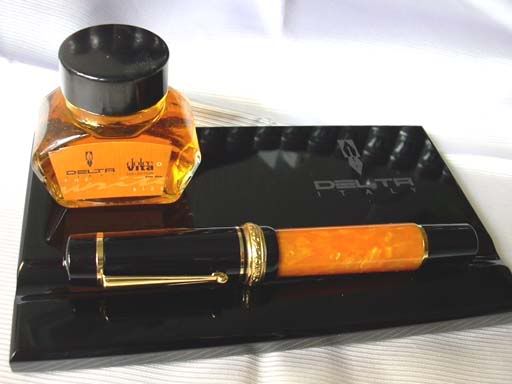 But perhaps the best goodie of all is the……pipette! Hand made and around the ends of the rope that tie the sack to the tube
orange
lacquer! This must be the ultimate goodie and really shows how much thought goes into detail at Delta.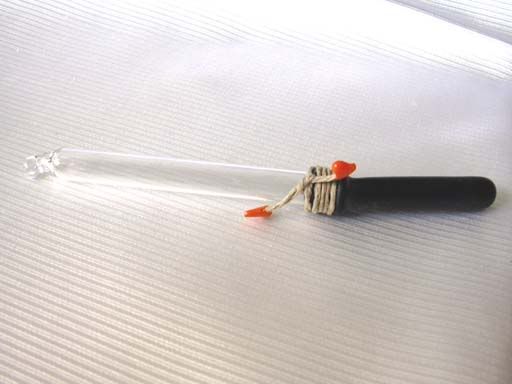 Price
With a list price of $495,- you can't call this a cheap pen. But when you see what you get for that kind of money you know that you are making a good deal. This pen offers the looks and writing experience of a limited edition pen for the price of a top of the line regular fountain pen. The good looks and excellent Delta-quality also provide you with decades of pleasant use.
Competition
Not many brands offer such an oversized model, but two German competitors of Delta come to mind; the Montblanc 149 and Pelikan 1000. Both have an 18K nib and both are piston fill. The Montblanc is with a price of $525,- the most expensive one of the pack, with the Pelikan as follow up for $515,-. Not really impressive differences when you are spending this amount of money on a fountain pen. What is impressive is the difference in looks! In the presence of the Dolce Vita the Montblanc looks actually kind of "cheap" and the Pelikan very formal. None of these pens seems to communicate their exclusivity as well as the Dolce Vita. The only oversized fountain pen that would give the Dolce Vita a run for its money on this matter would be the Montegrappa Extra, but that one costs almost the same as 2 Dolce Vita's.
Conclusion
A league of its own; yes, those are pretty "oversized" words to describe a fountain pen but Delta's Dolce Vita Oversize leaves no room for any other conclusion. Well made, very high level of craftsmanship, magnificent design and a stunning writing experience make this fountain pen a delight to use. A true statement of beauty and the capturing of La Dolce Vita in a fountain pen.