WELCOME


These samples document my results from diluting Noodler's Baystate Blue with water. I have chosen to present them the basic terms of the Ink Review performance profile, without addressing use, aesthetics and so on, you know - the interesting stuff. So - no Grey Scale, or dissertations on bottle cap liners!


WRITTEN LINES


These replace the ubiquitous but flaky swatches, which cannot reliably depict ink density, (light - dark), etc., etc., etc.

To juxtapose the four samples, two sets are shown.


Paper: HPJ1124

Figure 1.



Row 1. 100% (stock)
Row 2. 80%
Row 3. 66%
Row 4. 40%

Figure 2.




Row 1. 66%
Row 2. 100%
Row 3. 40%
Row 4. 80%

WRITTEN SAMPLES

Figure 3.
HPJ1124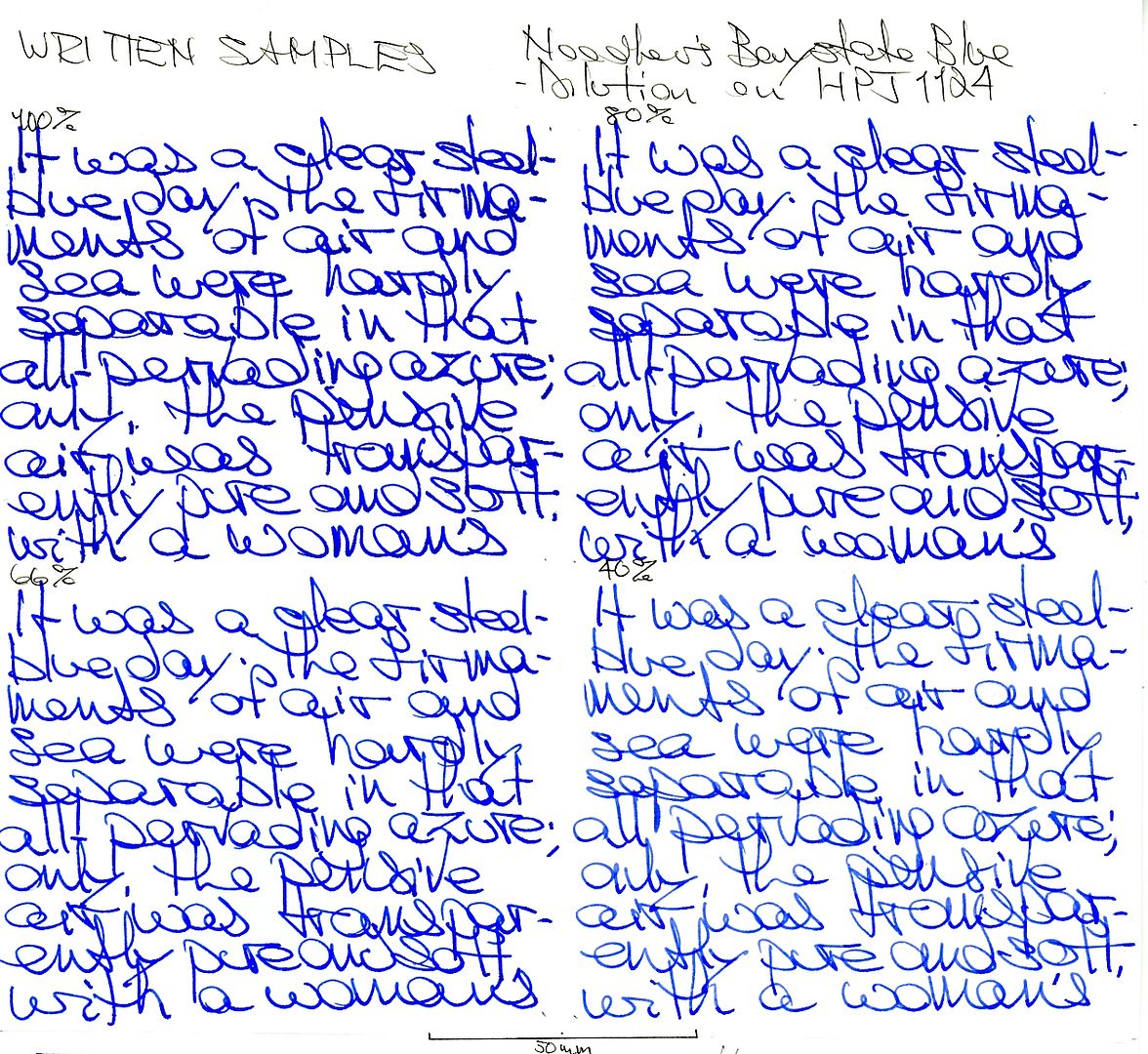 Figure 4.
Rhodia




OTHER STUFF


I decided to group the Smear/Dry Time tests with the Wet Tests for each dilution, rather than sorting by test type.

Increment for S/DT mark-making is five seconds.


Figure 5.

Left Side: HPJ1124
Right Side: Rhodia



OBSERVATIONS

Physical Performance & Characteristics

Flow Rate:

Nib Dry-out:

OK for all dilutions.
Diminishes as dilution increases.
Start-up:

Lubrication:

OK for all dilutions.
Diminishes as dilution increases.
The Written Samples for 100, 80 & 66% were OK.
The 40% Sample was barely tolerable, so use of textured papers and/or narrow nibs may be unpleasant.
Bleed Through:

Yes.
100% on the Rhodia!!?!
Show Through:

Yes.
100% on the Rhodia!!?!
Feathering / Woolly Line:
Yes.
Deceases as dilution increases.
66% is sort of OK.
40% has cleared-up this obvious defect.
Smear/Dry Time:

The hard-surfaced Rhodia showed shorter S/D times than the HPJ1124. (?!?)
The S/D time increased as dilution increased - which is contrary to widely-held opinion / common wisdom / rule of I'm-all-thumbs.
Water Resistance:

-4- or greater on the S4 Scale:

"All legible, can be easily read and/or have light staining from re-deposit of soluble ink.
Use as-is for work papers & internal use.
Adjustments to a scanner may drop-out the stain."

Much lower on the Rhodia than the HPJ1124.
Increases slightly as dilution increases.
Clean Up:

Reasonable.
Temporary staining of work surfaces and vessels is often reported.
Adequate HazMat precautions, including personal protection kit, and use of restoration / recovery / cleaning products should avoid permanent staining.
I am disinclined to use this ink in (vintage, BHR) pens which may include components made from materials which may not withstand normal-to-aggressive domestic cleaning products.


Personal Observations:

Noodler's Baystate Blue is a tour de force in bringing vibrant dyestuff to FP ink. I previously described the visual impact as being the only Blue that is a screaming red-orange at its core; and a red-orange in mufti.
I feel that dilution can be used to maintain The Look of NBBl on overly absorbent papers and/or from writers which are too wet and may 'submerge' the ink.
As I am highly aware of inks' line quality, I have very often shunned this ink as being a terrible performer.

Dilution is a means to diminish feathering without destroying The Look.

As always, YYMV considerably, not only from materials, etc. that the practitioner chooses, but also inconsistencies in the stuff in the bottle.

☛ Please take note: Ink does not require labeling to indicate (changes in) formulation, ingredients, batches, date of production, etc. The accuracy of this and other Reviews, samples, etc. is dependent upon consistency and reliability of associated products and methods.

[oOo]_[OoO]_[oOo]

MATERIEL

Pen:

Rosetta Magellan + g-p steel Schmidt B nib.
(This supersedes the previously favoured Pelikan M200 with a g-p BB nib from richardpens. While I like that rig, I think it is not as well suited to this sort of thing.)


Papers:

HPJ1124 - A 24lb. Laser Copy paper.
Rhodia - A fairly common upper tier paper that is FP friendly.

- 30 -

Edited by Sandy1, 09 January 2011 - 21:50.