Overview:


The Visconti Eco-Roller is based upon the Rembrandt model and was released in 2010 to provide a smooth, rollerball experience to those who desired to use their favourite fountain pen ink colours yet have the convenience of a ballpoint/rollerball.
The idea is that it uses standard International/Visconti sized cartridges and comes with a convertor for bottled ink.
It succeeds well in it's design purpose. I use fountain pens at work although there are times when I have to lend a pen to a patient or write on duplicate paper where a fountain pen just won't do!
I know this isn't a fountain pen but I think it deserves a review!
The pen was purchased from my favourite Visconti retailer - Bryant Greer at PenTime who as always, gave me a good price
First Impressions:

The Eco-roller comes in a fairly simple plastic box inside the usual cardboard cover. No flash faux-leather boxes with mini CD-ROM's or polishing clothes!
Included in the package are:
1. Two standard rollerball tips.

2. Standard sized convertor
3. The pen itself
First impressions were positive. It's a lovely pen to behold with a slight heft, possibly due to a magnetic cap closure system.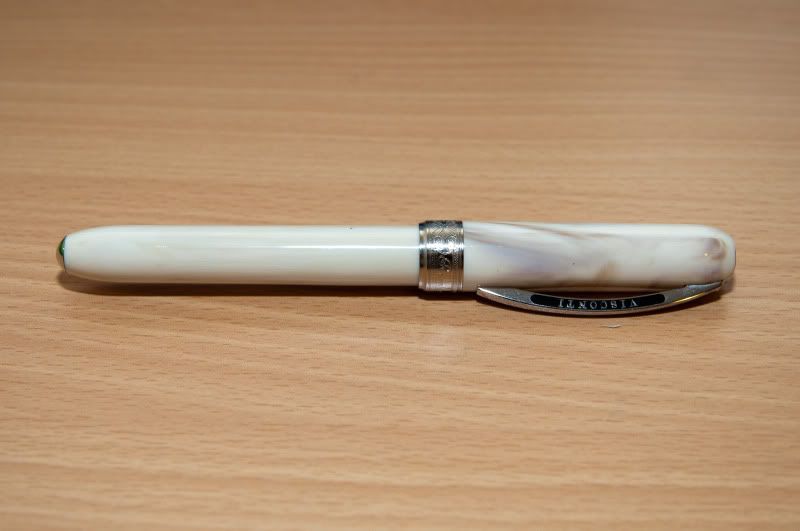 Usage:


I filled the convertor directly out of a botle with J'Herbin eclat de saphir and then inserted the filled convertor after a quick wipe into the section. You don't have to insert the whole rollerball tip into the ink ... which would be more messy. After holding the pen tip down and scribbling, it wrote within 30 seconds.
The flow is generous, perhaps a property of my ink choice - but more so than one would expect from a standard rollerball or gel refill. The tip literally 'glides' over the surface of the paper sometimes to the point I wonder whether it
is
a rollerball. The line is probably the equivalent to a Western Fine.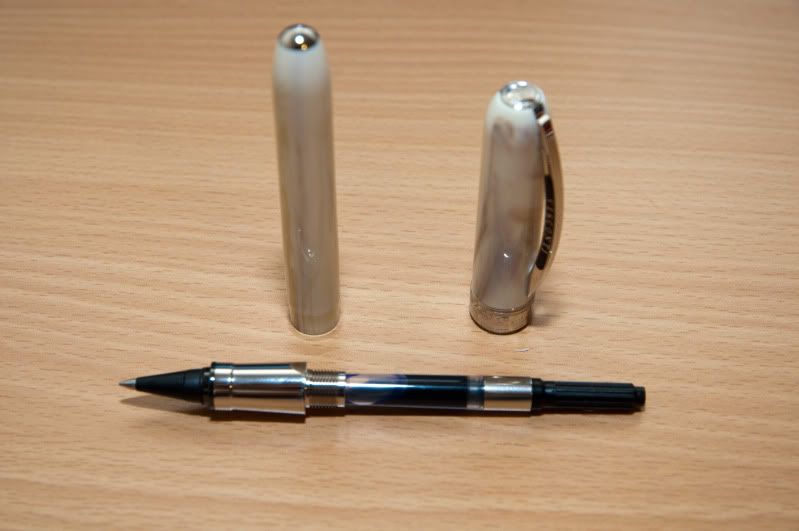 The magnetic cap closure is a delight. Easy to pull off. Easy to slip back on and relatively secure. I feel the magnet also helps balance the ecoroller. It writes fine posted or unposted and the cap does post relatively securely.
Practical points:

The rollerball tips unscrew very easily from the grip section with a twist. No misaligned tines or feeds here to worry about! I've read that the tips are difficult to flush out completely and am not game enough to use a ultrasonic cleaner on them. They should last a dozen or so full refills and then some and one would recommend matching a tip to the same ink colour for that reason.
The tips are US$12 each from your local retailer so quite affordable. I haven't done a page count per refill but judging by the flow, would say I'd expect the same out of a similar fountain pen convertor fill. Realistically, it'll be a long time before I have to buy a new tip and there
is
a spare in the box.
I've not tried it but was told that the grip section is not compatible with the fountain pen. So you cannot just buy the tip and insert it into your Rembrandt FP.
The clip is spring loaded and standard Visconti. You can customise the top cap logo with your initials using the Visconti 'My Pen' system and most retailers ... and Bryant will do this complimentary. I forgot to ask on this occasion!
Gremlines and build quality:


I've been relatively vocal about the variability in Visconti QC. For instance, we know one pen seller quite often has to send his nibs to MikeItWork for tuning due to hard starting or flow issues prior to sale. And I've always found the newer Palladium nibs to be quite thin... hence easy to misalign due to their softness... and the feeds not very secure either. Push on a Visconti Pd nib feed and it moves! Try that with an Aurora or MontBlanc and they're tight and snug.
That aside I had a few problems with this pen:
1. The magnet holding the logo on the top of the cap was loose and fell out. Hence, everytime I closed the pen lid, the Visconti logo would pop out! A dab of superglue fixed that ... not good for the resin though.
2. The convertor fit into the section isn't perfect and I had to push and twist a bit to secure it. Don't get that with my Sailor, Dupont or Pilot convertors that are nice, smooth and snug to fit.
3. The finish on the rollerball tip plastic just looks plasticky... I suppose at $12 you'd expect that.
Conclusions:


I
like
this pen. It's replaced the Lamy 2000 blackwood BP in my briefcase. It's smooth, reliable and the magnetic cap is a beaut design. And being resin... and not
as expensive
as some of my fountain pens, I have no qualms using this as a daily work writer. It's not a cheap rollerball by any means but a few gremlins aside, it is a very nice writer and that's all that matters.
Visconti do need to work on their QC though. No company is perfect but I've just had more than I'd expect given the price of the pen.
I've uploaded some size comparisons below ... just what I had in rotation at the moment! Visconti HomoSapiens & MontBlanc 146.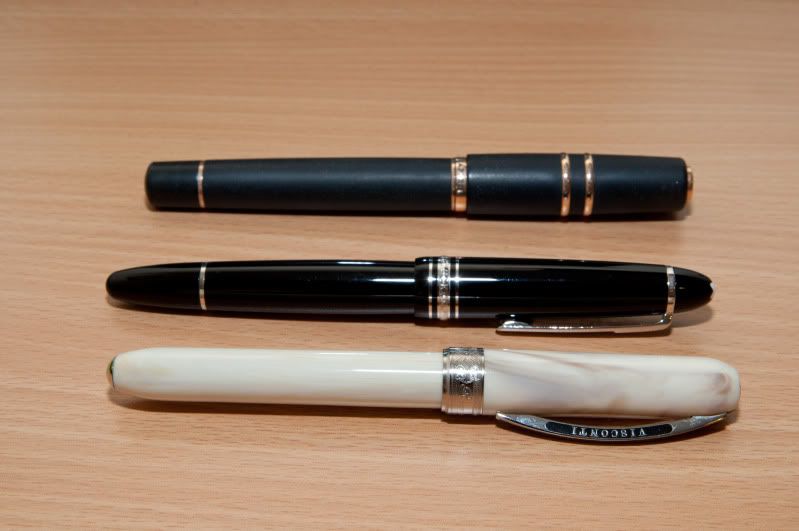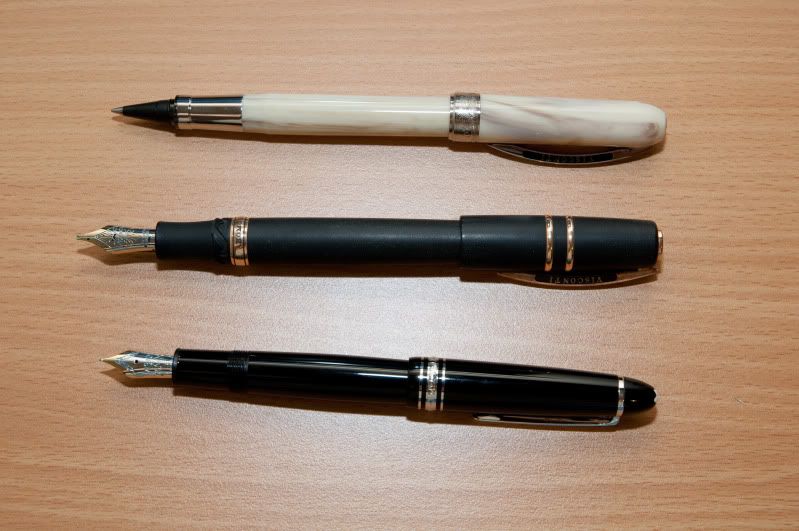 Edited by tanalasta, 28 December 2010 - 09:40.