Please take a moment to adjust the brightness & contrast of your monitor to accurately depict the Gray Scale linked below.
As the patches are neutral gray, their colour on your monitor should also be neutral gray.

Gray Scale.

≈ ~ § ~ ≈


Figure 1.
Swabs & Swatch
Paper: HPJ1124 24 lb. Laser Copy.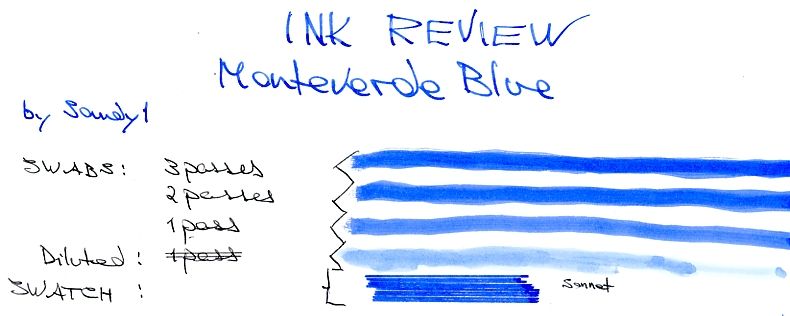 Figure 2.
NIB-ism ✑
Paper: HPJ1124.
Depicts nibs' line-width and pens' relative wetness.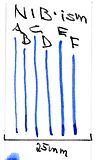 Pens, L → R: Somiko, M200, C74, 330, Phileas & Sonnet.

WRITTEN SAMPLES: Moby Dick

Row Height is 8mm.

Figure 3.
Paper: HPJ1124.


Figure 4.
Paper: Rhodia.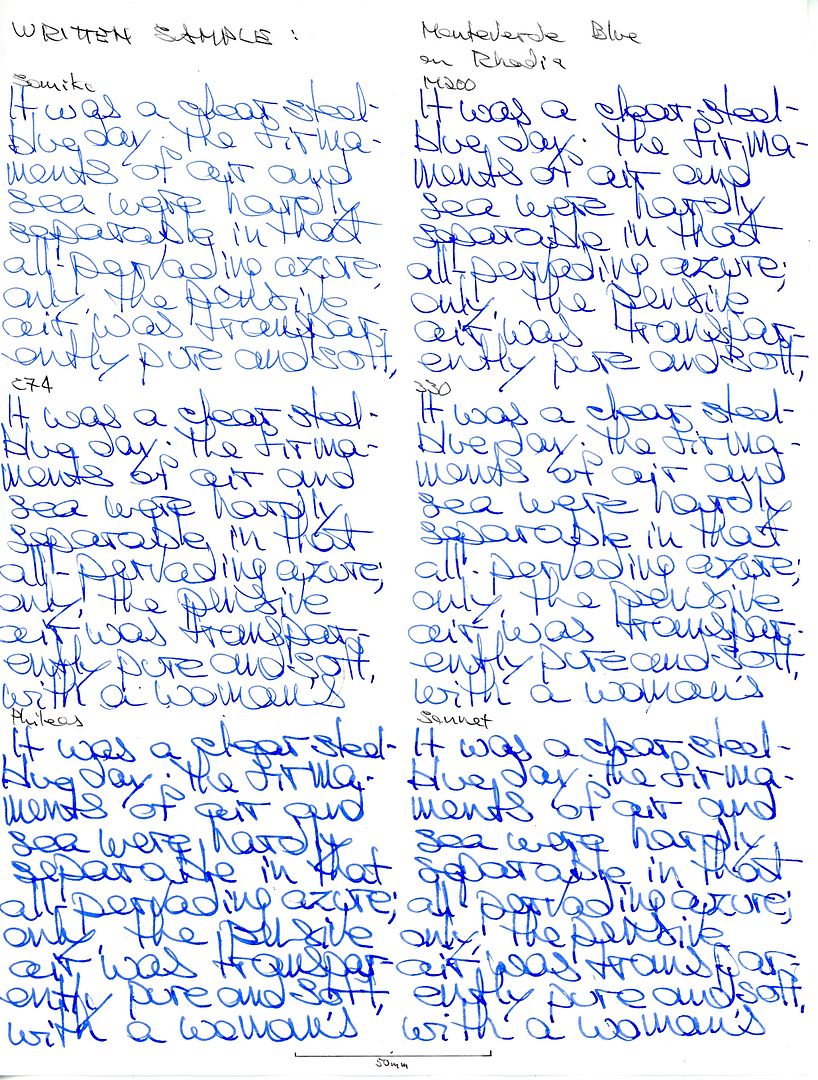 Figure 5.
Paper: G Lalo, Verge de France, white.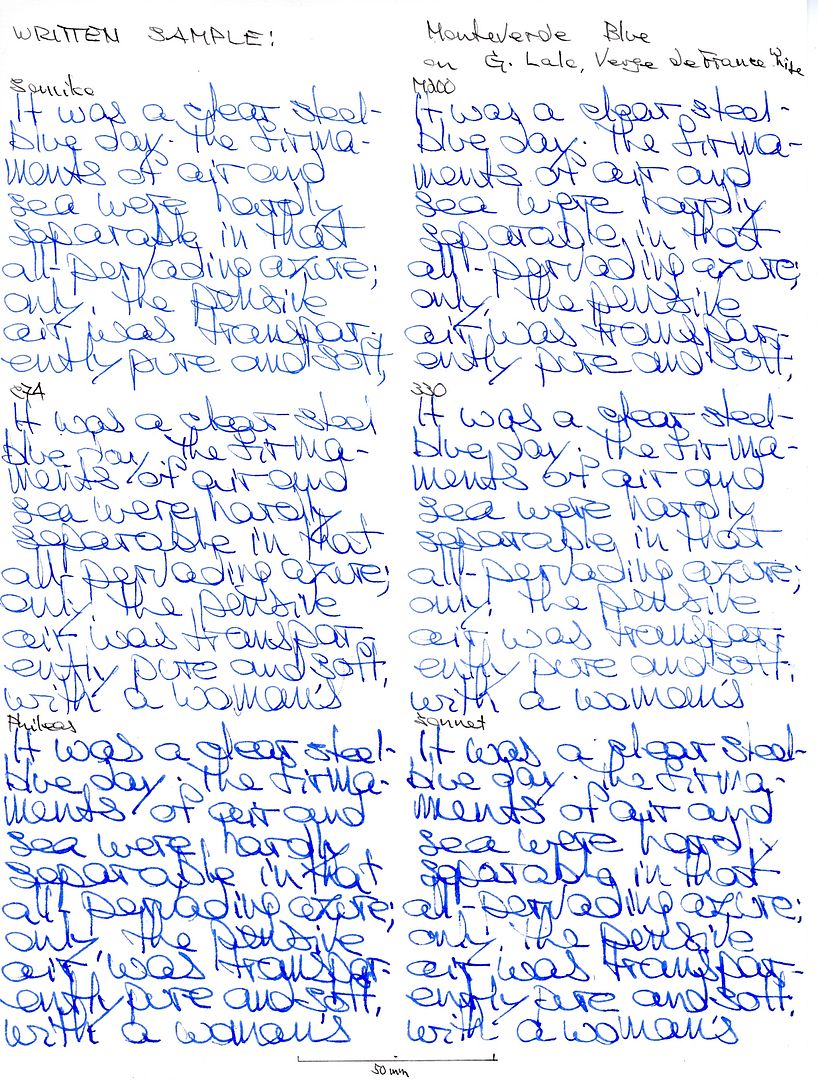 Figure 6.
Paper: Royal - 25% rag.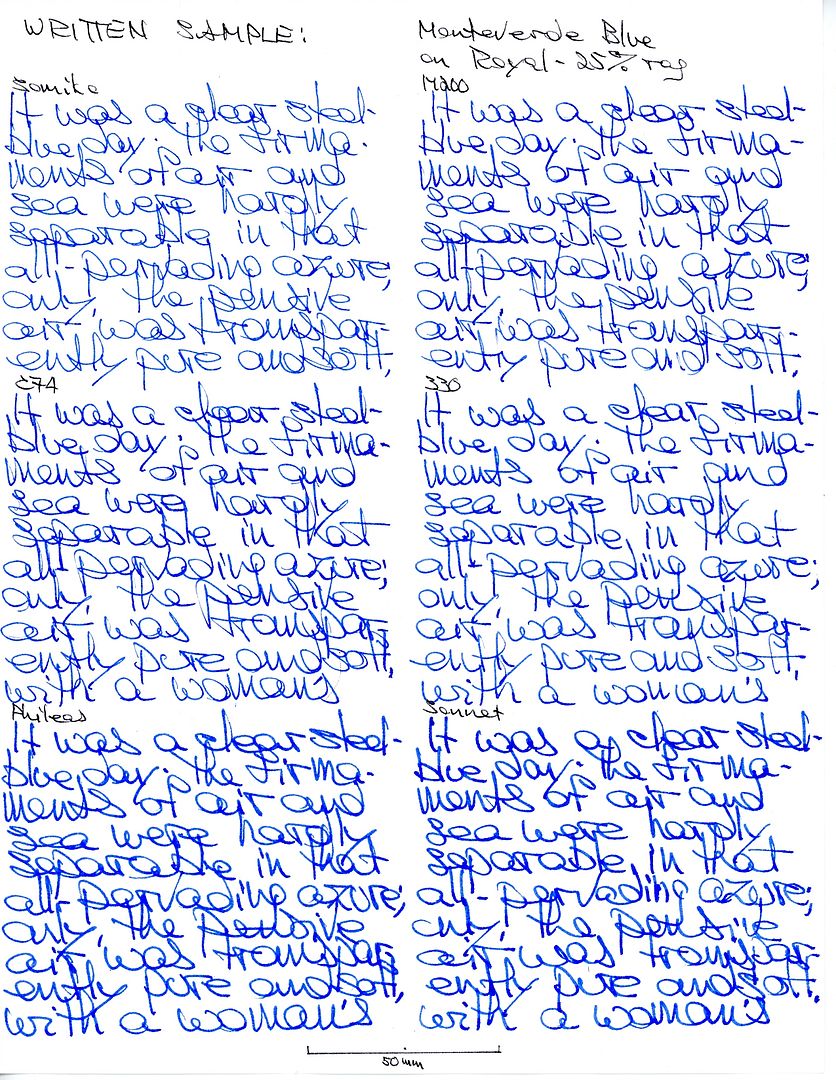 Figure 7.
Grocery List
Paper: Pulp. One-a-Day calendar page.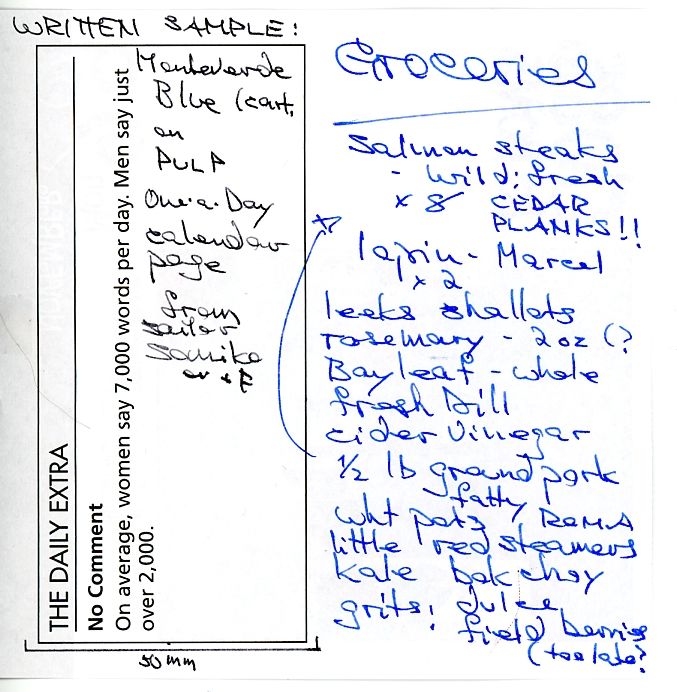 OTHER SAMPLES:

Figure 8.
Other Stuff:

'HAPPY!' on Glossy Card.
Smear/Dry Time on Glossy Paper.
Smear/Dry Time on HPJ1124.
Wet Tests on HPJ1124.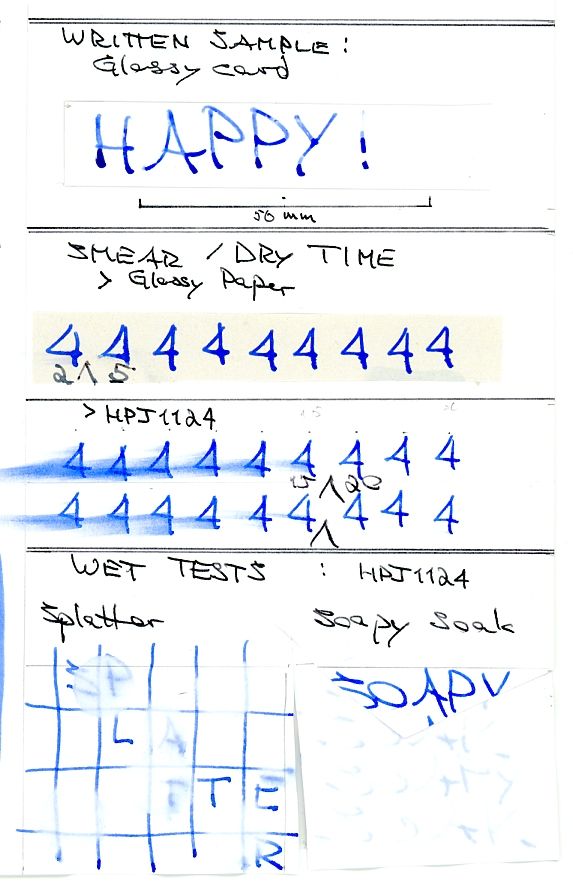 GENERAL DESCRIPTION

Type:

Dye-based fountain pen ink.
Daily writer?

A go-to ink?


USE

Business:

An excellent choice.

Not a huge amount of gravitas, but MvBl is nimble and dynamic. (Please keep in mind this is Ms BlBk speaking.)

In the higher densities MvBl could be used for mark-up and editing.

Error correction and grading of assignments are beyond its scope.

Reasonable for all but the most severe internal or external correspondence, in which case a hand-written document may be a non-starter.
Illustrations / Graphics:

Just a bit of care is required.

If not astutely paired / contrasted with other inks, the hint of violet which animates and adds dimension to MvBl creates potential for imbalance.

MvBl should counterbalance Blues which are equally animated, yet lean into the cyan side of pure process Blue.

Line quality is very high indeed, so unless one is using hard textured papers, MvBl can be used with confidence for cross-hatching and instances requiring tight skinny lines, figures & labels.
Students:

Perhaps.

A fair choice for hand-written assignments: the lively mood may indicate a bright bulb in the murk of academia. (MvBl won't ghost write 4.0 papers.)

Lack of show- bleed-through on the the highly absorbent Royal and the run of the mill HPJ1124 indicate that MvBl will run well on 'lowest bidder' papers.

The lack of water resistance may deter the accident prone.
Personal:

No doubt.

MvBl has the animation for cheerful chatter.

Even at the darkest tone shown, the ink moves along at a comfortable brisk pace.

Could be used for pro forma writing, (but use the Lamy Green instead).

While easy on the eye, I wouldn't write a wee note of more than eight or ten A4 pages with a wide nib.

Shaped nibs are certainly welcome, but MvBl is a shading ink, so those two elements combined may be distracting / jumbled. If used, wide Italic nibs may well benefit from increasing the line spacing.

For billet doux, one really should have an alternate on hand, but MvBl would suit cute notes.

PHYSICAL PERFORMANCE & CHARACTERISTICS

Flow Rate:

Modest, if not just a bit lean.
Nib Dry-out:

Start-up:

Lubrication:

Good.

MvBl will not conceal scritchy scratchy nibs, but just a bit more would be welcome when using narrow nibs on hard textured paper. (Nothing new there.)
Nib Creepers:

Staining:

Clogging:

Not seen.

Seems unlikely given the modest saturation.
Bleed Through:

Show Through:

Feathering / Woolly Line:

Smear/Dry Time:

Glossy paper - 2-5 seconds.

HPJ1124 - 15 - 20 seconds.

YMMV. Kindly run samples that reflect your materials and requirements.
Water Resistance: ☂

-1- on the 4S Scale:

"Some inky artifacts remain as evidence of activity, but no words legible.
Recycle."

Smell:

Not apparent from a cartridge.
Hand oil sensitivity:

Slight.

(Also watch for hand sanitiser residue.)
Clean Up:

Extremely fast & thorough with plain water.
Mixing:

Archival:

*



* At the time of writing, one ink is claimed to be permanent by virtue of compliance with an ISO standard for BP inks. That ink is not MvBl.


THE LOOK

Presence:

Comfortable.

Confident.

One eyebrow cocked.

Somehow minds me of a Cambodian dyed silk blouse - a certain lustre lurks.

Saturation:

Shading:

Subtle, pervasive, attractive.

On smooth papers, all nib-widths generated shading of a sort.
Variability:

Pen+nib combos used:

Just a bit more than expected.

Papers used:

Malleability:

As MvBl is fairly constant across a range of papers, it is a strong contender for a 'personal/signature' daily writer ink.

While it is evident that an 8mm row height is fine for yours truly, (just pretend OK?), somehow MvBl strikes me as really well suited to a smaller hand - perhaps those who are comfortable with 6mm row height.

Hi-Res Scans:



FIDELITY

Is the name appropriate?

The box says 'Monteverde'; the ink is 'Blue'. Simple, yes?
Are swatches accurate?



SIMILAR COLOURS:

Too many to recall or list.

Try this in the privacy of your own home:

In twenty seconds - name the usual suspects which surround MvBl in the 3-stage swabs below. (Consenting adults only please.)





PAPERS

Lovely papers:

Whites of course; smooth glowing expanses of white.
Trip-wire Papers:

☠ Anything harder and/or more ink resistant than G Lalo.
☠ Dirty whites.

Tinted Papers:

Most reasonable tints.

MvBl is not opaque or heavily saturated, so the colour of the paper will combine with MvBl.
Preprinted Papers:

Forms:

Will be OK on forms - no fussing about.

Comes forward very slightly, so is easily read.

For charts & graphs:
Is high-end paper 'worth it'?

Not really.

HPJ1124 is fine, just fine.

A matter of preference over performance.

OTHER THAN INK

Presentation :

Eight long (magnum) cartridges in a box.

No HazMat warnings.
Origin:

Somewhere in the wilds of Europe.

Packaged in USA.
Container:

Long international cartridge.
Box:

52x80x8mm

Heavily coated card stock.

An adhesive dot masquerades as a swatch. Tsk! . . . Tsk

Ink colour name is printed on the UPC label affixed to the back of box.
Eco-Green:

Daft. (When faced with temptation, my resolve not to use cartridges unless required simply sublimated.)
All should be recyclable or benign.

Availability:

Increasing.

Also in bottles of 90ml, about 3 oz. by weight.

Majik:

Shows potential.

Likely to be subtle and floating.
Personal Pen & Paper Pick:

The 330 on the HPJ1124 nudged-out the C74, a perennial favourite.
Yickity Yackity:

There seems to be something new about this ink, but I find it difficult to pin down and describe. I really doubt that such a nuance will be evident from the scans. Indeed, that indescribable 'something' may be just the thing that makes the ink seem new.

Having only a few cartridges, I will be squeezed to decide for-against a bottle fairly soon. (I'm sure you know the answer to that one!)


Ah kushbaby, I don't think this is one to order immediately, but the next time a pot of your Blue ink runs dry, and the strains of Bach float away on the breeze come sun-up, give Monteverde Blue a fair go - it certainly won't disappoint.

=+-+=+-+=+-+=+|+=+-+=+|+=+-+=+-+=+-+=

MATERIEL USED

To be relevant to most members, I make an effort to use papers, pens & nibs that are readily available. Pens are those for which I paid $100 or less, and are factory stock - not customised.



Pens:

A. Sailor Somiko + TIGP F nib.
B. Pelikan M200 + g-p steel EF nib.
C. Pilot Custom 74 + 14K SFM nib.
D. Sheaffer 330 + steel M nib.
E. Waterman Phileas + steel B nib.
F. Parker Sonnet + 18K stock Italic nib.✢
✢ Cost exceeds $100.

Pilot 'Lady' + H882 g-p steel nib.


On these papers:

HPJ1124 24 lb. Laser Copy.

Rhodia.

G Lalo, Verge de France, white.

Royal - 25% cotton rag.

Pulp.

Glossy paper.

Glossy card.
_________________________

IMAGES:

Scans were made on an Epson V600 scanner; factory defaults were accepted.

Figures shown were scanned at resolutions up to 150 dpi & 24 bit colour.

Images linked were scanned at 300 dpi & 24 bit colour.

Scans were not adjusted, so went straight to the file sharing thingy.
-30-

Edited by Sandy1, 22 December 2010 - 03:56.