This will be my first review on my purchases for the past few months with my recent new obsession with fountain pens. Iím have been using disposable roller pens and fluid ink pens and writing in blocks almost all my life. I do occasionally use FP but has never been a fan until recently. I picked up my first MB FP because I canít seem to find anything else interesting in the FB boutique to spend my coupon on. So, there you goÖ
I did more research on FP and other manufacturers and almost any enthusiast will surely find their way to this forum. After a few weeks enjoying my Starwalker, I came across a modest Caran DíArche boutique in a neighborhood mall (just happen to walk pass 5 times within 10 minutes). Fell in love with the Leman series Ė the Black Ebony and immediately it is on my list. After losing sleep for a few days, I finally returned to the shop to pick up the Leman along with a bottle of carbon black ink. It was all smiles from the sales assistant.
In the following weeks, I was searching for more writing paper and notebooks to go with my lovely pair of FP which I use in rotation. In the same time, after much reading and research, I have decided to include the MB149 in my collection list, so there I was, going into every MB boutique that I came across to hunt down the legendary instrument with the best price. To my dismay, seemed like all the MB boutique in Kuala Lumpur has sold off all the 149 stock in the country (probably I was not the only one with the coupons around). Eventually I found rather low profile timepiece shop that also distributes MB products. And there it was, a MB 149 greeting me like a long lost friend.
After pages of ink dipping, page filling, late nights scribbling and practicing on my penmanship, hereís a story of not one but 3 pens being used almost daily. I know that there have been reviews before on the same pens but I would just like to put them together and share my experience in using them.
Mont Blanc Starwalker Midnight Black Resin (F nib)
Appearance and Design 7/10
Overall, I like the shape of the pen and the unique swelling cap shape. The floating star is unique and instantly recognizable as a brand and as a range of product. The ruthenium plated clip and ring gives a dark and sleek complexion to the otherwise platinum shiny finish, which I find more appealing, after comparing the two. The ruthenium nib and its minimalistic design has its charm. The shiny resin looks and feels good. Fancy.
Construction and Quality 6/10
The pen feels solid, no sloppy edges and all metal and resin parts are smooth and well made. I do have an identical shell of a fine-liner/rollerball pen and the cap seals better compared to the fountain pen, so there are some minor inconsistency in the quality. The cap screw over the other end and reduces any potential scratch marks. Overall, still a well built pen compared to many other pen/manufacturer Iíve seen so far.
Weight and Dimension 6/10
The pen is rather light and you canít really feel it in your pocket but good enough for extensive writing. Best used when capped to have the full weight of the pen for balance.
Nib and Performance 7/10
To be completely honest, I have not much of experience in writing with fountain pen, so I am just rating this based on my other 2 pens. My initial experience with this pen take a bit of getting used to like the angle of writing, applying the right pressure and maintaining a consistent composure. I had some problems initially with skips and pauses, but now that I have improved my penmanship, that has been reduced significantly and enjoying it every bit. I write tight and small and the fine nib works well for me, though MB nibs are bolder than most of its competitors, this would generally be a medium nib size.
Filling System & Maintenance. 6/10
The only complaint I have here is the cartridge system without any piston converter. If this is the only pen, Iíd imagine, Iíll be changing cartridges very often and will be running out of ink before I run out of ideas to write. So far no leakage and maintains a clean pen, even in flight.
Cost & Value 6/10
I had a coupon for Mont Blanc when I bought this pen so I paind less than half of its retail price and definitely a value for me. But with that price, you are comparing it to some great writing pens out there like Pelikan, Souveran, Duofold or Sailor. With its brand name and the status it carries, it does attract more attention with its unique appearance and design.
Conclusion (6.33)
This is my everyday pen, well almost, and Iím sure to rotate this with some other pen as they come along. It is attractive but not too flashy, unique and interesting in terms of design and most importantly, it writes well enough for me.
Caran DíArche- Leman Ebony Black(M nib)
Appearance and Design 8/10
Simple, classic and elegant. Thereís something about the proportion of this instrument that I really like, that other pens canít achieve in terms of balance of looks and appearance. It is not too flashy with its silver plated and rhodium coated trims and black lacquer finish. The golden and rhodium plated nib is proportionate to the pen and looks really elegant. Thereís strength behind its simplicity and form.
Construction and Quality 8/10
The metal barrel with lacquer finish over it does have some weight behind it. The heavier mass gives confidence and a solid feel to it, suggesting that this is made to last. Rhodium coat will maintain its shine for a longer time compared to other metals and lacquer finish is a better option to the standard resin. Iíd imagine this pen to maintain its good looks for a longer period of time. Pictures may tell a thousand words but nothing can be said about how it feels in the hands until one handles it. Superbly well built!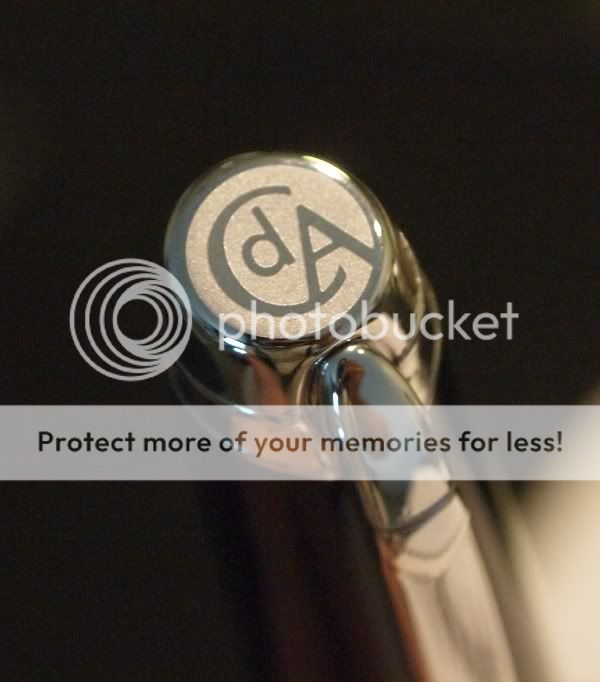 Weight and Dimension 7/10
Heavier than most pen of the same size, there are more metal parts behind the lacquer and the good weight gives a good feel and encourages me to grip better. I can even write it well not capped on a good day, but having it capped still gives a better grip. Both works for me, often the former to reduce risk of scratching the surface.
Nib and Performance 7.5/10
Smooth, stiff and slightly scratchy with my M nib, but with the right angle and the right paper, it outperforms my MB Starwalker. It skips and pauses a bit in the beginning but has improved so far. You can really feel the surface of the nib on the paper, much like a sport suspension on a sports car, bumpy but fun. I like the writing coming out from it as it has more character. Using Carbon CdA ink now and I just love the tones. Iím rotating it with my
Starwalker. Definitely not boring.
Filling System & Maintenance. 6/10
Piston converter, have no issues so far and easy to refill. Options to use cartridge is available as well.
Cost & Value 7/10
You know what you are paying for when you pick up this pen and it is in the solid construction quality. Nearing the price of a MB 146, itís a solid pen makes you want to pick it up again and again. I have previously bought a Caran díArche Ecridor Eclat for my wife from the same boutique and the sales person gave me a good discount for the Leman and all the ink cartridges and bottle to go with it. I am already considering of another CdA FP in the future.
Conclusion (7.25)
Iím loving it to bits. It is going to be challenging to find another pen to match up the feel and quality of a Caran díArche. Iíve tried other FP in their range like the Ecridor and Varius and all seems to have a character of their own. Its tight, its clean looking, and itís a Swiss. This is for keeps!
Meisterstuck 149- (B nib)
Appearance and Design 8/10
What can I say, its not even right for me to put a number there but I will anyway. Classy, elegant and fat. THE pen that every collector must have, sometimes more than one.
Construction and Quality 7/10
Precious resin and gold nib, clip and ring. Well built, if there are invisible cracks here (nature of resin) I canít see it. The pen is at its showroom quality now and Iím sure it will last long enough to pass to my kid when he/she gets to college.
Weight and Dimension 7/10
Though it is a large pen, my small hands finds it rather comfortable to grip and write with it. With this kind of pen, I go for the B nib to write big. When I pick up this pen, I would want to write BIG. Its weight is rather light, comfortable for extensive writing. I find that writing without the cap is better and already well balanced.
Nib and Performance 8.5/10
Super smooth, writes instantly well from the box and still continuously being impresses by the results. I donít have to explain more on the quality everyone knows.
Filling System & Maintenance. 7/10
This pen is new in my shelf and I have no issues with it so far. The piston filling systems holds lots of ink and there is no leakage for now and writes perfectly every time. This is my desk pen.
Cost & Value 6/10
Expensive and highly valued, people buy this as a must have and embrace all its imperfection. Thereís more than a pen here, it comes with reputation and a soul (as what MB likes to say about their pens). The vendor gave me 20% off discreetly to get me out of the store.
Conclusion (7.25)
A major item in the checklist has just been ticked. To possess the 149 is to carry the burden to write something worthy of it. SeriouslyÖ