Introduction
I'm from Ohio and lived in Toledo for 3 years, so I have a connection with the Conklin brand. My first vintage FP was a Conklin Crescent.
1. Appearance & Design (7)
Looks like a nice pen. Nice coloration, depth. Nicely finished for the price. Nib is nicely finished as well and smooth. Threads on barrel are fine but need some lubrication to screw smoothly - well it is smooth, just smoother. Clip is nice and secure. I like how they kept the protruding spring design of the old Conklins. The inner and outer boxes the pens come in are quite nice, present well.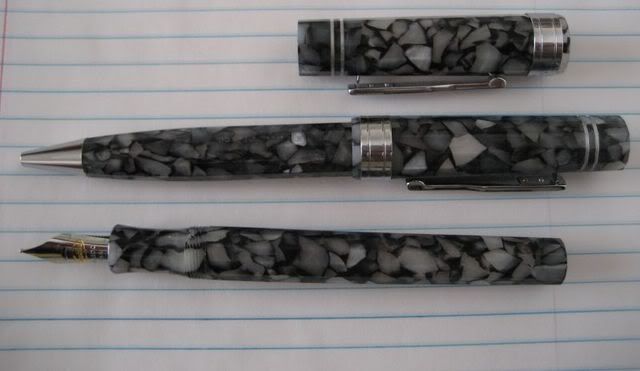 2. Construction & Quality (6)
Feels a tad cheap but it's not an expensive pen. The silver stripes on top are painted. The gold colored crescent (on cap above clip) is glue or something with glitter in it. Otherwise, it's solid and functional - not going to fall apart in the foreseeable future. BP is twist activated - works smoothly. Honestly, I like a less expensive pen to cram into my pocket and not worry about it. I'm usually in a hurry to get to work.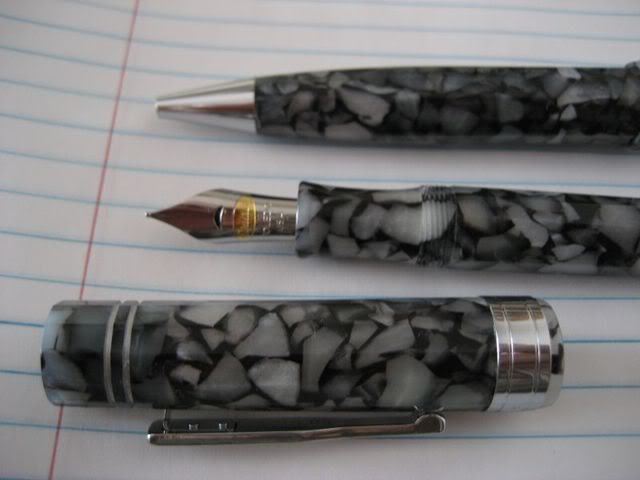 3. Weight & Dimensions (7)
FP is lightweight but fine. BP is just right. Diameter (tapering from 1/2 inch) is a bit large for small hands, fine for average to large hands. Both pens are 5 3/4 inches long.

4. Nib & Performance (7)
Nib is steel, Broad nib which is close to a Medium for most other manufacturers. On first fill, it skipped a bit, not badly but some. I rinsed it with soapy water a few times and clean water afterwards, refilled with Waterman Blue and it's been great since - nice wet writer but not too wet. Nib has a bit of spring to it, allowing some line variation. I don't mind pushing a little on a less expensive pen like this one
Nib is probably the most finished part of the pen. Looks nice. Not sure why it says Toledo USA on it as I highly doubt it was made there.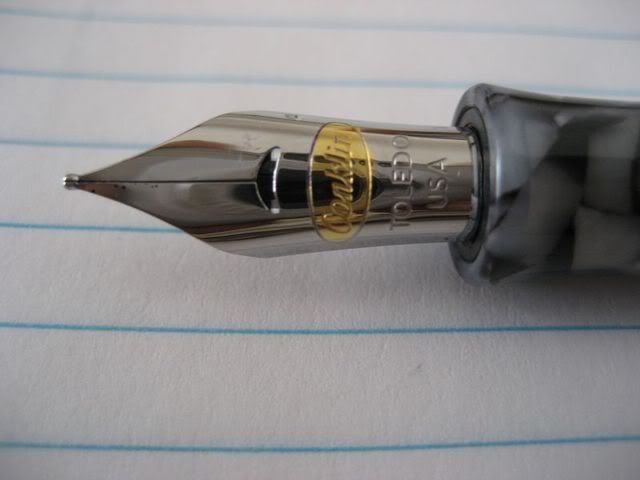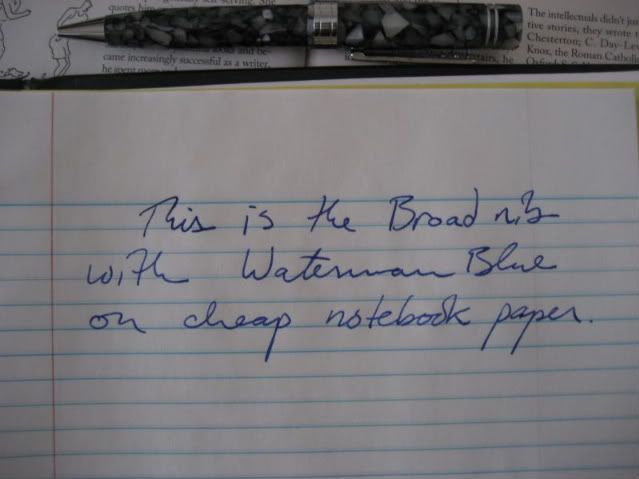 5. Filling System & Maintenance (6)
It's a cartridge/converter. Converter was supplied with 2 cartridges. Works fine.
6. Cost & Value (9)
Bought online over Thanksgiving (sale) for $59 (set, shipping included) from Colorado Pen Direct. Shipped quickly, nicely packaged. Really, I just wanted a BP as it takes a Parker gel refill, which is my preferred refill. The supplied BP refill (labeled Conklin) was actually very nice and it is still in the pen. I got the set as the FP wasn't much more.
7. Conclusion (Final score, 42/60)
This is a daily writer for me. I really like the coloration of the grey. I don't like taking MB's, Pelikans, Duofolds etc to work, so this set fits that role. For the price paid, great deal: runs good, looks nice.
I'm a teacher and don't mind letting the kids try out this 'olden days' pen (their words). Doing my part to keep fountain pens alive.
I'd read complaints about the new Conklins so I was hesitant. I guess Yafa now distributes these and have taken care of the problems from my experience. I'm happy with the set: excellent value, solid performance, unique look, attractive coloration.
Thanks for reading. Sorry about my photo focus - I have a stack of books I'm itching to get to here.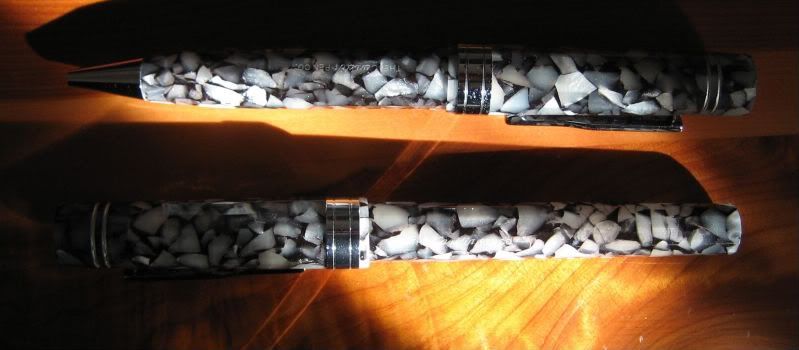 Edited by ondine, 12 December 2010 - 23:26.