Introduction:
I needed this ink because I love the colour, stated as a red wine. Some companies and/or members here speak of Burgundy, Bordeaux, Syrah etc. Now I drink a lot of red wine and there are so many different shades of reds here. Some are more of a brownish dark red, some are more bluish etc. Inevitably, that's your cup o' tea or glass o' beer, so I'll leave that up to you.
(For those who don't already know, Syrah is a red wine originally cultivated in France, but now harvested mainly in South Africa, Australia, the U.S. and Canada.)
Also, if you haven't yet succeeded in getting any bottle of Diamine ink, here's a shot of this ink, together with my M215 and M1000 for a size comparison.
Why did I review it? Well, if you like this type of ink colour (which I certainly do), then why not try it out? But I also wanted to test how similar (or identical) it is to Richard Binder's "Binder Burgundy". That is a Burgundy which is a 50/50 mix of Slovenian Skrip Red and Waterman Violet. So, here we go... I'll buy anything that Richard says, but I still can't conceive that Diamine would sell any ink which the call their own, but which in fact is made by their mixing of inks from Skrip and Waterman. Are these two inks (at least optically) identical, or "just very similar"?
Pens and papers:
Since this is intended to be a review quicky, this is what I'm up to: Swabs, dipsticks, Crest , Pelikanos, and M320, each on HP 90g copy paper, Clairefontaine and Moleskine.
Ink properties:
● As for the actual colour itself, I quote Richard: "My aim here was to produce a burgundy that has blue undertones like those in real wine, not brown undertones like those in most commercial burgundy inks.
● Intensity and saturation: very intense, and indeed dark, but still not quite as dark as I had expected. Starts off during writing as a dark red dark, bluish too, but after drying it seems to lose a bit of that luscious blueness. Saturation is high but not "too high". Roughly equivalent to most Diamines, absolutely more saturated than all Herbins (except 1670), less saturated than most PRs,
much
less saturated than almost all Noodler's.
● Flow as in wetness
during
writing; nice and wet, as with most Diamines.
● It lubricates the nib too. Haven't seen any clogging or creeping yet, but heck, I only bought the stuff yesterday.
● Drying time is 12 to 15 seconds. This depends of course on your nib width and paper.
● It does not tend to dry up in pens quickly if the cap is off for awhile (at least 10-20 minutes). That's a good feature of all Diamines I have used.
● Smudgeproof, i.e. when it
is
"dry", it
remains
dry. Waterproof is basically relative here. Soaking in water
does
wash off half of the ink, but that writing which remains can still be seen clearly.
● Bleeding: very little on HP, more on CF, even more on Moleskine. No feathering seen on any paper.
● Shading is certainly evident, even better than I expected. I see a connection to that written above about saturation and intensity. (Variation in color depth and saturation is due to your providing an uneven application of ink to the paper since usually the pen speed increases and the pen pressure decreases during an upward stroke, in contrast to a downward stroke).
● No fading observed.
● Rinseability is as usual very good. No staining seen yet. It's also fairly easy to wash off your hand.
Comparable inks
As mentioned above, maybe that which intrigued me most would be a comparison of this ink with Binder's Burgundy. I couldn't help also including MB's new ink "Burgundy Red", and then of course their old version "bordeaux", although there are many other Bordeaux and Burgundy inks out there. In case you can't read this scan, at the top, it goes from left to right as follows. On 90g HP copy paper, Diamine Syrah, Binder Burgundy, MB Burgundy Red, and MB bordeaux. At the top, going downwards, it's: 100 µl swab, 1.0 mm dipstick, Crest BB, Pelikano M, M320 F. (If you happen to be wondering about my typos, the new MB, just like Diamine, Herbin and other ink designations are printed by their manufacturers in capital letters, whereas the old MB inks' names were all printed with small letters.)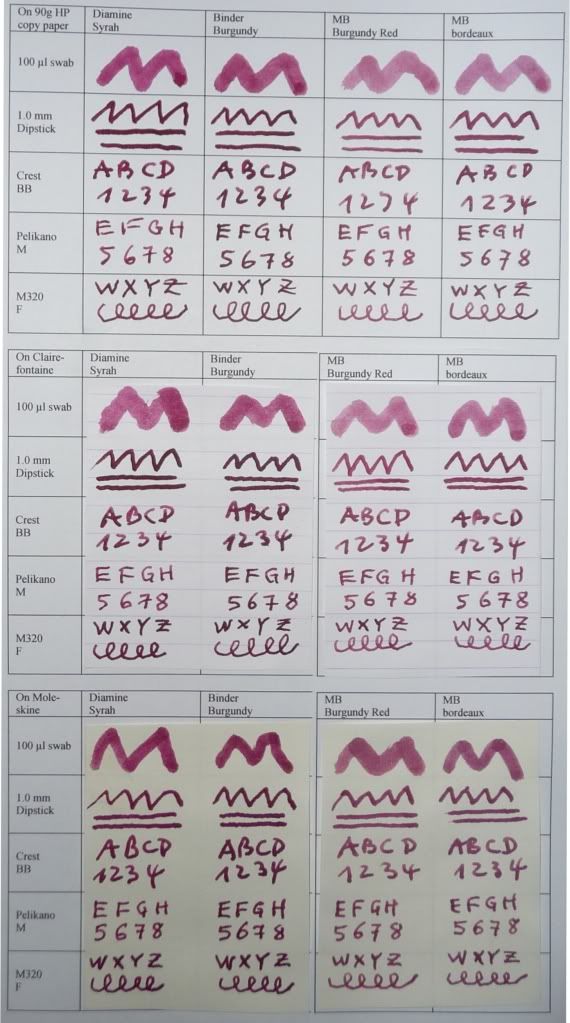 For a deep dark red -- reminiscent of a good wine, of course -- this ink I just tested has to be my favourite. FWIW, Both MB inks are lighter reds and less blue, more watery. A good comparison is also Diamine's Oxblood which is also a bluish dark red but less blue, and more bloody due to at least a hint of brown. Also a dark red but somehow with a very clever brownish touch of rust and/or tarnish or patina is IMO Herbin's 1670, giving it more of an "ancient" look. My favourite bright (no, not "light" red) is Diamine's Poppy Red. And, to finish up, for a "pure" allround, well-behaved red I can't think of anything better than the present-day Skrip Red.
Availability
I presume that Diamine inks are available all over the world, simply because they are some great stuff. The shot above was the (usual) 80-ml glass bottle but they are now also available in 30-ml plastic bottles. I prefer the glass bottles because A. I find plastic bottles unappealing, and B. my M1000 finds their necks too narrow. If you don't know that you're going to like an ink, then start off with the smallest bottles available, or, just steer away from them. Diamine inks also come in standard European cartridges as an 18-pack.
All in all
Diamine Syrah, a great dark red with a big hint of blue, is as seen above. In regard to blueness, intensity and darkness, Diamine Syrah is IMO optically practically identical to Binder Burgundy. The latter is possibly a half a tick darker and a quarter of a tick bluer. Maybe it's only the paper or my hand or my eyes. Who cares? Just make sure that you get at least one of these two inks! I like both inks very much indeed!! Still (with all due respect to Richard), I find that the name Syrah fits better as a title than Burgundy does, because, as said, Diamine Syrah ink has more a touch of blue than brown. Syrah wine is a bluish red wine. Bordeaux wine is also a bluish red wine, but Burgundy wine is more of a brownish red wine even if there is some blue in it. Whew!
Both are very well-behaved inks, both are nice and wet but not too wet. They aren't too staining because they aren't too saturated. Let's go all the way and say that this ink (like most Diamines) is essentially trouble-free. Like any Waterman ink, I'd give this Diamine the highest score, too.
BTW
As often, it's sometimes hard to judge, but I'd say that the old MB bordeaux is somewhat darker and bluer than the new MB Burgundy Red.
... As to this last shot... sorry, I just couldn't resist...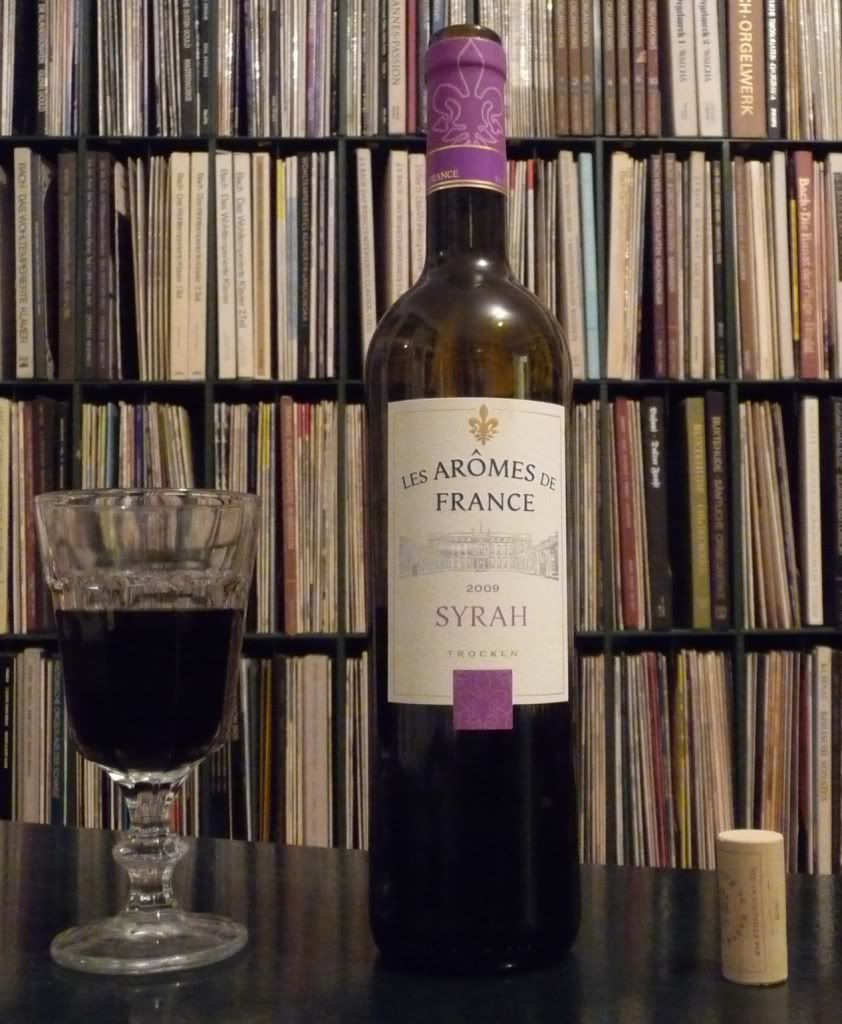 Cheers!