The falcon P50 is the second model in Parker's line with an integral nib (the nib and section is one body) after the more famous (and more expensive) T-1. It was produced for a very short period of time from 1978 to 1979. It is a light pen - a bit slimmer (at 10.3mm) than the P45. The integral nib is not appreciated by the repair community as it makes repairs difficult, but I find the style very appealing.
There are two types of section/nibs. A silver colored one that appears in the flighter, blue and black models and a "brown" one that appears in the brown and gold models. The sections are roughened and this helps in usage (altough they are metallic - they do not slip). The brown and gold specimens in my collection have slightly different colored sections - perhaps different level/conditions of anodization of the surface - but I am not sure if this is systematic.
It appears that there are two type of clips: one with feathers (blue in the picture) and and one without (all others in the picture). The picture below includes also two cap activated BPs (flighter and brown) which I enjoy with gel refills (herecy:o). In addition there is a mechanical pencil and a telephone dialer.
On ebay they tend to bring anywhere from $50-100. Any day I can get a Falcon for less than $50 I am a happy person
but of course e-bay has some risk. On the boards they go a bit higher ($80-$120). The black is the most uncommon color, but it can be found listed in couple of internet outlets for $135-$150.
I believe these are the only models that exist, but I would happy to learn about other possible variants.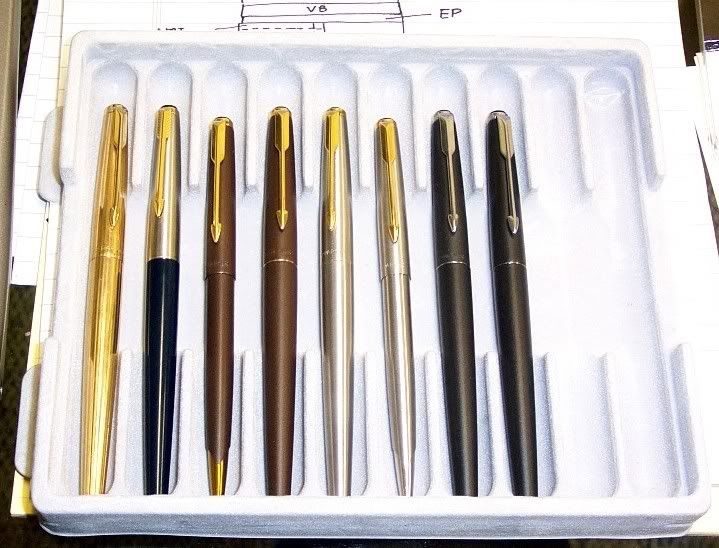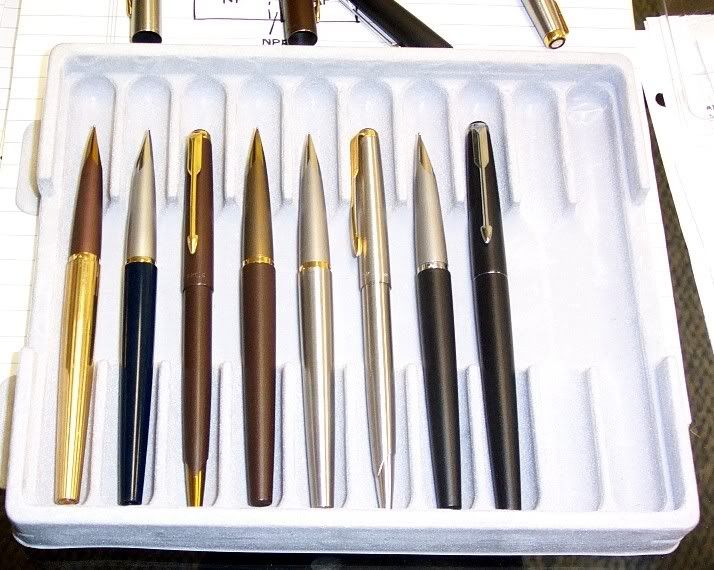 from www.parkerpens.net here is the telephone dialer.
Edited by antoniosz, 21 March 2007 - 02:47.