I've not seen anyone do a comparison of school fountain pens so I thought it'd be fun if I be the first to contribute.
The 3 pens I'll compare are :
1.
Staedtler Learner's Fountain Pen
(with Noodler's Widow Maker)
2.
Faber-Castell Children's Fountain Pen
(with Noodler's Kiowa Pecan)
3.
Lamy ABC
(with Lamy Blue from the cartridge included)
1. PACKAGING :
Straight forward packaging unlike many other higher tier brands. Included with the pens are fun label stickers for the caps and refill carts for the pens.
a. Staedtler's Tube

b. Faber-Castell's Package

c. Lamy ABC's Box

2. APPEARANCE & DESIGN :
These writing instruments may stick out like a sore thumb on a shelf side by side the Pilots and Pelikans, but these robust, anti-sleek fountain pens are perhaps the most purpose driven of all. Emphasis on being more utilitarian than 'pretty-looking' is obvious in all the 3. As expected, they're built to last and are made to withstand rigorous use. Durability is compulsory in lieu of their intended target market. They are lightweight and sturdy - a delightfully fun combination for school use.
One of the key features of these pens are the design of the caps and barrel ends. Meant to prevent rolling off tables, you may feel assured that these perky little things won't do a sudden nib-dive onto the hard and unforgiving floor.
A ) Caps :
(from top to bottom : Lamy ABC, Staedtler, Faber-Castell)
Comparison of Caps :
Staedtler :
Pros : Triangular shape cap made of hard rubber and big, which equals more stopping power
Cons : Oversized
Faber-Castell :
Pros : Similar triangular shape with an added 'twist' on the top which can be attached to a school bag or even a key ring
Cons : Oversized
Lamy ABC :
Pros : Almost fully circular which conforms to the overall shape of the barrel
Cons : Almost circular equals less stopping power
B ) Barrels & Ink Window :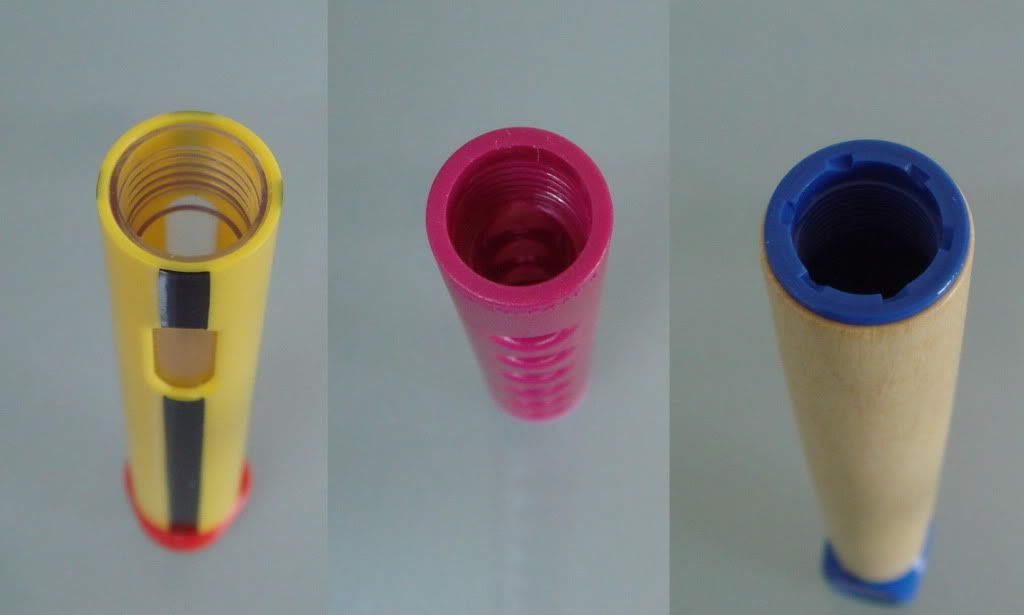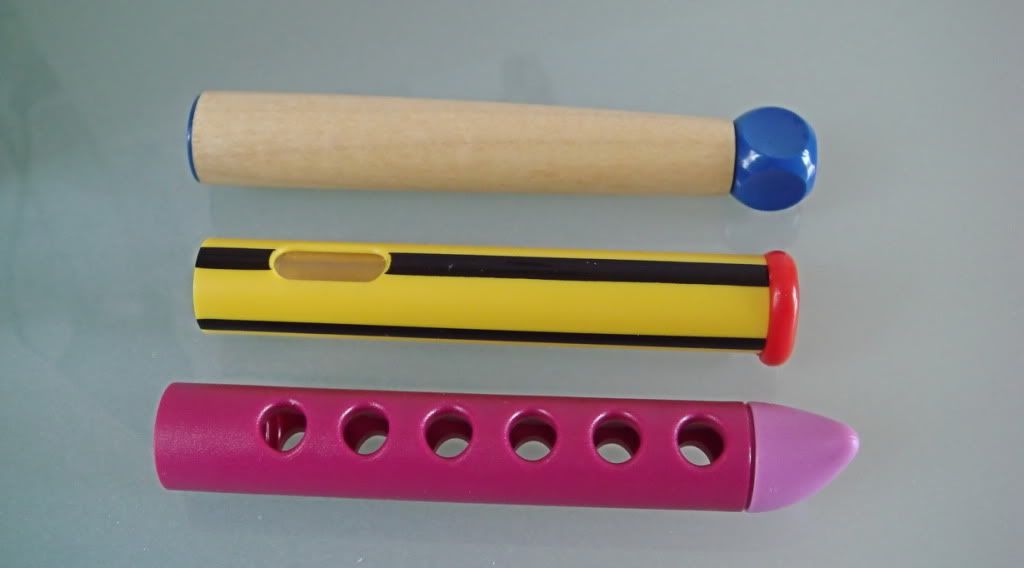 Comparison of Barrels and Ink Window :
Staedtler :
Pros : Brightly coloured stripped barrel with a nice little ink window
Cons : Not so nice little ink window when you need to check the ink level remaining in the cartridge
Faber-Castell :
Pros : Multiple ink windows makes it easier to monitor the ink level in the cartridge
Cons : Ink windows are hallow (no inner protective clear plastic inside the barrel like the Staedtler) so watch out for loose carts and ink leaks
Lamy ABC :
Pros : Nice smooth wooden finish. Feels really nice in the hand
Cons : No ink window and wooden surface will eventually stain with ink with may be near impossible to remove. Will also dent and scratch from use
C ) Barrel Ends
In my opinion, only marginally effective from preventing the pens from rolling. They work best on levelled tables but not so much against a slanting table top (which are still in use in some schools). Only with the pens capped do they offer better stopping power (as you can see pictured below).

(slanting surface of about 80 degrees, Lamy ABC almost rolls off)
C ) Section and Section Grips
The other key feature in these pens are that all section grips are rubber and contoured in such a way that it guides your fingers into the correct tripod position when holding fountain pens. They also provide added comfort fro extended periods of use and I dare wager, will provide the user with more hours' worth of writing with them than any regular fountain pens.
All 3 contours differ slightly but the intended purpose is the same : To teach the user the correct grip position. The Faber-Castell has the longest section while Lamy, the shortest.

Comparison of the Grip Sections :
Staedtler :
Pros : Perfect placement of the contours that accomodates the thumb and forefinger.
Cons : Nil
Faber-Castell
(pictured below)
:
Pros : Longest section, giving you more flexibility in shifting your grip while in use
Cons : No thumb contour, instead it flattens out at the bottom where my middle finger's top knuckle rests which makes it rather uncomfortable
Lamy ABC
(pictured below)
:
Pros : Nil
Cons : Both sides contoured the same way. Short grip area caused me to grip the section really close to the nib, requiring me to hold the pen at a higher angle to let the nib touch the paper or alternatively, grip further back towards the barrel to get a lower angle.
Faber-Castell Grip close-up
Lamy ABC Grip close-up
3. FILLING SYSTEM :
Cartridge filled only for all with the bonus exception of Lamy ABC which allows you to use their converter. The other 2 uses standard carts and enough space in the barrel to store a spare cartridge.
(I have found that Waterman's cartridges and Manuscript's converter also fits Staedtler and Faber-Castell in case you ever wanted to try alternatives)

4. NIB PERFORMANCE :
The business end of any fountain pen.
All carry "A" nibs for beginners with rounded ball tip ends for easier handling on paper.

Staedtler "A" Nib :
NAIL : Lays down a smooth wet line that writes like a nice fine-medium stub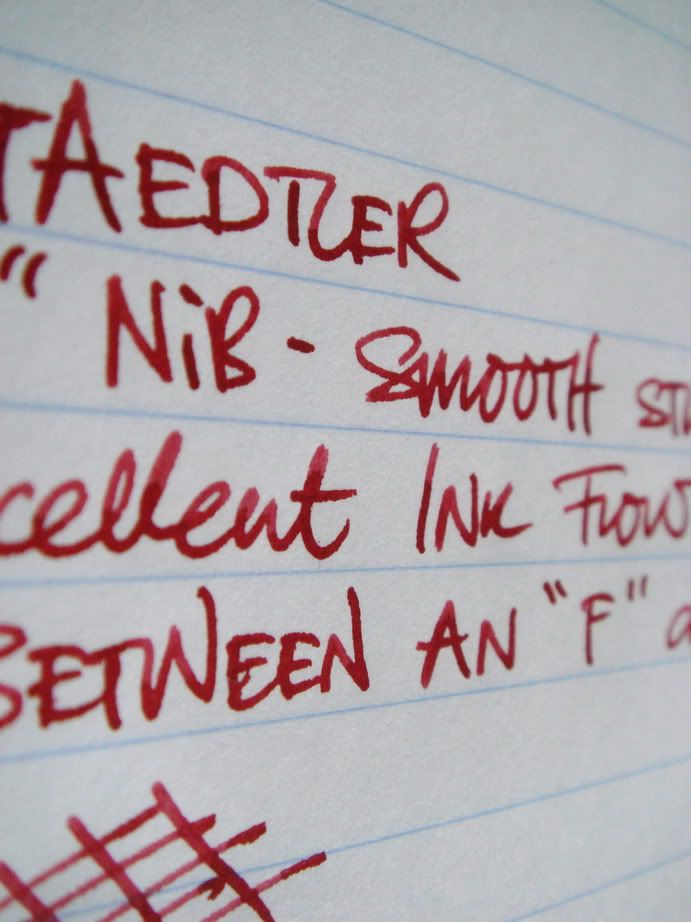 Faber-Castell "A" Nib :
SOFT : Lays down a smooth wet line and writes like a nice fine-medium stub

Lamy ABC "A" Nib :
NAIL : Lays down a smooth wet line similar to Lamy's "F" nib. Does not feel as stubby as the others but if you prefer, do a nib swap !!
5. CONCLUSION :
No one pen is better than the other as each appears to have their little pros and cons and it is just based on my experiences when using them. I would vote for
Staedtler
in the 'comfort of use' category but only because I've had it and used it longer than the other 2 so this may eventually change once I've clocked equal mileage of use with them.
It is my (humble) opinion that those wishing to learn how to use a fountain pen correctly should stop looking for cheap (and sometimes dodgy) 'buy-and-throwaway' fountain pens and instead invest in one of these fun filled writing instruments. They are well built preparatory pieces that are reliable, durable and most importantly back by familiar brands known to produce quality products.
Please know that this comparison is purely based on my own experiences (which may or may not be the same as yours) and I welcome and appreciate any additional information that may prove useful to improve this review for our community's reference.
Brgds
Leo
Edited by Apotheosis, 09 November 2010 - 23:24.