Well, I received my Noodler's Creaper yesterday, fresh from Todd's restock at isellpens.com (great, quick service by the way). Here's a review. First, the hand written one
(Click here for the large version)
: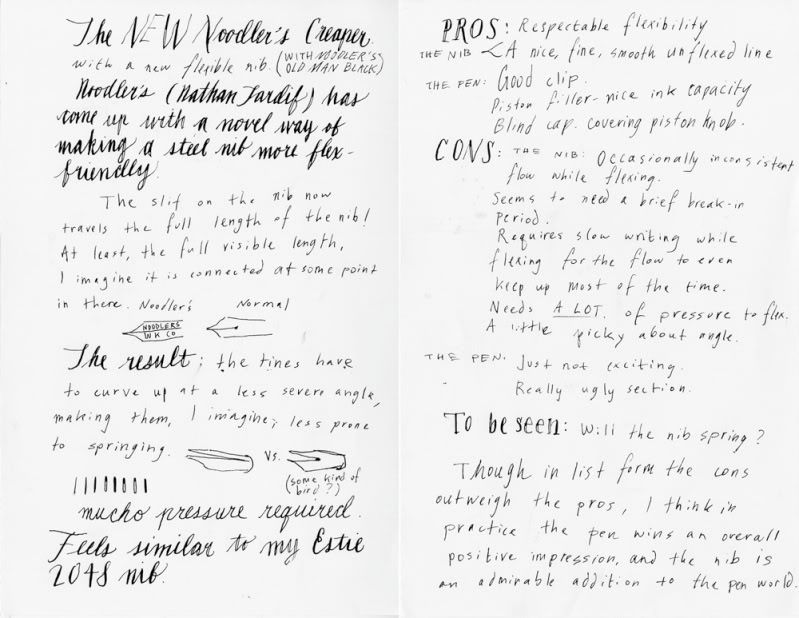 And now, the typed:

First Impressions:
This pen met all my expectations! I mean, my after all the reading and pictures on here, my expectations were pretty low as far as straight out of the box excitement goes. Anyway, my first impression was not impressed, but not disappointed.

Appearance and Design:
It's a little demonstrator made of a strange plastic that I believe is very chemically stable. Right now the light from the computer screen is causing rainbow colored highlights, like oil. The barrel has some bubbly shapes within the plastic, which actually looks kind of cool. The clip is very utilitarian and I think adds to the pen, it doesn't try to look fancy at all. I also like the very simple font that NOODLERS INK is stamped in on the clip. The sticker "jewel" on the top of the cap seems to be coming up a bit on the edges. I think the section is ugly. These things are fine, really, they don't bother me at all. This is my first piston filler with a blind cap covering the knob, I'm a big fan of that feature. Even though I've never accidentally unscrewed anything, my friend did evacuate all of my Reform's ink into the cap once.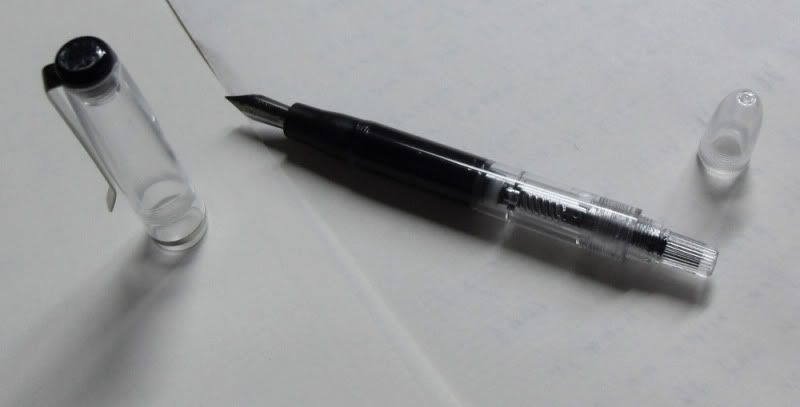 Construction and Quality:
We are warned about the fragility of the material by Noodler's, though I'm not sure that is actually a negative aspect of construction or quality. It just means the pen is a little fragile. It's a cheap pen, the parts are cheap, look cheap. I don't expect this pen to work flawlessly for 100 years, but I don't see why it wouldn't. Nathan has given very simple and cheap instructions on how to repair the piston seal, should it expire.
Weight and Dimensions:
It is very close in length both capped and posted to my Pelikan M205, though it's slightly thinner. Very light.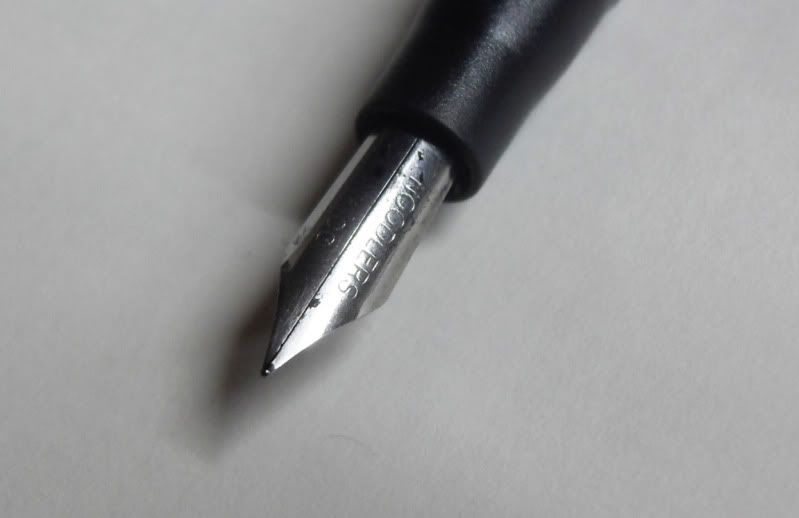 Nib and Performance:
One must become acquainted with this nib. It seemed to need to be broken in, and I wasn't sure about how it wrote, but now it seems to have found its groove. Things I had to adjust to: Writing angle - the pen works best when it is held at no less than 45 degrees relative to the page. Flow - when flexing you really have to slow down and find the rhythm of the pen. Pressure - it requires a significant amount to get the flex going. Now that I'm friends with this nib, I like it a lot. It writes a very nice, smooth, extra-fine line without pressure, and can achieve a respectable amount of line variation with pressure.
What makes this nib a Creaper is that the slit continues all the way through the nib, making it seem almost like the nib is two halves rather than one piece. This allows the steel to be more gently bent in order to spread the tines, making it, I hope, more resistant to springing while allowing more spread.
Filling System and Maintenance:
A piston filler, holds a nice amount of ink. I haven't taken the pen apart, so I don't know how that will go. From what Nathan says, maintenance on the piston seal is pretty simple.
Cost and Value:
$21 shipped from isellpens. The nib makes it very worth the price, I'd buy another. If it didn't have the nib - no thanks. But it does!


Conclusion:
Another innovation from the mind of Nathan Tardif! I'm glad I supported this one. Maybe I'll even get one of his other pens if he puts these nibs in those.
More nib pictures: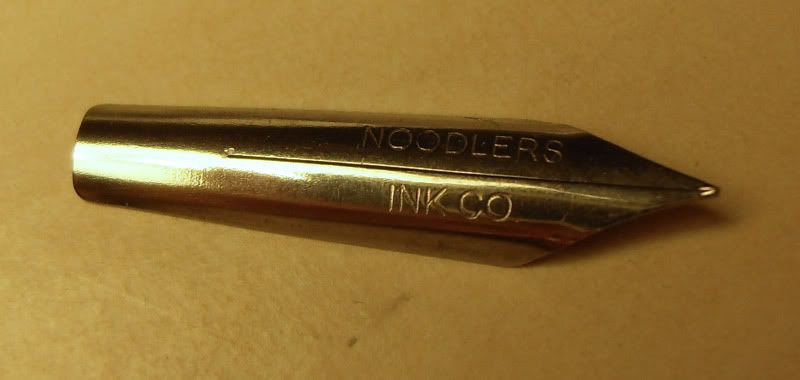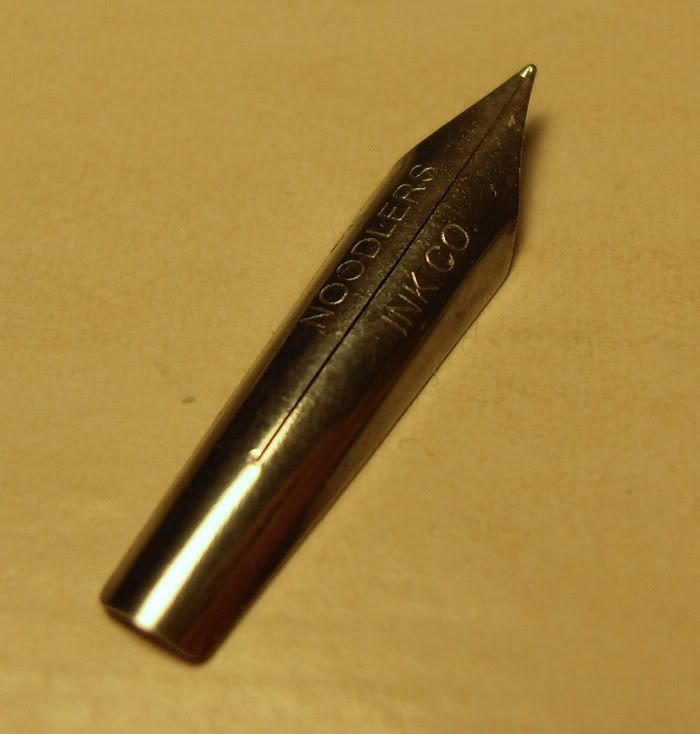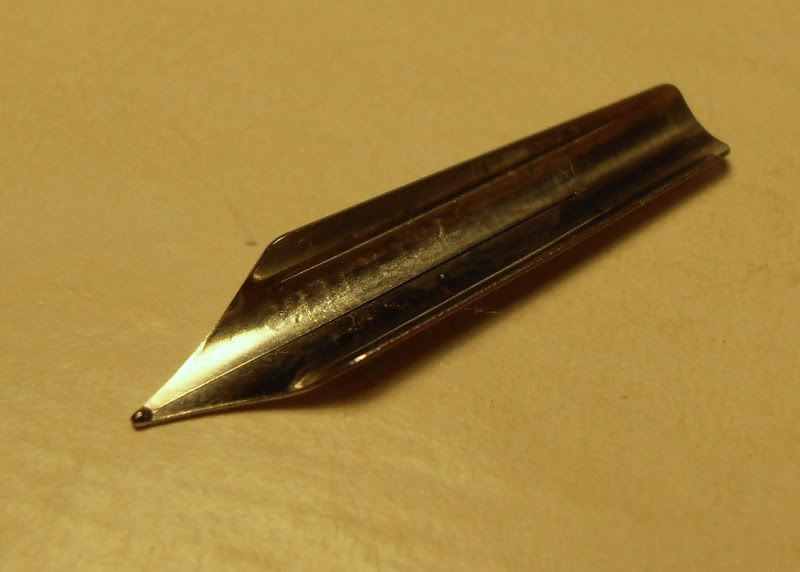 Edited by WillSW, 24 October 2010 - 17:43.