Visconti Opera Club Length
: 5 ½ inches capped, 5 1/8 inches uncapped, just under 6 ½ posted (I personally do not post this pen)
Weight
: 1.2oz capped, .8oz uncapped
Materials Used
: Chrome plated trim, Pearl orange marble resin cap and barrel, 14k/585 gold nib
Filling System
: Cartridge/Converter
This new offering from Visconti had me from the word "Opera". Being a big fan of good opera myself, I decided to look into the details of this pen. The pen is based on Visconti's "squaring of the circle" design which we first saw in the LE "Wall Street". This is truly a nice design which fits nicely in your hand. Another benefit I have found with this pen, is while uncapped I don't need to worry about setting it down on a desk as I gather my thoughts. Since I do not post most of my pens, setting any other pen down could result in the pen rolling off my desk, a scary thought indeed! Well, not so with this new design from Visconti.
The particular color of my pen is called, "Summer Yellow". It's a pearl orange with deep reddish veins running throughout the cap and barrel, creating a marble look to it. This is another pen that shimmers in the direct sunlight. I'm a big fan of this look. I also like the chrome plated accents and think they do a wonderful job of completing the pens visual appeal. Viconti's new clip design is also worth noting. It's a nice clean arc that starts from the top of the cap. The clip is spring loaded and allows the pen to fit nicely over thicker material. I think the "Visconti" engraving on the sides of the clip is also a great detail.
A new feature of this pen is it's unique ability to be personalized without actual cutting into the resin or metal finish. This is accomplished by removing the magnetized Visconti emblem on top of the cap and replacing it with your choice of initials, both of which are magnetized semi-circles. I have placed the initials "BP" on mine. The initials are free from your local Visconti dealer and once in place, they're very secure. Should you decide to sell your pen down the road, simple remove your initials and replace the Visconti emblem. There no worry about ruining your pen's value by personalizing it.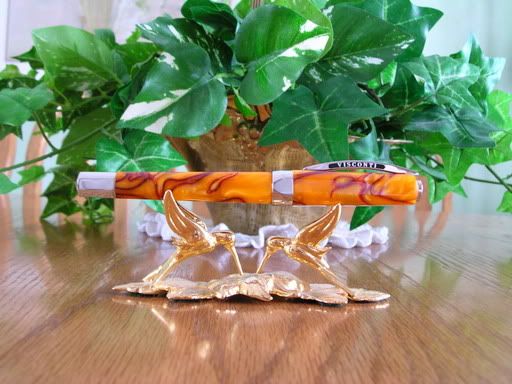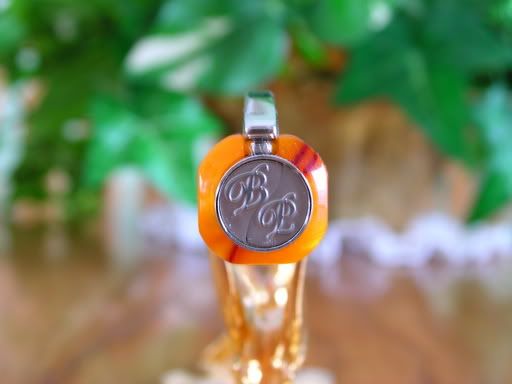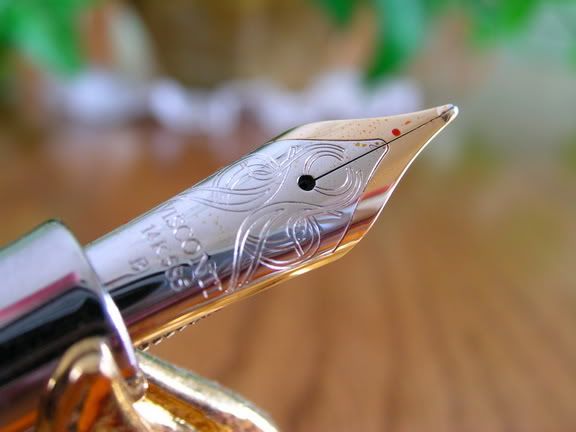 The 14k nib is stiff and smooth. This week I'm sending it off to Pendemonium for a regrind to cursive italic. I currently have been using Private Reserve Orange Crush with this pen and it lays down a very nice wet line with it's broad nib. I tried PR American Blue, but the Opera hated it for some reason and would skip. I haven't tried any other ink as of yet due to how great it's been doing with the Orange Crush. I'll let you know if it has problems with any other inks.
I found this pen for $224.99 on Costco's website. I've used this pen since December, 2004, and have no complaints other then the incident with the PR American Blue. This is another fine Italian fountain pen. I give it a strong recommendation. Join the Club, the Visconti Opera Club!
Bryan
Edited by Bryan, 03 January 2006 - 15:59.