The Edison Urushi Pearl LE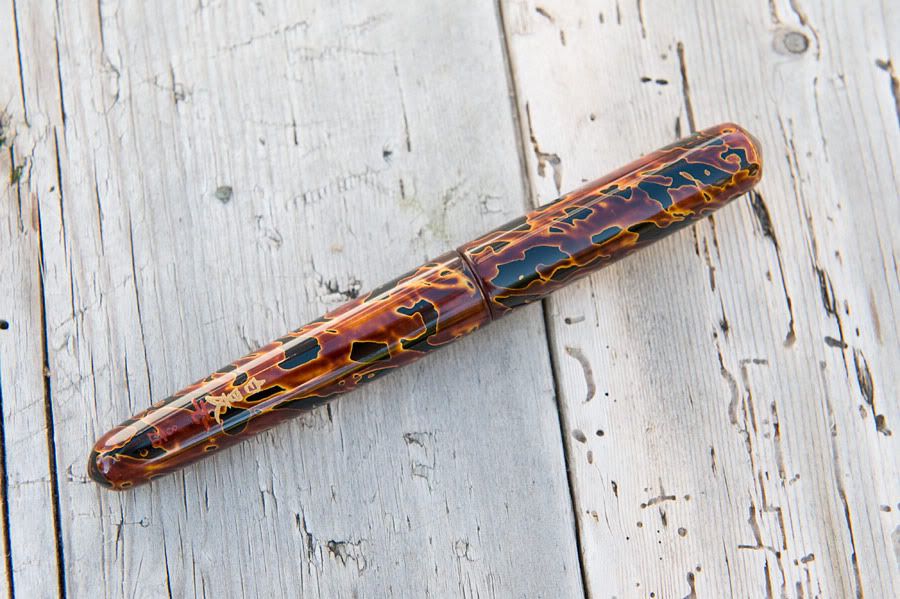 Iím sure that, for most FPN visitors, Brian Grayís name will be instantly familiar as the man behind Edison pens. His range of handmade, made to order, resin and ebonite creations occupy a comparatively rare niche in these days of mass production, and represent a genuine alternative for someone wanting something Ďdifferentí, with the added option of ordering an entirely bespoke pen, made to your personal specification.

At the beginning of 2010 I was thinking seriously about buying an Edison, and had got as far as having some initial discussions with Brian, but hadnít quite been tempted enough to place an order. For me, Brianís pens compete with offerings from the likes of Danitrio and Nakaya, whose pens have similar virtues, but add the advantage of Urushi which, for me at least, takes them to another level. Much as I like resin, if I want a hand made pen, the material of choice is ebonite, which has a warmth and tactility that plastic can never match (I even like the smell!). And, although I like raw ebonite pens, the Urushi finish adds a beauty and durability that transforms these humble objects into something that are both wonderfully utilitarian and, quite simply, works of art.

In the spring of this year I moved house and somehow managed to take my eye off the ball, totally missing Brianís announcement of his limited edition of Edison Pearl Urushi pens, the first product of a new collaboration with Ernest Shin, a specialist Urushi artist and craftsman. Not surprisingly, all 20 pens were quickly reserved, so instead of the thrill of anticipation enjoyed by those who had signed up, I had to make do with following the project, green eyed and jealous, on Brianís blog. Fast forward to September and, unexpectedly, one of these pens shows up on the FPN for sale listing. I prevaricate for hours, funds already stretched to the limit, then send a reluctant enquiry, expecting the pen to be sold. I was astonished to find it wasnít, and a few days later, itís in my hand.

Much has already been written about the Edison Pearl, itís been reviewed frequently and is a popular product. Before the pen arrived, I was quite worried about how well Iíd get on with it. Iíd read that Brian had been partly influenced by the Nakaya Piccolo when he developed the design for the Pearl. The Piccolo is the smallest of the Nakaya range and a pen about which I have mixed feelings. While I like its crisp lines, I find itís only just long enough to be comfortable, and the short section doesnít completely agree with me either. The seller had sited size as the reason for the sale of the Pearl and, I although I have small hands, I worried that it would also be too small for me.

From the moment I first picked it up, I realised that my fears were groundless. The barrel is about 1cm longer than the Piccolo and this makes a massive difference to the feel of the pen. The section is a similar length but the shape is far more comfortable. The whole size thing is actually quite interesting. The Pearl, is a small pen compared to other pens of this type - with the exception of the Piccolo my Nakayas and Danitrios are all significantly bigger - but this is deceptive. Itís actually a pretty substantial pen, similar in length to the MB 146, Pelikan M600 and Aurora Optima, and wider than any of them.

The Edison Urushi Pearl compared to a Nakaya Piccolo.




But while the pen is a nice size for me, it isnít excessively heavy. Ebonite is a light material, but the addition of the lacquer has made this edition of the Pearl slightly heavier than the figures quoted on Brianís website, which for me means it provides an ideal weight and balance. Capped it weighs 20g, while uncapped itís about 15g Ė very similar to my workhorse Aurora Optima. The cap isnít designed to be posted, which suits me fine. Construction is of a very high quality, fit and finish are immaculate, and the shape and proportions of the pen are very satisfying Ė to my eye more harmonious than the Piccolo.

The Urushi Pearl can be used in converter or eyedropper mode, which I see as another advantage over the competing Nakaya, which requires a degree of Heath-Robinson-style modification to work in the latter mode. The nib is an extremely nice, single colour 18K .7 stub, ground by Brian himself. Initially, I found it a tad too crisp for my writing style, but a quick momentís work has transformed it, retaining virtually all the line variation but making it smoother and more forgiving, much better suited to my style. Ink flow is on the wet side of average and, again, just about perfect for me.

As for the Urushi itself, I think pictures, even my inadequate efforts, speak louder than any words can. Ernestís work is simply outstanding and the flame-like, organic, Karanuri pattern really sets this pen apart from anything else Iíve encountered. This truly is a dream pen and Iíll be watching out for more Edison/Shin collaborations in the future, though theyíll have to go some to improve on this one (and my bank balance will need to recover first).

In conclusion, I have to say, this pen is simply outstanding. About the only negative thing I can think of is that the box it comes in, while entirely adequate, seems somehow unworthy of such a stunning product.

I guess, for many, the price will seem excessive and it was certainly eye-watering for me. But compared to many expensive so-called limited editions that run to hundreds, or even thousands of units (MB springs to mind), these seem fairly priced, considering the craftsmanship involved.

Ernest Shin's signature and the edition number.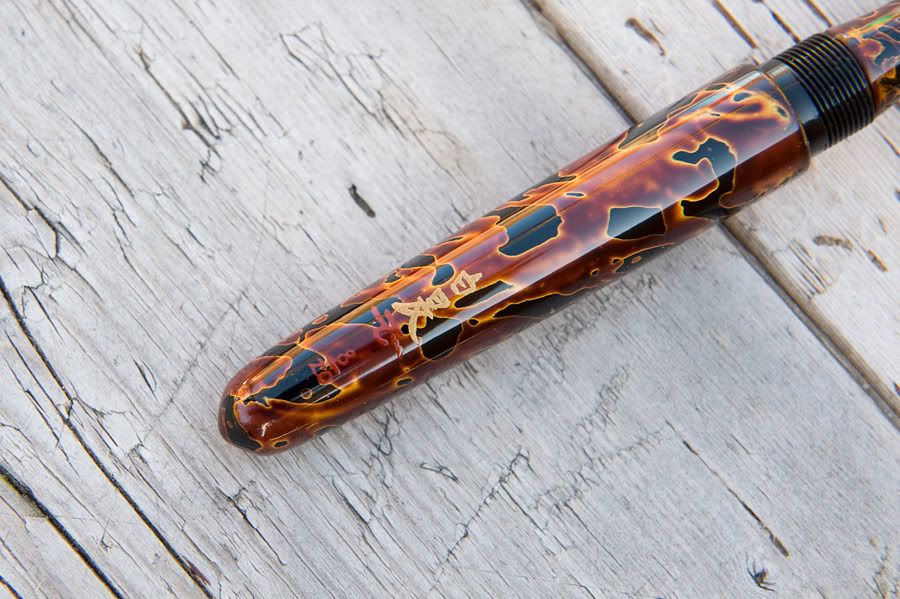 Edited by Painterspal, 16 October 2010 - 06:11.