Delta 20th Anniversary Special Limited EditionLength
: 5 ¼ inches capped, 6 1/8 inches posted

Weight
: 1.1oz
Material Used
: Vermeil and gold plated trim, resin cap and barrel, 18k/750 gold nib
Filling System
: Lateral Lever Filler
Edition Size
: 982 Special LE Fountain pens
Delta celebrates it's 20th Anniversary with a very special fountain pen in the company's well known orange and black, "Dolce Vita". The decorative ring at the top of the cap above the pocket clip is constructed of solid sterling silver then gold plated, with all other rings, clip, lever, and Delta logo on the end of the barrel being gold plated metal.
The Dolce Vita color combination has become Delta signature color combination. It's a beautiful combination that is both warm and exciting. A close look at the barrel in direct sunlight reveals a mosaic pattern of both pearl orange and flat orange color combinations. This give the barrel a feeling of movement when turned in direct light, very nice! The cap and barrel end are deep black and contrast nicely with the orange barrel and complete the visual package.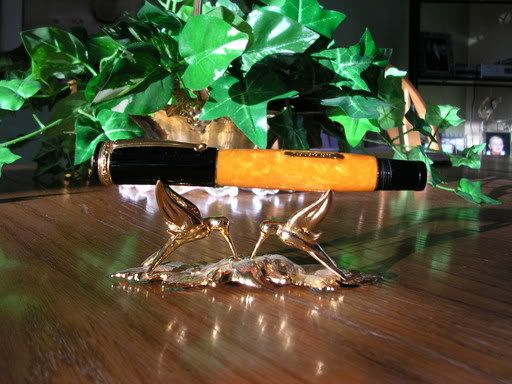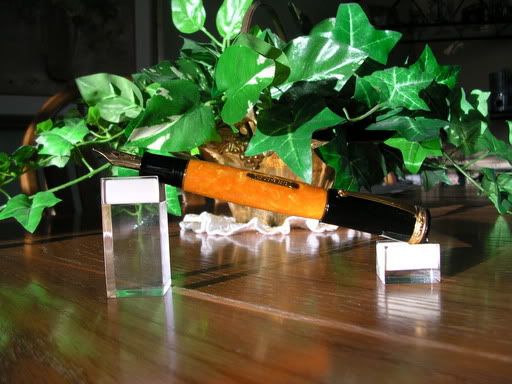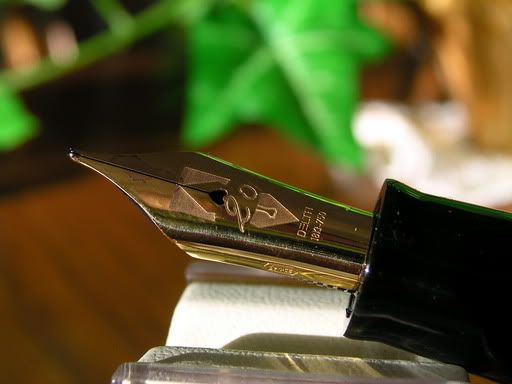 Vermeil Ring Detail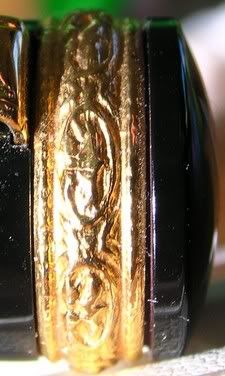 This is the one pen that I choose to post. This is mostly due to the fact that this pen was made to be posted. There are threads both at the grip section of the pen and also at the end of the barrel. With this feature there is no chance of scuffing up the brilliant luster of the orange barrel. I can also tell a lot of consideration went into the balance of the pen when posted. It's perfect and feels great in my hand. The barrel, at it's widest point, is actual wider then my Mont Blanc 149, but tapers nicely to a very comfortable grip section.
Writing with the 20th LE is a dream. The nib is specially made for this pen and is engraved with the number 20 and a special design. I appreciate that Delta continued the design of this pen to the nib also. Too many LE pens have only stock nibs. The nib is firm and very smooth. Filling via the lever filler is quick and easy. Delta did a great job of keeping the lever flush with the barrel. I do wish the ink capacity was a tad bit larger; a full fill yields about 12-13 drops, sufficient for a day of taking notes at school.
I have had this pen since August of 2003. I've had zero problems, no matter what ink I've used. It's been a great performer and it's won a place in my heart. This pen has my strong recommendation. It's a complete package. If you are in the market for a nice Italian pen, don't pass up a look at the Delta 20th Special LE. It might just be your opportunity to live the "Dolce Vita" in comfort of your own home!
Bryan
Edited by Bryan, 21 March 2005 - 02:08.