Yesterday* I removed a recently completed Custom 51 from my pocket and put it on the table – on a sheet of stamps from the Post Office… that became the inspiration for this offer.
So here's the deal.
This pen will be available for offers for one week until the end of Sunday, October 10, 2010. At that time the highest responsible and responsive offer will be accepted. ALL PROCEEDS will go to the Santa Fe Animal Shelter & Humane Society (SFAS&HS). They do a remarkably good job of providing needed programs and services for the animals.
The accepted payment should be made out directly to the SFAS&HS and mailed to me for delivery.
You will receive an acknowledgement letter of appreciation from the SFAS&HS, a private not for profit corporation, for your gift – which may or may not be useful to you for tax purposes.
Now on to the pen.
This Parker 51 Vacumatic (T6) is in Excellent Restored Condition. The sterling silver cap has been polished and hand hammered. The pen at first glance appears to be a single jewel model. But, not all things are as they appear… Remove the blind cap and you will reveal an all metal vac filler unit with a brass ink pump rod and a matching aluminum jewel at the end. It is really a double jewel pen…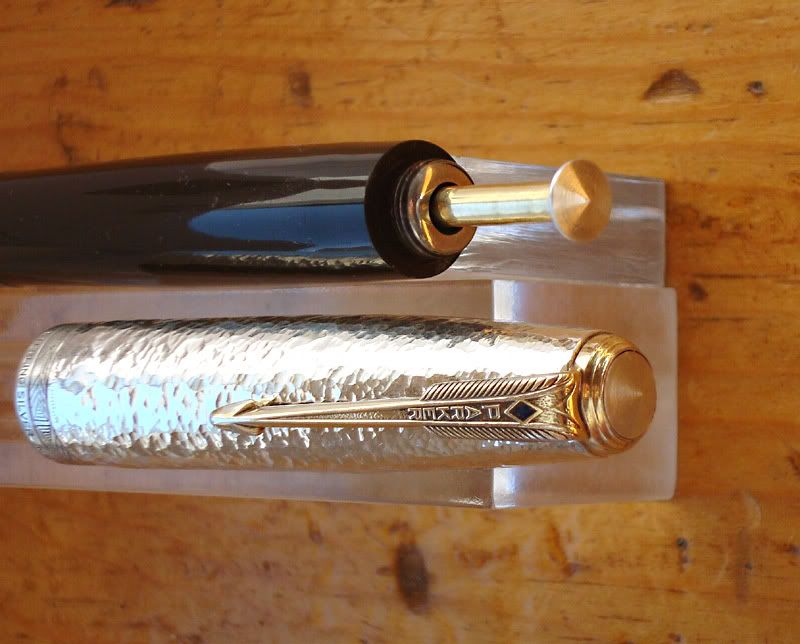 This pen has one of the smoothest f/m nibs I have ever seen on a 51 and it is a real pleasure to use.
If you have any questions (or to submit an offer) you can contact me at prather@la-tierra.com.
Thanks, Ralph Prather
*, after returning from the New Mexico Pen Collector's Club Meeting… where Joel Hamilton gave an excellent presentation on pen repairs …