The general consensus is that Brian Gray makes beautiful Edison pens, so this review isn't going to focus on the various review categories, as this pen scores a 10 out of 10 for everything!
In the beginning...........had a look at the Edison website and instantly fell in love with the Purple Dew Flake Acrylic which was available in the
Huron Grande
. Being crazy for purple, I simply had to have one, but after discussing my likes and dislikes with Brian, I discovered that the Huron Grande was too large to have a clip, but Brian told me I could have one of the other styles made with the purple dew. After much ruminating, decided on the Glenmont. Still thinking, thinking, thinking..........decided it would look good with black accents. Brian is one of the most patient people ever. If he tired of my vacillations, he never showed it! I asked for a medium nib, butter smooth with no tooth nor a hint of feedback. And that is exactly what I got! I opted for a converter as that is my favourite filling mechanism.
Now for the pics (and believe me when I say they really don't do this pen justice - the gloss and the purl on the marbling is just exquisite)!
As it came, simply in its box:
Trying to be an arty photographer and failing dismally: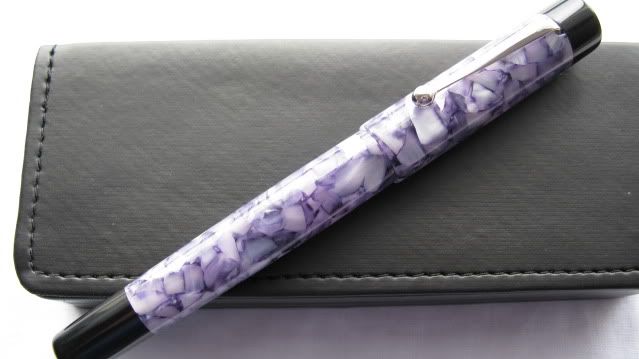 With the cap off
Close up of cap: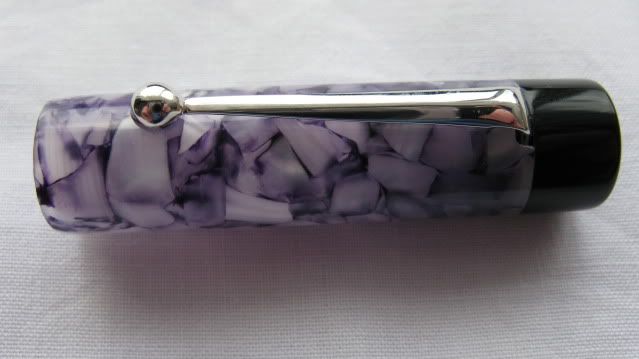 14.5cm capped: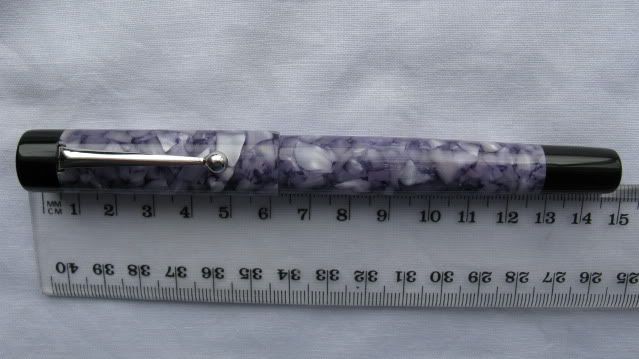 And another just for the hell of it: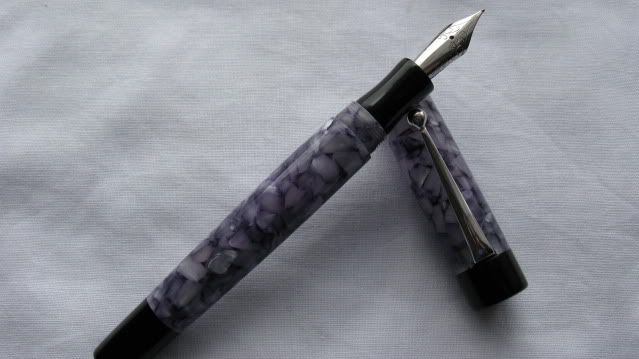 Finally, a writing sample - with my appalling penmanship: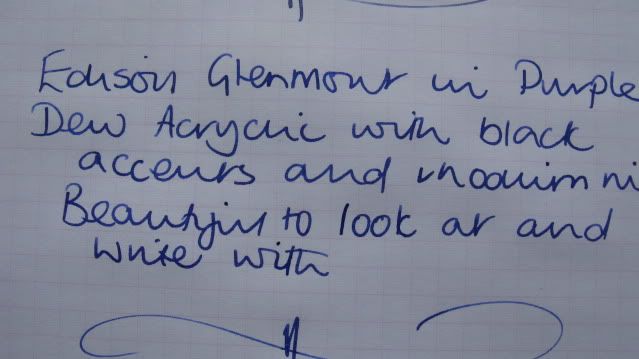 Total cost including postage to Australia - US$250. Bargain!!!!
Being involved as Brian allows you to be in the design etc is just such a great feeling. Brian tells me that this is the only purple dew flake with black accents Glenmont that he has made, so am feeling very unique and spoiled at the moment!
Brian's service is extraordinary - emails responded to the next day, happy to change things around, sends photos of the final product before it is sent. The pen was even finished before it was due to be completed. All service should be this good.
Now..........what can I ask Brian to whip up next
Edited by SidandNancy, 28 September 2010 - 08:08.