So this is my first review... Be kind.
Recently I purchased two fountain pens, a Graf von Faber Castell Guilloche and a Lamy 2000. Fun. Each one went in its bag and they have been great writers.
However... I recently acquired a Caran D'Ache briefcase and needed a new pen to keep in it! What better pen than a Caran d'Ache I had been eying for a long while? The Ecridor Retro.
Well let me say, this is a great pen. But the attention to detail really starts even as early as the box...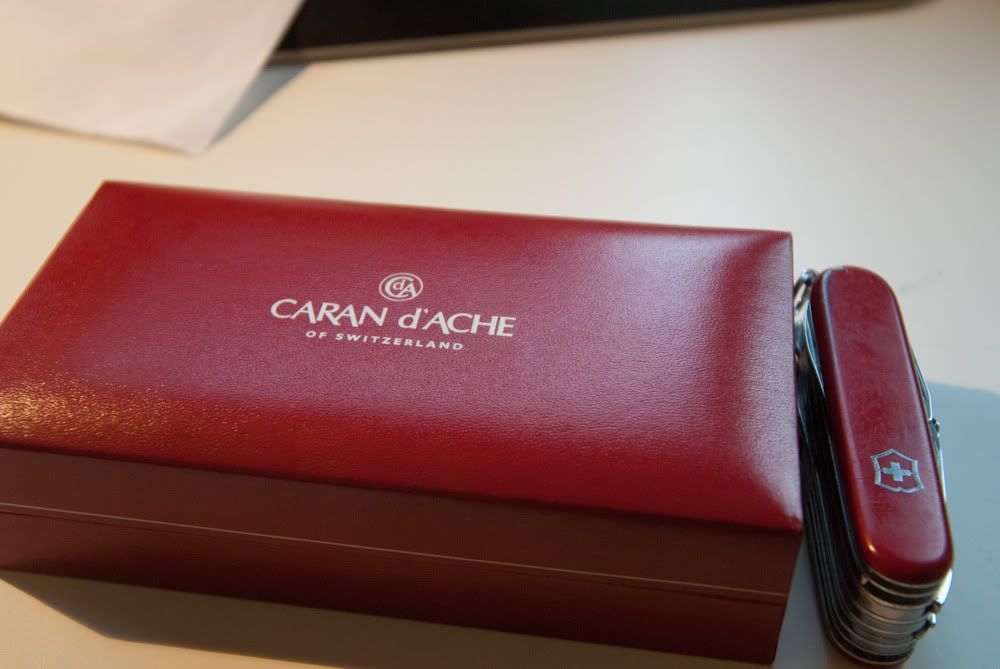 For size comparison, the box is shown next to a swiss army knife. The box is probably vinyl-lined wood, but it really gets you excited as soon as you take it out of the fedex box. But enough "tease," time to crack it open and look at the pen inside!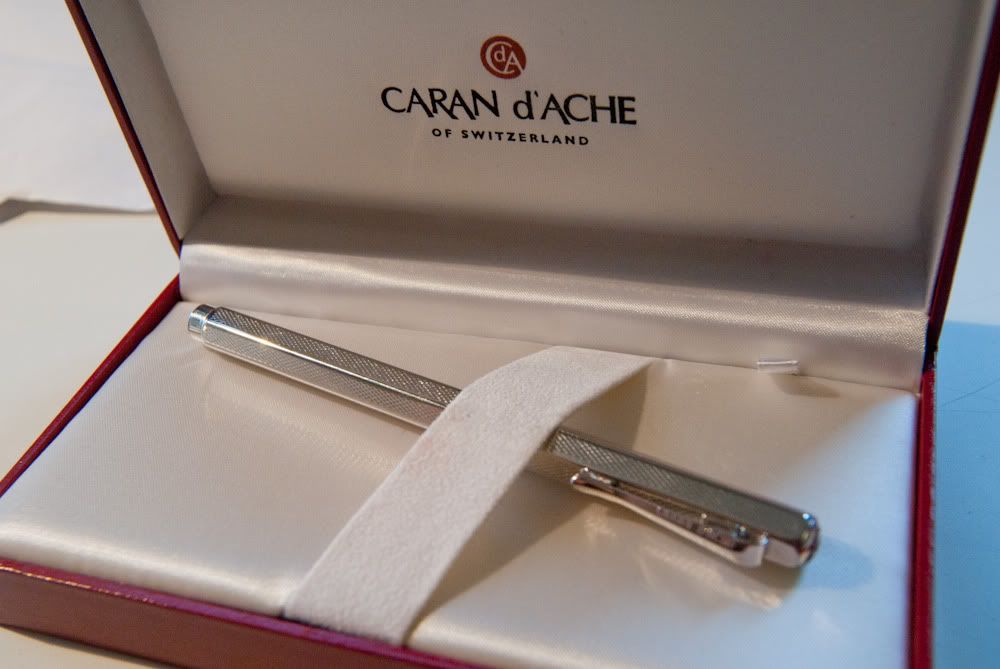 Then pen is displayed on satin, and here is where you begin to appreciate the craftsmanship. Generally, I'm not a huge fan of palladium/platinum-family coatings since they just look like a white steel. They must have used quite a bit of rhodium on this (I'm guessing over a thick silver plating) because it really does have the eye-popping white sheen of platinum. But let's take a better look at the finish of the pen itself...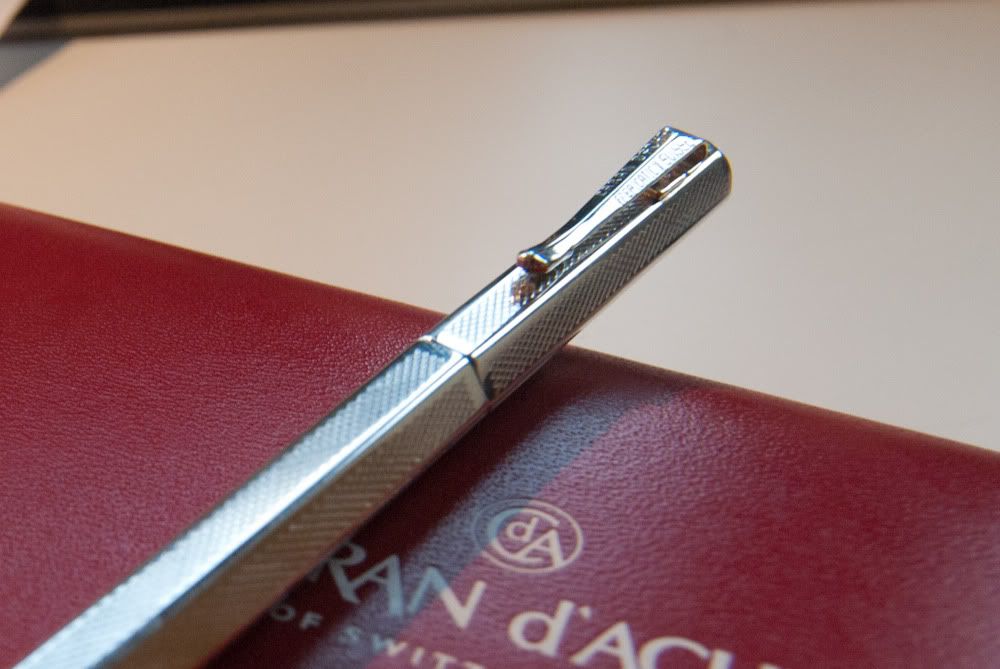 As you can see, it features an engine-turned crosshatch finish. But not really... If you look closely, you can see that it's really a series of pointy "waves" that look like cross-hatching. When angled on light, it reflects triangles. All edges are rounded and shiny including areas where the cap meets the pen. There's not a single thing wrong with the body. It's definitely quite light, but without feeling "cheap". Cd'A did a great job with making the pen up to the standards you would expect from their other, considerably more expensive instruments (and I've written with their Ivanhoe before). The clip says "fabrication suisse" on one side, and Caran d'Ache on the other. This is the "old-style" Ecridor, so the cap has the Cd'A logo in red.
Now, of course I wanted to get writing with the pen! I inked it up with Caran d'Ache Amazon Green, cleaned it out, etc. The middle section actually scratches/smudges quite easily since it's metal, but I guess that just adds "character" to the pen. Anyhow, I pulled out some Clairefontaine, and laid the pen on top for another look. You can see on this above photo that the triangles I spoke about do shine through.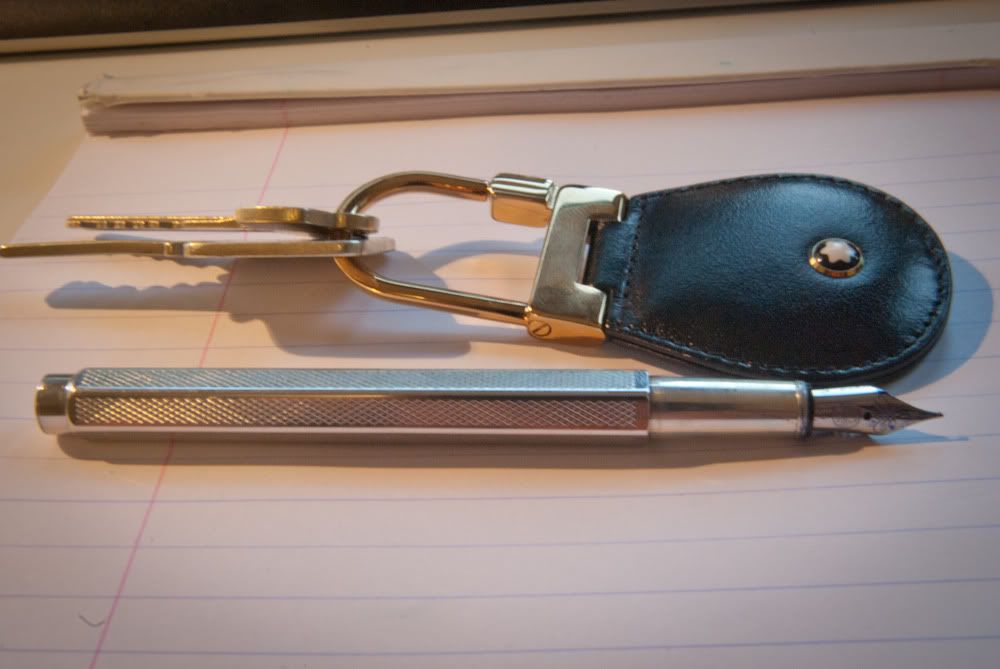 Now, the size of this pen is quite difficult to describe. It's a lot smaller than people think. The girth is only slightly larger than a #2 pencil, and the un-posted length is maybe slightly over 6 inches. For size comparison, I laid my keychain next to it and took pictures both posted and unposted.
Here's where the pictures stop and where the fun begins. How does it write? Splendidly, with a few twists. For me, the ink-flow is far too dry. I'm sure it's an easy task to get it changed, but then it would feel... wrong. Now, the inflow is perfectly adequate for writing, but I feel that it was done on purpose so the pen really does write like a pencil. It's really strange coming from super-glossy-smooth fountain pens. This one feels great, but in a very different way. There IS friction. There IS tooth. But just the right amount. It feels like writing with a quality sketching pencil. This pen loves a little bit of pressure. You're not going to write with this and get away with a lazy resting hand. This is a pen that loves vigorous INTENSE writing. You can fly along a page, writing notes, scribbling down proofs, or whatever you like to do. I find that I write differently with it than with other pens. Some pens I gently glide along with. With this pen, I can write with passion and not be afraid of the nib crashing down upon writing my next word. Mind you, that all comes with the tradeoff that there's really not much flex. If you push down, you'll just get it to squeak. I personally loved the feel. Die-hard montegrappa/pelikan fans who love mild nibs won't like this one at first. You'll be blown away when you find out it's a steel nib. The quality of this steel nib far exceeds many 14kt/18kt nibs out there.
Balance is an interesting thing with this pen. The body is, I presume, silver-coated rhodinized brass. Yet... it's far lighter than the cap. When posted, it really changes the balance of the pen. I find it's really comfortable, but I've never been too picky with balance as long as a pen is heavy enough. With the cap, it really is heavy enough to write with comfortably.
Conclusion:
Nib: 9.5/10 (a bit TOO dry for my taste and little flex)
Construction: 10/10 (perfection)
Design: 9.5/10 (middle grip section doesn't look as nice)
Price: 9/10 (this pen retails for $220 new, I got it for less. Looks its price.)