Introduction: Why did I buy this? Because I heard all about it and was curious to see how it (and its pen) would work out. I highlight a lot of stuff. Stuff in books, mags, newspapers but also that which I myself have printed out or written by hand. Of course, 97% of the time with a FP, 2% using a pencil.
Pen and paper: At the moment I write with this ink only in the Pelikan M205 DUO which came along with it in a box set. That pen is a comparable with any Pelikan M2XX except that this pen is only delivered with a BB nib. Pelikan in Hannover told me that the pen and ink are only available together as a set, but my dealer (thanks,
Rolf
) said that he already had the 30-ml bottles available separately at a price of 3.70 Euros. The whole box set came in at 79.90 Euros.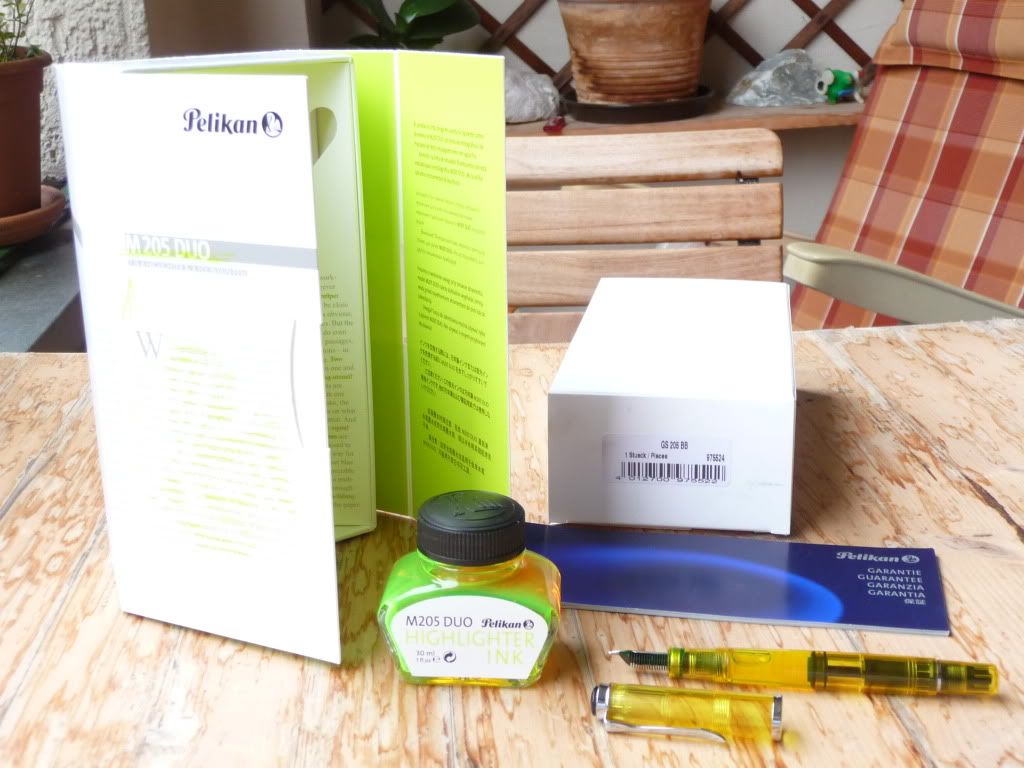 For the scans in this review, I'm using 90 g HP Bright White Inkjet paper.
Ink properties: The actual colour of the ink itself is a fluorescent bright yellow. As we'll see, you can use it as a marker but also as a real writing instrument just like any other FP.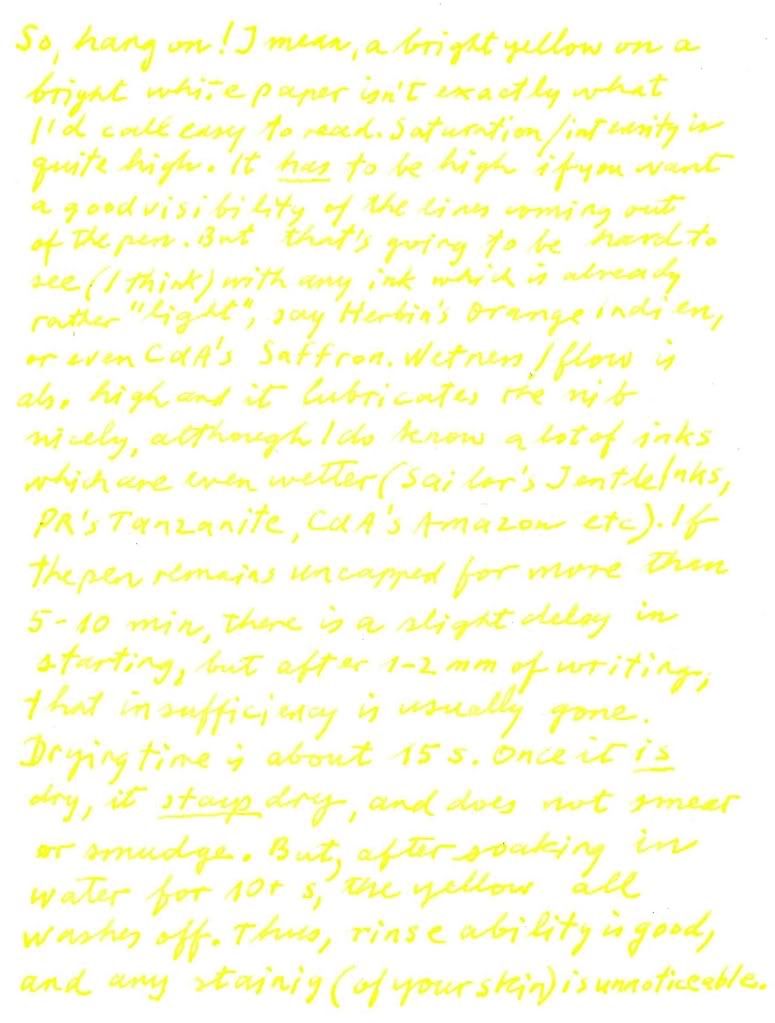 Achtung! That scan in yellow was done using my HP Deskjet F4580 (via Windows 7) and if you think that's terrible, you should take a look at the photos I shot with a PanasonicDMC-TZ4.
Can't read it? I'll translate it! "So, hang on! I mean, a bright yellow on a bright white paper isn't exactly what I'd call easy to read. Saturation/intensity is quite high. It has to be high if you want a good visibility of the lines coming out of the pen. But that's going to be hard to see (I think) with any ink a lot lighter than, say, Herbin's Orange Indien, or even CdA's Saffron. Wetness/flow is also very high and it lubricates the nib nicely although I do have a lot of inks which are much wetter (Sailor's Jentle Inks, PR's Tanzanite, CdA's Amazon etc). If the pen remains uncapped for more than 5-10 min, there is a slight delay in starting, but after 1-2 mm of writing, that insufficiency is gone. Drying time is about 15 s. Once it is dry, it stays dry and does not smear or smudge. But, after soaking in water for 10+ s, the yellow all washes off. Thus, rinse ability is good, and staining (of your skin) is unnoticeable." Of course, that colouring of the text isn't supposed to duplicate the real colour of the ink, it's supposed to make it halfways legible (har, har).
Thank you for reading this far or at least trying to. I see no bleeding or feathering, no shading or fading. And now for the neatest part. The actual property of this ink being able to dissolve that ink line which is to be highlighted was completely unexpected. Two very important points here: (1) This ink by no means dissolves and smears any writing as much as an "ordinary" marker pen does (e.g. from Faber-Castell), and (2) The less bulletproof the ink is, the less it gets smeared when it is highlighted. I.e. Noodler's HOD is much more smearable /dissolvable than Waterman's Florida Blue is. A few words written with Florida Blue do, however get somewhat "yellowed out". Even a few words printed by an ink printer are less smeared than those written with HOD. Top notch writer which is unsmearable upon getting highlighted remains a good old pencil.
This ink has no strong smell but I do discern a very slight touch of a chemical, maybe even like rubber which I do not perceive in any other of my Pelikan inks. AFAIK, this ink is only available in 30-ml bottles, and not in cartridges (hey, this pen has a plunger mechanism anyhow!)
Instructions: these are printed on the inside box, and I quote: "When changing ink, please pay attention to the following: thoroughly rinse theM205 DUO with cold water before filling with fountain pen or highlighter ink. Attention! The highlighter ink is only suited for the M205 DUO fountain pen. Do not use with other writing utensils!"
Comparable inks: I know of no others except PR's Chartreuse and a few Noodler's. I have not tried these out yet.
Pros and cons: This ink in this pen provides a nice combo as a highlighter and a writing instrument. As a highlighter, this Pelikan nib with this ink makes a line which is only about 0.95 mm wide (both in the up-and-down and in the horizontal direction), so that many of us might prefer to stick to a 5-mm wide marker like the Faber-Castell shown above. If you are trying to highlight a very thin line or two in a telephone book, this combo is great. As a writing instrument, the colour is okay but for some of us, that might already be fulfilled with a light red or green instead. This yellow is – at least for me – not as easy to read as Poppy Red or Kelly Green, both of which I use very often for making notes, especially corrections over, around or alongside any other writing. And last, but not at all least, I find the biggest drawback is that it may not always be easy to use this ink as a highlighter for anything written with a FP filled with some inks or printed with an ink printer.
Short story even shorter:
for a marker in the sense of highlighting very finely printed words (like in a telephone book) this yellow in this BB pen is literally and figuratively fine. For a larger printing (like in Arial 10+), any "ordinary", wider marker may be more convenient than doing a lot of scribbling over each word. Using it to highlight a print-out from my Deskjet was much better than expected. For the marking of any text with a line or encirclement, or as in notes or corrections, this yellow is nice but a bright red or green may appear more visible. Using this yellow ink as a highlighter on a line or two written with a FP filled with a bulletproof ink, it's game over.

Thank you for your attention,
Mike