http://www.youtube.com/watch?v=UFlsXgw_SFE
Visconti Metropolis Review

Music: New York State of Mind

There are pensÖand there are PENS. The Visconti Metropolis falls into the latter category. I can take my Pilot Vanishing Point and use it just about anywhere and never catch a second glance. Understand that I love my Vanishing Point, but Iím also aware that itís not the brightest eye catcher. My Metropolis, however, is a vastly different story. I cannot think of a single instance where Iíve pulled it out, uncapped the slender and sleek beauty, and twisted itís tail to rotate and produce the ornate nib and the pen HASNíT merited comments or at least interested glances. Iím more than comfortable with this. You could even say I like that the pen draws attention and I would imagine that anyone who spends the money being asked for a Metropolis would most likely agree with me.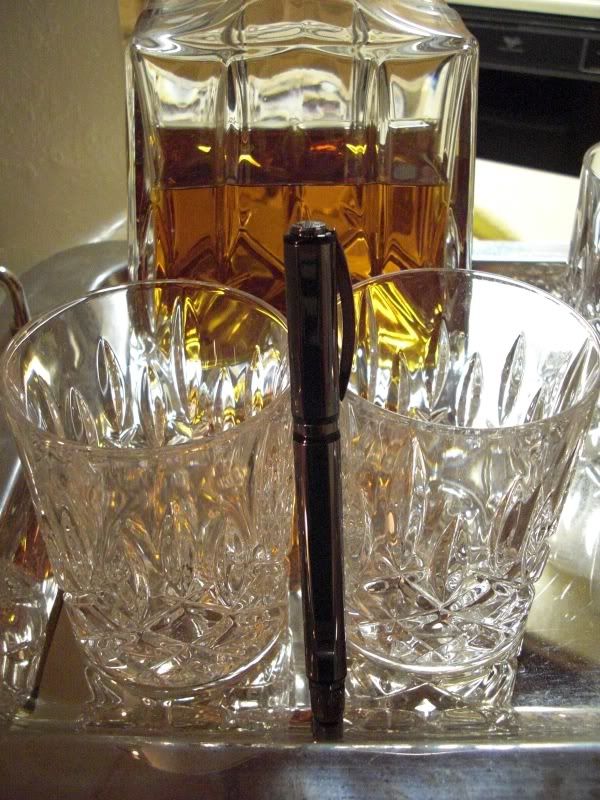 Appearance and Design:


This is by far one of the Metropolisí strongest areas. Being a technical person myself Iím fascinated with this pen. The Visconti is an engineers dream as there are so many components of the action, filling system, and nib extraction and retraction that work together with such fluidity. The outside of the pen is a gunmetal tinted sterling silver. When shined, this pen all but glows. Sleek, slim, streamlined, and all out sexy is the vibe it gives off. This isnít a pen that makes me think of Shakespeare or Mark Twain as some do. I imagine that if Donald Trump or Richard Hilton used a fountain pen, theyíd smile on the Metropolis.

The 5 star rating for appearance comes from the little details on the Metropolis. Atop the cap, thereís a magnetic ďbuttonĒ that bears the Visconti logo. These can also be swapped out for monogram segments that will allow the user to add his or her initials to the design of the pen. The clip is sleek but strong looking. It bears the Visconti name and gives the appearance of a bridge or arch which makes yet another testament to the almost architectural nature of the pen. At the bottom of the pen, thereís a tail button that can be depressed or released to fill the pen. Itís adorned with a textured finish and Visconti ďVísĒ. All in all, this pen is about as aesthetically pleasing as it gets and Visconti did it with minimal ďfluffĒ. If youíre looking for a sharp looking ďpower penĒ, look no further. Youíve found it.




Comfort and Durability:


Personally, Iíve found the Metropolis to be a very comfortable pen and a not so comfortable pen all in one. To explain, Iíd say that this is a pen that should not be written with while the cap is posted unless you want a very heavy pen. Iím one who likes a bit of heft in a pen but the filled and posted Metropolis weighs more than my filled and posted Montblanc 149. This is just a tad too much weight for me and in this condition I give the pen a 2 in terms of comfort. There is a solution, however! Take that cap and set it aside. Uncapped, this pen has a fantastic balance. It still retains just the right amount of heft but balances it perfectly and allows for hours of comfortable writing. The Metropolis is about par with the Montblanc 144 or Starwalker in terms of thickness. This is a medium range thickness and serves most people well. There will be those that just have to have a thinner or thicker pen but those will be rare. Again, this is an uptown pen and honestly not one that I would carry every day. To put it in different terms, I may think that the Mercedes SLS AMG isnít super comfortable but thatís not going to stop me from driving her every Sunday. Uncapped, this pen jumps to at least a 4 rating.

3) Filling System:


The Metropolis is a piston filler but different in a few ways. Itís got the same internals as most piston fillers but the outer workings are just plain cool. To fill the pen you must uncap it, push the piston-working cylinder into the pen which will pop it out when released, and then twist the tail of the pen to expose the nib. Once this is done, it fills like a regular piston filler. I never have to operate the piston more than once to get a full charge and the pen holds plenty of ink in itís reservoir for extended periods of writing. This may seem like a lot of steps to go through in order to fill the Metropolis but itís a very fluid process and one of the least boring pens to fill that Iíve ever handled.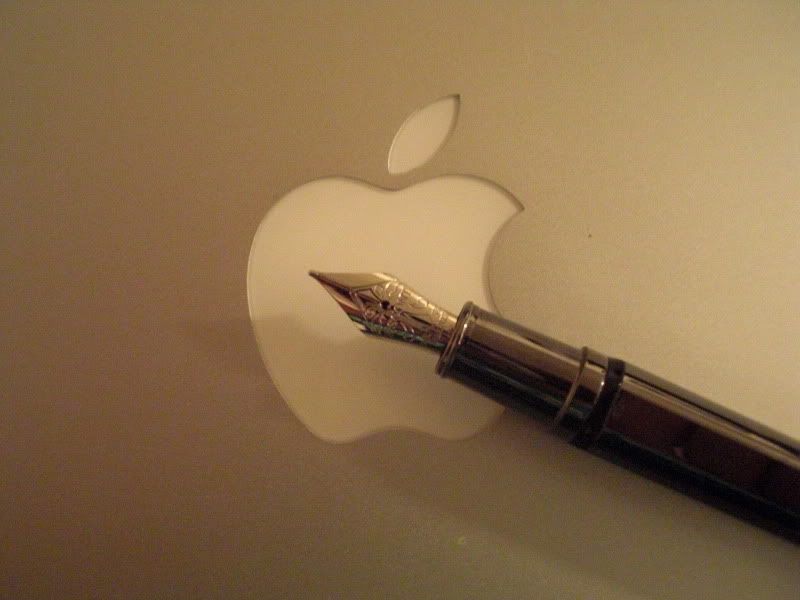 4) Nib and Writing Performance:


The nibs are the main reason I keep coming back to my Viscontis. I donít know what took me so long in my collecting life to discover Visconti nibs but Iím a solid believer in them. The Metropolis line comes with a 14-carat white gold nib thatís beautifully ornamented with Viscontiís take on the classic Fleur-de-lis. The feed is interesting on this pen because itís much smaller and thinner than most pens. I donít know what the logic was behind the feed design but itís been more than functional so I havenít had any complaints.

Writing with the Metropolis is enhanced wonderfully by its white gold nib. The nib seems to have been given the thinning treatment that was handed to the feed and it serves it nicely. My pen is a medium. The thin nib allows for a bit of flex that gives the writer the option of a slight variation in his or her line. This is nice as thereís different situations that require different boldness variations in line. There is just a hint of feedback given from the nib when writing. Iíve never had a problem with just a light presence of feedback in my nibs and I know that some prefer it. However, I know that there are those who donít like it and fortunately this is an aspect of the Metropolis that can be easily changed under the hands of a skilled grinder.



(Nib retracting)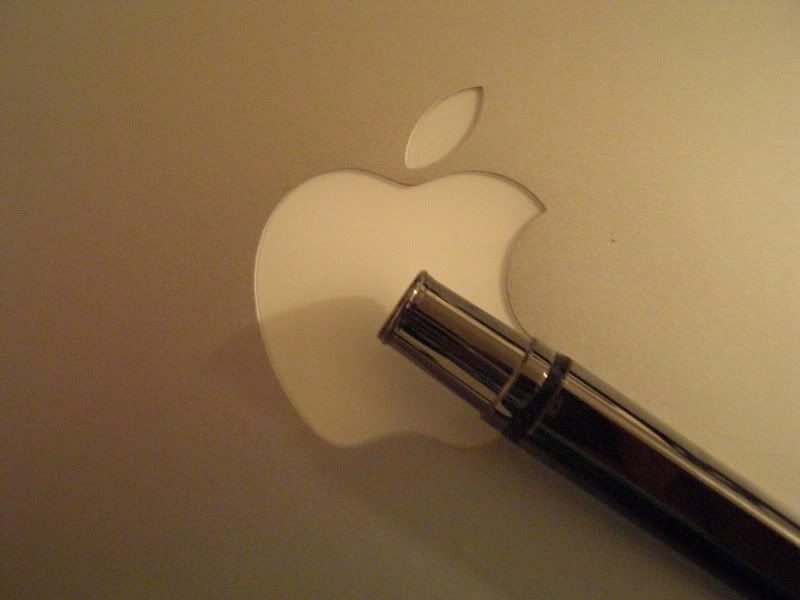 (Nib retracted)

Cost and Value:


Letís be frank. The Visconti Metropolis is not a cheap pen by most standards. Iíve seen them sell for anywhere from $400 to $900. There is no real way to describe this as anything other than a luxury item. However, in terms of luxury you can do far worse than a $400 masterpiece like this one. Also, Iíve noticed that the Metropolis holds itís value quite well and if you ever need to part with yours, the resale value is normally quite good. This is a pen to save for and you may even tear up a little when writing the check for it but when you have it in hand, youíll be glad you bought it.

ConclusionÖ

I really donít know what else to say about this pen. Itís fantastic to say the least. The simplicity of its looks caters to the desires of class and elegance but the intricacy of itís inner workings are enough to make any gadget guy smile. This pen is shiny, this pen is bold, this pen is classy, itís an Aston Martin DBS rolling through Manhattan, itís a 3 piece hand tailored Gucci suit, itís that last sip of 30 year old Scotch that youíve been saving for a special occasion, this is elegance, this is power, this is the Visconti Metropolis.


Final Rating:


Regards,
Marcos