If there's any pen that's gained legendary status among collectors -- and notably here on FPN -- it would have to be the Parker "51". First introduced in 1941, it was way ahead of its time, and was produced in millions over the decades that followed.
When I was new to vintage fountain pens, I wanted the 51 that everyone kept talking about, so I groveled over the eBay listings until I found a nameless pen that sure did look like a 51 in great condition -- and got what I thought was a great deal on it. After it arrived I was surprised to see the number 21 engraved on the cap. What a ripoff! It also had a fatter nib than I was accustomed to, so I pushed it into the back of my cabinet and forgot about it.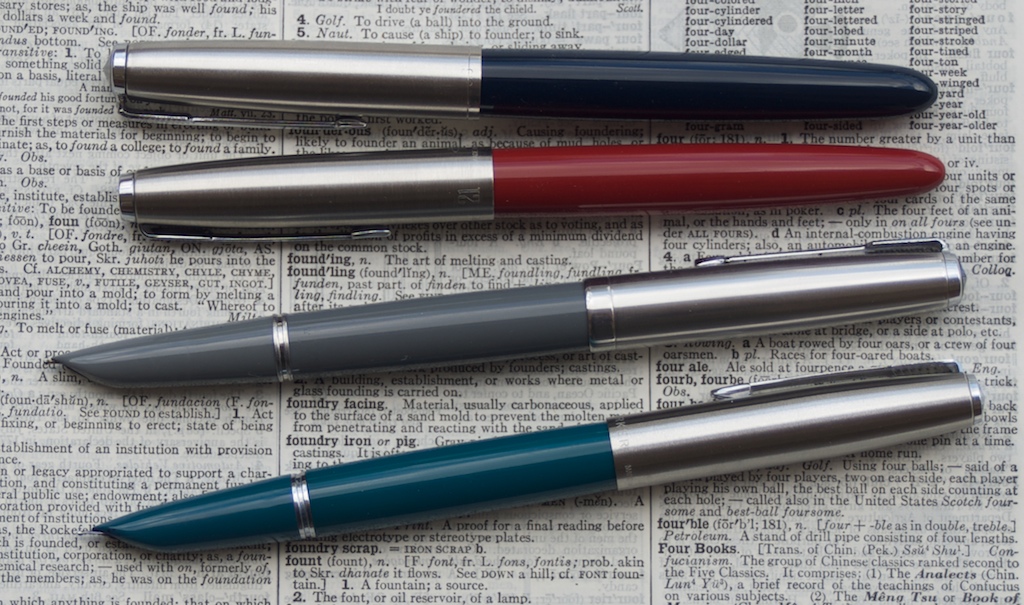 Can you tell them apart?
The name of this pen has led to some degree of confusion, because it was preceded by another Parker 21 -- a very different creature. The original (non-super) 21 lacked the tubular nib of the 51, but had a plastic hood covering its conventional nib to make it superficially resemble the 51, at least from a distance.
The Super 21, by comparison, uses a tubular nib and a design closely based upon the 51. It is effectively a cost-reduced Parker 51. It wasn't the first cost-reduced 51, having been preceded by the 51 Special. The Special had used a nib made from Parker's special alloy, "octanium", instead of gold, and the hoop-style aerometric filler that had appeared on the Parker 51 Demi. The Super 21 reduced costs further by simplifying the design of the cap and eliminating the breather tube. (I think the Special had a breather tube, right?)
I tend to think of the Super 21 as holding a position in the Parker 51 line much like that of the M200 in the Pelikan Souveran line. It may be at the bottom, but it's still a card-carrying member of the posse (unlike that not-so-super 21 which was merely a pretender). I've heard a story that some die-hard Parker collectors keep their 51s stored away safely and use Super 21s as their daily writers.
Recently a pretty large stash of NOS (New Old Stock, meaning never sold, inked or used) pens was uncovered and put up for sale on eBay through the Peyton Street Antiques store. They've been selling the basic Super 21 for $42.95 each with a choice of F or XF nibs. I was intrigued, and I felt that with all I'd learned about these pens, I had to take a closer look. I picked out a red one with the fine nib, to go with the teal medium-nibbed example I already had.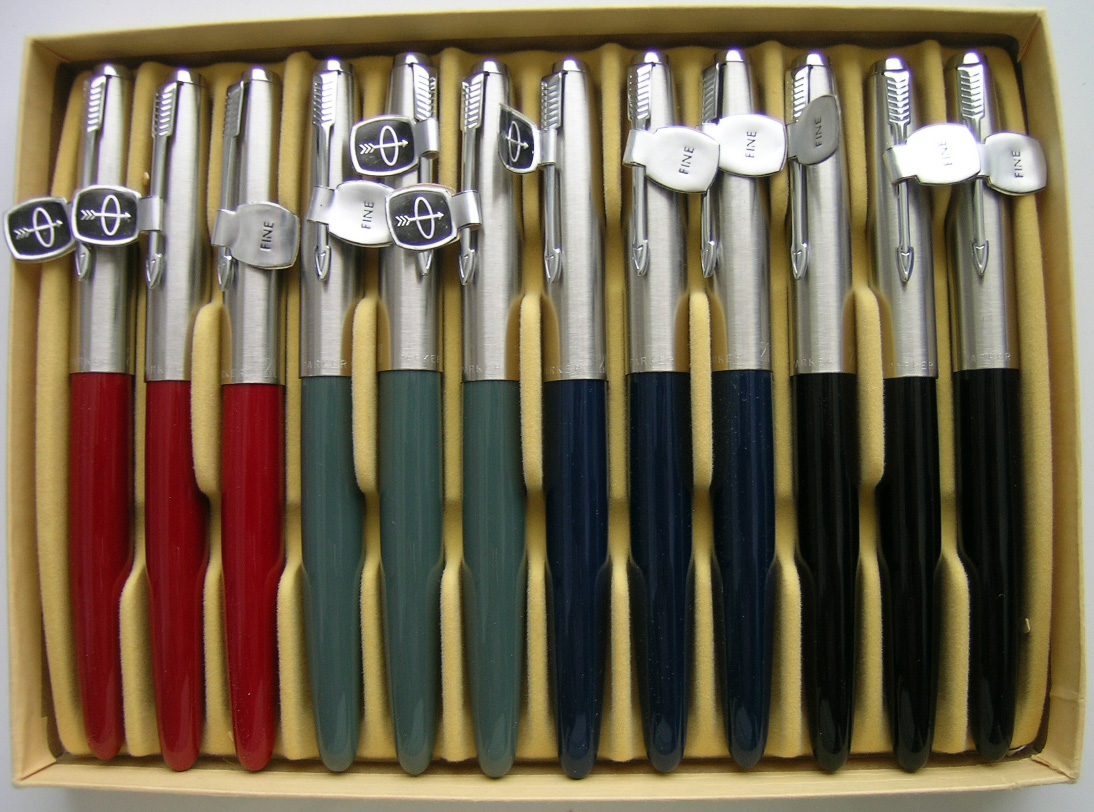 Jackpot!
My original teal-colored Super 21 that I got a few years ago came in a simple display box with the Parker name stamped on it. The newer one didn't come with any box or instructions, just a tag on the clip showing the nib size. I did judge it to be in new condition, though. It's shiny, clean and unblemished!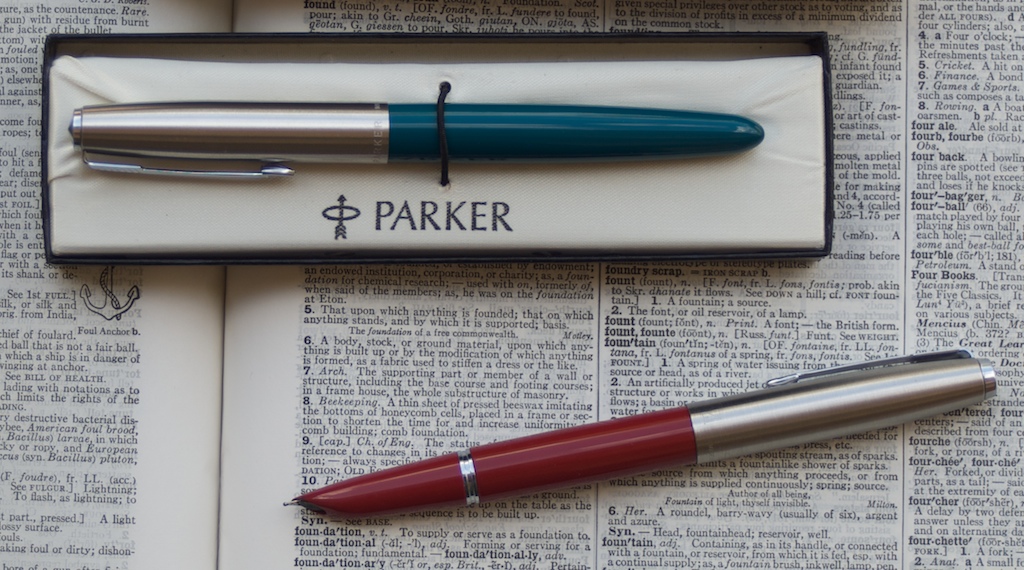 New Old Stock Super 21s
The only part of the pen that showed any evidence of age was the ink sac, which is made from a PVC plastic. Soft plastics such as PVC are known to deteriorate over time -- though not nearly to the extent that rubber does -- and typically start to get gummy after about 10 years or so. The sac on the Super 21 was just starting to feel slightly gummy. Considering that these pens were last manufactured in 1965, it's remarkably well preserved. It's still clear, pliable, and fully intact, and would appear to have decades of life left in it.
Many inks -- I might even suggest "most inks" -- will stain the sac, and it was common for these to turn dark blue or black after a very short period of use. That's normal for these pens. However, it is possible to keep them clear if you select your inks carefully. Noodler's "bulletproof" or "eternal" inks, with their cellulose-reactive dyes, are less likely to stain the plastic. I've used Noodler's Black and Violet Vote (AKA Iraqi Indigo) with no staining. I have also found out that Diamine Presidential Blue will quickly stain the sac a deep and very permanent purple.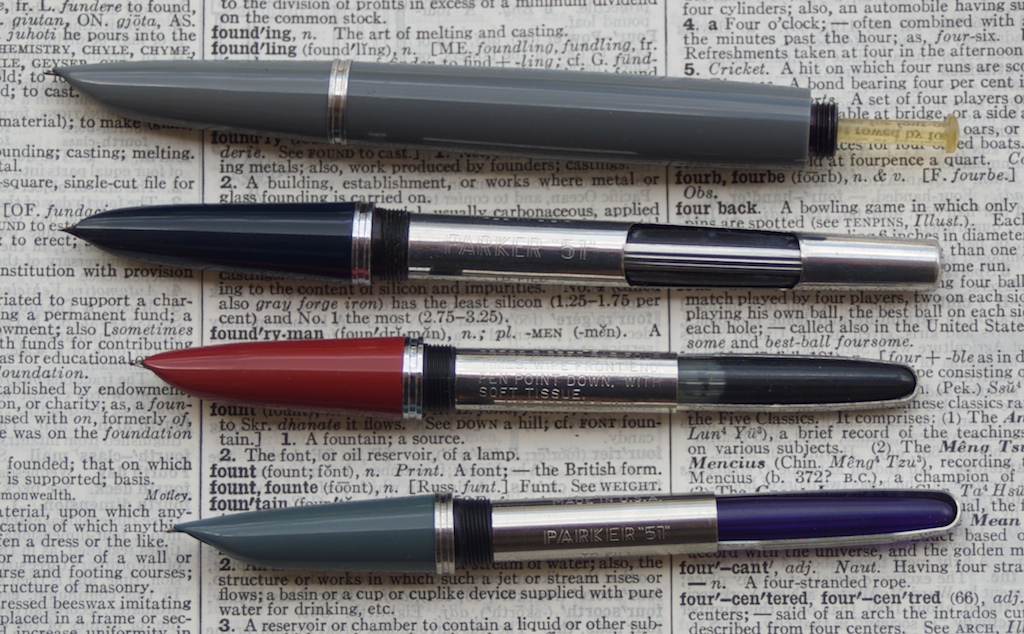 Fillers revealed: vacumatic 51, aerometric 51, Super 21, 51 Demi
The instructions for filling the pen reads:
PARKER
TO FILL
PRESS RIBBED BAR FOUR
TIMES, WIPE FRONT END,
PEN POINT DOWN, WITH
SOFT TISSUE
USE PARKER INK
THE PARKER PEN COMPANY
MADE IN U.S.A.
I found that three squeezes on the bar pretty much got all the ink in that it was going to take. I suspect the lack of a breather tube prevents the sac from filling up to its full capacity. This pen is quick and easy to fill: the hooded nib is easy to wipe off with a tissue, because there aren't a lot of exposed feed fins to carefully blot your way around.
The slip-on cap also is convenient. My 51 Demi has a metal clutch ring for the cap to grab onto. The Super 21s have a metal ring that looks very similar but doesn't seem to serve the purpose, as it's slightly smaller in diameter than the plastic body. Even so, the cap goes on and off easily and smoothly. It's a convenient pen to deploy.
My Super 21s both have caps made from a metal that looks like brushed stainless steel, although a magnet doesn't cling to them. They have the Parker arrow clip just like a 51, but they lack the decorative plastic "jewel". The end is just a piece of shiny metal, which is convex on one of my pens and dimpled inward on the other. The cap may be simplified, but it looks good and feels sturdy. It doesn't give any impression of flimsiness at all. The brushed metal actually looks shinier than the matte-finished lustroloy cap of my 51 Demi. I think it's a good match for these vivid colors, red and teal, although the Super 21 was also made in subdued tones such as black, gray, and deep blue.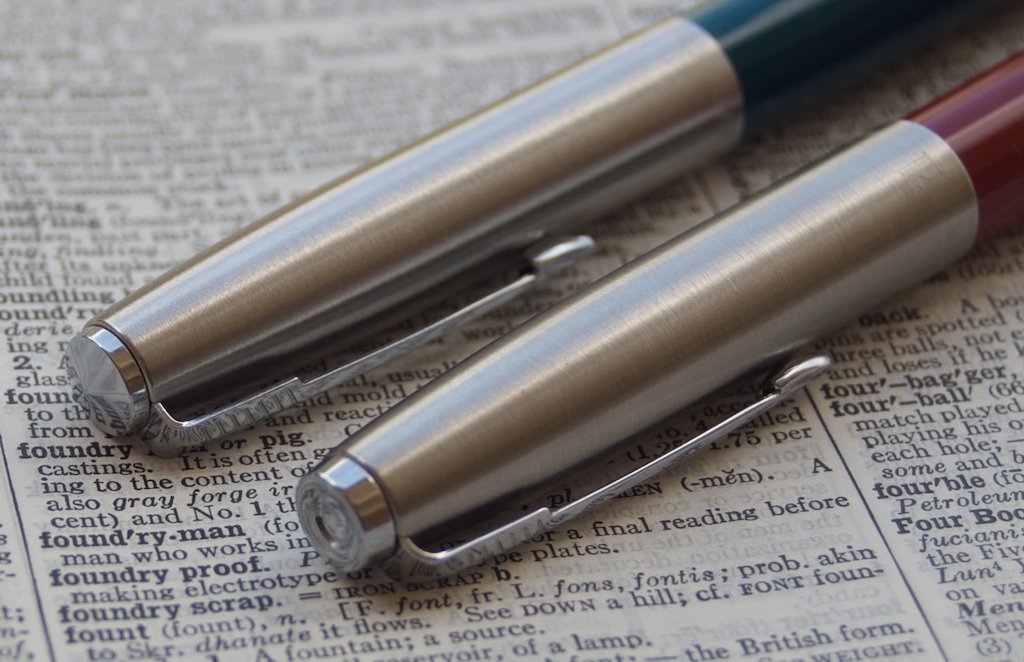 The teal pen has the nib and feed protruding a bit further out of the hood than one normally sees in a 51. The red pen has its nib and feed set further in. In both of them the nib, feed and hood are lined up correctly, nothing was assembled crooked.
So, how do they write? The M nib on the teal pen was slightly rough. I eventually did a wee bit of brown-paper-bag smoothing on it with good results. The red pen needed no adjustment at all. It's semi-flexible, giving me some variation of ink flow and shading dependent on the pressure I apply.

Taking into account the price these pens are selling for, and their virtually new condition, I think they're a bargain. It's true the cap design doesn't look quite as distinguished as a 51, and the cost-reduced materials and simplified components probably aren't quite as durable and reliable as a 51 -- but then, how many 51s do you find in this condition? A used 51 may have any number of problems that require repair or restoration work, whereas you can snag a new-condition Super 21 off eBay, fill it, and start writing with confidence.

There's a "Flighter" variant too!