I am very new to the world of fountain pens and I will be the first to admit that my experience is limited. However being a newbie gives me the chance to write a review without too many preconceptions or ingrained biases which some long time fp users may have.
When I joined Fountain Pen Network one of the first reviews I read was for the Visconti Homo Sapiens. The interesting choice of material and the gorgeous two-tone nib appealed to me and I decided that one day I would own one of these pens. That day came a little sooner than I expected, and on Friday I took delivery of a Homo Sapiens. Below are my thoughts on this beautiful writing instrument.
I should firstly note that because of my inexperience with fps I have only 4 pens from which to make my comparisons. They are a Parker IM (F Nib), Waterman Expert (F Nib), Waterman Carene (F Nib), and a Pelikan Souveran 800 (F Nib).
1. Packaging and Box
Upon opening the package it was clear that the packaging on this pen was presented far better than any of my other pens. Yellow Visconti cardboard outer with a faux leather clamshell case inside. The case itself holds the pen, a bottle of Visconti Ink, cleaning cloth (which I have read is impregnated with a substance to clean the bronze fittings), a book with mini DVD, and a 'nib shaped' bookmark. There is a drawer below the main part of the case that holds an instruction book and has the pen's serial number in it. All around I was impressed with the presentation of this pen.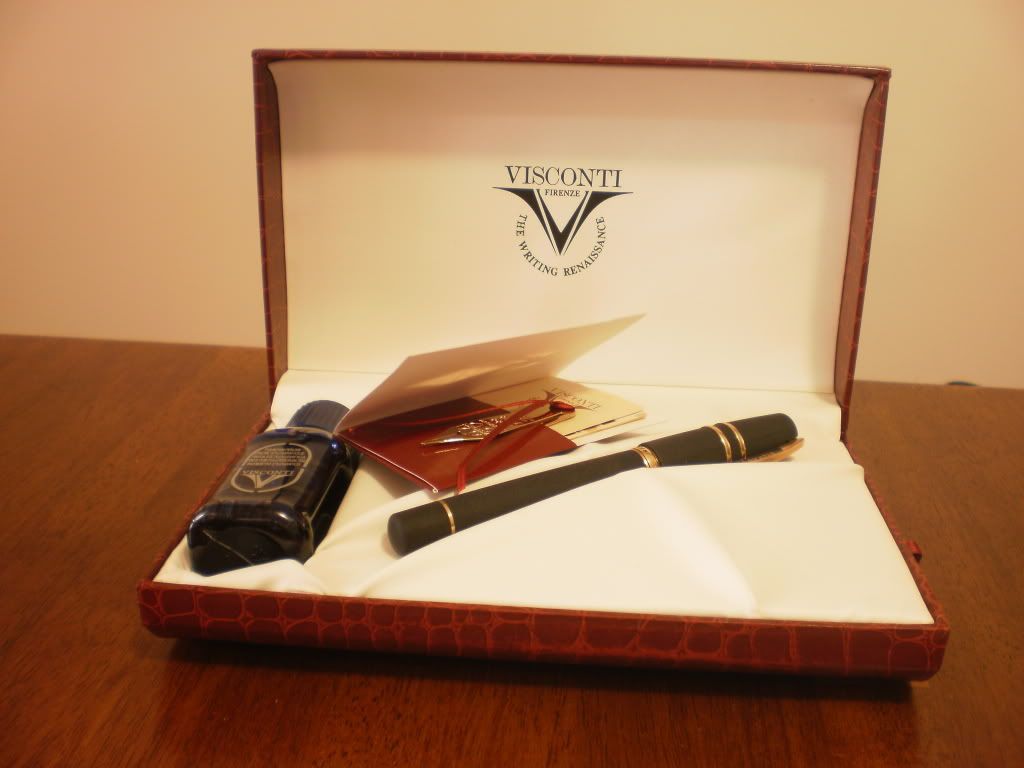 [/b]2. The Pen Itself[/b]
The lady who took my order for the Homo Sapiens said to me that she did not think the pen was particularly attractive. I must disagree with her. I think that it is an absolutely stunning piece of engineering. The lava resin body and cap has silvery flecks through it (which I assume has something to do with the lava), and is offset by the bronze fittings. I think the combination works. The pen is not shiny in the way my black and gold Waterman Expert is, but has sort of a matte finish. The body of the pen feels smooth and cold to the touch but is easy to grip when writing for long periods. As others have said, it kind of feels like a dense rubber but tapping it reveals that it is quite solid and hard.
This is a large and heavy pen, even when compared to the Pelikan 800. I have not been posting the cap when I write as i find that it adds too much weight to the back of the pen. I don't know if this pen is classed as oversized but I think it is big although I find it to be comfortable to grip and write with.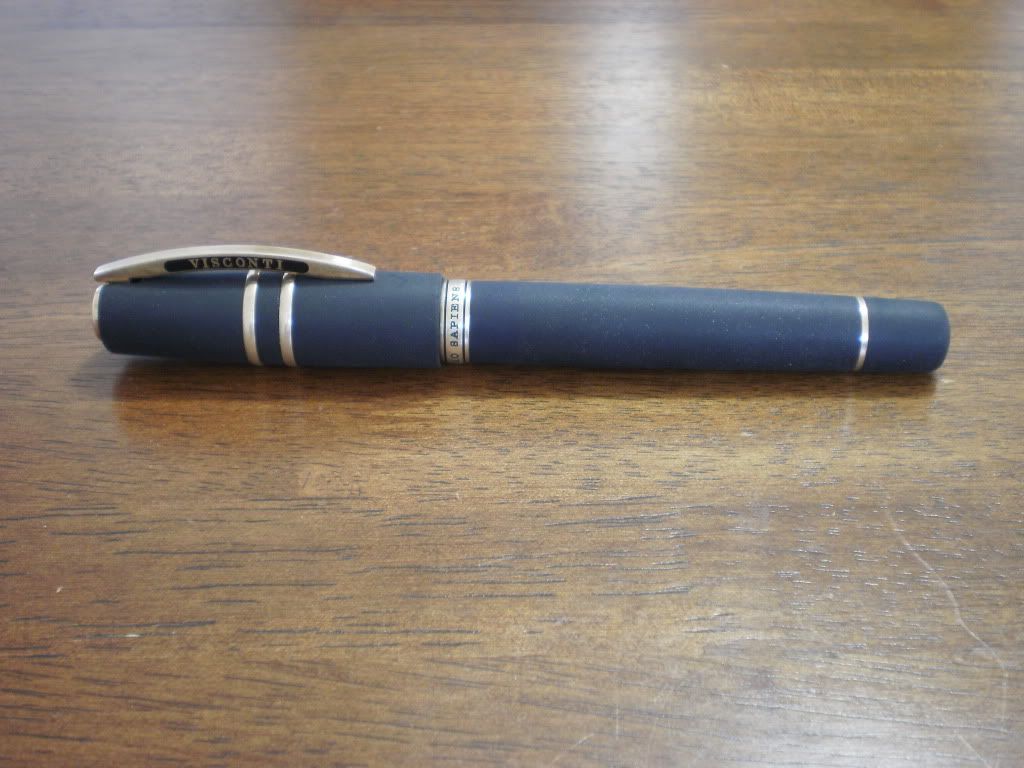 3. The Nib
I know little about fp nibs but I know that I like the Homo Sapiens Dreamtouch nib. I opted for the medium nib (all my other pens have F nibs) and I think I chose well. When compared to the nib of my Pelikan 800, it is obviously wider (being an M) and feels wetter. I know others have called their HS nibs 'firehoses', mine is quite wet and does bleed through poor quality paper but on decent paper it writes very well. I have found the nib to be super smooth requiring no pressure at all. It provides far less tactile feedback than the Pelikan which i don't mind in the least. So far it has been a joy to write with and I can see this pen becoming my favourite writer. I am using Visconti Blue ink and it works well, I love the colour too. I am not confident enough in my own handwriting to provide a sample in this review, but suffice to say I love the way this pen writes.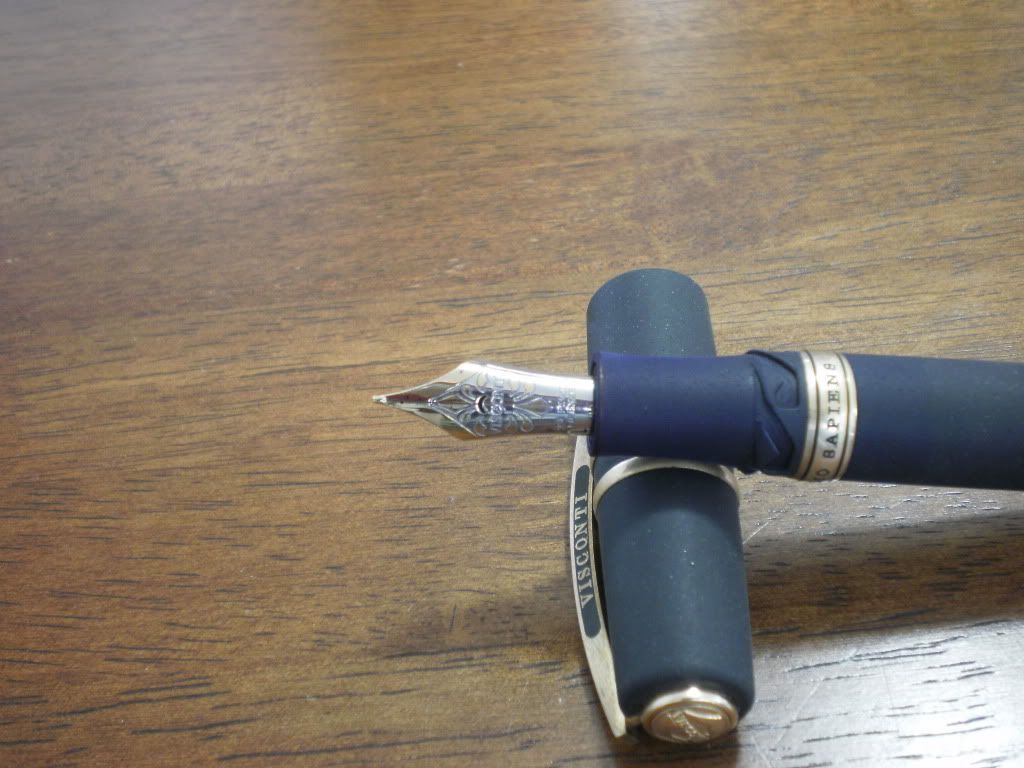 4. The Filling System
The only comparison I can make is with my Pelikan 800 and I have to say that I prefer the piston fill of that pen to the HS's 'power filling system'. I followed the instructions and had no trouble filling the pen but after only three days (of admittedly heavy writing) I needed to refell. I got over a week from my Pelikan but it only has a F nib and puts out far less ink than the HS, and I might not have mastered the HS filling system yet. All in all I'm not worried if I have to refill my HS every 3 or 4 days as it will give me a chance to try other inks in it.
5. Overall
Overall I feel very positive about this pen. OK, it is not cheap, but I see it as a cut above everything else in my humble collection. The choice of materials make it an interesting piece to have in a collection, while the dreamtouch nib makes it write beautifully. As a pen for a realitive newcomer to the world of fps, I think it was a good choice. The only downside is that it may spoil me for all other pens.
Pete
Edited by saltypete, 22 August 2010 - 05:34.