This review is for my first fountain pen from Edison Pen Company: a made-to-order Edison Glenmont bulb-filler!
The buying experience with Edison begins long before opening the box. I looked at a lot of pens on Edison's website and read a lot of reviews here on FPN as I pondered the many, many options that are available. Having so many possibilities can be almost paralyzing and actually make it hard to "pull the trigger" and place an order.
Brian is also willing to work with a buyer to come up with things that he hasn't made before and aren't seen on his website. In my case, however, there wasn't a lot of back-and-forth with him, because I was happy to choose options from the website. He did answer a few questions and make a couple of suggestions for me.
I pulled together a lot of ideas and personal preferences before settling on an Edison Glenmont in neon-swirl acrylic, bulb-filler with a large, amber window, and a steel nib ground to a 0.8mm oblique stub. The nib is gold plated, but I chose steel because I'm convinced that modern steel nibs are excellent, and a gold nib is merely an anachronistic affectation. It also meant that if I didn't like the nib and wanted to get another, I wouldn't be out as much money. These pens use an Esterbrook-like nib-and-feed module, so nibs are easily interchanged.
This was my first bulb-filler. I'd seen them before on the Edison website but hadn't paid much attention until after the New Postal pen was introduced. A large, fully visible supply of ink seemed like a good idea, while being more convenient -- and more interesting -- than an eyedropper pen.
Brian informed me that I could send him a pen and he would grind a nib to emulate (or "mimic") it. I sent him an Esterbrook J with a 9314F "fine relief stub", which is one of my favorite stubs.
I've always been attracted to plastics with flakes, swirly patterns, etc. At the same time, I didn't want this pen to look like a toy. There should be some semblance of dignity. I settled on an acrylic with a bright orange streak swirled through a pearly black matrix, plus an amber ink window and gold trim. The result might be fairly called my Halloween Pen, although that wasn't what I was thinking of when I planned and ordered it.
When my turn came up in the queue, Brian sent me an email and told me he was going to make the pen that day. I assumed I'd get to watch the pen being made via his webcam, but he never did tell me what time he was going to work on it. I tried checking the webcam during the day, but never found it turned on. I didn't know anything until the next evening when I got another email saying my pen had been made. I was left a bit puzzled and disappointed. What happened? In retrospect, I assume if I'd told him I was interested in watching, he would have invited me. I just didn't know this was something I had to ask for.
The pen came in a zip-lock bag, in a foam padded pouch. No box. That's OK, I wasn't buying a box. I also got my Esterbrook back, along with a writing sample from both nibs, and they sure looked identical on the paper.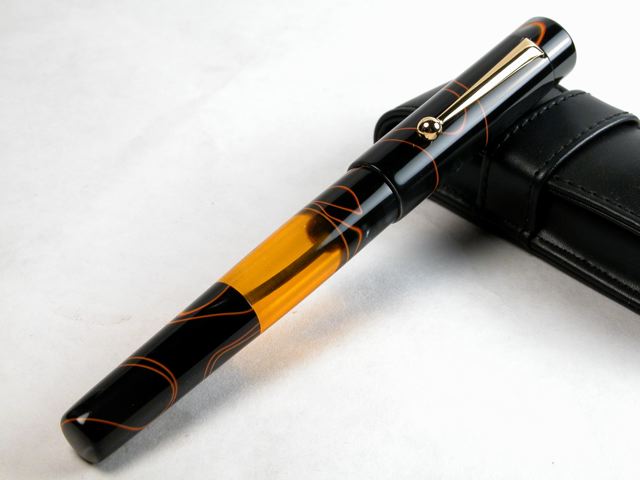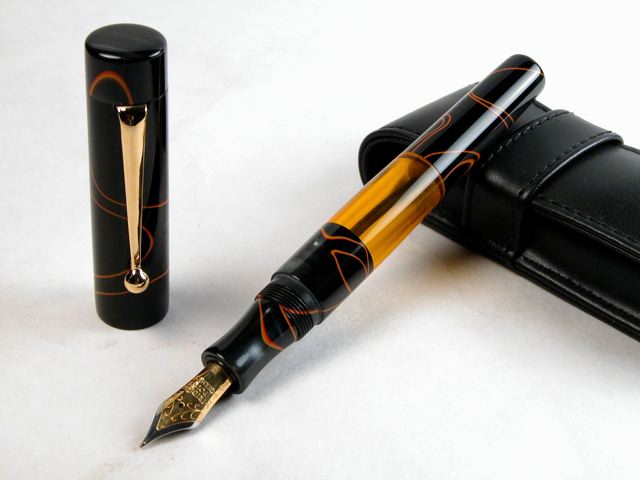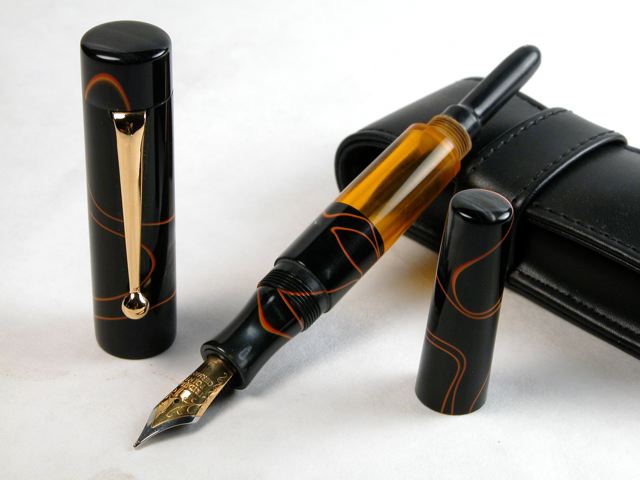 The photos Brian had already sent showed a handsome pen, but nothing really "special" compared with other pens on his website. He does a fantastic job of photographing them, and it seemed like he could make any pen look fabulous. So, I was a bit worried about whether the pen would look that good when I got it in my hands. Ha!
As it turns out, Brian's photos captured barely a hint of the luster in the black acrylic or the vibrancy of the orange swirl. Black objects are always difficult subjects for photography (Just ask the owner of a black cat!), and putting one in front of a white background makes it worse. So, I tried putting the pen on a black background in with sunlight, and managed to capture some of the sparkles. I also rather like the way orange light sometimes glints around the sides of the ink window when it's full of black ink. (I decided Heart of Darkness is a good match for this one!)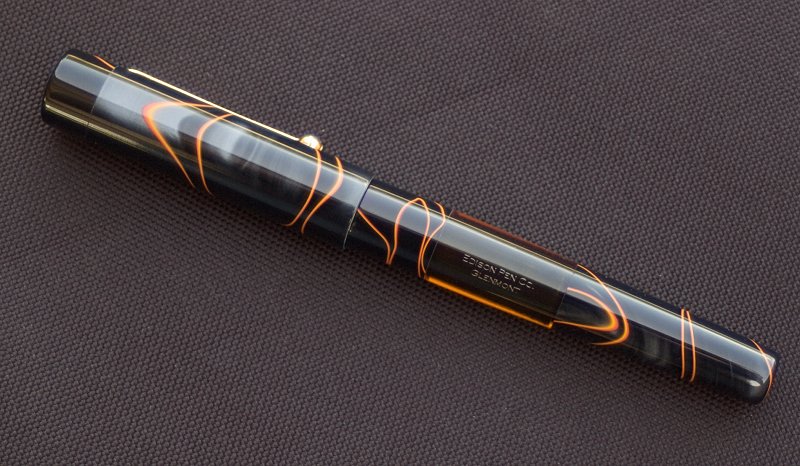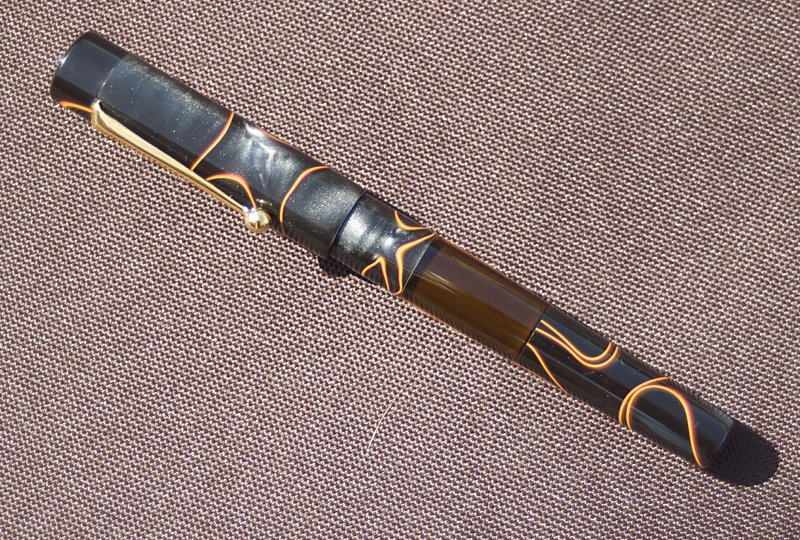 The acrylic is very pretty. It does have an odor. . . I rather enjoy the rubbery smell of fresh ebonite pens and the camphor smell of celluloid pens. I'm not so thrilled with the faint whiff of scorched plastic when I uncap the Glenmont. I trust that this will fade over time.
In terms of fit-and-finish the pen's overall appearance is quite good. It's only when I look very closely that I see a couple of tiny "flea bites" in the ink window and a pattern of micro-scratches on the cap. The blind cap is threaded a bit eccentrically so that it "wobbles" when screwing on or off, but it does come to rest in the closed position aligned smoothly with the rest of the pen. Some might find these flaws irksome in a $390 pen. But then again, it's all hand-made. The quirks, as long as they are small (and they definitely are), add character.
I loved the look of the pen, but how would it write? I inked it up with Noodler's Legal Lapis. The filling process was, as I expected, a bit slow but convenient enough. Squeezing and releasing the bulb is a gentle, easy action to perform while holding the pen in the ink bottle.
I hadn't made it through a page when I noticed the pen writing wetter and wetter. I picked the pen up to peer into the ink window. The ink level had dropped. Where was the ink going? Just then a drop blurted out from the nib and fell onto my paper. Aha! That's where it was going!
After a brief moment wondering if I had a defective pen, I remembered that my Reform Czar, one of my favorite pens for many years, sometimes does exactly the same thing if I neglect to blot excess ink from the feed after filling it. Had I blotted the Glenmont? I'm guessing not. In several weeks of using the pen that have followed, the incident has not been repeated, so I can fairly close the book on that.
The bulb filling mechanism is actually a relative of the Parker Vacumatic. The principles are the same, but Parker hid the bulb inside the pen and connected it to a plunger which the user manipulated in order to fill the pen. Leaving the bulb exposed so the user can squeeze it seems a lot more efficient and sensible to me. It means the bulb can be examined and is easily replaced should it ever prove necessary. If you're wondering what it's like to flush the pen and change inks. . . Well, it's a pain in the neck if you use the bulb to pump water in and out! Fortunately, you can unscrew the barrel and section to access the interior of the pen (just like an eyedropper pen) which makes cleaning a snap. The pen also came with a small vial of silicone grease to put on the threads when reassembling the pen, to ensure it doesn't leak. That's a nice touch.
The customized nib has been excellent so far. Although Brian's writing sample with both nibs had looked identical, I find it performs somewhat differently in my hand. I am getting sharper line variation with the Edison, and the nib feels a bit soft on the page (the Esterbrook is very firm). Its "sweet spot" may possibly be smaller than the Esterbrook, but the Edison feels smoother when I get onto that spot.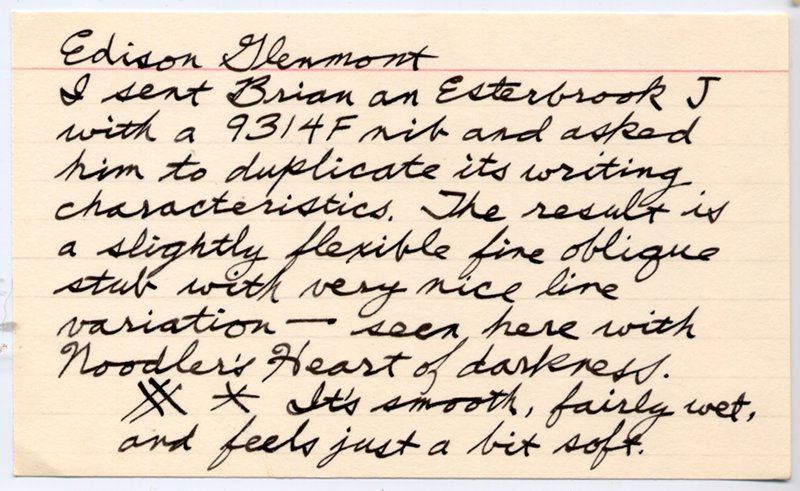 Upon close examination of the tip, it looked at first as though the tines were misaligned with one sitting higher than the other. Turning it over and putting the loupe on it revealed that they are aligned where it counts, at the writing surface. I'm assuming that this peculiar configuration is a side effect of taking a standard nib and transforming it into an oblique.
I should note that this is a large pen. It's similar in girth to my Aurora Talentum (a notoriously beefy pen) and about a quarter inch longer! It doesn't fit comfortably in my Mignon leather pouch, and I've had some difficulty coming up with a pouch that accommodates it. A pen this size is sure impressive to look at, and is comfortable to use un-posted (as is my habit), but it can be a bit awkward to carry about.
My conclusion: Everything I've heard about Edison Pens is true. The level of service is unique, as far as I know, in the pen world. The pen is fantastic in its beauty, its novel filling method, and the way it writes. Although not an inexpensive pen (mine worked out to an even $400 with shipping), it's a heck of a value for what you get. I'd take it over yet another generic Meisterstück or Souverän any day.