Aurora Optima – Optima by name and by nature!

I'll be honest with you, the Aurora Optima is a pen I never thought I'd review as my pen interests are mainly elsewhere, but I have to admit that this is a pen that I've developed a great respect for – there's so much that's right about this design.

If you were to ask me what kind of pens I like best, I'd probably say it was my small collection of hand-made Japanese Urushi and Maki-e pens. But if you were to ask which pens in my collection I use most, then the answer would be somewhat different. In that, I'm sure I'm no different to many pen collectors whose favourite pens are not necessarily the ones I carry around and use every day, in every situation. Sure, my Nakayas and Danitrios sometimes get a trip to the office, and they're nearly always inked, but if you wanted to find the pen that's always in my pen case, no matter what else I'm carrying, you need look no further than Aurora's classic modern design, the Optima.

So here's a review in praise of one of my favourite Italian fountain pens.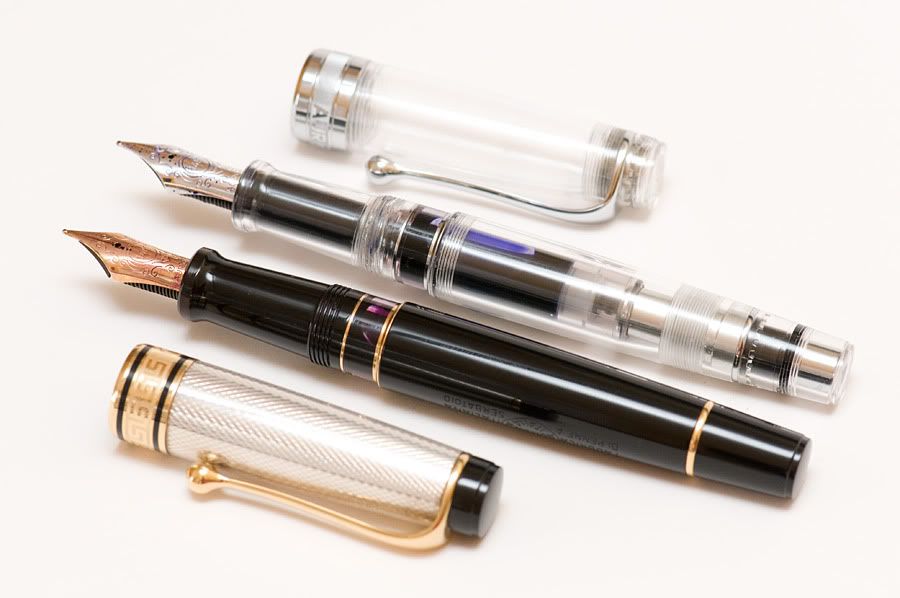 Key features

The Optima is a medium sized pen, about the same length as a Pelikan M600 and Montblanc 146. It's a chunky pen with flattened ends, something that emphasises its girth and distinguishes it from its close relative, the Aurora 88, which is also slightly longer. The styling of the 88 looks a little more traditional to my eye and I find the appearance of the Optima a nice contemporary twist on the basic fountain pen design. Like many of the best European pens, it has a built in piston filler, which has worked smoothly and efficiently in all the Optimas I've used. The presence or absence of a built in piston isn't a deal breaker for me, but it's undeniably convenient and, compared to some I've tried, this one doesn't have any adverse impact on the overall balance of the pen. The pen also features a small ink reserve and a window – both useful features but the window is surely a 'must have' unless you always carry ink or a spare pen with you.

Ergonomics and construction

The design of the Optima (and 88) makes it a comfortable pen to hold. I find it very easy to grip and the gently tapered section feels comfortably and secure in my hand. I like the length of the section – there's no chance of gripping the treads, unlike the smaller Pelikans, and I prefer a resin grip to the metal used by, for example, Visconti. Its weight is about 22g capped and 15g uncapped (demonstrator 24g/17g) – enough to know you're holding it, but light enough that I can write many pages without fatigue. I'm sure those who like to post their pens will approve of the Optima as it posts nice and secure, but I don't post my pens and find it works great that way too; the balance and overall feel is just about perfect for me.

I own four Optimas, all different in finish, but similar in so far that they share the same high standard of construction. The materials used – resin, celluloid and sterling silver for caps and body – all seem resistant to wear and tear and look gorgeous. I've heard that some people have had issues with the cap threads wearing, but mine are fine after quite a bit of use. I love the celluloid and the demonstrator, but my favourite is the silver capped pen, which I think looks stunning and oozes class.

One of the most important things for me is day to day reliability, and here the Optimas really excel. My pens have a fairly hard life, cased yes, but shoved in a bag that gets thrown in the back of the car every day and jogged about as I rush from meeting to meeting. Leaks are regular problem and many of my pens have been found wanting, but not the Optimas which seem able to take this sort of treatment in their stride.

Nib and writing performance

Aurora nibs seem to spark a fair amount of controversy amongst fountain pen users. Personally, I like them a lot. Three out of the four I own have 14K nibs while one is 18K, but there's little to choose between them. All are fairly stiff, with the 18K being perhaps the stiffest of the lot. I don't press hard so I can't comment on how well they flex. They unscrew easily, which makes them simple to change and the pens convenient to clean.

Out of the box, they've all provided a similar experience, offering great control and a sense of the paper beneath the nib – what I'd describe as a nice amount of feedback without being unpleasantly scratchy. Ink flow has been average or a little dry out of the box, but easily adjusted as required. None of mine have skipped or otherwise misbehaved and seem equally at home with a wide range of inks.

I assume Aurora nibs are not quite as highly smoothed and polished as some manufacturers, and thus don't tend to offer the 'butter smooth' writing experience that some writers crave, at least not straight from the box. On a fine nib, the Aurora way suits me fine and is great for note taking where speed and more simply functional writing is the order of the day. However, for letter writing I like my nibs a bit smoother and enjoy a bit more variation, so have reground both my medium nibbed Optimas to stubs. These are now a tad smoother than a standard Aurora nib and the one in my green celluloid Optima has become a real favourite of mine.

Summary

There's no surprise at the end of this review. Italy boasts some fine pen makers and some truly great pens and I certainly think the Aurora Optima deserves to be counted among the very best.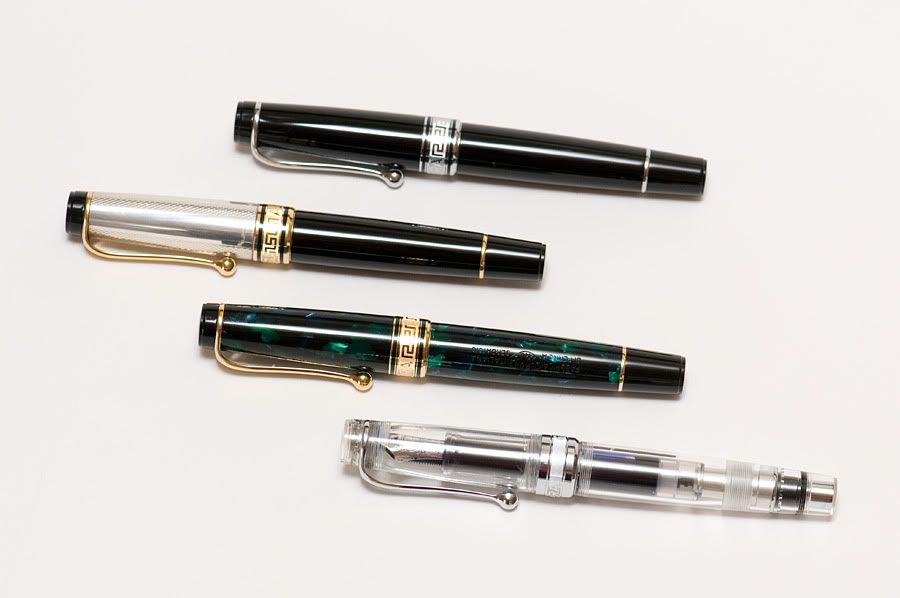 Comparison to MontBlanc 146 and Pelikan M650 uncapped and capped (note camera angle may not give true impression of relative size).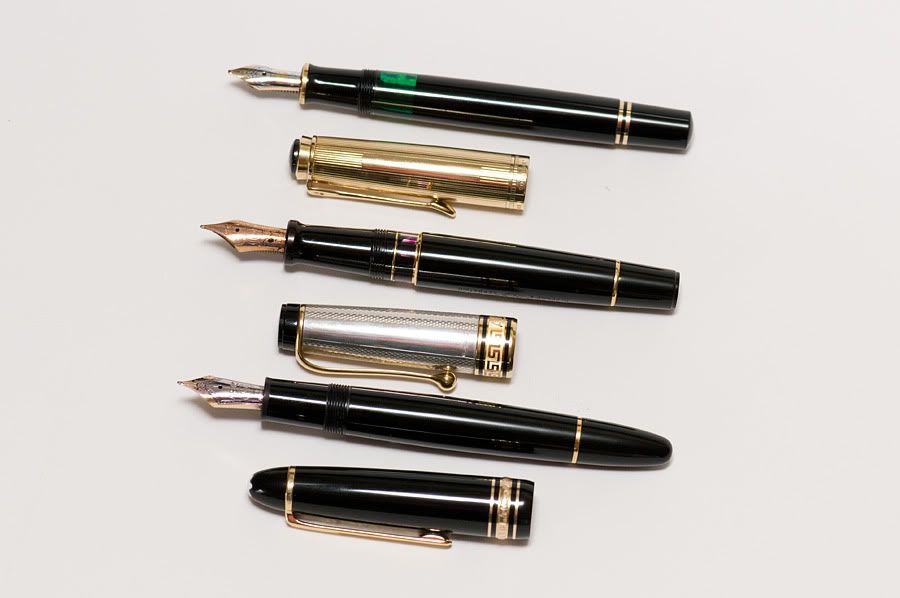 Edited by Painterspal, 26 July 2010 - 14:15.