The Merit is a recent introduction from Taccia, and it's one which I stumbled on pretty much by accident. I'd never even noticed Taccia before. I was just getting serious about stubs and looking for something with a B nib that I could have ground. When I saw that I could get a Merit from ISellPens.com for $65, that seemed too good to pass up.
These pens are available in solid colors: classic black or cherry red with gold-plated trim, and in bright orange, teal blue, or a light powder blue with white metal trim. The Merit is a large pen, even by today's standards. It's very close in size and shape to my Aurora Talentum. It's also similar in profile to my vintage Parker Duofold, but slightly longer.
First Impressions
The Merit comes in an oversized dark blue (almost black) display box with a cardboard slipcase, typical of fine pens these days. There's a leather-like textured cover on the outside, spring-loaded hinges, and a rumpled cloth setting inside where the pen can sit diagonally and look precious. I'm sure this makes a nice impression in a retail store with the box sitting open in the display counter. However, it makes me long for the "good old days" when pens came in smaller cases that were more practical for storage and travel after the sale.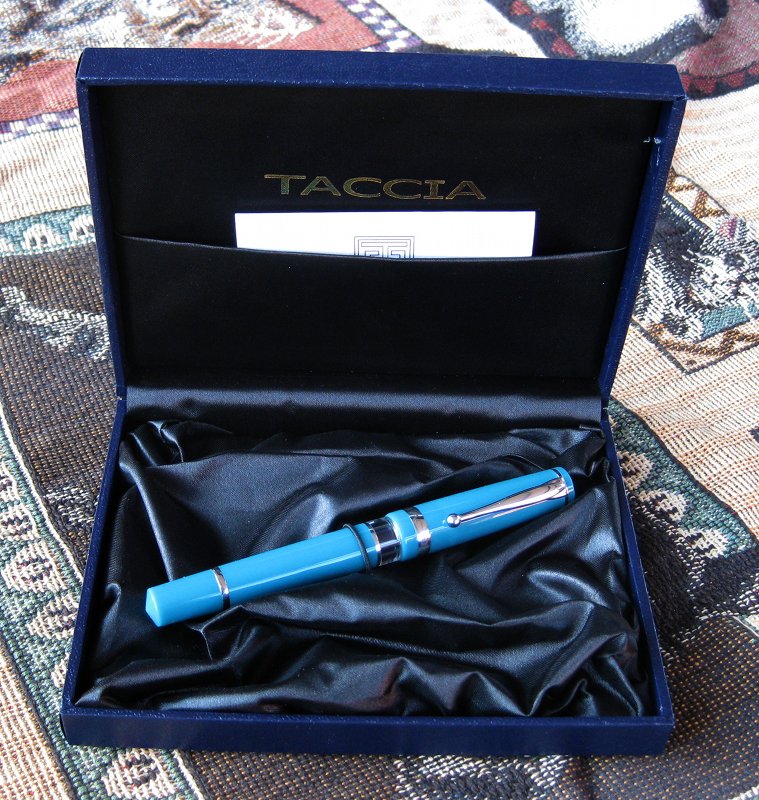 The pen came with no instructions, only a small card touting its lifetime mechanical warranty. I have mixed feelings about the lack of instructions. There was a time when pens came with a sheet of simple instructions. Why did that ever stop? The last couple of "fine writing instruments" that I bought came with horrible instructions. My last Pilot came with a jumble of instructions for multiple different pens, and my last OMAS came with what I can only describe as a promotional advertising booklet. By way of comparison, the lack of any instruction booklet with the Taccia is an improvement. I still wonder why modern pen companies have so much difficulty with this, though.
Look and Feel
This is a large pen. It's not heavy, but it's definitely what would have been called an "oversized" pen back in the good old days. For comparison, it's similar in girth to my Aurora Talentum and my vintage Duofold. Capped, it's just slightly longer than the Talentum. Like the Talentum, the Merit is just a tad too fat for my Mignon leather pen pouch.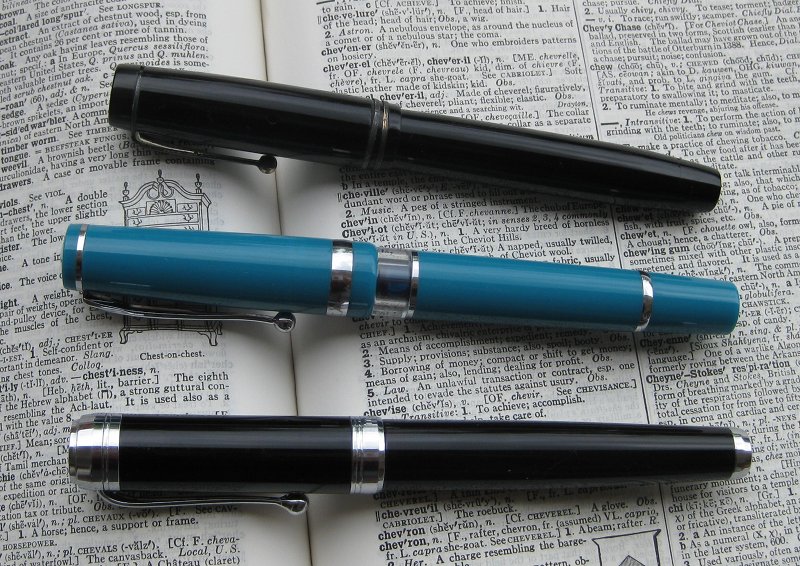 The Merit most definitely does not give the impression of a "budget" pen. The plastic and metal trim are nicely polished. All the parts fit together smoothly and without gaps. The nib is marked IPG but looks good. The pen looks and feels solid. The only exception is a rattle whenever the rear of the pen is bumped or tapped. This sound is apparently coming from the converter (marked Schmidt), as the twist knob is a bit loose. This is a common characteristic of Schmidt converters, including the one that came with my OMAS Emotica, but the Merit almost seems to amplify it somehow.
The cap screws on, and it takes 2-1/2 full turns to release. That's more than most of my screw-cap pens, and it makes the Merit a little slower to deploy -- a minor annoyance. The clip is nice and long, with a no-nonsense round ball at the end, which I like.
The cap also posts positively, stopping against a metal trim piece which I assume was placed for that very purpose. This is a lightweight pen for its size, so it's no problem to use posted. (I've fallen out of the habit of posting my pens, anyhow.)

I'd say the most distinguishing feature of this pen is the ink window. I've never been a fan of ink windows on cartridge-converter pens; it wasn't a feature that I looked for. Now, after seeing how nicely this is done, I'm sold on it. It's easy to see if the pen has ink, and the window doesn't detract in any way from its styling.
The Converter
The rattling converter bothered me, and when I took a closer look I saw other problems. It didn't join tightly with the feed. The piston didn't make a tight seal, so that traces of ink sometimes seeped past it into the rear of the converter. I decided to upgrade it, so I ordered a set of three Schmidt K5 converters -- their premium model -- from Blurafia. This are definitely nicer. They are reinforced with more metal parts, and they fit snug with the feed. The piston makes a positive seal. The only negative is that the twist knob rattles exactly the same way the cheaper converter did.
The Merit has an amusing quirk related to the converter. The outside of the converter is so near to the inside diameter of the pen's barrel that it forms an air seal when opening or closing the pen. There's a moment of resistance followed by a tiny pop as the air is released.
In my opinion, Taccia should start putting these premium Schmidt converters into the Merit. The pen is good enough to deserve it. On the other hand, it's an inexpensive pen and it came with a converter that worked OK, so maybe I shouldn't complain too much. (A.T. Cross, I'm looking at you!)
The Nib
F and EF nibs have been my mainstay, and I've considered some M nibs too flabby for my taste. This was one of the first B nibs I ever got, and I was pleasantly surprised. It didn't make me a convert to broad nibs, but it was smooth, didn't skip, had a middle-of-the-road ink flow that pleased me, and was great for showing off colorful inks.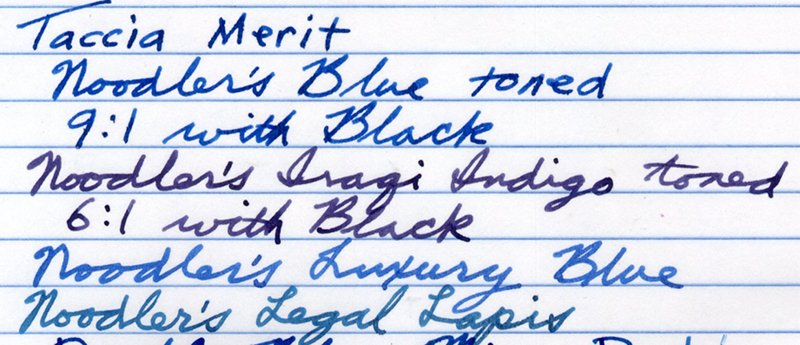 I was tempted to keep it just the way it came from the factory. However, I did eventually send the pen to Pendemonium for grinding. I didn't give them any special instructions, just told them to "make it a stub" and let them take it from there. Pendemonium not only has one of the least expensive grinding services, but I was pleasantly surprised by the quick turn-around.
I was even more pleasantly surprised upon putting the new tip to paper. This stub is fine enough and smooth enough for everyday handwriting without having to write extra-large or slow down and take extra effort to keep from snagging. At the same time, it's wide enough and produces enough variation to add some flair to my writing and give it that italic look that I wanted.

The only remotely negative thing I can say about this nib is that I might still prefer an oblique to a straight stub. Maybe next time I'll ask for an oblique grind. Yes, I'm quite sure there will be a next time.
Incidentally, the Merit's nib is mounted with its feed in an Esterbrook-like module, so it should be easy to replace or interchange.
Value
You've probably gathered by now that I like this pen, and that's without even taking the price into account. When you look at what they're selling for now -- as low as $65 through ISellPens.com -- then it's a compelling value. We're talking about a pen similar in size and style to an Aurora Talentum. Have you priced an Aurora Talentum? You could get every color of Merit for what one Talentum costs.
I may be going out on a limb here, but the Merit strikes me as being the modern-day equivalent of the original 1920s Parker Duofold. It's a large, well-made pen. It's available in festive colors (or black, if that's your thing) with a straightforward but attractive style. It's offering great value for money. To me that seems much closer to the spirit of the original "Big Red" than a pricey modern Duofold.
Highly Recommended.
P.S.: The photo where I've posted it with the Duofold and Talentum is the better representation of the Merit's color. I couldn't get the color temperature fixed right in the other two photos, for some reason.