Hi,
I did this Comparison after reading one Member's opinion that these two inks are very close. I didn't think so, so I decided to take a look-see and share the results.
Bye,
S1
=-=+=-=+=-=+=-=+=-=+=-=+
Please take a moment to adjust the brightness & contrast of your monitor to accurately depict this Gray Scale.
As the patches are neutral gray, the colour on your monitor should also be neutral.
Figure 1.

Grey Scale.
Figure 2.

Swatches:
Drawn with a Pelikan M200-series g-p M nib.
Blue Night on the left, Blue-Black on the right; HPJ1124 on top and Rhodia on the bottom.
Figure 3.

Smear Tests:
Blue Night on the left, Blue Black on the right; with HPJ1124 on top and Rhodia on the bottom
Figure 4.
Wet Tests: Soapy Soak & Splatter
Written Samples
:
Moby Dick
Implement:
Yellow Pelikan M200 + M200-series g-p M nib.
Layout:
The first layout shows the same text in left and right columns. Caran d'Ache 'Blue Night' is on the left.
The other layout shows alternating lines of the same text, starting with Caran d'Ache 'Blue Night'.
Figure 5.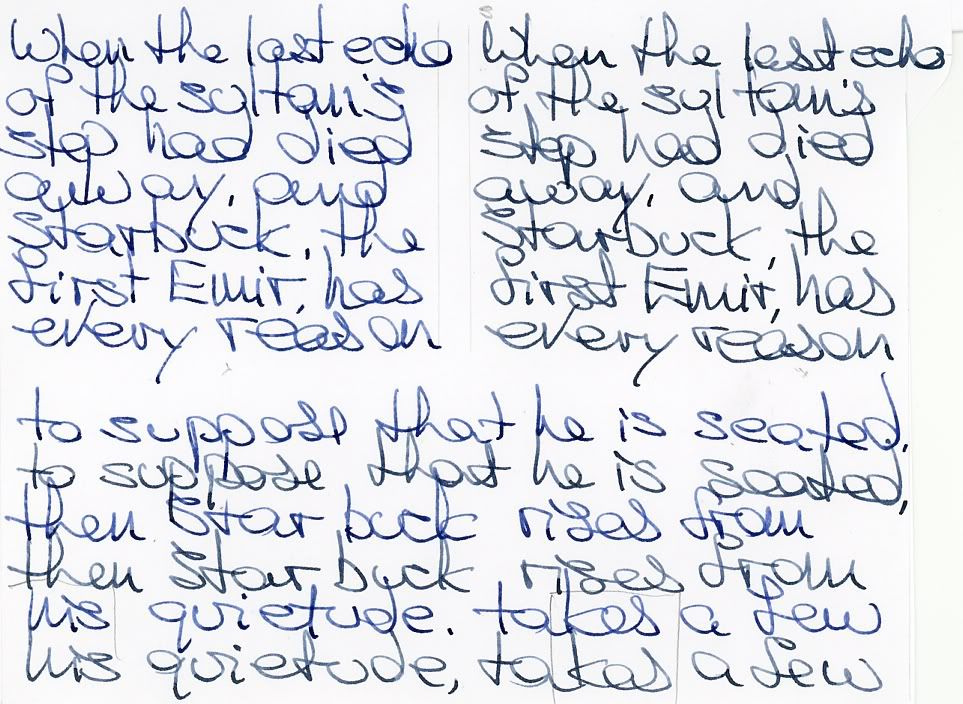 HPJ1124 24 lb. Laser Copy.
Figure 6.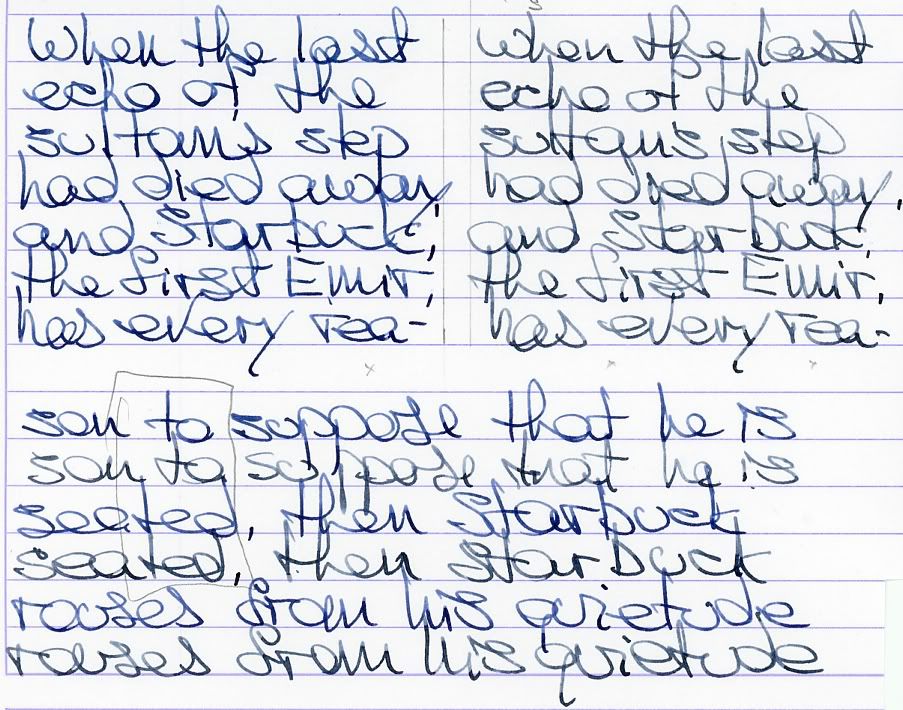 Rhodia lined.
AT A GLANCE:
On the basis of colour alone, these inks cannot be mistaken for each other.
WRITING:
The Blue Night gave a more pleasant experience, largely due to the greater lubrication which allowed the nib to move smoothly yet very sure-footed - no slipping around; and the nib feedback seemed 'harmonious'.
The Blue-Black was certainly no slouch, and is excellent - just not in the same league as Blue Night. Still a good experience, but at times the nib seemed 'muted'.
Both inks provided different experiences on the different smooth papers. (For the sake of brevity, a textured paper was not included.) So even though the difference felt greater with the Blue Night, the Blue-Black certainly allowed the writer to feel the difference - always providing enough feedback for control - even if not so finely nuanced.
In practical terms, providing feedback allows the writer to move the nib at the chosen pace and cadence; and to keep the nib positioned as they wish - usually on the nib's sweet spot.
THE AFTERMATH:
Two very different colours, as was mentioned. As I use these inks myself, they are not strangers to me. Indeed, the remnants of my Review of the Blue Night is still available online.
The Colours:
Blue Night is far more colourful and not so 'greyed-out' as the Blue Black. And in the ongoing challenge of describing Blue Black, it seems to be predominantly a rich dark gray with the animus of a dark blue; no aureola of a green tint appears.
The Blue Night is certainly dark and predominantly very dark blue, but the animus is a warm violet-purple tint that brings the ink forward on the page; the Blue-Black resides well behind the plane of the page.
Use:
The Blue-Black is ideal for boring work, and one would not be amiss in describing it as the rich charcoal suit with a French Blue blouse. Reserved but no zip; works with the office door closed. Gold watch.
The Blue Night is ideal for more interesting work, especially when done in groups, teams, committees, etc. It is far more social, to the point that it could be used for personal correspondence. The lustrous dark blue suit with a deep deep violet silk blouse; platinum bracelet.
I would think it insensitive to use the Blue Black for personal correspondence - there is a 'distancing' - so for that ex-boyfriend then, the one who hasn't returned all the music he borrowed; but I'd still meet him for a 20-minute office hours coffee break, just to poke fun at his haircut.
Up Close:
Seems to be contrary to the nature of these inks. Perhaps a very wet writer and a thirsty paper might twist them, but the chances of also generating poor line quality are very real.
Both inks demonstrate shading to a good extent. And the range of tonality unique to FPs paired with good ink.
Feathering:
Both inks didn't quite feather, but did show a somewhat 'wooly' character at times.
I think that the Blue Black would be OK in nibs from a Western/European XF, but not much wider than a B. I love using a sharpish Cursive Italic M nib with this ink.
The Blue Night loses character with narrow nibs, so I like it from nibs from a plump (Pelikan) F, to an Asian 'Music' nib. It is something special from a richardspens M200 series 1.0 Stub on blank Rhodia. (OoooLaLa)
Papers:
If it's a writing paper, both inks will write on it.
=-=-=-=-=
Images:
Scans were made on an Epson V600 scanner; factory defaults were accepted.
Figure shown were scanned at 150 dpi & 24 bit colour.
Images linked were scanned at 300 dpi & 24 bit colour.
Scans were not adjusted other than cropping and straightening using iPhoto on a MacBook, but most went straight to the file sharing thingy.
-30-

EDIT - Expletives added, then deleted.
(Well Lloyd, so it goes. Sshheeesh.)
Edited by Sandy1, 01 July 2010 - 04:55.