I love pens in the under $20 price range that are nice writers. I was excited to learn about this piston filler in my target price range that looked like something unique and sturdy! What excited me was the idea of a new pen made from old materials, turned on a lathe, that I could afford to buy as a daily writer. I wanted to smell the vegetal resin and write with the ebonite feed. I like the idea of a piston filler (no need for cartridges or converters) designed to accommodate old #2 nibs.
What do I expect from a Noodler's Ink fountain pen? First, I expect reliable, regulated flow onto the page from tines that don't touch. Second, I expect good value to have been a design priority. Third, I expect some curb appeal--specifically, a different approach.
I ordered a burgundy Noodler's piston filler for $12. It arrived in a cellophane tube (shipped in a box). When I inspected it and got ready to fill it with ink, I wondered, "Will this pen be a curiosity in my pen drawer, or spend some serious writing time with me?"
Appearance & Design (10) – My third expectation was fulfilled with my first impressions. The pen looks sharp to me, with the ink-view crenellations and the metal band right at the nib end of the section. The lines of this pen are fetching both capped and posted. I can see daylight between the ends of the tines. The cap threads securely. The clip feels sturdy enough to last through years of regular service. My value expectation seems to have been met. I like the old-fashioned vent hole in the cap. The finish of the barrel and cap are polished. I can see evidence of machining from the lathe passes in the cap if I look hard enough. I like the smell of the plastic of this pen. It reminds me of my Mom's record cabinet. I love the idea that the pen is designed to accept #2 nibs.
Construction & Quality (7) – The fit is great. Everything fits, apparently like it is supposed to. The finish on the steel furniture is without flaw, by my inspection. The finish on the plastic parts shows evidence of machining on the button on the cap and on the blind cap on the barrel. These are very minor imperfections and perfectly reasonable for a $12 pen. Nothing to upset me. The piston and feed function smoothly. The cap screws onto the pen securely. This pen feels light but not flimsy. I do not fear dropping it will cause it to stop writing. I give the quality a 7 because of the nib, discussed below.
Weight & Dimensions (10) – The pen feels light. It feels well balanced, especially when posted. No complaints. Its size is on the small end of great for my hands. I find it very comfortable for my small hands but it might be small for those with larger hands. The threads for the cap (on the section) and the edge of the cap, when posted, are in the right places for my hands in my writing position. The windows to the reservoir are flush with the outside of the barrel, so there is nothing there to irritate me when writing. I wasn't sure if they were flush or recessed from pictures I had seen of the pen online. The cap is light and does not change the balance significantly when posted or unposted.
Length (cm): Capped 13.3 Uncapped 11.8 cm Posted 13.9 cm
Weight, inked (g): Capped 11 Uncapped 8
It is 5 grams lighter than the preppy with a converter full of ink that I have been carrying daily for the past few weeks, making it seem very light to me.
Nib & Performance (6) – This steel nib is the one available with this pen, and is described as a fine medium. I think this is accurate. This is a stiff, steel nib; no line variation. Note that the feed and section are designed to accept a #2 nib, so some are going to buy this pen and immediately swap out this nib.
The nib lays down a wet line. The tines do not touch. The writing for this particular nib was not smooth with Aircorp Blue Black. I was surprised and disappointed at how not-smooth it was, worse than I feel I should expect for a $12 pen. It is toothy. I looked at it under magnification and was surprised to see a smooth area towards the front of the tipping, towards the point, and a much rougher area in the part that makes more contact with the paper when I am writing, like the nip was not properly polished after the tipping was welded on. The tines were also not aligned. Fixing the alignment and doing some work on a paper bag made a great improvement in my enjoyment of this pen. I wrote Noodler's with a description of the tipping and was told that I should ask the retailer for an exchange and that this is not characteristic of these pens.
I inked this pen up without first rinsing or cleaning. It started immediately and kept on going until it was out of ink without a single skip or slow start. I really appreciate that.
Filling System & Maintenance (9) - This pen has a reservoir that is larger than my converter pens and smaller than an eye dropper pen. When I fill it, there is a large air bubble in the reservoir. I estimate that the reservoir is 1/3 air when I get as much ink as I can in there, which seems like a lot to me. I need to play around with this pen to see if I can get a fuller fill. I don't think there is much risk of leakage, as long as the piston seal is in good shape. I have not explored removing the nib/feed. It looks to be a friction fit. I rated a 9 instead of a 10 because I'm not sure when I operate the piston to the empty reservoir limit whether I am at the limit or not. At some point, I feel more resistance and I stop. There is no firm signal to stop turning. On the other hand, the design is straight forward enough for me to operate the pen satisfactorily without a hint of instruction being provided.
Cost & Value (10) – I paid $12 for this pen. I think this is a reasonable value. If the nib on this particular pen did not require some TLC to get it up to what I expect it to be shipped new, I would say this pen offers great value for $12. If I had a nice #2 nib laying around, I would consider this pen a greater value. I would consider it a good value if I got one better than expected nib out of a purchase of three of these pens. I do not think the cost justifies return shipping to exchange it, but I am interested to see what the nib and overall quality of the pen I ordered in another color (that is back-ordered) is like. At $12, this is a tool for daily writing, not a piece of functional art. At $12, loss or damage is not so scary.
When I compare to other pens in this price range, I feel this pen is a more interesting writing experience for the money. I just reviewed a $13 Yafa pen that had feed issues out of the box and felt unbalanced when posted. The nib on that pen, when ink was flowing, was head and shoulders smoother than this one. The Noodler's pen costs more than a Preppy with a converter, but looks and feels less like a toy, holds more ink, and will still be writing when the Preppy has cracked or broken its clip. It is not nearly as smooth writing or finely made as a modern Pelikano.
Conclusion (Final score, 52/6 = 8.7) - At the start of the review, I posed the question whether this would be a daily writer or a collection piece. I will definitely be writing with this pen in regular rotation. I would give this pen as a gift (after inspecting/testing the nib!)
This is a new pen made from old materials and designed to be affordable, reliable and enduring. This is pleasing to my inner luddite. I like the ways that this pen is different than any other modern pen I have bought. I think I could pick it up after a some time in the drawer and start jotting ideas without doing anything to get the ink flowing. I feel like I could trust this pen as my only pen to record a long bike trip. I feel like I will have one of these pens, either with the sweetest nib out of several purchased, or fitted with an old, gold nib, for some time. I like it enough to purchase more than one in case not many are made.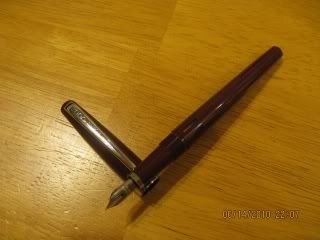 In this image, you can see how the knob/blind cap for the piston screws away from the barrel as the piston is moved towards the section to prepare to suck up ink.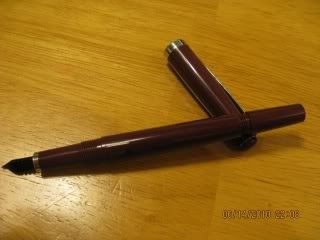 A close-up of the nib, before I aligned it. I didn't notice until I was preparing this review that you can see the misalignment in this photo.