I recently picked this pen up while on a trip to New York City. The sales man thought it was a Hero and with a little research I found only that there are many sub-brands of Hero so I canít count that out as a possibility.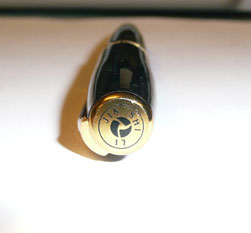 Appearance: The pen came in a standard no frills box, so nothing too special there, but at this price the box is of little importance. The pen itself is black with gold colored accents. The cap, barrel and section are all metal with black enamel. It is light weight so I am guessing that it is aluminum. The accents and nib are gold colored, the nib is steel. All is standard up to this point.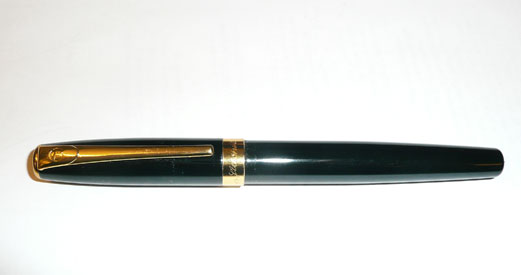 Then you turn the pen over and find a little rabbit smiling back at you, a little whimsy in an otherwise serious looking pen.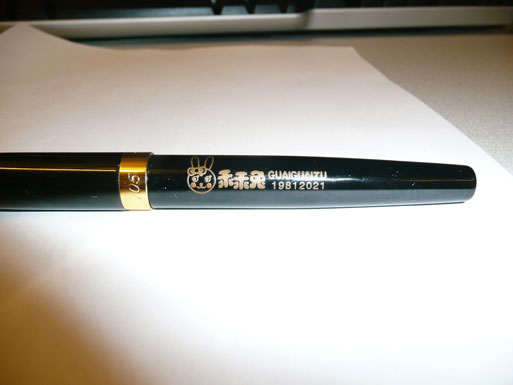 Size and Weight: the pen is very light, only slightly heaver than my plastic vintage waterman, and runs about the same size 5.25 inches caped and 6 inches posted.
Nib: The nib is gold colored steel and has a fine point and puts down a good, but not wet flow of ink. I have tried two types so far Noodlers Squeateague and Private Reserve Quick Drying black. With the Black the line comes out closer to a medium width. The nib is very firm with no line variation. A good writer, I have not had any skipping issues.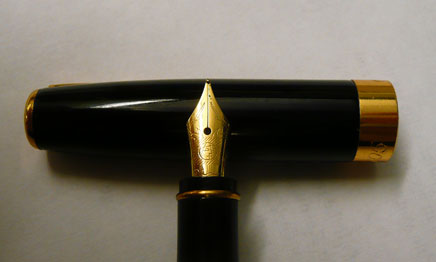 Filling system: The pen uses a squeeze bar which you have to take the barrel off to use. There is a secondary metal sleeve around the sack. I am not personally excited about this system. It seems to include a breathing tube inside the sac and is consequently difficult to completely flush out, so this will ultimately be a one color pen. Normally I prefer to change colors in each pen each time I refill it (often Iíll only fill them half way or less just so I can move on to a different color). The other thing that surprises me about the filling system is how little ink it holds. I find myself refilling it every other day.
Cost/value: It only cost $11.00 us with tax so I have nothing to complain about.
Conclusions: It writes well, feels good in the hand and was inexpensive. I am going to use it as my black ink pen from now on; it works well with the PR quick drying ink so it definite has a place in my line up. If anyone knows more about the company that produced it I would love to hear about it.